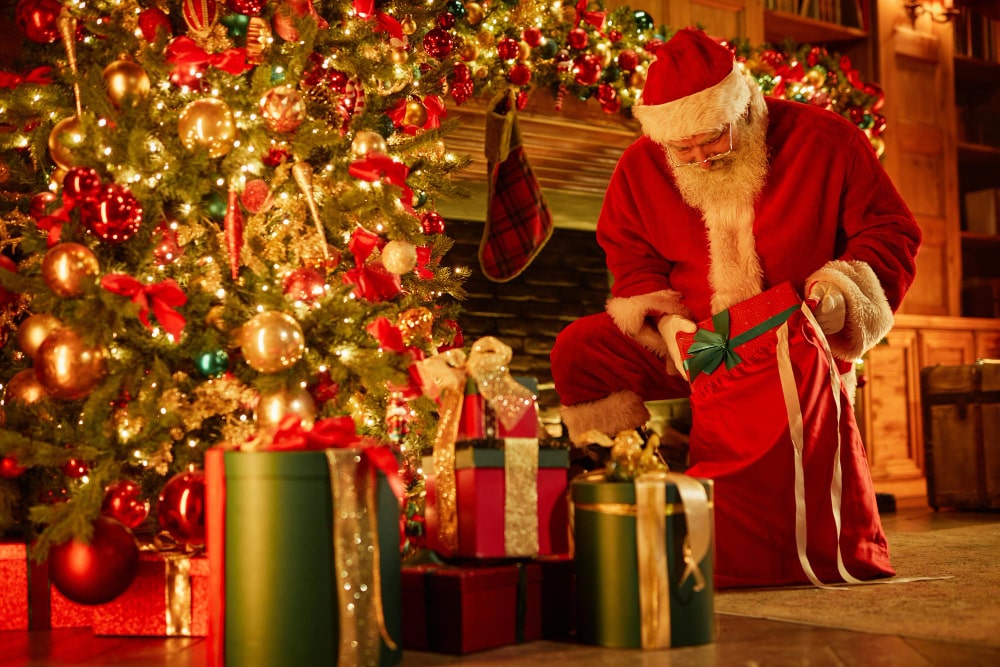 The holidays are upon us once again, and you're ready to throw the perfect Christmas party for friends and family. But before the guests arrive and the festivities begin, you have some work to do. Transforming your home into a winter wonderland takes creativity and planning. Where do you even start? Don't worry, we've got you covered with some fresh ideas to make your place party-ready in no time. From a welcoming entrance to cozy corners, festive lighting to DIY decorations, we'll walk you through ways to completely change the look and feel of your space for an unforgettable gathering. Get ready to roll up your sleeves, pour yourself an eggnog, and dive into these transformative tips to create the ultimate holiday hangout. By the time your guests walk through the front door, your home will be completely unrecognizable – in the best possible way. The season of cheer is here!
1- Setting the Mood: Choosing a Christmas party Theme
a- Choose a Theme
The theme you choose sets the tone for your gathering and helps bring cohesion to all the details. Go with a classic like "Winter Wonderland" or get creative with something like "Tropical Christmas." A theme provides inspiration and helps avoid a hodgepodge look.
Consider your favorite holiday colors or decorative styles. Do you prefer traditional red and green with natural elements like pine cones and berries? Or maybe an elegant silver and gold with crystal accents is more your style. Don't forget eco-friendly options using items like paper snowflakes, felted ornaments or reclaimed wood.
b- Executing the Christmas party theme
Once you settle on a theme, carry it through in all the details. Use related colors, scents, materials, music, activities, lighting, linens, serveware, floral arrangements, etc. For a "Winter Wonderland" you might do icy blues and silvers with the smell of pine, playing jazz instrumentals, serving hot cocoa in glass mugs, and having guests make origami snowflakes.
A theme sets the perfect mood, but you can also simply focus on a decorative style or color palette you love. The important thing is that all the elements feel cohesive and reflect your unique holiday style. Your guests will surely appreciate all the thought you put into creating a festive atmosphere and transformational experience. After all, it's the season of cheer, coziness and togetherness. A well-designed space encourages people to slow down, connect and simply enjoy each other's company.
2- Welcoming Guests: Ideas for a Festive Entrance and Living Room
As soon as your guests walk in the front door, welcome them into a warm and cozy space filled with holiday cheer. Start with a festive doormat to set the mood, maybe one with a fun Christmas party saying or pattern.
a- At the Gate
Hang a wreath on your front door to greet visitors before they even step inside. For extra charm, add ribbon, berries, or string some lights around it. Inside the entryway, place a tray with candles, greenery, or treats like cookies for your guests.
b- The Living Room
In the living room, focus on creating distinct areas for mingling, lounging and activities. Arrange furniture in circular shapes rather than strict lines along the walls. Provide extra seating with floor cushions, ottomans or folding chairs.
Groupings of smaller lamps, string lights or candles will make the space more intimate than overhead fixtures alone. A fire in the fireplace, if you have one, adds warmth and coziness. You can never have too many blankets, throws and pillows for a Christmas party!
c- Things to use for Home Decor
For decor, use natural items like pine cones, berries, cinnamon sticks and fresh greenery. Wrap empty boxes or bins in decorative paper to use as pedestals. A garland, paper snowflakes or string of cards can turn a doorway into a festive focal point.
Most importantly, include personal touches that reflect you and your style. Photos, mementos from holidays past or favorite ornaments will make your home extra inviting. With the right ambiance and decor, your living room can become the heart of a wonderful holiday gathering. Your guests are sure to feel the season's Christmas party spirit the moment they walk through your front door!
3- Dining and Kitchen Tips: Food Presentation and Prep for Holiday Meals
For holiday gatherings, the dining area and kitchen are central hubs of activity and interaction. Here are some tips to make these spaces inviting and functional:
a- Food Presentation for Christmas party
Present your food in an artful way to make it visually appealing. Use decorative platters, tiered stands, and cake stands to elevate dishes at different levels. Garnish plates with citrus slices, fresh herbs, pomegranate seeds or candied nuts.
Group similar foods together on a platter or board for a cohesive spread. A cheese board with meats, nuts, olives and bread is always a crowd pleaser. A crudité platter with veggies, hummus and dip is healthy and colorful.
Label dishes with little chalkboard or decorative signs so guests know what's what. This is especially helpful for dietary restrictions.
b- Kitchen Prep
Do as much prep work as possible beforehand. Wash and chop veggies, cook rice/grains, bake desserts and freeze. That way you can enjoy your guests!
Make sure you have enough cutlery, plates, glasses and linens for everyone. And extras in case anything breaks!
Designate separate areas for dirty and clean dishes to keep the kitchen from becoming chaotic. Have a bin for compost and recycling and make it easy for people to sort properly.
Keep snacks, appetizers and drinks replenished so no one goes hungry. But don't feel pressure to have a huge, complicated meal. A few high-quality, homemade dishes are better than an overwhelming buffet.
Relax and ask others for help. Cooking for a crowd should be enjoyable, not stressful. Put on some music, pour yourself a drink and appreciate your friends and family. The little details won't matter as much as the memories you make together.
4- Creative DIY Holiday Decorations and Lighting for Christmas party
The holidays are a perfect time to get creative with DIY decorations and lighting. Homemade touches make your space feel warm and inviting for guests. Here are some easy ideas to try for this Christmas party:
a- String up fairy lights
Fairy lights, or string lights, create a whimsical glow perfect for the holidays. Wrap them around staircases, door frames, or drape them from the ceiling. For outdoor use, choose weather-resistant lights. Battery-powered options mean no tangled cords.
b- Make decorative candles
DIY candles make great hostess gifts or table centerpieces. Melt down old candles to make new custom colors and scents. Or decoupage glass jars or vases with holiday scrapbook paper or fabric and add a candle inside. For a natural look, hollow out oranges or lemons and place a tealight candle inside.
c- Craft holiday wreaths
A homemade wreath is a festive way to welcome guests. Use greenery from your yard like pine branches, eucalyptus, or berries. Or create a paper wreath using old book pages, sheet music, or maps. Glue on ribbons, string, tinsel or ornaments to decorate. Hang your wreath on doors, walls or windows.
d- Fashion paper snowflakes
No two handmade paper snowflakes are alike. Fold square sheets of paper in half, then in thirds both ways to make triangles. Cut out shapes from the edges and unfold to reveal your creation. Hang them in windows or string together for an easy garland. Use recycled paper or coffee filters for an eco-friendly option.
e- Bake holiday treats
The smell of fresh-baked goods fills a home with comfort and joy. Cookies, breads, and candies also make perfect gifts for guests or hostesses. Classic recipes like sugar cookies, fruitcake, fudge or toffee are always crowd-pleasers. Get creative with shapes by using holiday cookie cutters. Homemade food is a thoughtful way to make guests feel special.
With some scissors, string, paper and a little imagination, you can craft decorations that reflect your personal style. DIY touches are what make the holidays feel like home.
5- Music, Activities and Outdoor Spaces: Keeping Guests Entertained
To keep your guests entertained at a Christmas party or any holiday gathering, providing music, activities and utilizing your outdoor space can make for an memorable evening.
a- Music and Dancing
Create a playlist ahead of time featuring a mix of classic holiday tunes as well as crowd-pleasing party songs. Have the music playing as guests arrive to set a festive mood. Once everyone has gathered, turn up the volume and get people on the dance floor! Teach guests some simple line dances or partner dances to get everyone involved.
b- Games and Activities
This Christmas party, have some interactive games, crafts or activities on hand for people who prefer to socialize in a low-key way or need a break from dancing. Consider:
A gift wrapping or holiday card making station with supplies for people to get creative.
Classic party games like Pictionary, charades or holiday movie trivia.
A photo booth with props for silly selfies and group shots.
c- Utilize Your Outdoor Space
If you have an outdoor space like a deck, patio or backyard, find ways to extend the Christmas party outside. Some ideas:
String up outdoor lighting, lanterns or string lights to make the space inviting after dark.
Have a fire pit going with seating around it for guests to cozy up under the stars. Provide blankets, s'mores supplies and hot cocoa.
For a casual vibe, set up outdoor heaters, seating, snacks and cocktails on a deck or patio. Play music outside as well to bring the festive atmosphere outside.
By providing interactive entertainment in the form of music, games, activities and an outdoor escape, your Christmas party is sure to be a hit. Your guests will appreciate all the thought you put into making the evening a memorable one. Most importantly, don't forget to take some time to relax and enjoy yourself as the host—that's what the holidays and Christmas party are all about!
Take Away
You've got some great ideas and inspiration to get your creative juices flowing for your next Christmas party. Now it's time to roll up your sleeves, turn up the festive tunes, and get to work transforming your space. Your guests will surely appreciate all the thought and effort you put in to make them feel welcome and spread some seasonal cheer. And the best part? You'll get to enjoy the fruits of your labor right along with your friends and family. So start brainstorming, make a plan of attack, and get ready to deck the halls in style. The holidays will be here before you know it, so happy decorating and best of luck creating a warm and whimsical wonderland to celebrate the season!