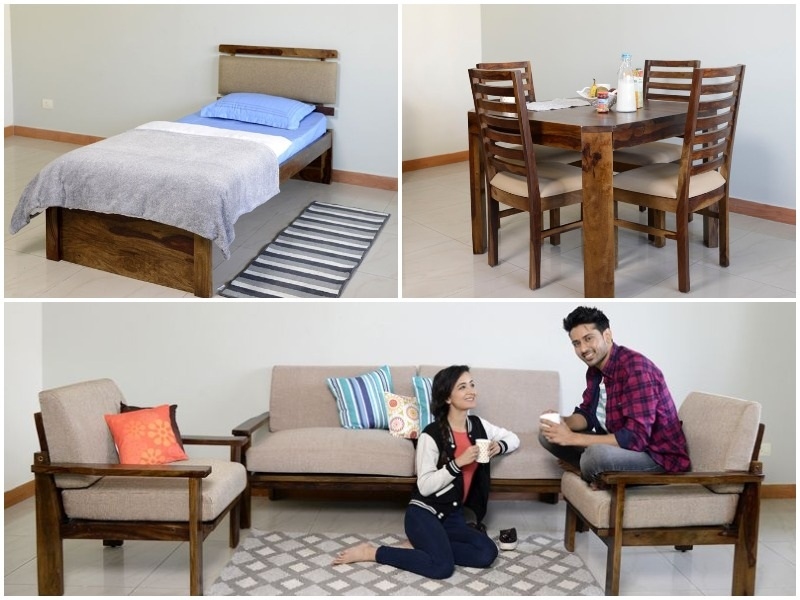 Have you ever moved into a new place and cringed at the thought of forking out tons of money to fill it with furniture? The sticker shock of buying couches, tables, chairs and more can be enough to make you consider sitting on the floor. But don't worry, there's an affordable solution — furniture rental. Renting furniture allows you to get fully furnished at a fraction of the cost of buying. You're not locked into certain styles or stuck with furniture you may not want long-term. Renting gives you flexibility and freedom. If after a year you're ready for a change, simply swap out pieces for something new. It's that easy. Read on to learn all the ways renting furniture can save you money and allow you to live comfortably without the commitment. Your wallet and your back will thank you.
1- Why Rent Furniture? The Benefits of Furniture Rental
a- Saves Money
Renting furniture offers many advantages over buying. First, it saves you money. You avoid high upfront costs and can get premium, high-quality pieces for a fraction of the retail price. No need to spend thousands on a new living room set or bedroom furniture.
b- Flexibility Intact
Renting is also flexible. Your tastes or living situation may change, and renting allows you to swap pieces out or return everything if needed. Heading to college? Rent a fully furnished dorm room. Relocating for a new job? Rent an apartment full of furniture without lifting a finger.
c- Sustainable Living
Renting enables you to live sustainably. The sharing economy reduces waste and environmental impact. Rental companies maximize the use of resources and properly maintain and care for furniture between renters.
d- Hassle-Free
Finally, renting means less commitment and responsibility. No need to worry about damage, wear and tear, or selling pieces if you no longer want them. Rental companies handle delivery, assembly, repairs, and removal.
In summary, renting furniture offers affordability, flexibility, sustainability, and convenience. Whether renting long-term, short-term for events or staging, or to furnish student housing, it enables you to enjoy high-quality furniture without the traditional burdens of ownership. Save money, live lightly, and make your space work for you.
2- How Furniture Rental Works: The Process Explained
Renting furniture is an easy process. Here's how it works:
a- Select Your Items
Browse the rental company's website or visit their showroom to choose the pieces you want, like a sofa, tables, chairs, decor, linens, electronics, and more. They offer high-quality, contemporary furniture at affordable prices.
b- Choose a Plan
Decide if you want to rent short-term (3-6 months) or long-term (6-12 months). Short-term is great for temporary housing or staging a home for sale. Long-term gives you flexibility if you're not ready to buy. You can even rent-to-own!
c- Complete the Application
Provide some basic information online or in-store to set up your account. There's a simple know-your-customer (KYC) process to verify your identity.
d- Schedule Delivery
Select a delivery date that works with your schedule. Most companies offer free white glove delivery, installation, and assembly on all rented pieces. They'll place the items exactly where you want them in your home.
e- Make Payments
For long-term rentals, you pay a low monthly payment, often 50-70% less than retail. No huge upfront costs! Your rental terms are flexible—you can extend, purchase, or return items.
Renting furniture is an affordable, eco-friendly way to live comfortably without commitment. You get high-quality pieces for your home without the hassle of ownership. Best of all, you have the freedom to change styles whenever you want! What could be better than that?
3- What Types of Furniture Can You Rent?
When renting furniture, you have many options to choose from. Do you need furniture for your home, office, or outdoor space? The possibilities are endless.
a- Home Furniture
For home rentals, you can find everything from sofas and chairs to tables, beds, dressers and more. If you're renting an unfurnished apartment, renting furniture is an easy way to make it feel like home without the commitment of purchasing big-ticket items upfront. Popular home furniture rentals include:
Sofas and loveseats: Choose from a variety of styles like sectionals, sleeper sofas or standard 2-3 seaters.
Bedroom sets: Rent a complete set with a bed frame, mattress, dresser and nightstand or rent pieces individually. Platform beds and queen or king mattresses are common.
Dining tables and chairs: Rent a table for 4-6 people with matching chairs for casual meals or entertaining.
Storage Furniture: Rent Wardrobes, Chest of Drawers and much more for storing your belongings in style.
b- Office Furniture
For businesses, renting office furniture is a flexible and budget-friendly option. You can rent desks, chairs, cubicles, file cabinets and conference tables. Some options include:
Desks: Rent stand-up or sit-down desks for individual employees or shareable hot-desks.
Task chairs: Provide proper lumbar support for employees with ergonomic task chairs.
Conference tables: Rent tables to seat small or large groups for meetings, training and events.
Renting furniture gives you the flexibility to choose pieces for the short-term or long-term, and the freedom to upgrade or scale back as needed without major investments. With so many styles and options to suit your needs, renting furniture could be the perfect solution for your living or work space.
4- Top Cities for Renting Furniture
Some of the top cities for renting furniture are urban areas with a young, transient population, like students or young professionals. When you're just starting out in a new city, renting furniture allows you to set up your space without a major financial commitment.
a- Furniture Rental in Bengaluru
India's Silicon Valley is a mecca for young tech talent, with many short-term job placements and internships. Furniture rental companies like Cityfurnish has tapped into the demand, offering trendy, affordable packages. You can find everything from beds and couches to dining sets and bookshelves.
b- Furniture Rental in Delhi/Noida
The Delhi National Capital Region has a strong rental market, with options at multiple price points. In addition to basic beds, sofas and tables, higher-end packages feature lounge seating, accent chairs, bar carts and more. Some recommended companies are Cityfurnish, and GrabOnRent.
c- Furniture Rental in Mumbai/Pune
Major cities in Maharashtra also have a thriving rental furniture scene. Targeting young professionals and students, companies like Cityfurnish, and Livspace rentals provide packages for full apartments or individual rooms. Inexpensive but stylish options include space-saving furniture, fold-out beds, and multi-purpose tables.
The convenience of renting furniture in India's top cities allows you to settle into a new place with ease. You can choose a fully styled space or select favorite pieces to suit your needs and budget. When your situation changes, simply return or swap out the furniture. No more struggling to move heavy furniture or being stuck with items you no longer need!
5- Furniture Rental for Different Purposes
Renting furniture is a great option if you're staging a home for sale or hosting a special event. It allows you to create an inviting space without committing to buying pieces you may only need temporarily.
a- Rental Furniture for Restaurants, Guest Houses or Airbnb
If you're starting a restaurant, or running a guest house or an Airbnb, furniture rental can be the best choice. You can rent complete furniture packages as per your requirement based on the latest styles and your home's architecture. Renting furniture also allows you to experiment with different layouts to determine what shows the space best without being stuck with pieces you end up not liking.
b- Rental Furniture Pieces for Events
Whether you're hosting a party, wedding, or corporate event, furniture rental allows you to elevate the ambiance without going over budget. You can rent high-end tables, chairs, lounges, bars, and lighting that would cost a fortune to buy outright. Renting also saves you from having to store bulky items when they're not in use.
c- Rental Furniture for Daily Use
But is doesn't have to be a special occassion or day for you to enjoy the flexibility and style of this hassle free furniture option for your home, office, and outdoors.
Many furniture rental companies like cityfurnish.com, offers delivery and setup services to make the process seamless. They can also provide linens, place settings, centerpieces, and decor to complete the look. For outdoor events, consider renting weather-resistant pieces like aluminum or teak chairs, loveseats, tables, and umbrellas.
Renting furniture on a short-term basis for staging or events is an affordable, stylish, and sustainable option. You can choose from high-quality pieces that make a space feel cohesive without the commitment of ownership. Do some research on rental companies in your area to find one with lots of options, good reviews, and reasonable prices. Your space and guests will thank you!
Take Away
So there you have it, all the reasons why renting furniture makes perfect sense for you and your lifestyle. Whether you're a renter looking for flexible and affordable options, an eco-conscious consumer reducing waste, or someone who just wants to try out the latest trends without commitment, renting furniture is the way to go. Give it a shot – you'll be sitting pretty in style without the buyer's remorse. Renting furniture lets you live unencumbered by stuff you don't need while still surrounding yourself with beautiful, high-quality pieces. And when you're ready to move on, you can return it all and start fresh. It's the sustainable, budget-friendly choice for living well without being weighed down. Why buy when you can rent? The options are endless and the benefits are huge. Make your space your own without the lifetime cost – rent your furniture today.