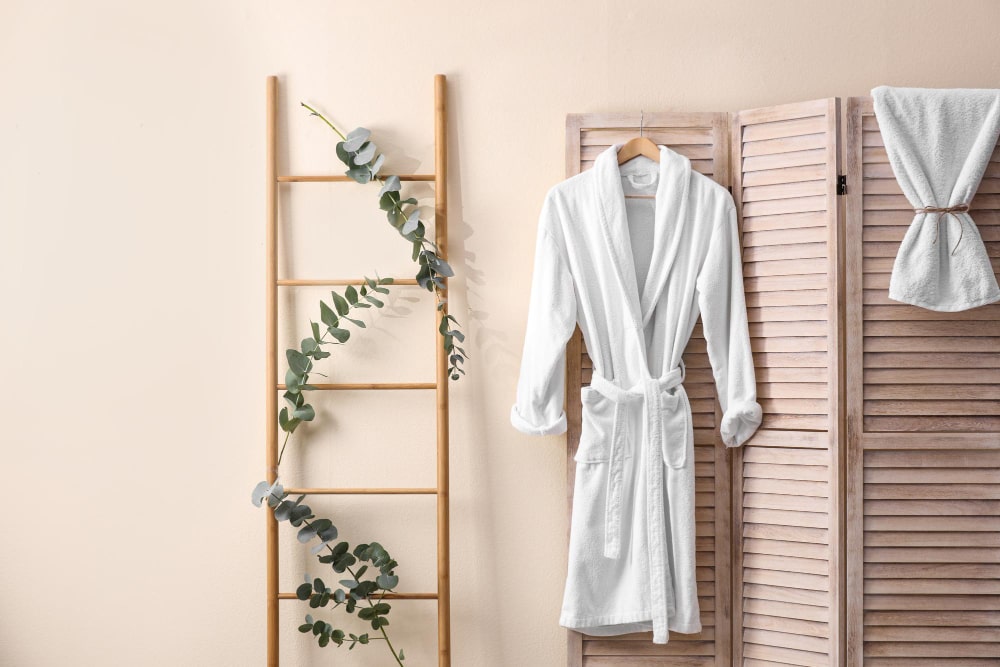 You just stepped out of a warm shower and want to wrap yourself in cozy comfort. A plush bathrobe is the perfect solution. Whether you're lounging at home after waking up or unwinding poolside on vacation, a bathrobe is the ideal garment for pampering yourself. In this article, you'll discover the best ways to use your bathrobe for maximum enjoyment and how to properly care for it so it remains soft and luxurious. From decoding the perfect timing and usage to unveiling maintenance tips, your bathrobe questions will be answered. By the end, you'll be an expert in bathrobe sophistication and ready to slip into spa-like bliss.
1- Usage Unveiled: The When and How of Wearing a Bathrobe
A plush bathrobe is perfect for slipping on after a shower or when you want to lounge in comfort. Here's how and when to make the most of your bathrobe:
a- Post-Shower Perfection
After toweling off from your shower or bath, put on your bathrobe to stay cozy as you go about your morning routine. The soft, absorbent fabric will keep you warm while your body air dries and you get ready for the day.
b- Pamper Yourself
For a relaxing spa experience at home, draw a warm bath, light some candles, and bring your bathrobe to change into after your soak. The loose, lightweight feel of a bathrobe is ideal for lounging and pampering yourself with lotions, masks or a good book.
c- Poolside Sophistication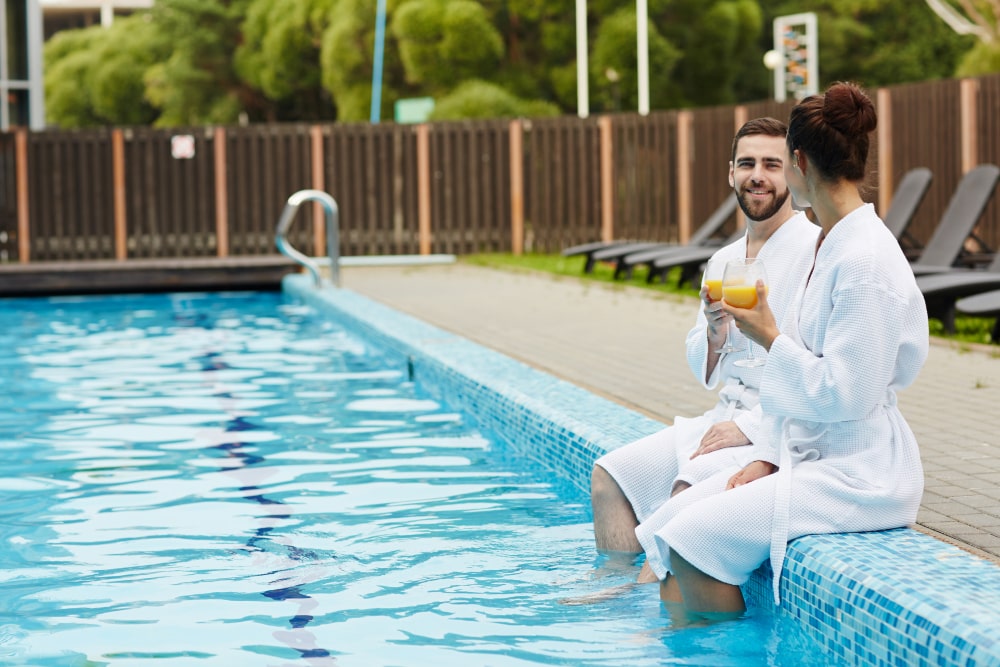 If you have a pool or hot tub, a bathrobe provides a touch of elegance for walking to and from the water or while enjoying an outdoor meal on the patio. Look for a knee-length waffle weave or terry cloth style in a lightweight, breathable fabric.
To keep your bathrobe fresh, wash it after every 3-5 wears in warm or cold water on a gentle cycle. Tumble dry on low and remove while still slightly damp to maintain softness. Avoid fabric softener which can damage the absorbency. With proper care and storage, a high-quality bathrobe should last for years of cozy comfort.
2- Timing Decoded: Ideal Occasions for Lounging in a Robe
The morning after a shower is the perfect time to lounge in your cozy bathrobe. As you sip your coffee and scroll through the news, your robe keeps you warm and comfortable. For the ultimate pampering, pair your morning robe ritual with slippers, a hot cup of cocoa, and a good book.
a- Poolside Lounging
When the summer sun is shining, grab your robe and head outside! A lightweight cotton robe is ideal for keeping the chill off between dips in the pool or hot tub. The loose, breathable fabric allows for air flow while also absorbing moisture. With a robe, towel, and sunglasses, you have everything you need for a relaxing pool day.
Whether you start your day wrapped in plush terrycloth or end it watching the sunset in a breezy cotton robe, lounging in a robe allows you to slow down and savor simple pleasures. Make the most of life's little moments of leisure with a robe that suits your style and the occasion. After all, comfort and coziness should not be reserved only for bedtime!
3- Maintenance Exposed: Washing, Drying and Storing Your Bathrobe
To keep your bathrobe clean and cozy for years to come, proper maintenance is key.
a- Washing Wisdom
Launder your bathrobe regularly based on how often you use it. For most, every 3 to 5 wears is a good rule of thumb. Check the care label and wash on the recommended cycle using a mild detergent. Avoid fabric softener which can damage fibers over time. For the fluffiest results, choose the rinse and spin option for washing machine programme in place of a full spin cycle.
b- Drying Drama
Remove your bathrobe from the washer and gently shake out excess water. Lay it flat on a towel to air dry completely. Avoid wringing or twisting which causes damage. If machine drying, use the lowest heat setting and remove while still slightly damp to prevent over-drying. Fluff up the pile with your hands.
c- Frequent Fluffing
Plush bathrobes benefit from regular fluffing to maintain their shape and restore volume. After each wash, give your bathrobe a good shake and smooth out matted areas. For spot fluffing in between washes, hang your bathrobe and use the low suction hose attachment on your vacuum, brushing in the direction of the pile. This freshens up the pile and revives the shape.
Following these care and keeping tips will ensure many cozy years to come with your faithful bathrobe. Treat it well and it will treat you well in return!
4- Where to Buy: Top Places to Purchase Quality Bathrobes
When it comes to buying a quality bathrobe, you have several great options. Stores like FabIndia & HomeTown offer a wide selection at varying price points.
Online, you'll find lots of choices on sites like Amazon, Pinklay, Sleeplove etc. They frequently run sales and promo codes to save you some cash. If you want ultra-plush, personalized bathrobes, Etsy has artisans that make custom robes using the finest fabrics like Turkish cotton, fleece, satin and bamboo rayon.
For budget-friendly but cozy robes, Myntra & Azio can't be beat. Look for popular brands like. You really can't go wrong with plush microfiber or classic terry cloth.
At the end of the day, the robe that's right for you depends on factors like budget, fabric preference, and how much use you'll get out of it. But with so many great retailers available, you're sure to find one that checks all the boxes. Happy shopping and sweet dreams!
5- How to use Bathrobe in daily life?
So you've invested in a plush bathrobe—now put it to good use! Here are some ways to incorporate a bathrobe into your daily routine:
a- Morning Ritual
There's nothing quite like slipping into a cozy bathrobe after a shower to start your day. Throw it on after toweling off and enjoy your morning coffee, read the news, or just lounge for a few minutes. The soft, warm fabric is comforting and helps ease you into the day.
b- For Convenience at the Time to get Ready
For extra pampering, try wearing your bathrobe while doing your hair and makeup. Since you'll be standing in one place for an extended time, the bathrobe will keep you cozy and covered. Light a candle, put on some relaxing music, and take your time getting ready. You'll feel refreshed and recharged to start your day.
When it's time to get dressed, simply untie your bathrobe and slip into your outfit. But if you're not quite ready to take it off, wearing it open over your clothes for a few more minutes is perfectly acceptable too. Your secret is safe with us!
c- To Relax
After a stressful day, changing into a plush bathrobe signals to your mind and body that it's time to unwind. Make a ritual of slipping into your robe after work with a cup of tea, reading a book, or listening to calming music. Staying wrapped up in its cozy embrace for the evening is a simple way to practice self-care and shift into relaxation mode. Sweet dreams!
Take Away
So there you have it, your complete guide to bathrobe usage, timing, and upkeep. Whether you're stepping out of the shower, enjoying your morning coffee, lounging poolside, or pampering yourself, a bathrobe adds comfort and luxury to the experience. Keep your bathrobe clean and well maintained by washing it regularly, drying it thoroughly, and storing it properly and it will last you for years. The next time you check into a hotel or spa, don't forget to make full use of the complimentary bathrobe – you'll be glad you did! Treat yourself to this simple indulgence and enjoy the coziness. Your bathrobe awaits!
FAQs:
Wondering if the plush bathrobe in your hotel room is up for grabs? Unfortunately, no. Hotel bathrobes are provided as a courtesy for guests during their stay only. However, many hotels do offer bathrobes for purchase if you want one to take home.
a- How to use a Bathrobe?
To properly use a bathrobe, slip it on after showering or bathing while your body is still damp. Cinch the belt securely but comfortably around your waist. Bathrobes are ideal for lounging, so once on, you can go about your usual post-bath routine like brushing your teeth, drying your hair, or just relaxing. For the ultimate spa experience, consider lighting some candles and putting on calming music.
b- How to clean Bathrobe?
When it comes to cleaning your bathrobe, check the care label first. Most bathrobes can be machine washed in warm or cold water on a gentle cycle using a mild detergent. Avoid fabric softener which can damage certain materials. Tumble dry the robe on low heat and remove promptly to avoid wrinkles. For stubborn stains, pretreat the area before washing and wash the robe separately the first time.
c- How to maintain Bathrobe?
To keep your bathrobe soft and fluffy, wash it after every 3-5 wears. After washing, shake out the robe and smooth down the pile with your hands. Store the robe unfolded or on a wide hanger in a well-ventilated closet away from direct heat. This helps the fibers maintain their loft and prevents the robe from becoming misshapen.
With proper care and usage, a high-quality bathrobe can provide years of cozy comfort. Follow these tips and enjoy your bathrobe as the pampering treat it was meant to be.