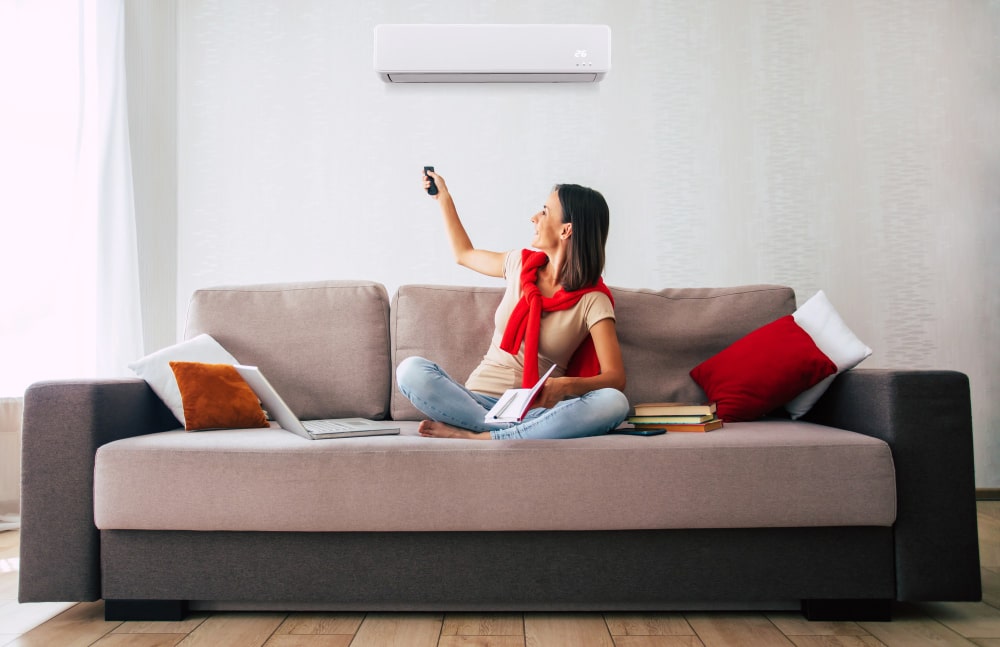 Looking for a detailed explanation about top 10 air conditioner brands in India. You have come to the right place.
If you are thinking about investing in air conditioning, you're certainly not alone. With hot summers and work-from-home lifestyles, many of us are looking for ways to stay cool and comfortable.
But which air conditioner should you buy? With so many brands to choose from, it can be overwhelming to search for the one that fits best with your lifestyle and budget. Don't worry – I'm here to help you make an informed decision.
In this blog post, I'll give you a comprehensive overview of the top 10 air conditioners brands in India as well as helpful information on price, energy efficiency, maintenance and warranties. I'll also answer some of the most common questions people have about when to buy an AC so you can make a purchase that's both smart and easy on the wallet. Choosing the right home appliance is crucial to build a peaceful home and we are here to help you doing just that.
A- Top 10 Air Conditioner Brands in India: A Quick Comparison
If you're in the market for an air conditioner, you'll be facing many choices. India is home to some of the best air conditioner brands in the world, and knowing which ones suit your needs best can be daunting. To help you make an informed decision and pick the right one for your home or office, here's a quick comparison of 9 of the top AC brands in India:
1- LG Air Conditioner: Innovative Designs for Energy Efficiency
When you're shopping for an air conditioner, LG is on the top brands of top 10 air conditioner brands in India. With LG's innovative designs and technology, their promise of superior energy efficiency, and affordable pricing options, you're sure to find something that meets your needs.
From wall-mounted split units to window systems, all of LG's air conditioners boast sleek modern designs and low energy costs. These units come with a variety of features such as auto-restart, custom fan speeds and temperature controls, which all help to save energy and keep your home comfortable. Even their most basic models come with awesome features like a dehumidifier setting and a 24-hour timer that allow you to customize your cooling system for the best energy use efficiency.
Plus, LG offers a unique warranty that covers both parts and labor costs for up to 10 years – so you can enjoy the peace of mind knowing your purchase is covered. And when it comes time for installation or maintenance, you can take advantage of their nationwide network of certified contractors who can provide professional quality service at reasonable prices.
2- Samsung Air Conditioner: High Performance Cooling Power
In the range of powerful air conditioner Samsung Rules, hence comes second on the list of top 10 air conditioner brands in India. The company has long been dominating the market when it comes to providing air conditioners with some of the finest performance ratings.
Let's try to look at some key points:
Technology: Samsung uses advanced technology in building these air conditioners, giving you more cooling power with less energy use. Cutting-edge technology, such as triple-protection filters, that can help lessen the quantity of dust and pollen in your home's air, these air conditioner plays the role of air purifier as well.
Warranty: Samsung is proud and sure of its technology and it shows. One of the longest warranties available for air conditioners is the 10-year one provided by Samsung.
Installation: Samsung offers professional installation services to ensure your air conditioning unit is installed safely and correctly for maximum efficiency and performance. In order to maintain your unit operating at its best performance level throughout the year, they also offer maintenance services.
Samsung air conditioners are among the best options when it comes to purchasing an air conditioner due to its dependable cooling power, sturdy design, and excellent warranty coverage.
3- Daikin Air Conditioner: Reliable Japanese Technology
With reliable Japanese technology, you can trust Daikin ACs to provide cooling comfort all summer long. How can it not be a part of top 10 air conditioner brands in India?
Daikin ACs are known for their efficiency in terms of energy saving and cost savings in the long run – you can be sure that you will be saving on your electricity bills with these.
a- Installation
Installation of a Daikin air conditioner is fairly straightforward, with the help of professional technicians that come with the purchase of the AC. And with a 5 year warranty on most models, you can have peace of mind knowing that any technical issues will be promptly addressed and resolved by the manufacturer itself.
b- Maintenance
Compared to other brands of air conditioners, Daikin air conditioners require very little maintenance. To guarantee your air conditioner operates at its peak efficiency, the filters need to be cleaned on a regular basis. Qualified service personnel are also advised to do frequent maintenance.
Daikin is one of the most reputable brands in India today because of its proprietary technology, which provide its air conditioners outstanding cooling capacity. So go no farther than their selection of air conditioners if you're seeking for an effective and dependable alternative for your house or place of business!
4- Mitsubishi Air Conditioner: Quiet and Durable Cooling
If you are looking for the most quiet air conditioner in the market, Mitsubishi is the best option. This company is known for producing some of the longest-lasting and quietest air conditioners on the market. Like every other standard air conditioner this brand also produces energy-efficient air conditioner which comes with a 10-year warranty.
a- The M Series
The M Series from Mitsubishi is ultra-quiet and super saver air conditioner. It comes with advanced technology such as Inverter Drive – which helps reduce electricity consumption by up to 40%. Sleeping peacefully with this appliance is very much possible.
b- Durability
Mitsubishi air conditioners are built to last and have outstanding durability thanks to their sturdy materials and construction. The indoor unit's evaporator coil has a corrosion-resistant coating that helps prevent rust and mould buildup, giving you worry-free maintenance.
In conclusion, the Mitsubishi Air Conditioner can be exactly what you need if you're seeking for an affordable, quiet, and energy-efficient air conditioner. You may have comfort and peace of mind at a low cost because to its 10-year warranty and cutting-edge technologies, like Quiet Mode. Thus, an integral part of top 10 air conditioner brands in India.
5- Blue star air conditioner
The Blue Star brand of air conditioners is a fantastic option. They are renowned for their durable design and enduring performance. But how precisely do they contrast in terms of cost, energy effectiveness, and upkeep?
a- Price
From entry-level models that cost just a few thousand rupees to more sophisticated ones that cost up to 30,000 rupees or more, Blue Star air conditioners are available at a variety of pricing points. so that you can choose the one that is within your means.
b- Energy Efficiency
Modern features like inverter ACs, which guarantee that the unit's electricity consumption is optimised for optimal efficiency, are included with Blue Star ACs. This results in cheaper electricity costs and less environmental impact.
c- Maintenance
In the long run, servicing and repairs for Blue Star ACs are fairly minimal. Plus, they come with comprehensive warranty packages so you can always be sure that you'll get excellent post-purchase support if something goes wrong with your unit.
6- Hitachi air conditioner
Hitachi definitely secure a place in top 10 air conditioner brands in India. Hitachi air conditioner is a well-known and reliable appliance. All models of Hitachi air conditioners are equipped with all type of modern technology, including the ones that come with inverter technology and cooling features.
Let's have a look at the main points:
a- Price
Prices for Hitachi air conditioners range from mid-range to high-end. You can find them online or at your local home improvement store.
b- Energy efficiency
Many of the latest models are energy-efficient, and offers up to 5 star energy rating, which helps you save on your energy bills.
c- Maintenance & Service
Air conditioner need regular service and maintenance and Hitachi is famous for is quick and professional service without any unnecessary delays. They also provide warranties on all their products, so that you can rest easy knowing that your purchase is covered in case of any issues.
7- Voltas air conditioner
Voltas air conditioners come with a wide range of features, from efficient cooling to energy saving options. They are affordable and easy to install. These air conditioner are a good option even for those who have a lesser budget.
Here are a few points to consider:
a- Price
Voltas air conditioners are extremely budget friendly and offer great value for money. You can get an AC ranging from 1 ton to 2 ton capacity, and depending on the model you choose, you can also get some advanced features at an affordable price.
b- Energy Efficiency
Voltas AC's come with special energy-saving features that help reduce electricity costs without sacrificing performance and cooling quality. With their 5-star energy efficiency rating, these air conditioner go tough on heat and easy on your pocket.
c- Maintenance
All Voltas air conditioners come with standard 1-year warranty for parts and 10 years warranty for compressors, which means that in case any part malfunctions or there is an issue with your AC unit, you can easily get it serviced during this period without any extra costs. In addition, they also provide after-sales service centers in major cities across India to address customer service needs quickly and effectively.
It has everything a branded air conditioner could possibly require to be in the list of top 10 air conditioner brands in India.
8- Godrej air conditioner
Godrej is well known and renowned company in India. There was a time when every appliance in every home used to be of only one brand- Godrej. People have been in love with all of the products of the brand and air conditioner is no exception. If so, Godrej air conditioners could be the right choice for you. With a wide range of models and prices, this brand offers a great value product.
Here are some additional reason for choosing Godrej:
a- Price
Godrej air conditioners are known for their great prices and value, making them one of the most affordable options in the market. You can easily find a model that will fit your budget and needs.
b- Warranty
Most Godrej air conditioners come with comprehensive warranties that cover up to three years, giving you peace of mind when it comes to after-sales service.
c- Maintenance
Godrej is famous for its efficient customer service and a network of authorized dealers that can help with installation and maintenance. The company also runs regular training programs for technicians to ensure they stay up-to-date on the latest technology.
9- Haier air conditioner
The ninth brand in this list of top 9 air conditioners is the Haier air conditioner. Haier air conditioners provide excellent energy efficiency and come with attractive warranty options. These air conditioners are designed to last for many years and are highly efficient in terms of electricity consumption.
Their designs are modern and sleek, and they come with features such as Automatic Temperature Control, Self-Cleaning Filter, Inverter Technology, Sleep Mode, Proactive Diagnostics, and more. They offer both split ACs and window ACs depending upon the space you have available.
In terms of price, Haier air conditioners tend to be on the higher side when compared to other brands but depending on your requirements, they could still be a great choice for you. Their installation service is quite good and they also offer maintenance services at reasonable prices.
When it comes to buying a Haier air conditioner, the best time to do so would be during promotional sales or seasonal discounts so you can get a good deal while still getting top-notch quality that Haier promises. This brand surely deserves a place among top 10 air conditioner brands in India.
10- Lloyd Air Conditioner
Lloyd air conditioners are affordably priced, starting around $300 for a small window unit and $700-$1500 for a portable model. Central AC systems typically range from $2000 to $5000 installed, depending on the size of your home.
a- Maintenance and Repair
Lloyd AC units are designed to require minimal maintenance. However, to keep your AC running efficiently and avoid costly repairs down the road, it's best to schedule annual service calls. Lloyd offers service plans starting at $150-$250 per year that include:
Inspections and tune-ups
Filter changes
Cleaning of coils and fans
Tightening of connections
Software and firmware updates
Should your AC require repairs, Lloyd's nationwide network of certified technicians are available for emergency service calls. Repair costs will vary depending on the specific issue, but you can expect to pay $150-$500 for common repairs like:
Recharging or replacing the refrigerant
Fan motor or control board replacements
Sealed system repairs
b- Warranty Coverage
All new Lloyd AC units come with at least a 1-year parts and labor warranty. Extended warranties of up to 5-10 years are also available for purchase at the time of sale to cover the sealed system and major components. While warranty coverage will vary between models, Lloyd is known for standing behind their products and striving to resolve issues promptly.
c- Options and Accessories
Lloyd offers numerous add-ons and upgrades for their AC units like:
Programmable thermostats with smart home connectivity ($100-$300)
Air filters for improved indoor air quality ($30-$100/year)
Dehumidifiers to reduce excess moisture ($200-$500)
UV lights to prevent the growth of mold and bacteria ($150-$300)
With the range of options Lloyd provides, you can customize an AC for your needs and budget. Their goal is to make high-efficiency, reliable cooling accessible to all.
d- Regular Maintenance
Performing routine maintenance on your AC unit will help ensure it lasts for years to come. It's recommended that you:
Clean or replace the filter at least once a month during peak cooling season. Clogged filters reduce efficiency and can damage the unit.
Vacuum indoor vents and intake grills to remove built-up dust and debris.
Have a technician perform professional maintenance once a year before the start of cooling season. They can check refrigerant levels, test components, and clean critical parts.
Consider a service plan for regular tune-ups and priority service. Lloyd offers affordable plans to keep your AC in tip-top shape.
e- Smart Settings
The settings you choose for your AC unit directly impact how efficiently it runs. It's best to:
Keep the temperature at 68-72 F for the most comfort and efficiency. Colder settings can increase your energy usage significantly.
Use the programmable thermostat to raise the temperature when you're away from home or sleeping. This can lower your utility bills by up to 10% annually.
Choose a fan setting of "Auto" to allow the unit to determine fan speed based on the temperature difference. The "On" setting runs the fan continuously, reducing efficiency.
With various sizes, efficiency ratings, and feature options available, you can choose a Lloyd AC model tailored to your needs and budget. The right AC unit for your situation will keep you comfortable all summer long without sending your energy bills through the roof.
This brand surely deserves a place among top 10 air conditioner brands in India.
B- Comparing branded air conditioner- price, energy efficiency and maintenance
When it comes to buying the perfect air conditioner, one of the most important aspects to consider is comparing the price, energy efficiency and maintenance of branded air conditioners. Here are some additional points about top 10 air conditioner brands in India.
a- Price
When comparing price, understand that there are various things like features and cost of installation that can impact the overall cost of purchasing an air conditioner. While LG, Samsung and Blue Star are known for their higher prices, budget brands like Voltas and Haier have lower prices.
b- Energy Efficiency
Energy efficiency is a crucial factor when considering your next air conditioner purchase. Check for the star rating of the product you want to buy to compare energy efficiency between brands. Generally speaking, LG, Daikin and Mitsubishi are known for their higher energy efficiency ratings while compared to other brands like Godrej and Hitachi.
c- Maintenance
It's important to choose an AC with a service center in close proximity so you can get timely service in case any issue arises later on. When it comes to maintenance, most brands have set up service centers all over India. However Daikin is known for providing exclusive after sales service with a diversified network across India making it easier for customers to get assistance with any issue they may experience.
C- Top brands in air conditioner- warranty, installation and service
It is important to consider different factors before investing in an air conditioner. An AC is a long-term investment and its warranty, installation, and service play an important role in the decision-making process. The top brands in the AC market are LG, Lloyd, Samsung, Daikin, Mitsubishi, Blue Star, Hitachi, Voltas, Godrej and Haier.
a- LG Air Conditioner
LG offers a 1-year warranty on its ACs along with 9-year compressor warranty. Installation charges may vary depending on the model you select. The brand also provides training sessions to ensure efficient functioning of its products.
b- Lloyd Air Conditioner
Lloyd air conditioners come with a comprehensive warranty of 1 year and 5 years for their compressors. Its installation charges are also nominal compared to other brands. Moreover, they offer regular service for routine maintenance.
c- Samsung Air Conditioner
Samsung also provides 1-year comprehensive warranty and 5 years compressor warranty along with free installation of all its models. The brand also provides extended warranties to ensure better quality assurance for their customers' satisfaction.
d- Daikin Air Conditioner
Daikin offers a 1 -year comprehensive warranty on all its products along with an attractive 5 years' benefit package including benefits like 2 years doorstep repairs and 4th year gas refill free of cost. Installation services are easily available online from the brand itself or other dealerships in the area at nominal costs.
The other popular brands such as Mitsubishi, Blue Star, Hitachi, Voltas Godrej and Haier also offer competitive pricing and after sales services including installation and maintenance services at special rates for their customers' convenience despite the differences in features among these models
D- When is the best time to buy an air conditioner in India?
When it comes to buying an air conditioner in India, timing is everything. In general, the best time to buy is during the late spring or early summer months. Most people upgrade their ACs during this time period, so manufactures offer more discounts to make room for new stock.
Additionally, since people are not using their ACs as much during this time, you can usually get a better deal on service and installation costs. You will be able to inspect the unit thoroughly and make sure you get the right product for your needs without feeling rushed or overwhelmed in a busy store.
Here are some things you should keep in mind when buying an air conditioner:
Check for technology such as inverter compressors that can reduce your energy bills significantly
Look for inverter ACs that offer improved cooling with increased energy efficiency
Look for longer warranties and free maintenance packages to ensure good after-sales service
Rely on trusted brands that offer good quality products at reasonable prices
Consider additional features such as dust filters, ionizers and other special functions when making your purchase
E- Key point to maintain the air conditioner- for best performance and energy saving
When it comes to air conditioners, maintenance is key! Taking care of your AC will ensure best performance and energy savings. Here are some of the key points everyone should consider when maintaining their air conditioner:
Clean the filters: Regularly cleaning or replacing your filters help in efficient functioning of your AC, as well as prevent dust accumulation. This helps to maintain the optimal indoor air quality and keep your AC running at its peak performance.
Clean and Dust the area surrounding the AC unit: To ensure efficient functioning of your AC unit, make sure to clean and dust the area around it- such as walls, window sill and floor – regularly. This will prevent any of the dust from entering into the machine.
Check fans and Motors are functioning properly: Fans inside an AC unit are crucial to its successful working, since they move cold air into a room or space for cooling purposes. Hence, it is important to regularly check whether all these fans are functioning properly and not damaged due to wear-and-tear over time.
Refill gas periodically: If you are using an air conditioner with refrigerant gas suching R22 or R410a, you should get it checked every 4-5 years by a qualified technician to avoid leakage of refrigerant gas which affects its cooling efficiency significantly over time.
Get regular servicing by professionals: Professional servicing helps in identifying any issues before they become a bigger problem and cause disruption and further repair costs, thus helping in achieving maximum energy efficiency from your air conditioner as well as extending its life.
F- Split AC and window AC- Difference, Maintenance, Usage and Energy Rating
You're trying to decide between a split air conditioning system or a window air conditioner and you don't know which one to choose? We've all been there and we totally understand. You need to make sure that whatever option you pick is low maintenance, energy efficient, and most importantly—works best for your space.
In this article, we'll dive into the differences between split AC and window ACs, outlining which one is better when it comes to energy efficiency, ease of installation, cost, and more. We'll also touch on additional topics such as noise level and floor space considerations. So if you need help making the right decision for your home or office, then keep reading—your answers are coming right up!
a- What Is a Split AC and How Does It Work?
Are you looking to purchase an air conditioner, but unsure whether you should opt for a split or window AC? You've come to the right place! Let's begin by exploring what a split AC is and how it works.
Split ACs are two-part units that work together to provide cooling. The first half—known as the 'indoor unit'—is installed inside your home, and usually mounted either on a wall or in the ceiling. The second half—known as the 'outdoor unit'—is placed somewhere outside, typically on a balcony or verandah.
These two parts are connected through copper tubing, which runs between them and carries coolant from one to the other. Inside your home, this coolant evaporates as the indoor unit sucks in air from outside, cooling it before releasing it into your room. The outdoor unit then dissipates heat from this air and returns the cooled liquid refrigerant back into your house to start again.
In short, split ACs work by moving hot air outside while bringing cooler air in for you to enjoy!
b- What Is a Window AC and How Does It Work?
Window air conditioners, as their name implies, are placed in a window or built into the wall of your home. They contain all the necessary components of an AC – the compressor, condenser and evaporator coil – and operate using a single unit.
You can choose from a variety of types of window ACs, including low profile models that fit in tight spaces and those with an energy-efficient design. They're also relatively easy to install on your own, provided you have the right tools for the job.
That said, window ACs do have some downsides worth considering. For starters they're not as energy-efficient as split ACs; what's more, since they typically take up a whole window or wall space in your home, they can be quite obtrusive or even block out natural light. And since the entire unit sits outside your home, it requires regular maintenance to keep running smoothly.
c- Window AC vs Split AC: Which Is More Energy Efficient?
When it comes to energy efficiency, split ACs are way ahead of the competition. Though window ACs are cheaper, they're not as energy efficient, so you'll end up paying more in electricity bills in the long-run.
Split ACs use a compressor outside to filter the air and cool it before sending it indoors. This has several benefits:
The compressor is built to withstand moisture and heat better than window ACs, leading to fewer breakdowns and lower maintenance costs.
Because the compressor is located outside, split ACs also produce less noise than window ACs—a real win if you're looking for a quiet living space.
Split ACs use less energy than their counterparts since the compressor outside only runs when needed (unlike window ACs which run constantly).
Having said that, if you're looking for a energy efficient AC unit, Split is definitely a better option for you.
d- Installation Requirements: Split AC vs Window AC
There's a clear difference between a split AC and window AC when its comes to installation. A window AC is much easier to install—all you have to do is lean it against a window sill or cut an opening in your wall to fit the unit. However, split ACs is a little bit more work in this area. This AC comes with two units. One would be installed inside and would be properly connected with vent tubes to the second unit which would be installed outside. Both units would require electricity and the strength of the wall should also be taken in consideration before installing a split AC as these appliances are nicely heavy.
So why would you still want a split AC? Here are a few reasons:
Energy Efficiency
Split ACs are much more energy efficient than window units, thanks to their two-part construction allowing for better temperature control while also consuming less energy.
Low Maintenance
Split ACs typically offer lower maintenance costs because they only have one moving part compared to the several moving parts with other systems. This makes them more reliable over time and allows for efficient removal of moisture from the air.
Cooling Capacity
Because of their larger size, split AC units can cool much larger spaces than window units, allowing you to enjoy cooler temperatures when needed without increasing your electricity bill.
e- Maintenance Needs: Which System Requires Less Effort?
When it comes to maintenance, you might be wondering which type of system requires the least amount of effort and work. Fortunately, both window and split ACs require similar levels of care in terms of cleaning the filters and draining the condensate.
A split AC also only has two major components: the outdoor unit and the indoor unit. It's much easier to clean these two components than it is to clean a window AC with multiple parts that can easily get clogged with dust or dirt.
G- Cost Comparison: Split AC vs Window AC
Are you trying to decide between a split AC and window AC? One of the things you may be considering is their cost. Both split and window ACs have different benefits, but how do their costs compare?
a- Initial cost
When looking at the initial cost of both AC types, window ACs tend to be cheaper — however, keep in mind that if you need more than one window unit for a larger area, the cost can rapidly add up. Split ACs are more expensive up front but can cover a much larger area and often come with energy-saving features that can actually help you save money.
b- Operating costs
When it comes to operating costs, split ACs come out ahead as they are typically more energy-efficient than window units. Window units tend to use more energy since they cannot control the temperature of your home as effectively. This means your electricity bills could be higher over time if you opt for window units.
c- Installation cost
Another thing to consider is installation cost, especially as this will vary from place to place depending on labor costs in your area and the complexity of installing each type of unit. Generally speaking, however, split ACs take longer to install than window units as trying to fit a single large unit with many parts into an existing space can be difficult and time-consuming. The installation fees for split ACs tend to be higher than for window units due to this extra labor required.
Parting Words
In conclusion, the top 10 air conditioner brands in india should meet your needs in terms of price, energy efficiency, warranty, maintenance, installation and service support. Considering all the factors, it's important to shop around and compare options to pick the right branded air conditioner for your home.
Time is also a factor to consider when making your purchase. There are different times of year when air conditioners tend to be more expensive, such as hot summer months. If you're patient and willing to wait, you might be able to snag yourself a good deal.
Doing your research and being aware of all the factors can go a long way in helping you find the right air conditioner for your home or office at the best price.