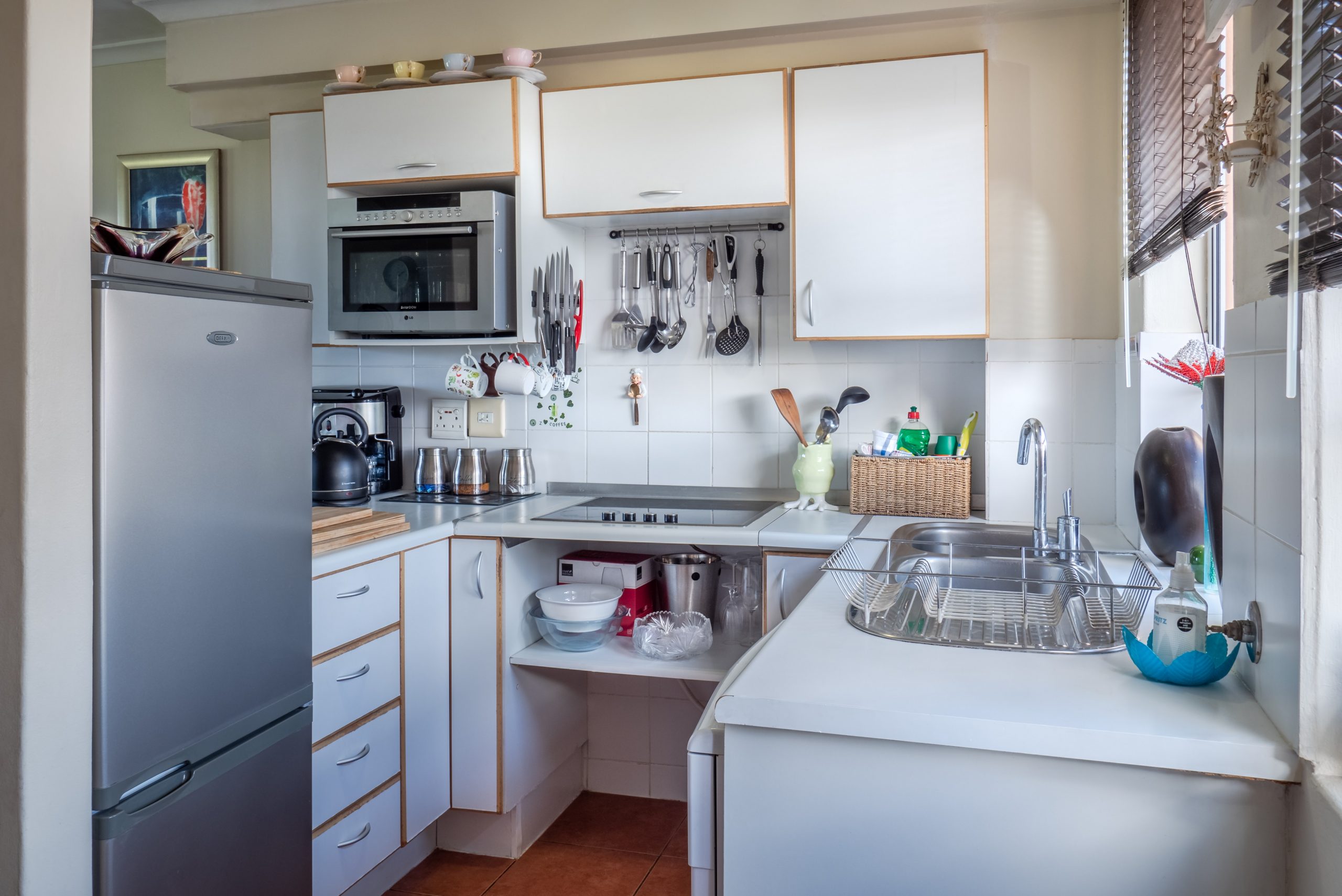 The kitchen holds a special place in the heart of every home. It is a place where meals are cooked and shared with love. And without a doubt, for the cook in you to be able to make some delicious dishes, it must have all the necessary kitchen home appliances like refrigerator, water purifier, induction cooktop, air fryer and microwave oven and should be safe and compact.
You must offer careful thought to planning the storage when designing your kitchen. When it comes to storage, Indian kitchens present unique challenges, perhaps because our cooking methods are very elaborate and the ingredients we use are so varied. If you're looking to organize your kitchen spaces in a better way, these simple kitchen storage ideas would be quite handy for you.
Take into Account the Size of Your Cooking Utensils
Most Indian homes have hand-me-down vessels from past generations that need to be carefully stored. Even though some of these vessels are not likely to be used daily, they are sometimes used during special occasions. Die-hard traditionalists believe that food cooked in any other vessel can never taste as good. If you are one of them, in a corner that does not need to be readily available, prepare for some flexible shelves that can take heavy loads. If you also feel the same, then you can plan for some adjustable shelves that can take heavy loads, in a corner that doesn't need to be accessed every day. You can place all your old, less used utensils there.
Use Magnetic Holders
Big, lovely wooden knife blocks are fun to look at, but on your kitchen counter, they cost you prime real estate. What if there was an elegant and effective way to store a knife without sacrificing any horizontal space? Well, a magnetic knife block is all you need. It allows you to store, display, and access your kitchen knives easily.
You can easily save counter and drawer space by having a magnetic knife strip that can be stuck to your wall, the side of your cabinet, or even your fridge. So now you don't have to wrestle around with loose knives in your drawer and use that huge space for keeping the cutlery. Another room-saving purchase that needs to go on your itinerary is magnetic spice racks.
You can save a lot of space and the hassle of taking them out of the cabinet, whenever you need them, by sticking them on your fridge. You can get magnetic racks that can be connected to the side of your refrigerator, instead of storing jars and packs in your fridge and cabinets. This does not take up any noticeable space and creates more space to store things for you.
Tuck Away Those Appliances
Cooking at home calls for different appliances of all shapes and sizes. Mixy is something that most of the families cannot do without. It comes with a collection of jars. We also need to find a suitable place where we can adjust common items like a toaster, sandwich maker, juicer, grill, and idli-dosa grinder.
When you work with the kitchen storage blueprint, see if these appliances can be stored on pull-out shelves right below the counter. You can then add electric sockets close by so that you do not have to carry around these appliances to plug them somewhere else and use them. It is best to put away everything that can be kept off the counter so that your kitchen looks tidy at all times.
There are some kitchen appliances in every household, that occupy a lot of space but we hardly use them. So if you are looking to save space and money, getting a kitchen home appliances on rent is a good idea. In this way, you don't need to stick with something that you have bought but you no longer need it.
A Spacious Place for Groceries
We love to get good bargains on our grocery; this could mean we buy in bulk to get better deals. Plan a big pantry with plenty of room for large amounts of cereals, pulses, and ready-to-cook foods if you don't want to end up with a cluttered kitchen. On heavy-duty channels, you can build pull-out drawers and trays that can hold up to 25 or 50 kilos each. On the inside of the pantry shutters, an extra layer of storage can be created for jams and pickle jars, in much the same way as refrigerator doors carry bottles and cartons. Be sure to check the best-by dates every few days to keep your groceries fresh, and use up everything that gets stale.
Hang Small Kitchen Utensils with Loops, On a Wire Rack
Not only can all your utensils be stored in this space-saving, hanging wonder, but it's also a minimalist design that fits into any decor. This way you can be sure of one thing. Any kitchen utensil with a loop, won't take up any space on your kitchen counter. You can also try to make it yourself at home if you are into that sort of thing. All you need is a wire mesh rebar, a rust-preventing primer, some hooks, a wire cutter, and a drill. We suggest hanging this wire rack in the small nook behind your stove. You are not going to do anything with that space anyway. Then store anything from pots and pans to spatulas and spoons.
Cabinets with Shelves
As of now, if your kitchen has cabinets without separation, you make two cabins out of one, by adding a divider slab. Most of the space in single-story cabinets is wasted simply because of the need to put some unevenly long objects in them. By adding an extra shelf to them, you can reserve one cabinet for this purpose and use others for different purposes. By doing that, you don't have to worry about buying more storage space to store your kitchen appliances and equipment.
Tall Cabinets All the Way to the Ceiling
It might seem like an ambitious idea to have cabinets built up to the ceiling, but just think about it. Do you regularly use every utensil and every piece of crockery? The answer is 'no'. However, to store them in the kitchen, you need a place. This is where tall cabinets that go all the way up to the ceiling are handy. You can store all your less frequently used kitchen home appliances and utensils on their top cabinets. They also make your kitchen look visually spacious. Since you do not have a lot of space in the lower half of your kitchen, you can always build more cabinets in the top part.
Wall Mounted Shelves
Open shelving is a perfect idea to store products that add visual appeal, including bright pottery and pretty crockery. Open shelves make your kitchen look more spacious and they look less shut-in than closed cabinets. But in case, you are someone who has trouble keeping things organized, stop planning too many open shelves because they can make your kitchen look unkempt. Also, a nice combination of shelves and hangers above the washing area is perfect, as they enable water from the just-washed dishes to drip into the sink below.
Stack Lids and Containers Separately
It's going to take up 10 times more space than it should, if you close containers with lids on and stack them on top of one another. Instead, it saves you loads of space by storing lids and containers separately. In this way, you will need a maximum of 2 regular size drawers to fit them all in. That may sound like a hassle considering that you have to check which lid belongs to which container, but this is a hack that you don't want to skip because you're short on space.
Drawers with Compartments
While planning a compact kitchen, go for shallow drawers, with partitions for the cutlery, and deeper pull-out drawers that are divided into compartments with movable partitions. This way, your utensils will stay where they are and you can easily find them whenever you need them. You will never have to dig around for them, and you can get to them by just pulling out the right cabinet.
Vertical Pan Storage
After washing, we are all used to piling pans on top of each other for drying. But that takes up fifty percent of your total kitchen room. A better way to use less space is to store them in a standing position, instead of stacking them vertically. Hanging them in your kitchen on hooks and knobs also helps. You can hang them wherever you like, from the side of your cabinets to the head of your stove, all the way to the top, like the expensive kitchens you've always dreamed of. For ceiling pots and pan hangings that go with your kitchen size, you can always find smaller models.
Use a Single Basin Sink
We all love double basin sinks and are a big fan of their usefulness. But it is one of those things, which we never needed, not before someone told us about it. What does it mean? Single bowl sinks are just as beneficial and save you at least a foot of counter space as well. Not only that, but they will fit in large dishes and pans that will not sit in your fancy double bowl sinks. You can save a lot of space for other tasks by having a smaller sink, preferably one with a deeper bowl.
Conclusion
To sum up, schedule your kitchen storage to accommodate the special needs of your family. You're going to need an extra-large pantry if you normally do your groceries in bulk. Plan shelving according to the sizes of the equipment and vessels you are using.
The workflow should be easy, so keep the things which you use frequently, close to your cooktop. Keep your kitchen organized, compact, and free of clutter and you will always enjoy your cooking. Getting kitchen home appliances on rent is a good way to make sure that your kitchen remains clutter-free and does not have kitchen equipment that you don't need anymore.
For example, you buy a fridge or a microwave for your kitchen. But when you get it home, you find that it occupies more space than you have imagined. But you cannot do much now as you are stuck with it. But if you get your kitchen appliance on rent, and find that it's occupying too much space, you can always go for some other variant next time.