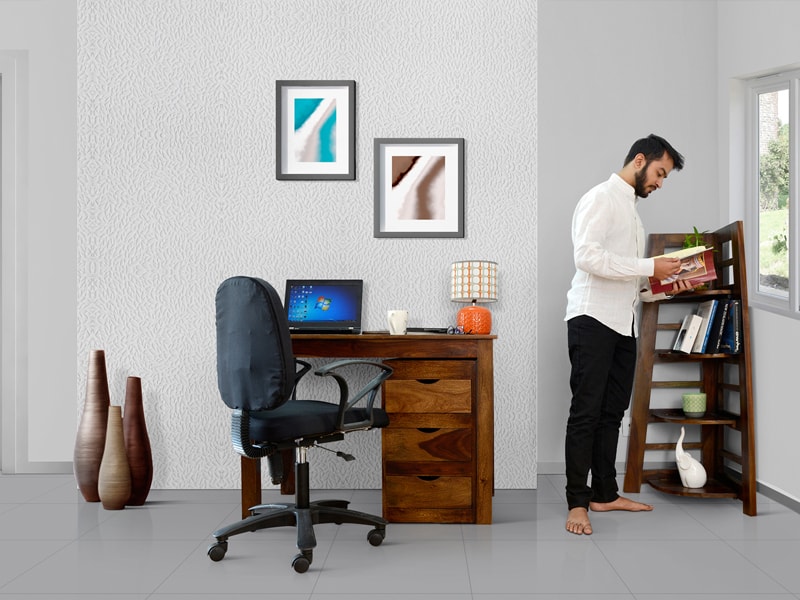 Work-at-home jobs are becoming the new trend as businesses make efforts to stay afloat, despite the current COVID pandemic. However, it can be difficult for many to adjust from a formal office environment to the comfort of your home. If you want to stay effective and productive at your job even while working from home, learning how to manage work from home is necessary.
At home, there are fewer obligations, more distractions, and less contact with colleagues. However, this does not mean, that you can't be efficient. There are plenty of ways to keep working from any place productively. These tips will help you get the most out of your remote work hours, whether you work from home every day, a few days a week, or even if you're only working from home while you recover from an illness.
Plan Your Day
If you want to know how to work from home effectively, one surefire way to keep productivity up is to get smart about managing your workday. Make sure you know what your goals are for the day, even before you start working. Work out on how long you think it will take you to get everything done, and in case you squeeze some extra time, what are the tasks you can focus on.
You may find it helpful to take a few minutes to prepare for the next day before you go to bed. This may help you sleep better. Consider the following in your planning:
Do the Things of Highest Priority First.
Plan your day according to your natural cycles, do the hardest work when you have the most energy during the day.
Maintain Regular Work Hours
One of the most significant and essential things you can do when learning how to work from home is to build a daily schedule for yourself. At first, it's tempting to give yourself complete freedom to decide when you start, when, take breaks, and call it a day. However, if you don't keep your schedule consistent, you're doing yourself a disservice. Setting daily hours for yourself makes you accountable to yourself. It lets you finish off your work on time and it makes it easier for your co-workers and your boss to contact you.
When you set an work from home schedule, below are the essential factors to consider:
When does your boss require you to be available?
Time of the day when you're most efficient
Communication with your colleagues and clients
This does not mean that every day, you need to work from 9 am to 5 pm. You can work when you stay most active. However, figuring out when your employer wants you to be at work is a smart idea. For instance, knowing when any conference calls are scheduled would be essential so that you can fit that into your day. For example, many employees have to check emails in the morning or need to be available in the afternoons by phone. Other than that, pick times when you can get the work done efficiently. Communicate those hours of availability to anyone who may need to reach you, and you'll be on your way to productive working days.
Break the Day Up
If you followed the last step, then you would have planned breaks for yourself all day long. During those breaks, make sure you get up from your seat, get some fresh air, grab a healthy snack, and, if possible, talk to another human being. All of these tasks will help you reset, get your blood going, and make sure the next chunk of tasks are ready to be tackled. One study found that when given a specific task to complete, staff who took two short breaks remained consistently effective, but when it came to the community who took no breaks, there was a noticeable decreased in their output. This has much to do with how our mind tracks what it should pay attention to, and stresses the importance of regular breaks. Set an alarm to remind you to get back to work if you have trouble sticking to a time limit for your breaks.
Dress as You Do at Work
It's important to dress for success, even if you're not going to communicate with another person all day. Brush your teeth and take shower before you start your day even while working from home. This is going to remind your brain that it's time for work, not the time for relaxing, and that's going to give you a lot more energy. Yes, it can be more relaxed with sweatpants and a T-shirt, but you might also feel tired, exhausted, or unmotivated. Try laying out your uniform the night before, if you have a hard time motivating yourself to get ready in the morning.
Separate Your Personal Time from Work Time
Just like it's necessary to work when you say that you will, similarly it's important to give yourself personal time when you need it. At the risk of burning yourself out, don't stretch the workday too much beyond what you have planned. Holding your work life and personal life in two separate compartments is one of the most valuable tips for working from home since it lets you remain productive when you're at work and reduce stress when you are busy in your personal life. Similarly, you can set your working hours, schedule, connect, and plan the time when you're not going to be available for work. For instance, if you like to spend time with family during the evening, make sure you convey that during that time you are not available for work. And then keep up the commitment!
Set Up an Home Office
It could be tempting to work from your sofa, easy-chair, or even from your bed when you start learning to work from home, but this could take a huge toll on your productivity. To remind the brain that it's time to work, and not relax, always try to work from a consistent space, chair, and desk. This will help your brain to equate your bed with sleep, your couch with relaxing, and your desk with work. It will help you shift your levels of energy accordingly. If you work from a home office, you are likely to feel more alert coordinated. Set yourself up with a comfortable, welcoming chair, a spacious desk, and consistent office furniture for the workplace. As this work from home set up is not a permanent arrangement for most of us, it's economical to get office furniture on rent for your setup. Make sure your room is personalized, as you're going to be spending a lot of time there.
Keep it Tidy
Once you have set up the office furniture in your workspace, you also need to make sure that the place is kept neat and tidy. You do not have a janitor to clean up after you, unlike in the workplace, which means you have to do it yourself. It helps you stay centered, get organized, and be efficient by keeping your home office clean. Having a semblance of order helps ensure that nothing important falls through the cracks or gets lost in a stack of paper, even if you're someone who is not bothered by a messy desk. However, this goes beyond just keeping your home office tidy. Having a messy home could cause you to delay work assignments in favor of cleaning, which is bad news for your productivity. Setting up a weekly cleaning schedule will help you keep on top of cleaning your home, so you won't need to clean during work hours.
Get Some Inspiration
A big benefit of working from home is that you cannot disturb your colleagues even if you play your favorite music to pump yourself up. If that is what gets you started, go ahead and play those pumped-up jams loud and proud. Or try a more calming soundtrack with sounds of nature, ambient music, or even try opening the windows to let in the sound of nature. You can also try an audiobook or podcast to keep going if you're doing repetitive tasks. Some people, however, perform better in silence. So if you are one of those, avoid the temptation to put on music or get the TV on in the background. To see what works best for you, keep on trying new things.
Do Not Allow Other People in Your Workspace
As we have previously mentioned, being successful when working from home is all about setting up the boundaries. This often implies setting limits for children, pets, members of the family, or roommates. As you work, try to convince them to leave you alone so that you can stay focused. Try to maintain friendly and playful boundaries, but make sure you stick to them. One nice idea is to make a sign for your office door that displays whether or not you are working. You can also have your kids help you make the sign so that they know that they have not been left out.
Communicate and Stay in Touch
The opportunity for teamwork and socialization is one of the best things about working in an office. Only because you're working from home, you don't have to stop doing that. Try to check in with your colleagues at least a few times a week, whether by text, phone, WhatsApp, or Skype. Make sure you keep up with your colleagues, both on a personal and professional level. This can be easily done every day, without spending a lot of time. Just communicate the most important things and ask your colleagues to do the same.
Conclusion:
Shifting your work environment to your home is daunting, but you will find that you can still have a productive working day with a few easy adjustments to your routine and space. To give your workspace a professional look, and at the same time not spend a fortune in getting things you would not need after some time; getting your office furniture on rent seems to make a lot of sense. Find out what works for you by trying out some of the ideas above. If you work on the above 10 tips, you can be a work from the home wizard. You may then also start to notice that your most productive days are the days when you work from home.