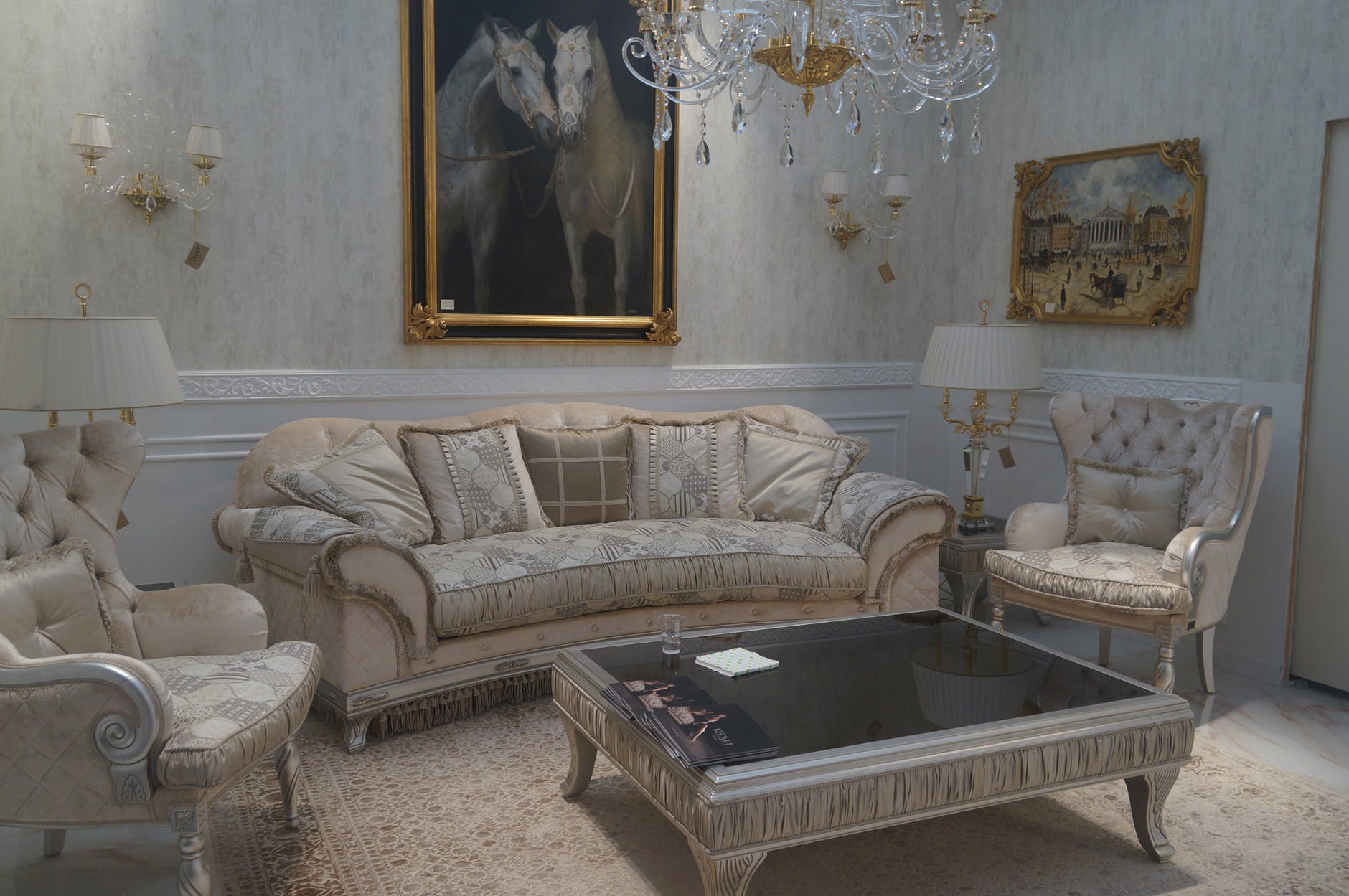 Anyone would love a beautifully furnished home. But money is a concern for most of us and it's easy to start thinking that you just don't have the budget to do it. Well, that's not exactly true and we're here to show that. In this article, we have gathered ten inexpensive interior design tips that will guide you to achieve that stunning looking interior for your home, without breaking the bank. If you are on a budget and still love luxury design and decor, then this article is for you.
Incorporate Simplicity and Remove all Clutter
A cluttered area is the last thing you want, and I am sure you don't want your visitors to come across an untidy and cluttered room. Therefore, the thing you should start with is the de-cluttering of space. Make sure your room is well kept and completely clean. In designing a luxurious house, another significant principle is simplicity. Take a minimalist approach to home design and furniture placement. The initial strategy, as you know, is not to make your home look cluttered. Consider getting rid of any unwanted furniture that is rarely used, including extra side tables.
Also, to properly store all the extra things, add some smart storage spaces to your home. In each of your quarters, you can add a few floating shelves. Floating shelves not only add style to your room but can also help de-clutter it. Doing away with unwanted furniture can feel overwhelming. But don't get discouraged; just begin with a tiny drawer and go one room at a time. It will feel liberating when you start and you'll get the energy to continue!
Pickup Your Style & Color Palette
The feeling of harmony in the rooms is the number one thing that makes a home beautiful. It shows you've put some thought into the decor of the whole room and it's a sure way to get a high-end feel. So before you go any further, set yourself a path. Look at various types of interior design and pick the one you like the most. Then pick the color palette you are going to use. In other words, you have to decide what your interiors look like. This may seem simple, but thinking about it upfront and gathering some examples will give you a visual guide and help you make the right decision anytime during the remodeling.
Use Your Creativity
The solution to practical problems is always imagination. And that makes it possible to look at stuff in a different light when it comes to home decorating. If you let your imagination flow, in particular, you will find that you don't have to restrict yourself to using an object for its original purpose. Here are some ways to think about your home decor outside of the box. Looking for a new towel bar made of brass but can't find it? It is much easier to locate a drawer pull and it will do the job just fine.
Do you want new vessels with flowers? You should think about Mason jars. See, we're used to looking at items for their original role, but they can also serve many other purposes! Looking creatively at artifacts is also a sure way of saving you some money. You may find something to reuse for a new purpose at home. You can opt to buy a less costly item while shopping, by using it in an unusual way.
Plan the kitchen for Optimum Luxury and Convenience
Needless to say, the kitchen is one of your home's most essential places, and there are several ways to add stylish design elements to the kitchen while improving its functionality too. The first thing you should be working on in your kitchen is the center space. Nearly every luxury kitchen concept has a center island in it. A center island gives you plenty of room in the kitchen to function and also for some extra storage. Incorporate an open floor plan into the room to make your kitchen look even more lavish and spacious. To make it look more stylish, you can also add some bar stools to the kitchen bar and build some extra space for sitting and dining. Whether remodeling or decorating it, remember the scale of your kitchen. If you have limited kitchen space, go for an all-white theme. Be sure to keep it all white, from the center island to the counter and cabinets.
Open Floor Plan
Every luxury home requires an open floor plan. In reality, an open floor plan is the number one requirement for a luxury home according to many leading interior designers. Make sure there is a great deal of room to walk around. For that you will need to think about furniture that saves space. For example, getting an L- shaped sofa for your living room can save you space. There's no need to have a big house with plenty of room to implement an open plan floor. If you have a small house, then you can make the most of what you have by opting for modern home furniture and using proper positioning.
Incorporate Home Accessories
Any artwork and other decorative pieces can also be applied to your house's decor. You can get them in your budget, and they are sure to add a lot of style to your house. Empty walls can also make the house look very sullen. So, get some paintings for the walls. The paintings need not be very costly, as long as they complement the theme of the rest of the room. Besides that, add plants and greenery to your home. Creating a beautiful garden area in the backyard is a perfect way to make your home more luxurious, and if you have any money to spare, get a garden shed and make your house considerably luxurious.
What if we told you that, with very little cost and without changing any of your existing furniture, you can fully alter the look and feel of your home? Sounds nice as a good option for affordable interior design right? Well, that's what home accessories can accomplish. The list is long. Artworks, vases, cushions, trays, candles, all of these things, can light up your home in more than one way. First, accessories can freshen up a room, give older furniture an updated feel, and even cover some flaws on pieces that have seen better days.
Add Easy and Affordable Design Updates
Small details make a big difference. This saying is absolutely true and it's one of the best suggestions for interior design as well. A little thing like switching the knobs of your kitchen cabinets, for example, can turn the look of the whole room from average to astonishing. Another simple change that will elevate your home look is to change your door handles into one that complements your style. And what about the sockets and the light switches? Updating or embellishing those plates will make your home more fashionable right away. All of these may seem insignificant at first, but you will see a huge change in your home if you introduce one or two of them.
Luxurious Lighting Elements
The lighting of the house is one of the primary features of your house that contributes in creating the luxury effect. You can alter the entire mood and atmosphere of the place if you use the right kind of lighting. So stop using some highly bright fluorescent overhead lights and opt instead for other ways to light up your house. Try using wall lamps around your bed, instead of fluorescent bulbs to light up your bedroom.
For a more glamorous look, have LED lights on the ceiling. And don't forget to add dimmers to the lights so you can monitor the amount of light and set the mood whenever you want. Use trendy paint variations on the walls. The paint on the walls has an important role in setting up the mood of your interiors. You can ruin the look of the house if you use dull and drab colors or use the same color on every wall. To help your home achieve its full potential, you need to use some beautiful variations of colors on the walls.
Reuse your stuff
Looking at what you already have with fresh eyes and thinking about ways to repurpose it, is close to being crafty. A wardrobe purge, for example, would end up with a pile of discarded clothes. But if you can think creatively, those clothes can be a massive supply of fabrics you can use in your house. A new cushion cover for your sofa can be made from an old t-shirt and a fur jacket can be used to reupholster a stool. You can find a lot of stuff online, about redesigning. And the things which you need, to start remodeling, can be found in your house itself. You just need to look around.
We now know that by making little adjustments and by being creative, we can design our home in a modern and trendy way. Even if we don't have a lot of budget initially, it is much easier to design home interior on a budget, with the availability of inexpensive furniture on rent. It's a smart idea to get home furniture like bed, dining table, sofa, etc on rent, as they can be changed from time to time according to your taste and innovations. Many people, who buy new home furniture, may have kids or a pet, which means that the furniture can wear and tear easily. If not taken care of, even the most pricy sofa or bed will start looking jaded in no time. That's why renting inexpensive furniture that can be changed from time to time is a smarter choice.