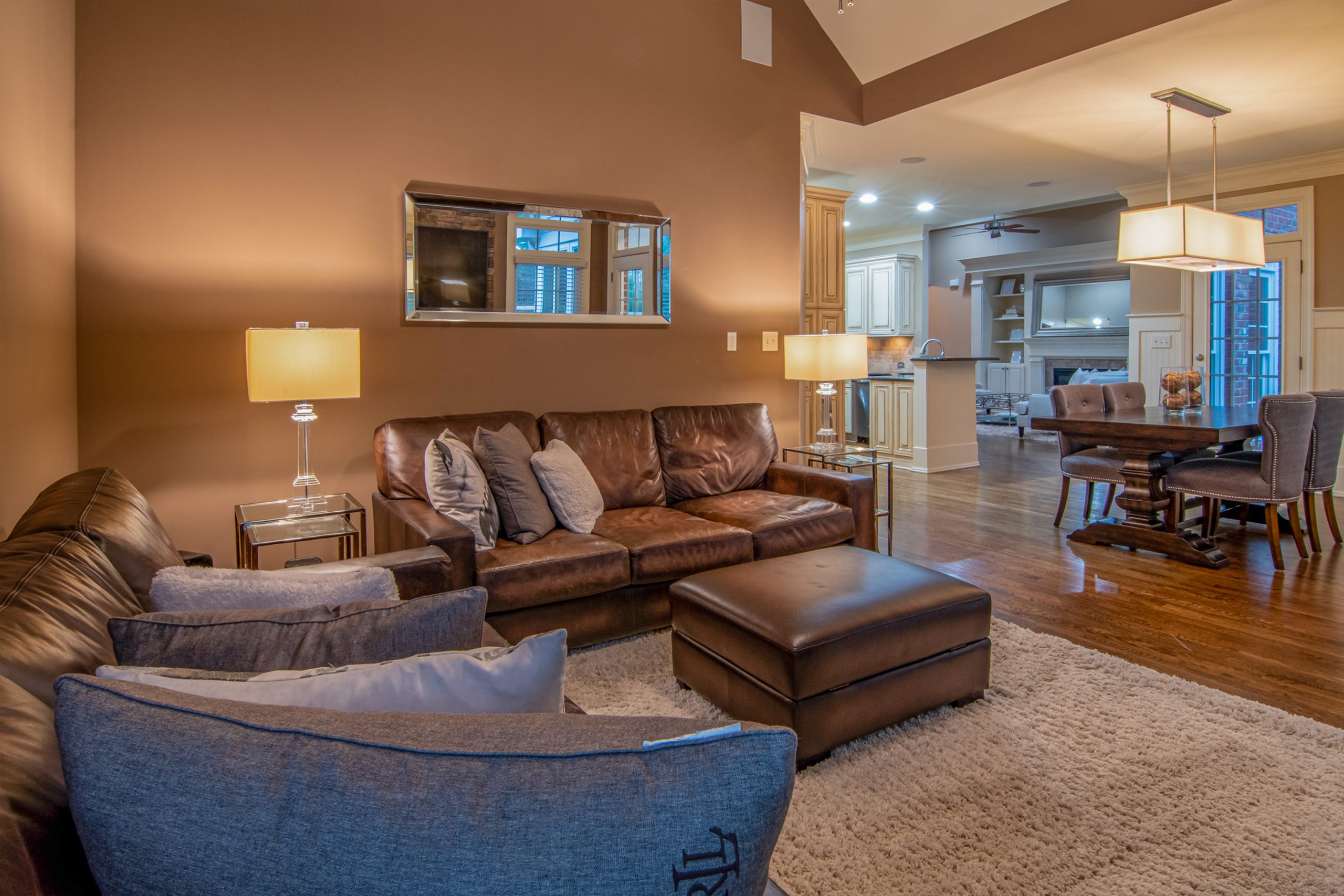 The living room is where life takes place. It's where guests gather, where you spend lazy evenings watching TV or talking, and one of the first spaces you see upon entering a home. However, it can be a costly affair to decorate it. As much as we all wish it hadn't, it costs a lot of money to decorate a magazine-worthy living room. Fabrics, rugs, chairs and mirrors: add all of this to the wallet and it does not dent your wallet.
Throw in some high-end, desirable pieces, and you can blow your budget pretty easily. The good news, however, is that certain stuff can be done reasonably quickly without investing a lot in order to get a high-end luxurious look. You can make it look like you invested a lot more than you actually did with one or two investments, be it money or time. Here are a few suggestions for making your living room look expensive and luxurious.
1. Layered Lighting
Lighting is one of the most important concepts to make a difference in our living room but is often ignored. To add dimension to space, you want to have a range of light sources. But to go glam on lighting, you don't have to empty your wallet. Instead of a typical table lamp, you could also hang a large pendant light.
We can also have the candles in stunning, reflective hurricane containers. Another cheap trick that won't take much work is to try plug-in lamps. Placing them near furniture can be an easy way to update the room without having to rewire a wall. Adding dimmers is also an effective way to make a room feel expensive. This lets you adjust the lighting according to your mood and also makes the living room feel cozy and warm.
2. Investing in Fabrics
One of the easiest and best ways to dress up a room is with great looking pillows. But they can be so expensive. However there's a workaround. Visit your local fabric shop, where you can always find beautiful scraps for a discount, usually 60 % to 90 % off. Then find a local tailor that can make some beautiful customer pillows for you. If you're crafty, you can also sew them yourself. Get an equivalent amount of a cheap, soft backing and make a throw if you find a residual piece of fabric that is 2 yards or longer. An oversized throw draped in a nice fabric will make the living room feel more expensive and luxurious.
3. Include Shapes That are Curvy
Space where all the lines are straight will certainly not suffice. It is important to use a variety of shapes to add dimension and appeal to every room. If the aim is to make the room look more costly, add some curvy objects. These can come from anywhere. They can be accessories, mirrors, lamps, furniture legs, and so on. And if you think you need to fit in some extra furniture to make that happen, the most economical way to do so is to go for a furniture rental.
4. Upgrading Curtains and Cushions
An instant luxury aspect can be added to a room by a good window treatment. But there's one cardinal rule: never, ever buy too short draperies. They look so cheap and store-bought. Before going to the shop, make sure to measure the window. You can also make your own inexpensive ones. You can pick up a lightweight, sheer cotton fabric and take it to a tailor.
They can be basic black, inexpensive, and are not distracting or noticeable. Another simple home decor rule is to replace the throw pillows. Throw pillows are an easy way to accessorize and brighten a room, whether you purchase them or make your own. You can replace your throw pillows with bright, fuller pillows, or just buy crisp new pillow covers.
5. Seasonal Flowers
Fresh flowers will boost a room's mood instantly; the bigger the bouquet, the more glamorous the look. That's not to suggest you need a massive ostentatious show on every surface, but make sure that any bouquets you display are not sparse, but rather full and lush. A large, bountiful bouquet of flowers adds instant class to a coffee table or mantle.
6. Embed Texture
Switch it up when in doubt. In order to produce a look that is collected and classy, design experts recommend adding a range of woods, glass, metals and woven fabrics. The soft hand of a silk velvet pillow or the soft feel of wool or the supple texture of leather, are some luxury that guests can see and feel. Toss a faux-fur blanket or sheepskin throw on your couch if you're on a budget. Jazz up leather chairs in chunky knit cases with fun pillows, or incorporate polished accent pieces made of brass on a wooden coffee table.
7. Roll a Big Carpet Out
Small rugs overshadow your rooms. Choose a larger, less expensive rug over a smaller, more expensive one, particularly if you have children and animals, all of which can wreak havoc on wool rugs. When the space looks bigger and spacious due to a larger rug, it will naturally feel more expensive. And it doesn't mean that it can't be durable just because it looks luxurious. Jute rugs are a great choice and can sometimes be found in discount home furnishings stores. They offer great texture and a grounded, earthy feel.
8. Keep It Free of Clutter
Every living room has got its own centerpiece, and you need to make sure that it stays as the focus of the room. It can be a sofa set or any other piece. However, bear in mind, not to clutter the space with a lot of furniture, so that each piece stands out on its own. A cluttered living room would never look luxurious. Make sure that the room does not have piles of books or wires from the extension cord dangling around. Ordering your living room furniture on rent is a good way to make sure the bedroom is clutter-free. It is so because you can get rid of any item, which does not fit into your taste any more.
9. Adding Metal Items
A few metallic pieces help to add a luxurious look to every living room. However it's important not to overdo it, though. A table made of brass, a mirror of gold polished leaves, a few pieces of antique silver, are the items that can help make your living room appear more expensive. It's all right to think tiny. You just need a lot to get a little. A metallic desk clock, pedestal table, or decorative accent can instantly add weight to a room and up your fashion quotient.
10. Add Moldings
One of the easiest ways to make your living room look luxurious is to enhance its interior architecture. Decorative molding is one of the best ways to offer a high-end look to your space without investing big bucks. And you can do it yourself on a weekend with a little time and DIY know-how. Paint the molding the same color as the walls for the most sophisticated and stylish look.
And you do not have to knock down any walls. To achieve a more formal look, replace them with something thicker if you have narrow baseboards and molding. Similarly, applying added moldings to any wall to build more beauty and character doesn't cost much. Employ a pro if the thought of cutting into baseboards and walls makes you uneasy.
11. Paint Walls and Trim with the Same Color
This one is simple: your room can be drastically transformed with a few coats of paint. And here's a nice trick: paint your walls and trim with the same color. Not having a contrasting trim is easy on our eyes, adds more focus to decorative items in a room, and simplifies the room's details. It also allows one to use bolder colours since the darker hues will appear a bit lighter and softer. Alternatively, doors and trim can be painted with a dramatic color such as black. This can help add interest to the living room and enhance its architectural details.
12. Hang Wall Art
Hanging unique art pieces on the walls is another simple and inexpensive home decor idea for your living room and bedroom. Framed artworks can make a house feel like a home. It can be anything from family pictures to DIY art. Homeowners should find out where anything should be displayed and the correct way to display it before mounting any artwork. Make sure that the art you choose is the best size and scale for the wall you are decorating.
Final Word
All of the tips points to one thing, in order to make our living room look more luxurious, we just need to incorporate small changes and make some smart moves. In case you want to have some new furniture for your living room to make it look luxurious, you can order the living room furniture on rent. This will allow you to get your choice of furniture for your living room without blowing a hole in your pocket.