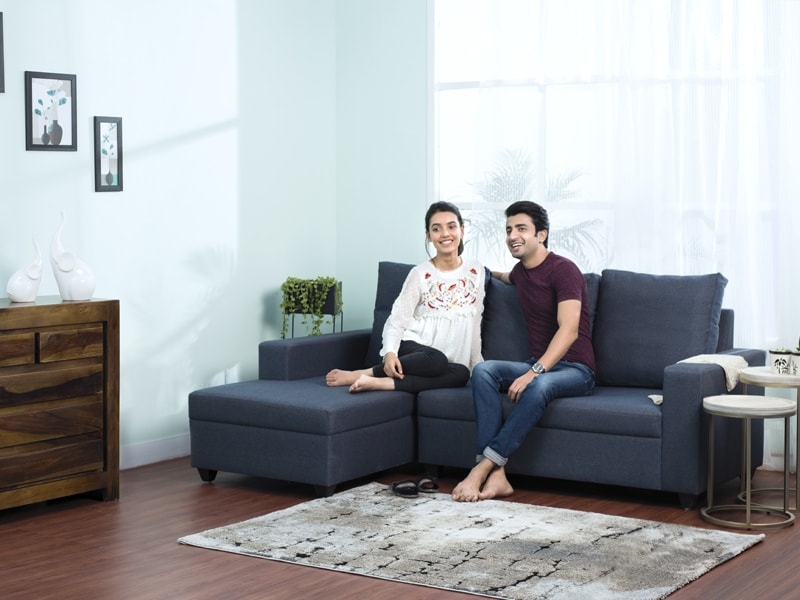 Changing your decor to improve your home environment is one of the most simple ways of improving your mood, increase productivity, and attain a sense of zen. While some people assume that remodeling your home is an expensive endeavour, there are numerous ways to give your place a completely new look without spending that much money.
It can be tough to create a high-end aesthetic in your house, especially if you have a limited decorating budget. Fortunately, there are ways to achieve the high-end aesthetic you desire — even on a tight budget. These are simple solutions you should be aware of, ranging from new pillows and a new coat of paint to window coverings, affordable home furniture, and hardwood floors. Here are 5 of the easiest and least expensive ways to make your home look lovely and new. Continue reading – you might be shocked at how easy it is to fool your guests into thinking you live an exclusive lifestyle.
Pay Attention to Details – Crown Molding
It is all in the small details that you pay attention to. Details are important when it comes to making your home look new and custom-made. Crown moulding has a way of making a place look finished or complete; it connects the ceiling and the walls, giving them an attractive aspect. Rooms that lack this final touch tend to look cheap or incomplete.
Crown molding, on the other hand, is generally inexpensive (especially the plastic, paintable varieties), making it affordable on nearly any budget. There are various widths to pick from, but if you want to make a bigger statement, go with the broadest trim your budget will allow.
Try adding crown, high baseboard (high skirting if you're in the UK), ceiling beams, columns, ceiling medallions, chair rails, and other types of molding to your home for the ultimate flair.
Choose the Right Paint – Colours Matter
Paint colour is one of the most difficult decisions to make while decorating a home, especially if the rest of the décor is centred on the colour pallet. Colour is fantastic for changing the overall vibe of a place, whether you need to tone down a colour or add a vibrant colour to liven it up. However, if elegance is your goal, there are certain hues that will instantly add splendour to your home.
Choose between two colour schemes: powerful and dramatic or delicate, subdued tones. These colours allow you to instantly bring elegance to your home. Which alternative you choose is entirely dependent on your colour personality. Another excellent suggestion is to paint the inside doors black. It creates an expensive feeling without incurring too much damage to your wallet. If you go with this choice, be sure to incorporate some black accessories into the area to connect the overall design together.
Allow the colours you chose for your home design to represent your individuality. If you're not sure which hue to pair with your favourite, just conduct a fast Google search and you'll be presented with a plethora of alternatives.
Go with the Affordable Home Furniture
While many people believe that purchasing pricey couches is out of their price range, purchasing less expensive furniture may wind up costing you more in the long run. They have a cheap appearance and are poorly put together, which causes them to fall apart faster.
If you want to have an attractive piece of furniture in your home, look for quality items at a lower price in second hand stores, estate sales, and consignment shops. You might wish to reupholster the furniture to complement your decor. The furniture savings still leave room in the budget to have the pieces reupholstered, giving you a high-end designer look at a fraction of the cost.
However, the best option for you would be to take the home furniture on rent. Renting allows you to choose whatever kind of furniture that you desire, without having to compromise on quality, price, or any other factor.
Lighting Makes a Huge Difference
Most builders will select standard lighting fixtures, which they have most likely used in all of the homes they have built. Designer light fixtures, on the other hand, will bring more elegance to your home than a basic chandelier. Fortunately, there are a few strategies you may employ to achieve a high-end appearance without paying a high-end price. Begin by looking through flea markets and thrift stores. You will receive a one-of-a-kind artwork at a reasonable price. Alternatively, try this blogger's trick of wrapping a drum shade over an antique chandelier to achieve the personalised appearance that everyone is after right now.
Some pieces may need a little buffing or a fresh coat of paint, but they may look like a million dollars for a few dollars. In addition, to contribute to the sophisticated vibe, make sure to have a variety of light sources throughout the property, such as table lamps and floor lights.
Select the Right Pillows
Pillows in your house have two functions. One, if they are picked right, they can significantly boost the elegance factor. Two, they give your guests a little extra comfort on the couch and give your rooms a nice, layered vibe. If you choose pillows that are large enough to relax on and soft, the comfort factor speaks for itself.
When it comes to size, you should avoid the normal range of 12 to 18 inches for a throw pillow. Instead, go for something bigger, like a 22-inch pillow cover filled with 24-inch inserts. Large, overstuffed pillows provide a luxurious, sophisticated look—and don't compromise on the pillow inserts; down-filled is the only way to go.
With that, pay attention to the fabrics, patterns, and other details as well. You can transform the appearance of your home by changing the fabrics. Change out your pillow covers, area rugs, and curtains to give your room a new vibe. Layering different textures of fabric is the perfect home decor idea for your living space. This will give your living space a little extra oomph.
Final Words
As you've discovered, there are various ways to make your home seem attractive while staying within your budget. The main tactics interior designers use to produce high-end designs are choosing the proper paint colours, avoiding inexpensive, low-quality things, and purchasing intelligently. Make a budget for each room in your house before you go shopping for items.
You might be astonished at what you discover and how simple it is to build an attractive looking and feeling house even on a small budget. Take, for example, Cityfurnish. They have every furnishing item you need to make your home look brand new at the most reasonable price. From stylish home furniture to pillows, to home appliances. Check out its website and you sure won't be disappointed.