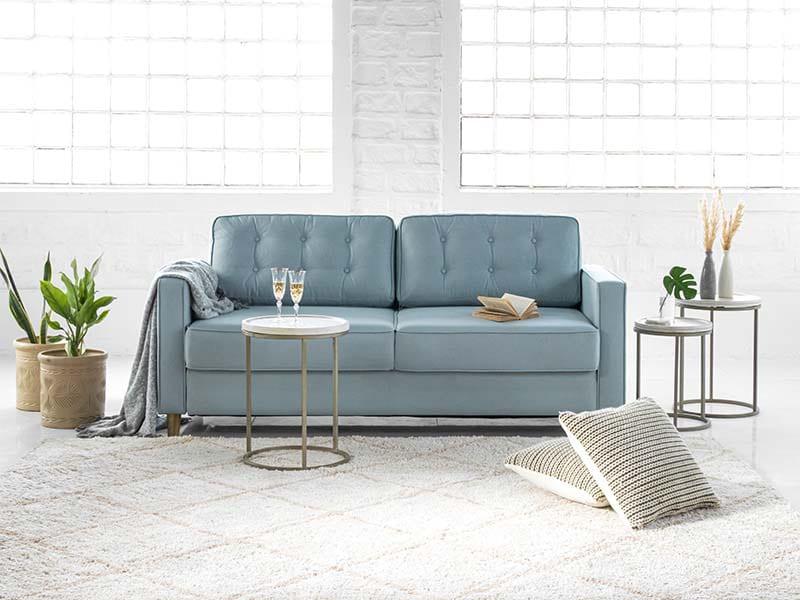 Rental furniture is relatively a new concept yet it is nothing less than revolutionary. So why are individuals just now beginning to realize the advantages of rental furniture? In a nutshell, things have changed. The majority of consumers' lives now are significantly different from those of our parents.
We place more emphasis on the distinctive characteristics of who we are—our interests, preferences, and wants. We try to find clever answers that provide a little bit more freedom wherever we can. Our awareness of our environmental effects has increased. Additionally, most of us are more mindful of our financial decisions.
Thinking about taking home furniture on rent? Rental furniture can be the best option for you if your living arrangement is presently in flux or if you are just not ready to make the financial commitment to purchase pricey furnishings. After all, furniture is costly, heavy, and enormous. Not every dining table set or sofa will fit in every home.
Sometimes it makes more sense to take the furniture on rent than to spend a lot of money on things you might not even be able to use in the future. In addition, a lot of individuals would prefer to rent high-quality furniture than buy it for a short time. Here are 5 situations in which rental furniture makes more sense than purchasing it if you're still unsure.
1- You want to try a variety of furniture designs
It's likely that your taste in furnishings and fashion will develop over time. As a result, if you're having problems selecting a style, we suggest renting a variety of items to test out in your house first. Before investing their hard-earned money in a couch or other expensive item, homeowners and renters may test out several types by renting furniture. The adaptability and flexibility that rental furniture offers will also appeal to those who prefer to refresh the look and feel of their house.
2- You are moving temporarily
You might want to think about renting furniture rather than buying it if you are a student moving between housing complexes or if you are a member of the military and move around frequently.
You may take advantage of high-quality furnishings that suit your present living circumstances without making a long-term commitment by renting furniture.
When you often relocate or are living in temporary accommodation, this is very practical. You can wind up with a truckload of furniture that won't fit or function in a future home if you buy furniture for a house that won't be your permanent residence.
Rental furniture will also spare you from having to pack and transport bulky furniture each time you move, resulting in a reduction in the expense of relocating as well.
3- Rental furniture gives you freedom
After finding a new house and moving in, you realize that your existing furniture doesn't match the room. You're not prepared to make such a significant financial commitment, even if buying new furniture to match the space may seem like a no-brainer.
After all, high-quality furnishings are pricey. In this situation, taking furniture on rent that is suitable for your area can be the best option for you. Even if rental furniture isn't exactly inexpensive, it does provide you the time and flexibility needed to make a significant furniture purchase decision.
4- Rental furniture saves money and time
Furniture shopping requires a lot of time and effort. It might take months, if not years, to go from store to store, trying on couches, browsing a variety of internet furniture stores, and looking for deals and consigned furniture. We advise temporary furniture rental if you just lack the time or motivation to go furniture shopping. This enables you to take your time while purchasing furniture, which (of course) increases the likelihood that you'll get the furniture you genuinely enjoy as opposed to stuff bought in a rush.
5- Why choose rental furniture?
In particular, during times of transition brought on by employment, education, or moving, renting your furniture is a great method to be adaptable and mobile. Before making long-term decisions on your furnishings and décor, get your foot in the door.
Alternatively, buy yourself some extra time to prepare for your move. There is no need to carry, sell, or destroy furniture when you are ready to move on since there are no long-term obligations. You decide when it is time to downsize. The moving day has just gotten a lot simpler!
There are simply some lifestyles where buying, relocating and keeping expensive, permanent home furnishings is not the best option. Rental furniture reduces the stress and obligation of ownership from the very beginning.
Imagine making your furniture selections for your house entirely online without ever entering a store. Now picture your choice being delivered and set up quickly and expertly at your door. Imagine quick and easy returns once you're finished, together with amiable, competent customer assistance.
Final words
We thoughtfully plan every aspect of your furniture rental experience that works around you, and your schedule and go above and beyond so you don't have to go through any trouble.
We value your whole pleasure and provide a vast selection of exquisite designs and personalized furniture packages with excellent alternatives to rent for homes, offices , and more.
Cityfurnish offers you the greatest level of service and adaptability because of years of industry expertise, over 6 key cities across India, and a growing family. Enjoy the freedom and assurance that come with choosing a cutting-edge, stress-free furniture company. A furniture rental company created specifically for you, at last.
Browse through our collection and select the furniture that you want. No overloaded paperwork, no hassle, and no headache. You can order within minutes and get everything that you need without paying any extra or hidden costs around your order. Not just that, you also get free delivery and pickup, free installation, and also relocation services from us!