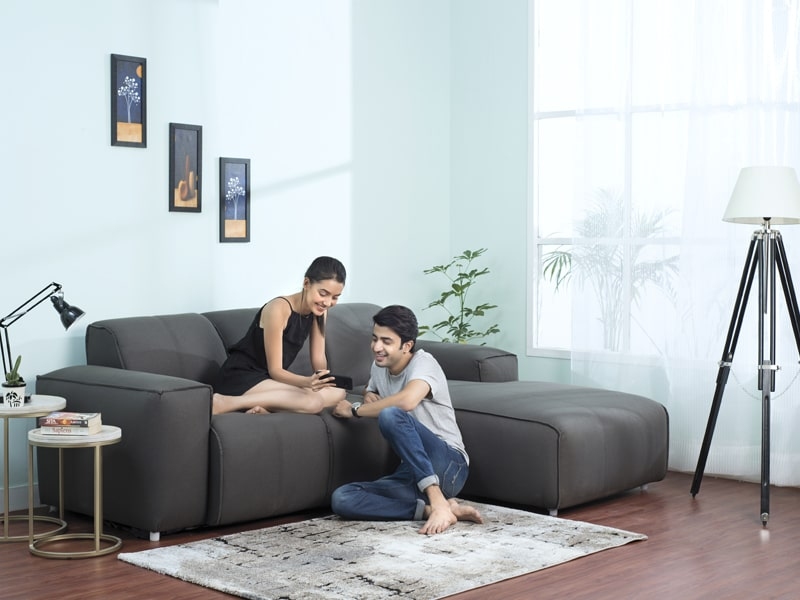 We're sure we've all been there, looking at our living rooms, confused as to why it is simply not "right." Thinking about what to do, where to place your living room furniture, and how to adjust everything. Well, let us help you out!
Design considerations may be stressful, especially when decorating a small area. Whether you're buying or taking all your living room furniture on rent, consider how the room will be used before getting any furnishings. Who will be accessing the room, when will you use it, and what will you do in it?
A modest living room may be just as practical and elegant as a large one. Check out these small living room decorating ideas and tactics, which cover everything from living room furniture selection and arrangement to wall color and lighting to help you use the available space of your small living room while improving its style.
You can build something distinctive, characterful, and curated out of an inconvenient area with these small living room ideas. Choose your favorite space-saving solutions to create a living room you'll like spending time in. You can even save.
When it comes to design and decorating, envisioning how you'd create your own private space can help you figure out what you actually want. With these ideas and methods for designing a small living room, you can transform your tight and chaotic area into something pleasant and peaceful.
Add mirrors in your living room
It is the oldest trick in the book, but it definitely works. Making the most of a tiny living space while making it appear larger is much easy than you would believe. In reality, in most houses, all it requires is a few elegant and reasonably priced mirrors to increase the room by reflecting light about it.
Simply by adding extra living room mirror ideas, you can quickly create the appearance of space. Even better, as mentioned above, choose an enormous mirror to cover a complete wall. By reflection of light and, of course, the interior design, the mirror will provide the appearance of space, doubling up your compact living room ideas. Mirrors are also easy to get and need little to no installation if leaned against the wall at a height to add even more depth.
Built Shelves
Why not go for built-in things if you require a lot of storage space in the living room? Make use of unused vertical space by installing narrow floating shelves or bringing in a bookshelf to store & display books, artistic objects, and prized treasures. Built-in shelves and cupboards take up far less room than freestanding units. However, a built-in seating area will ensure that no room is wasted, especially if under-bench storage is included. Getting a coffee table with an open wire base will further open up the area.
Choose a minimalistic color scheme
It goes without saying that white or neutral and tonal paint is excellent for optimizing a small living room area. When you combine pure white colored walls with beige and other calming, neutral-hued furnishings, you quickly brighten up a small area while making it appear larger.
The most important thing to keep in mind when designing a small living room is to keep all tones on the same color pallet, generating flow across the space. Remember to concentrate on monochromatic and tonal colors to enhance the concept even more.
However, you should avoid utilizing more than a few pale hues at once since you don't want your eyes to get bored. Worse, because you're dealing with a small room, they tend to seem messier & dirtier, and all white will just serve to accentuate any flaws. So, even in little doses, infuse wild flashes of color and design into your living area.
Choose your sofa carefully
Large couches, no matter how comfy they are, can take up practically all of the space in your living room. As a result, it is important to choose less intrusive living room furniture. This is one of the most common errors homeowners make while looking for the best small living room ideas. Essentially, if you're looking for suggestions on how to arrange a small living room, avoid huge sofas.
Instead, choose a 1.5-seater that can easily accommodate a couple of people. One or two of them are sufficient for an excellent living room, depending on the available area.
Choosing a sofa or recliner with high legs can help you create a sense of space and light in even small living spaces. The room seems larger when more of the floor is seen.
This technique works nicely in any living space since many classic-style couches and armchairs have gorgeous turned wooden legs. Many magnificent mid-century objects, from sideboards & cabinets to sofas, are placed on legs to show off the floor.
If you like a sofa and it's way out of your budget, you can always opt for furniture rentals.
Get multi purpose space saving living room furniture
If you're looking for the best small living room ideas, multi-purpose living room furniture should be at the top of your list. There are several elegant coffee tables with storage below and tops that may be used for both dining and working. Even when it comes to ornamental additions, consider things that serve more than one purpose.
This, in turn, can help you make maximum use of your small living room architecture while reducing the number of items you should bring in. Consider a sofa with some storage space below it, convertible tables, and a console table that can be utilized for storage, seating, or as an extra area.
If you are worried about how much the furniture would cost, simply choose to take your living room furniture on rent. This way you can save a lot and yet decorate your room nicely.
Add the right lighting to your room
Even if your small living room has only one window, it should have adequate lighting. Add a hanging pendant light to make a defining statement while also lighting your modest living area. This will guarantee that the room is sufficiently lit, which is especially important if your room is dark.
Layer lighting devices such as sconces, table & floor lamps, and candles to create a warm & welcoming atmosphere. Also, make sure that bulky furniture does not block your windows so that you may obtain as much natural light as possible.
Layering the levels of your lighting is crucial, so make sure you get a pendant light with adjustable control, as well as plenty of lamplight & wall lights. Choose shades that can redirect light for activities such as reading while also creating sources of lighting for the mood. Wall lights that direct gentle shafts of light upward and downward will help make the area appear taller.
Add some plants
Your living room should include revitalizing plants that you can put randomly in your living area. Plants are a terrific and affordable way to add color and texture to your living room environment.
If you don't have a green thumb, try easy-care plants that need little care or light while still working to filter the air in your room on a daily basis. If that still seems like a reach, bring in the charm of the outdoors with paintings and patterned fabrications that showcase pleasantly beautiful plants.
Designing a small living room area is difficult since you may not know where to begin. Choosing a sofa type and furniture arrangement can also be difficult because it might jam your tiny area and leave you with little or no spare space to work with. We hope these small living room ideas featured here help you make the most effective use of your living room space.
If you're looking forward to getting everything done on a budget, you should definitely consider taking living room furniture for rent. Check out Cityfurnish for a huge range of furnishing options!