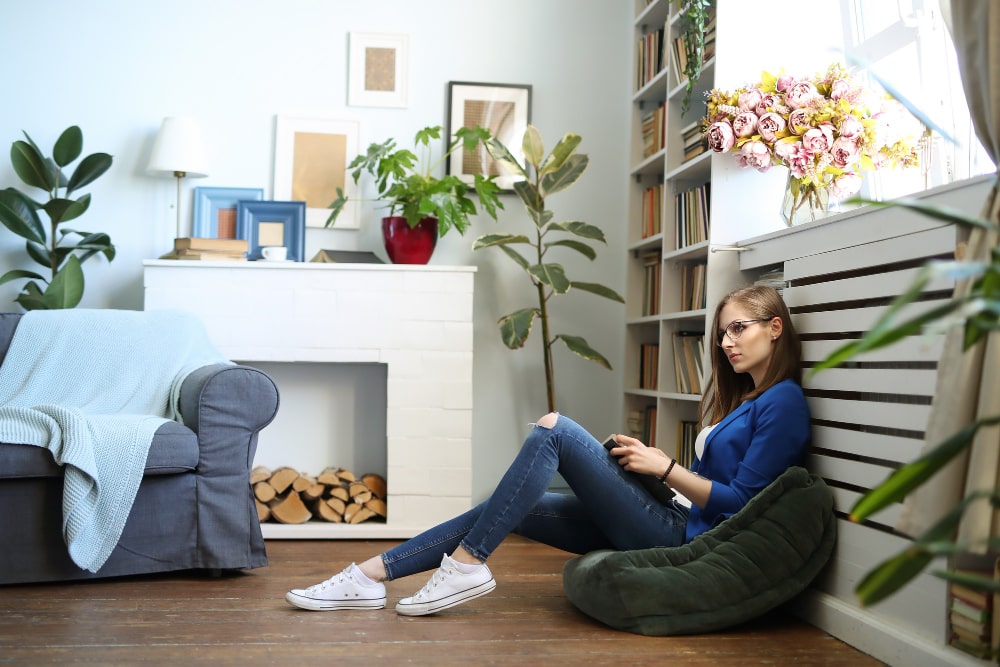 Finding quality furniture for your home can be a challenge. There are so many variables to consider. The size of your apartment, architecture, your budget, functionality, space etc. Here is where flexible furniture comes into the picture.
This style of furniture focuses on form and function, allowing you to customise pieces that work perfectly for your unique space. From sleek sofas to adjustable tables and desks, there are plenty of options out there to help you create a modern, functional, and spacious home.
In this article, we'll discuss the benefits of flexible furniture and showcase some of our favourite finds. Let's dive right in!
A- What Is Flexible Furniture?
If you're looking for stylish and functional furniture to fit in with your modern, spacious home, you need flexible furniture. But what exactly is it?
Flexible furniture is designed to adapt dynamically to your needs and space. Not only does it look great, but it's also practical; with various folding structures and adjustable components, you can make the most of the area you have. It's perfect for those of us who love to rearrange or update our homes without having to buy new furniture every time.
Most flexible furniture comes in sets or pieces with modular designs—think bookcases, tables and chairs that can be rolled around, folded up or adjusted into different shapes. From extendable coffee tables with matching chairs to height-adjustable desks for your home office setup, flexibly designed furniture can bring a touch of modern style into any room.
B- Benefits of Flexible Furniture
If you're looking to upgrade your home while saving space, then flexible furniture can be the answer to your problems. Flexible furniture pieces usually come in sleek and modern designs, so you can enjoy functional solutions without compromising the aesthetic of your home. Plus, flexible pieces are designed to be compliant with a variety of living spaces—from small apartments and studios to larger homes.
This type of furniture offers a wide range of benefits, such as:
Increased storage space: Flexible furniture makes use of the limited space you have in your home and often comes with built-in storage solutions. From beds that have drawers to tables that have shelves underneath– these kinds of furniture pieces help make use of every bit of space that you have.
Ease in rearranging: Flexible pieces are generally lightweight which makes it easier for you to move them around as needed. This way, if you want to switch up the look of your living room, all you need to do is grab the pieces and rearrange them!
Multi-purpose items: Many flexible furniture items such as sofa beds, wall beds and nesting tables can be used for multiple purposes, allowing for maximum bang for your buck!
With all these advantages combined with their modern designs, flexible furniture can indeed transform your home without taking up too much space.
C- How to Choose the Best Flexible Furniture for Your Home?
To make sure that you get it right, there are several important factors to consider. Here are some tips for choosing the perfect furniture for your space:
Quality and Durability: Quality is always the key when choosing furniture for your home. Make sure to look for pieces that are made from durable materials and are built to last. Do thorough research on the products you're considering – read reviews, check warranties, and search for customer feedback to ensure that what you're purchasing will live up to your expectations.
Size and Shape: The size of the furniture is also important – too big and it won't fit in your space; too small and it won't serve its purpose. Don't neglect shape either – certain pieces are designed specifically for certain areas; if bought without this consideration in mind, you'll end up with something that doesn't quite fit the space or provide the function you need.
Esthetics: Finally, you want to make sure that your furniture fits with your esthetic sensibilities – colour, material, style – all of these will influence how well a piece complements or stands out in its designated area. If possible, take a look at some of your other furnishings first so that all pieces match and create an inviting environment within your home.
D- Different types of flexible furniture
1- Nesting Tables
Nesting tables are the perfect choice for any modern home when it comes to versatile and functional furniture. They are easy to move around, and can easily match your existing decor as they come in various shapes and sizes.
Nesting tables are a great addition to any room because they offer flexibility in space and can be adjusted to fit any situation. They can be used as coffee tables, end tables, accent pieces, or even as makeshift desks or work surfaces. For larger spaces, you can use them separately, as additional seating surfaces if needed. And when it's time to reclaim some space, you can nest the table together and tuck them away out of sight.
Nesting tables offer convenience with their clever assembly and practical use. You don't need tools or a complex setup—it's just one piece of furniture that has multiple uses! Plus, thanks to their sleek design, nesting tables are easy to store away when not in use so you won't have a bulky piece taking up permanent residence in your living room.
2- Convertible Desks
If you love modern, functional and spacious homes, you'll love convertible desks. A necessity for any space-saving home, convertible desks offer the perfect combination of convenience and flexibility.
Versatility: The best convertible desks come with a range of features that allow you to transform them into different pieces of furniture. Not only can they change into multiple sizes and shapes, but they also can become a variety of items like nightstands, dining tables and more! Their versatility truly makes them invaluable pieces of furniture in any home.
Comfort & Efficiency: Convertible desks provide the ultimate comfort since they are typically made with ergonomic designs which distribute your body weight evenly on the desk surface. Additionally, their adjustable height feature lets you easily adjust it to your needs. On top of that, their sleek designs make them incredibly efficient too – they take up minimal space while providing the maximum functionality!
How to Choose right desk: When choosing a convertible desk for your home, be sure to consider the some important features. Size matters a lot. Choose a desk that fits perfectly with your available space. Second is design. Opt for one that is both esthetically pleasing and functional. Thirdly look for additional features. Look for extras like an adjustable height or castors for added convenience. And lastly, durability. Pick one made from sturdy materials such as wood or metal to ensure it will last long-term
3- Ottoman Storage
Ottomans are a great choice for flexible furniture for your home. With their ability to double as a seat and storage, ottomans have become increasingly popular in modern homes looking for functional and spacious furniture.
Plus, the sleek lines of an ottoman give it a stylish look that can fit with any living space.
Versatility: One of the great things about ottomans is that they come in different styles and sizes, so they can fit in any room or corner of your home. Whether you're looking for an armchair ottoman or one with built-in shelves or drawers, there are endless options to choose from! Ottomans also come with removable lids so you can easily access stored items such as blankets, books, magazines and remotes. They make it easy to keep your home organised and clutter-free.
Comfort & Quality: When it comes to comfort, you don't need to worry – most ottomans are made with high-quality foam padding to give you extra cushioned support while you relax or work. And the best part is these pieces won't break the bank either! So if you're looking for versatile furniture that can add an elegant touch to your home while providing extra storage and comfort at an affordable price point, an ottoman could be the perfect piece for you.
Room Dividers: Room dividers are a great way to add dimension and flexibility to your home. They provide privacy and can help create distinct zones in one room, making it more functional. Room dividers come in all shapes, sizes, and materials. From wood screen partitions to fabric hanging panels, the options are endless. The best part is that you can find room dividers that match your style and décor. Not only are room dividers stylish and functional, but they also help keep rooms organised. You can use them to create temporary storage for extra items like books or blankets without taking up precious floor space. Plus, if you choose one that is lightweight, you can easily move it from room to room as needed. Each time you rearrange your space using a room divider, you'll feel like you're living in a brand-new home! This makes them the perfect option for those who love modern and spacious home designs with lots of style and function.
4- Storage Benches
Storage benches are the perfect solution for adding flexible furniture to your home. Not only can they be used as seating, but they also offer up extra storage space, which can help keep your home organised and clutter-free.
Functional and stylish: Storage benches come in a variety of styles and colours—from modern metal frames to traditional wood designs, there's a storage bench that will fit in perfectly with any décor style. Plus, they come in all sorts of sizes, so you can choose one that will fit into even the smallest of spaces.
Versatility!: What's great about storage benches is their versatility. Need extra seating? Place a few storage benches around your living room or dining room table for guests. Need some extra storage? Fill that storage bench with blankets, books or toys for easy-access storage. Or use it as an entryway bench—it's great for dropping off backpacks after school or shoes when coming home from work! There is so much you can do with storage benches in your home, making them a great way to add flexible furniture to your space that you'll be able to enjoy for years to come.
5- Multi-Functional sofas
If you love modern, functional and spacious homes, then you need furniture that can be multi-functional. That's where multi-functional sofas come in. These ultra-comfy seating options can also be transformed into a bed in seconds. They are especially useful when some or many unannounced guests come over to stay overnight.
These sofas come in a range of styles, sizes and colours to fit any space—from traditional to modern. And they're made of premium materials like velvet and leather that keep them looking classy and stylish at the same time.
Plus, they're great for smaller spaces because they don't take up much floor space when not in use. So they're perfect if you have limited square footage or if you just want to make the most of the space you have.
6- Modular shelving
Modular shelves are an incredibly flexible furniture option, perfect for those who love modern, functional, and spacious homes. With modular shelving, you can customise the look of your home – from different shelving heights to different materials and finishes.
It's the perfect additional storage for your home and helps you keep it organised without using too much space. It is easy to install and really easy to maintain, from a living room to a home office. And because it's adjustable in size and height, you can easily tailor the shelves to fit all sorts of items from books to plates.
Plus, modular shelving is incredibly durable and resists scratches and dents. That means it will stand the test of time – no matter how much wear and tear your living space gets!
So if you're looking for a flexible piece of furniture that will beautifully transform your home while also providing extra storage space and organisation options, look no further than modular shelving!
7- Expandable dining tables
If you've been on the lookout for furniture that's both modern and functional, then expandable dining tables may be your best bet. Not only are they spacious and perfect for hosting dinner parties, but they are also able to adapt to become larger or smaller depending on your needs.
Great Versatility: Expandable dining tables come in a variety of shapes and sizes, allowing them to fit just about any room size or shape. They are also great for those who enjoy changing the layout of their home since they can be easily reconfigured. You can even find ones that can be raised or lowered depending on how tall or short your guests might be!
Multipurpose: Expandable dining tables come with multiple uses, from serving food to playing games or doing arts and crafts. And when not in use, most expandable dining tables can be folded up so that they take up less space in your home.
Easy Maintenance: As a bonus, many expandable dining tables are made of materials that require minimal maintenance—like easy-to-clean laminate surfaces—so you don't have to worry about spending a lot of time cleaning them up after dinners and game nights.
8- Foldable chairs
Whether you need an extra seat around the dinner table or want something to add a touch of style to your living room, foldable chairs can be the perfect solution. These chairs are modern, and functional and provide a significantly spacious look to any home.
Foldable chairs are lightweight and versatile, making them easy to move around and creating unique seating arrangements. They come in a variety of styles and materials, including metal, wood and plastic, so you can find something that matches any decor. Plus, when not in use, they can be easily stored away or hung up on the wall for an instant makeover.
For those who need more seating space without taking up too much room, a foldable chair is a great option. But beware of the quality as durability is important in this type of furniture. Meaning, when we move any furniture a lot or fold it many times a day, coming loose from its joints or getting a torn or two in its seating area is highly probable. Look for high-quality materials like solid wood or metal frames with cushioned seats and backs for optimal comfort and stability.
9- Wall beds
Wall beds are a great way to add flexibility and practicality to your home. They look like traditional beds but fold up when not in use, freeing up space and making it easy to switch between bedroom, office or guest room. It's a great way to make the most of your space without sacrificing style or comfort.
What's great about wall beds is that they come in all shapes and sizes, so you can find one that fits your space and needs perfectly. Plus, you can customise the bed with features like built-in lighting for nighttime reading, storage or other features.
Wall beds also provide a modern look that still maintains a classic feel. You don't have to sacrifice esthetics for function—wall beds can make great statement pieces while maximising space-saving potential. They come in various materials and finishes, so you can pick something that matches your home's decor and style.
What's more, installing one yourself is easy—all hardware included! Even if you haven't done any DIY before, you can still easily install the bed yourself with minimal effort.
So if you're looking for ways to add flexible furniture to your home without compromising on style or comfort, wall beds are worth considering!
E- How to Keep Your Flexible Furniture in Good Condition?
When it comes to keeping your flexible furniture in good condition, there are a few simple steps you can take. First, it's important to understand your furniture – what kind of material and construction is used, and how it responds to stress. Then, you can take the following steps:
Clean regularly – remove dust and other particles using a soft cloth or vacuum cleaner with an upholstery attachment.
Place your furniture away from direct sunlight and heat sources – over time, these elements can dry out and damage the material. Make sure the room temperature is moderate as well.
Avoid putting too much weight on the furniture – too much pressure on the flexible material can cause it to warp or become misshapen over time.
Reupholster regularly – if your furniture starts to look tired after years of use, you can reupholster it in new fabric to give it a fresh look again.
These simple tips will help keep your flexible furniture looking great for years to come, so you can enjoy its unique aesthetic and benefit from its diverse functionality!
F- Tips for Decorating With Flexible Furniture
Decorating with flexible furniture can be a great way to bring modern style and functionality to your home. Here are some tips for making the most of this design choice:
Think Versatility: When decorating with flexible furniture, it's important to keep versatility in mind. Look for pieces that can be moved around easily and modified to fit your needs. For example, Ottomans with removable trays or pull-out drawers, or sofa beds and sectionals that can easily be broken up into smaller units. Be creative in how you use your pieces!
Consider Your Space: When selecting flexible furniture, it's important to consider the size and layout of the room or space you'll be putting them in. For example, if you have limited space, look for furniture pieces that can maximise the entire space without being too bulky — like storage ottomans and modular sofas.
Maximize Storage: Flexible furniture is a great way to maximise storage and make sure your room feels spacious and clutter-free. Look for pieces with built-in drawers or shelves — like chaise lounges with roll-out tables or sofas with hidden compartments — so you can make use of every inch of space.
Ultimately, when it comes to flexible furniture, there is something out there for everyone. Whether you're looking for something to make a statement or something that will fit perfectly in a small space, there are many options available to you. Flexible furniture is a great way to get the modern, functional, and spacious home of your dreams while saving money in the process. With so many options available, it's easy to find the perfect piece of furniture to fit your needs. So go ahead and start shopping for the furniture of your dreams!