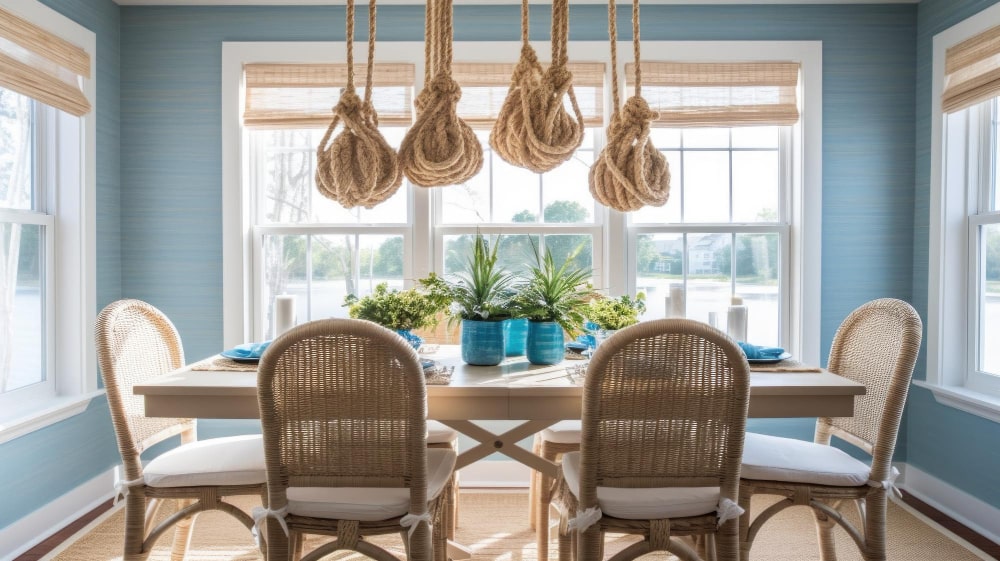 You want to create an inviting space for enjoying delicious home-cooked meals and entertaining friends and family. A classy vastu-compliant dining room designed with care and intention can make all the difference.
Circular tables can confuse or even create some chaos at times as they are a bit unclear about seating boundaries as well as space. Instead, choose a square or rectangular table as per your need and space available and position it in the center of the room so everyone has an equal seat at the table.
Facing east or west while eating helps becoming the entire eating experience more pleasant and effective as the energy of these directions suits most with the energy of our body.
Use a soft, warm glow from a pendant light or chandelier overhead along with natural light from windows. Select soothing and appetizing colors for the walls like sage green, mustard yellow or burnt orange.
Placing a mirror in the dining room helps especially if it is reflecting the dining table. The mirage of doubling everything that is places and served on dining table invites prosperity and abundance in the household. A mirror can be placed on the north or east wall to reflect the light and make the room appear more open and airy. Keep the space clutter-free and minimal, using decorative accents like art, plants and candles sparingly for an polished look. With the right combination of lighting, colors, seating, and accents you'll have a vastu-compliant dining room perfect for making memories.
1- The Best Location for a Dining Room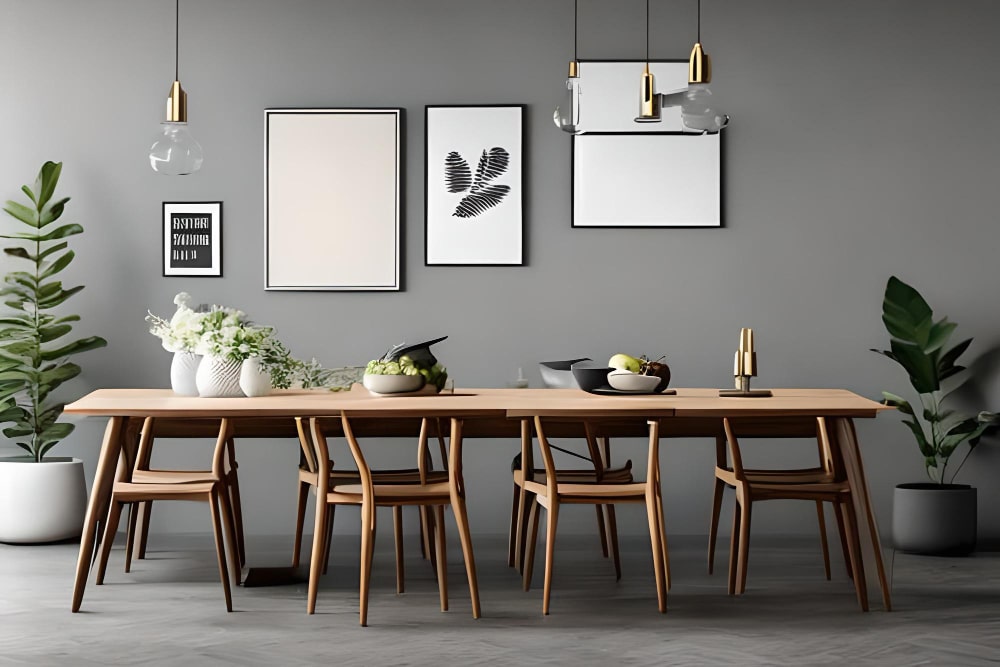 The best spot for a vastu-compliant dining room is usually in the eastern part of the home. There, it can take advantage of the morning and afternoon light streaming through the windows. Place a square or rectangular table in the center of the space, oriented so diners face east or north. This allows everyone to enjoy the view and natural light.
For lighting, use dimmable fixtures that provide soft, ambient lighting. Pendant lights, chandeliers or recessed cans on a dimmer switch are all great options. They let you set the perfect mood for any meal.
Choose colors that stimulate the appetite like shades of green, yellow or orange. A mirror on the north or east wall helps reflect natural light and makes the room appear more open and airy. Keep tabletops and counters free of clutter for an inviting space where people want to linger.
Include living art like fresh plants or flowers. Their vibrant colors and textures bring life to the room. You might also display art with food or nature themes. Just be sure any pieces are appropriately sized for the wall space and dining room style.
A classy dining room is all about the details. With the right location, lighting, colors, decor and uncluttered space, you'll have a room perfect for enjoying meals and entertaining in style. Your guests won't want the evening to end! By providing tips to create an ideal spot for dining and socializing, a well-designed vastu-compliant dining room adds value and appeal to any home.
2- Choosing the Perfect Dining Table: Square or Rectangular?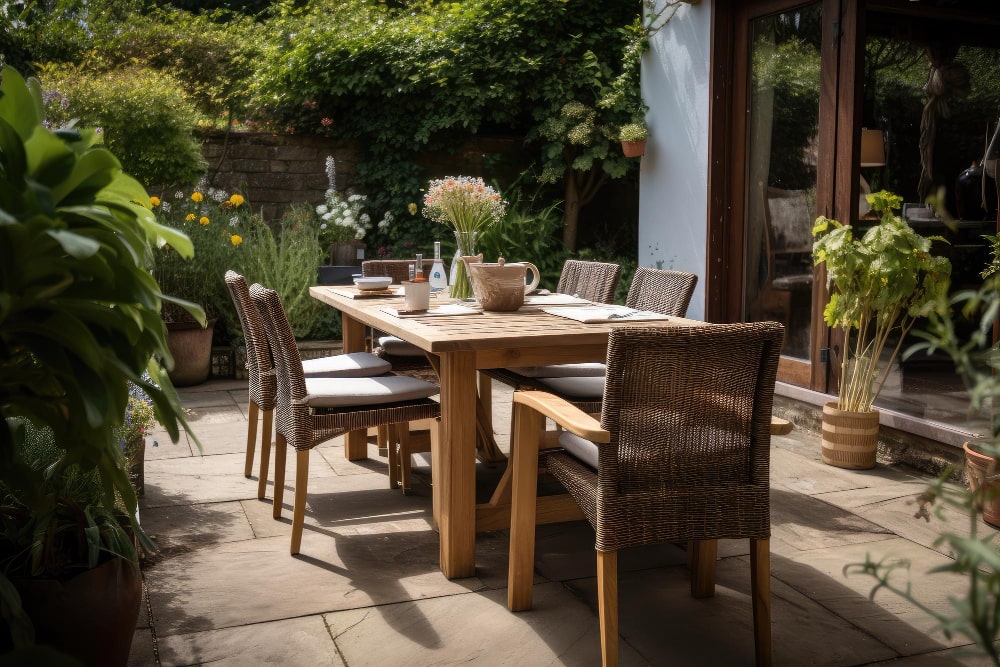 A square or rectangular dining table is a classic choice for a classy dining room. Either shape works well and comes down to your personal style and how much space you have.
A square dining table is perfect if you want an intimate feel for casual meals or dinner parties. It allows easy conversation since all seats are equally spaced. Square tables also work in small dining rooms or tight spaces since they take up less surface area. However, a square table may feel cramped with a large group.
On the other hand, a rectangular table provides a versatile, traditional shape that suits most dining rooms. Rectangular tables seat more people, so they're ideal for large families or if you frequently entertain big groups. They also work well in narrow dining rooms. You can't go wrong with a simple, well-made wood table in a rich finish like cherry or mahogany.
Placement Of The Dining Table
Once you choose a shape, focus on the table's placement. Center the table in the room for the most balanced look and easy flow around it. Make sure there's enough space for chairs to comfortably pull out and for people to walk behind occupied seats.
For seating, arrange chairs so people face the longer walls of the room, rather than the entryway. This allows for an open, airy feel with good sightlines. Use armchairs at the head and foot of the table for a cozy touch.
Soft, dimmable lighting, like pendant fixtures or a chandelier over the table, creates ambiance for dining. Add candles for a special occasion. Mirrors, art, plants, and a clutter-free space further enhance your classy vastu-compliant dining room. With the perfect table at its heart, your dining room will be ready for memorable meals.
3- Centering Your Dining Table for an Inviting Layout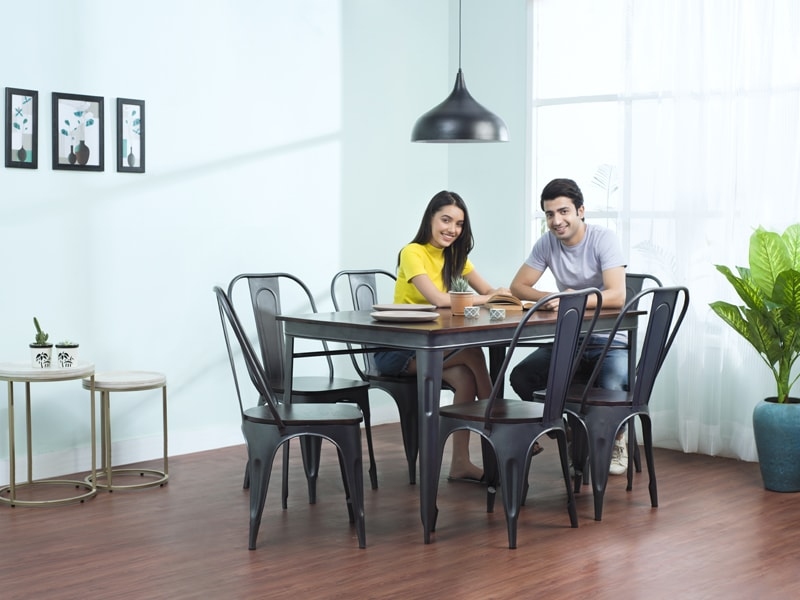 For an inviting yet classy layout, place your square or rectangular table in the center of the room. This way moving around the table gets easier and more flexible.
Ensure there is enough space between the table and walls or other furniture. As a general rule, aim for at least 36 inches between the edge of the table and any adjacent walls or chairs. This provides ample room for chairs to pull out and for people to walk behind seated guests.
Arranging the Seating in Most Welcoming Manner
For the most welcoming arrangement, position the table so that guests will face east or north when seated. According to feng shui principles, this orientation is thought to be the most calming and promote good digestion. However, if one side of your dining room receives more natural light than the others, you may want to consider which direction will illuminate the space best during the times you use it most often.
Soft lighting, such as pendant fixtures hung over the table or recessed lights on dimmers, creates a cozy ambiance for dining and conversation. Include other decorative elements on the tabletop or walls like art, mirrors, candles or plants to give the space a finished, stylish look. Keep the overall design fairly minimal and avoid clutter so the focus remains on your guests.
A thoughtfully designed dining area makes sharing meals together a truly memorable experience. Arranging your square dining table in the center of the room, with comfortable seating for guests facing east or north, soft lighting and decorative accents strikes the perfect balance of casual and chic. Your guests are sure to compliment you on such an inviting space for connecting over delicious home-cooked fare.
4- Seating Arrangement: Facing East or North for Natural Light
The seating arrangement of your dining room plays the key role in creating the overall ambiance and functionality of the space. For a classy vastu-compliant dining room that makes guests feel welcome, consider facing the table east or north to take advantage of natural light.
a- Placement Of Dining Table
Place your square or rectangular dining table in the center of the room. This opens up the space and allows easy movement around all sides of the table. Arrange chairs so people can sit facing east or north, towards windows that let in ample natural light during the day. Soft, diffused lighting will make the space feel more intimate in the evenings.
b- Seating as per Lighting
Seating guests so they face natural light has many benefits. Sunlight elevates mood and provides natural warmth. Eating while facing a window can make you feel more connected to the outdoors and time of day. It may even enhance your dining experience and make conversation flow more easily between guests.
For extra style points, hang a mirror on the north or east wall opposite the windows. The mirror will reflect natural light around the room and create an open, airy feel. The reflection of greenery outside the windows ties the outdoor view to the indoor space.
A clutter-free dining room with minimal decor will prevent distraction from social interaction and enjoyment of your meal. However, small touches like art, plants or candles can help warm up the space when not in use. Choose colors for accents like table linens, napkins or placemats that are appetizing and soothing, such as shades of green, yellow or orange.
Arranging your dining room with natural light and an open flow in mind establishes the perfect spot for gracious entertaining and connection with friends or family over a home-cooked meal. Facing east or north and keeping the space uncluttered and minimal creates a classy yet casual feel that your guests are sure to appreciate.
5- Soft, Appetizing Lighting for a Classy Dining Room Vastu Included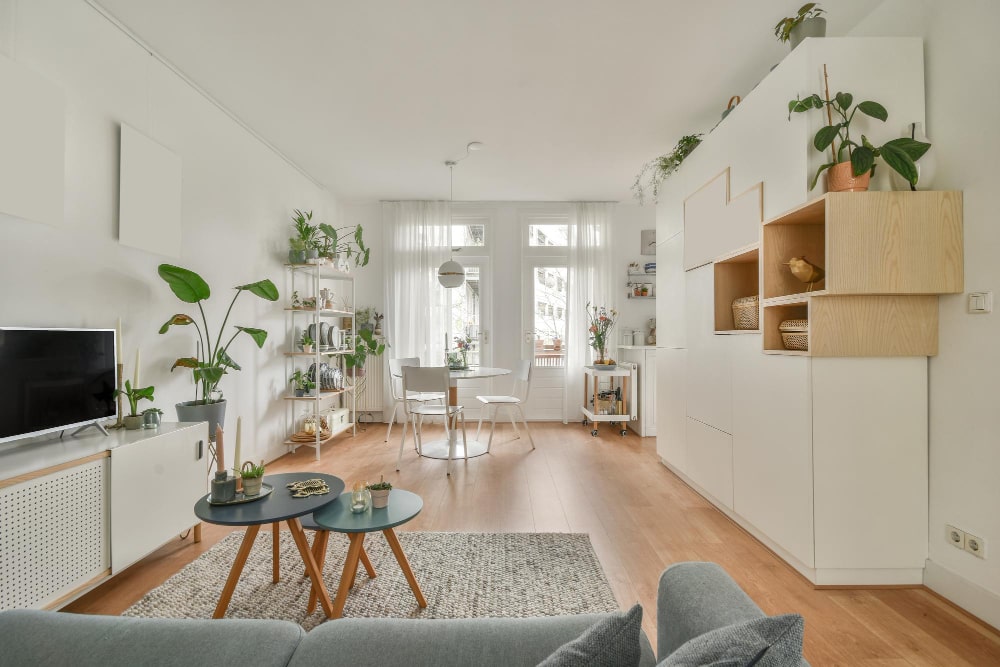 Soft, ambient lighting is key to creating a classy vastu-compliant dining room ambiance. Harsh overhead lights should be avoided, as they create shadows on people's faces and food, and no one looks good under fluorescent bulbs! Instead, opt for dimmable fixtures that cast a warm, appetizing glow.
a- Hanging Lights in Vastu-Compliant Dining Room
Dimmable pendant lights or chandeliers over the dining table are ideal. They provide focused illumination where you need it most, without brightening up the whole room. For smaller spaces, sconces on the walls or recessed lighting also work well. Use LED bulbs in a soft white or warm yellow tone.
Candles are another way to achieve a flattering glow. Group pillar candles of varying heights down the center of the table, or place a few votives around the space. As a bonus, candles also add a lovely aromatic element. Just be sure to keep them away from drapes or table linens to avoid fire hazards.
b- Using Natural Light
If there are windows in your dining room, especially on the eastern or northern walls, take advantage of natural light during the day by keeping treatments open. But for evening meals, close any curtains or blinds to avoid glare and achieve the right ambiance.
A dimmer switch gives you maximum control over the lighting in the space. Adjust fixtures to your desired brightness for any occasion, whether an casual family dinner or an elegant dinner party. Play around with different levels to see what feels right for your space and needs.
When done right, lighting helps set the mood and enhances the overall dining experience. Soft, warm and natural-feeling illumination makes people and food look their best, and creates a cozy, intimate setting for sharing a meal together. Keep things dim and flattering, avoid harsh overhead glare, and use natural light when you can for a vastu-compliant dining room with inviting ambiance.
6- Colors That Stimulate the Appetite: Green, Yellow or Orange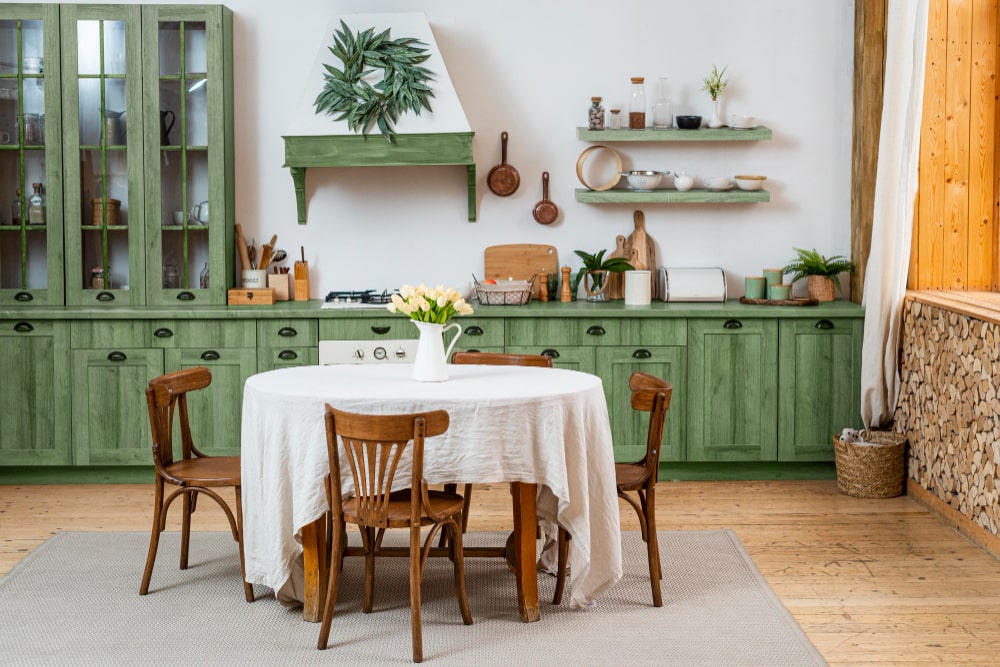 When it comes to decorating your vastu-compliant dining room, the colors you choose can stimulate the appetite and make mealtimes more enjoyable. Warm, vibrant colors like green, yellow and orange are excellent options.
Green is a perfect color for a dining room. Shades like sage, forest, or mint green create a refreshing space. The color green is associated with nature, health and freshness, which complements the act of eating. You could paint one accent wall green or incorporate green into your decor with placemats, art, or plants.
Cheery yellow is another appetizing color for a dining room. Whether pale lemon or bright marigold, yellow evokes feelings of warmth, happiness and energy. A yellow accent wall or yellow decorative accents will instantly brighten your dining room. However, use yellow sparingly as it can be an overpowering color.
Orange is a bold, dynamic color that stimulates the appetite. Burnt orange, coral and pumpkin all work well for a vastu-compliant dining room. An orange accent wall provides a striking backdrop. You can also incorporate orange through decorative accents like table linens, art, or a patterned rug. Combined with wood tones, orange creates a warm, inviting space.
In addition to painting the walls, add pops of your chosen colors through:
Table linens – Placemats, napkins, tablecloths
Art – Wall art, decorative plates or bowls
Decor – Vases, candles holders, decorative trays
Flooring – Area rugs, patterned tiles
Accent lighting – Pendant lights, table and floor lamps
Keep the overall look balanced by choosing one main color and use the others sparingly as accents. A color scheme of green walls with orange and yellow accents or an orange accent wall with green and yellow accents would both be great options for stimulating appetites in your dining room.
7- Mirror, Mirror on the Wall: Placing a Mirror for an Open Feel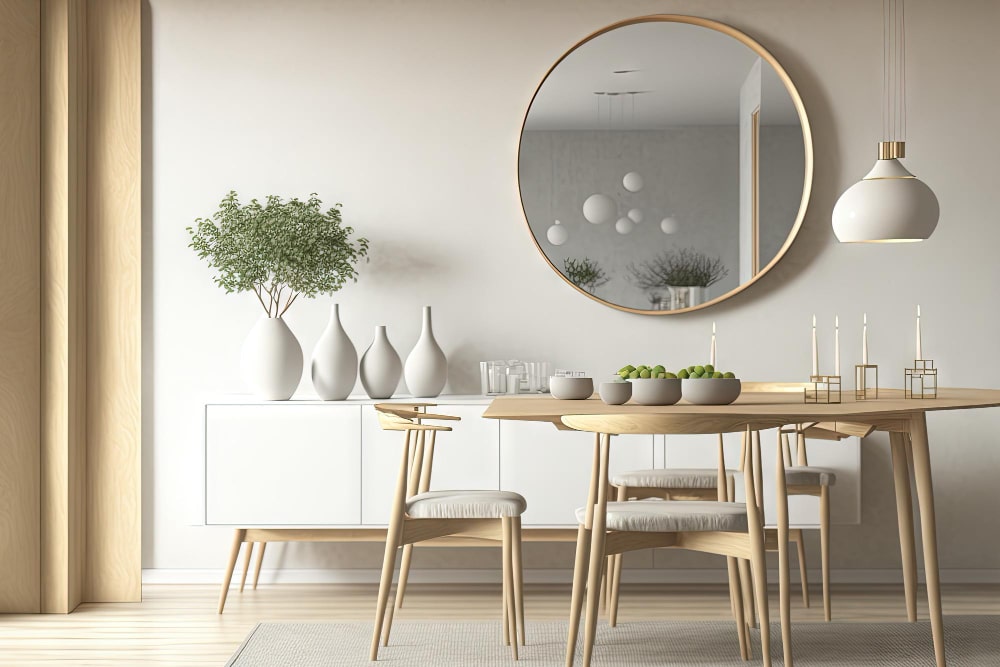 In a vastu-compliant dining room, placing a mirror on the north or east wall is ideal since it will reflect natural light from windows on those sides of the room. For the classy dining room you want to create, a decorative mirror with an ornate frame is perfect for complementing the formal style.
a- Right Size of the Mirror for Vastu-Compliant Dining Room
A 2 to 3 feet wide and 3 to 4 feet tall mirror is the best choice as it gives a large effect on overall surroundings. Anything smaller won't have enough of an impact and larger sizes may be too overpowering for the space. An oval or rectangular shape works well in a dining area. Stay away from round mirrors which can make a room feel chaotic.
Once you've found a mirror you love, determine the optimal placement. Center the mirror on the wall, hanging it so the bottom of the frame is about 6 to 8 inches above any chair rail molding. This draws the eye up and makes ceilings appear higher. For the most natural look, keep the mirror in line with the back of your dining chairs. This allows it to reflect guests seated at the table.
b- Creating Balance In Dining room with Mirror
To create balance in the room, flank the mirror on either side with a pair of wall sconces, art, or decorative plates. Leave about 6 to 8 inches of space on each side of the mirror. The items you choose should share a cohesive theme with your mirror and tie into the overall style of the dining room.
A mirror placed on the north or east wall of your dining room will make the space feel more open and airy while reflecting the natural light that streams in from that side. Choosing a decorative mirror in a size and shape that suits the room and hanging it at the proper level creates an intentional focal point that helps achieve a classy ambiance. Keep the wall around the mirror balanced with coordinating decor and your vastu-compliant dining room will be stylish and welcoming for guests.
8- Keeping a Clutter-Free Dining Space
A clutter-free dining space is essential for enjoying meals and entertaining.
Make it a habit to clear your dining table completely after each meal or when not in use. For daily dining, you only need placemats, napkins, utensils, glasses and serving dishes on the table. Keep extras stored in a sideboard or buffet out of sight.
Any decor on the table like candles, bowls of fruit or floral arrangements should be minimal and balanced. Having more than one focal point on the table, and leave at least 1/3 of the tabletop bare is a good idea to create a balanced dining table. Candles of varying heights add ambiance, but group them together on one side of the table instead of spacing them out. The same goes for any floral or greenery arrangements.
Quick Prep of Dining Room for Surprise Guests
For entertaining, do a quick tidy of the dining room before guests arrive and stow any clutter on shelves, in cabinets or in another room. A clean, uncluttered space will make your guests feel more comfortable to relax and enjoy themselves. Keep extra seating, linens, and serving pieces close at hand but off the tabletop.
If space allows, a sideboard, hutch or buffet along the wall is ideal for storing dinnerware, glassware, linens and other dining accessories out of sight. Add closed cabinetry or drawers to keep clutter contained. An open shelf unit with decorative boxes or baskets is another simple storage solution for a smaller space.
Group wall art in odd-numbered clusters or vignettes for visual appeal above a buffet or credenza. Leave the wall space behind the head of the table open. Mirrors also help open up and brighten the space but avoid placing one directly behind where a guest will be seated.
With some regular maintenance and decluttering, you'll have an inviting dining space perfect for hosting memorable meals and occasions. Keep things minimal, balanced and stored out of sight when not in use for a vastu-compliant dining room free of clutter.
9- Art & Wall Decor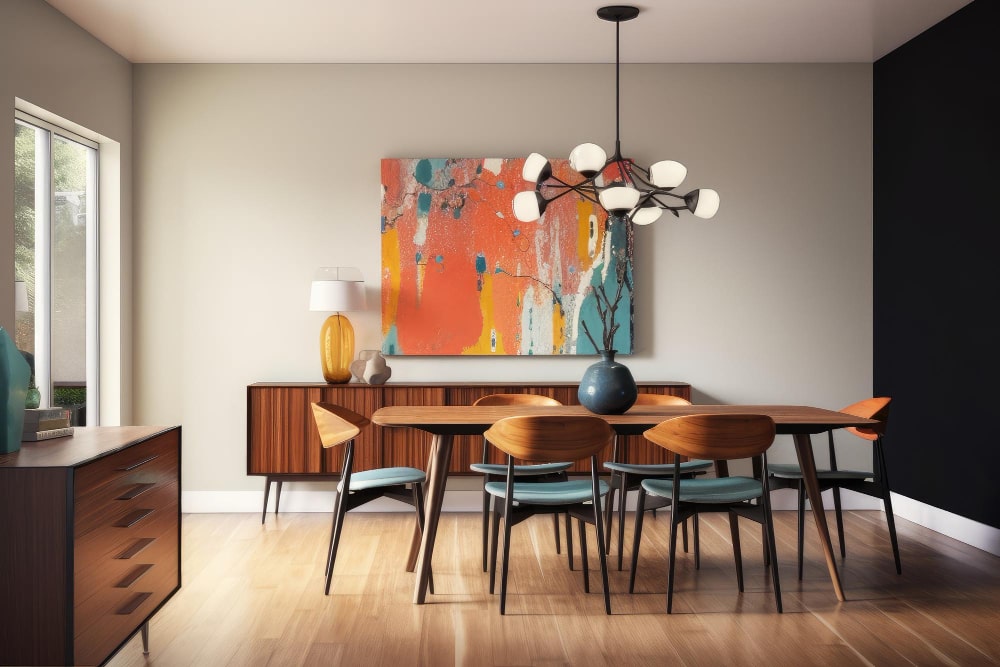 Once you have the perfect dining table placement and seating arrangement, it's time to focus on the decor that will complete the look. Artwork, mirrors, plants, and decorative accents are easy ways to make a dining room feel polished and stylish without cluttering the space.
a- Artwork
Choose art that reflects your personal style but also complements your dining room's color palette. For a classy space, consider framed prints of foods, wines or cutlery. Or get a large mirror to help open up and brighten the room. Place art on the north or east facing walls of your dining room to allow the most natural light to filter into the space.
b- Mirrors
A mirror is a simple way to enhance a dining room. Not only will it reflect light and give the illusion of a larger space, but it also adds a decorative accent. An ornate, gilt-edged mirror works well for a formal dining room. Or group a collection of mirrors in different shapes and sizes for an eclectic look. Hang the mirror so it reflects the dining table, which can make the space feel more open and airy.
c- Plants
Greenery helps bring life and warmth to a dining room. Consider easy-care houseplants that can tolerate low light, such as pothos, Chinese evergreen, or snake plants. Place a few potted plants in a corner, on a sideboard or buffet table, or on the floor in a cachepot. For seasonal color, use cut flowers, foliage or potted bulbs. Choose local and easily available fragrant flowers. they are handy, quick and no so expensive.
d- Decorative accents
Candles, bowls, trays, and other decorative items help give a dining room a stylish finishing touch. Group a collection of candles, glassware or small sculptures on a buffet table or sideboard. Use decorative trays to corral cutlery, linens or other dining necessities. Seasonal touches like pine cones, berries or greenery also help keep a dining room looking fresh and inviting. Keep the overall look minimal and avoid cluttering surfaces with too many knickknacks.
With some well-chosen art, mirrors, plants and accents, you can create a classy, stylish and vastu-compliant dining room perfect for entertaining and enjoying meals. Focus on keeping the space open and clutter-free, and choose decor that reflects your personal style.
10- Plants & Additional Things on Dining Table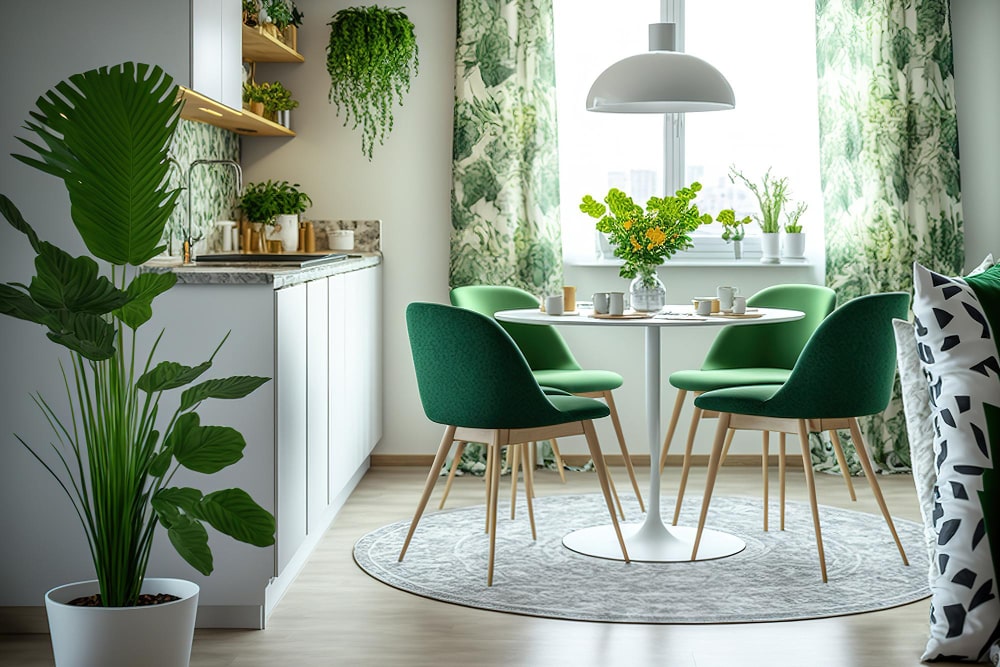 Plants are a great way to bring life and greenery into your dining room. However, you want to be careful not to overcrowd the table or make the space feel cluttered. A few small potted plants, succulents or a small floral arrangement are perfect.
a- Succulents
Succulents are low-maintenance plants that can thrive indoors with minimal sunlight. Their sculptural shapes and fleshy leaves add visual interest. Try a trio of succulents in small pots, like echeveria, haworthia or crassula ovata (jade plant). Group them together on one side of the table or space them out.
b- Herbs
If you like to cook, planting a few herb seedlings in small pots is ideal for a dining table. Mint, rosemary, basil and thyme all do well indoors. The fresh herbs will also infuse the room with a wonderful aroma. Prune the herbs regularly to encourage new growth and use clippings to garnish dishes or make herbal tea.
c- Floral Arrangements
For special occasions, a small bud vase or jar filled with fresh flowers, such as tulips, ranunculus or daffodils, makes a lovely centerpiece. The blooms will only last a few days, so replace them regularly. Or choose longer-lasting flowers like orchids.
d- Additional Decor
You can also add candles, decorative bowls, trays, placemats or chargers under the plants and flowers to protect the tabletop. Just be sure not to overcrowd the space. Keep things minimal and avoid clutter so your dining table remains an inviting place to share meals.
With the right selection and placement of greenery, your vastu-compliant dining room will feel like an oasis. Plants bring life and natural elements indoors, which helps create a peaceful ambiance perfect for dining and entertaining.
Take Away
You now have all the tips and tricks to design a vastu-compliant dining room that will impress your guests. With the perfect balance of colors, lighting, space, greenery and accents you'll create an inviting space for memorable meals. Head to your favorite home goods store, pick up some paint samples in green or terra cotta hues and a new mirror or piece of art to get started. Once you have the big things in place, add final touches like a vase of fresh flowers or a scented candle for ambiance. Before you know it, you'll be hosting dinner parties in style. With a chic, clutter-free vastu-compliant dining room that reflects your taste, you'll want to eat in more often.