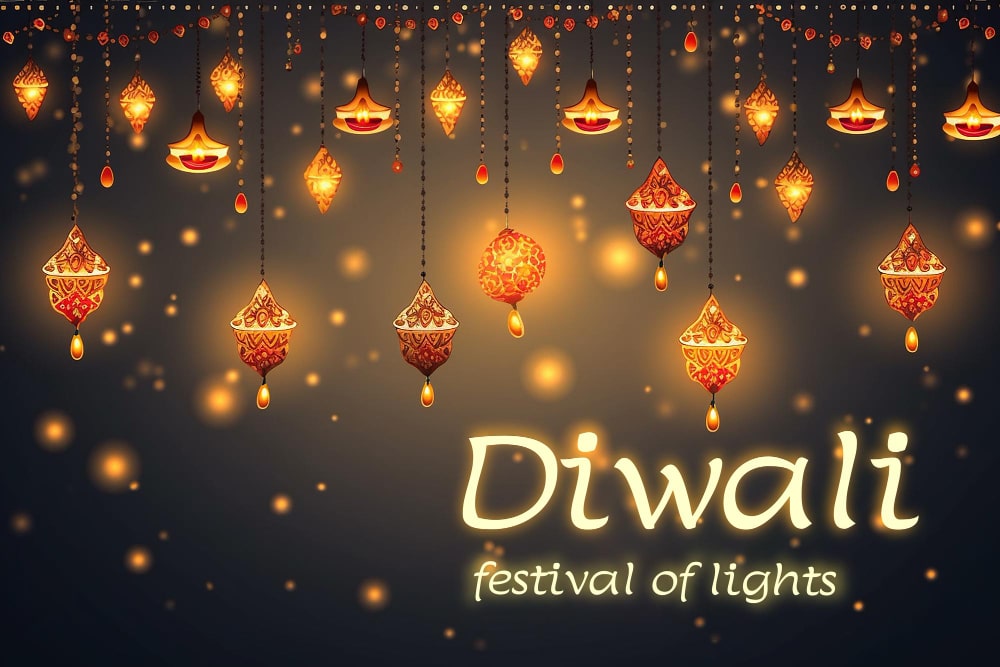 You've invited friends and family over to celebrate Diwali, the festival of lights, and now it's time to transform your home into a festive space by choosing Diwali decoration ideas. Where do you even start? Don't worry, we've got you covered with creative ways to make your place sparkle from top to bottom. From an inviting entranceway to cozy corners for guests to relax in, a Diwali-themed makeover can help set the mood for an unforgettable get-together.
Whether you go all out with DIY decorations and crafts or keep things simple with string lights and scented candles, your guests are sure to appreciate all the little touches of Diwali decoration ideas. So roll up your sleeves, turn up the music, and get ready to host the best Diwali gathering yet. By the end of the night, your place will be aglow with the warmth of friends, family, delicious food, and timeless traditions.
1- Planning Your Diwali Theme and Mood
When hosting a Diwali party, the theme and mood you choose will set the tone for the entire celebration. Do you want to go traditional with warm reds, oranges and golds? How about a modern minimalist look with metallics and jewel tones? Maybe a fusion of cultural influences is more your style.
Hey there! The Festival of Lights is just around the corner. Are you ready to decorate your home in style this Diwali? Whether you want to go traditional with warm reds, oranges and golds or prefer a modern minimalist look with metallics and jewel tones, we've got amazing Diwali decoration ideas for you. Or maybe a fusion of cultural influences is more your style – we've included some unique Diwali decoration ideas you may not have considered before. Read on to discover the top decoration themes for Diwali 2023 to make your home glow with the light and warmth of the festive season. This year, light up your home and welcome Lakshmi in style!
a- Traditional Diwali Decoration Ideas: Warm Colors and Natural Materials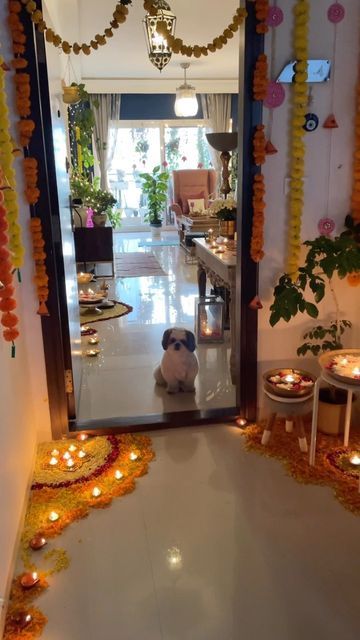 Decorating for Diwali? Go traditional with warm reds, oranges and golds, the colors of fire and sunlight.
Use natural materials like clay diyas, cotton tapestries, and woven baskets. Groupings of tealights in handmade copper or brass holders create a warm glow.
Drape doorways in marigold garlands for an authentic Indian welcome. their yellow and orange petals symbolizing prosperity and fortune.
Don't forget mango leaves, a traditional Diwali decoration said to bring happiness and good luck. Their green leaflets represent new beginnings.
Creating a traditional Diwali theme with natural, cultural touches is a perfect way to celebrate the Festival of Lights. Your home will radiate the warmth and joy of the season.
b- Modern and Minimalist Diwali decoration ideas With Metallics and Jewel Tones
Want elegant Diwali decoration ideas that embrace modern minimalism? Metallics and jewel tones are a perfect choice.
Grays and silvers: Cool metallics like pewter, mercury glass and brushed nickel reflect the glow of candlelight beautifully. Pair them with jewel-toned accessories in ruby red, sapphire blue or emerald green for a dramatic look.
Golds and coppers: Warm metallics in rose gold, copper and champagne gold blend beautifully with Diwali's autumnal color palette. Mix different metallic shades together for an opulent yet minimal look.
Pops of color: Use metallic vases, bowls or platters to display jewel-toned flowers, leaves or candles. Their striking colors will shine even brighter against a metallic background.
A minimalist Diwali decoration ideas in metallics and jewel tones is elegant and modern but still embraces the festive spirit. Celebrate in style!
c- Fusion Diwali Home Decoration Inspired by Different Cultures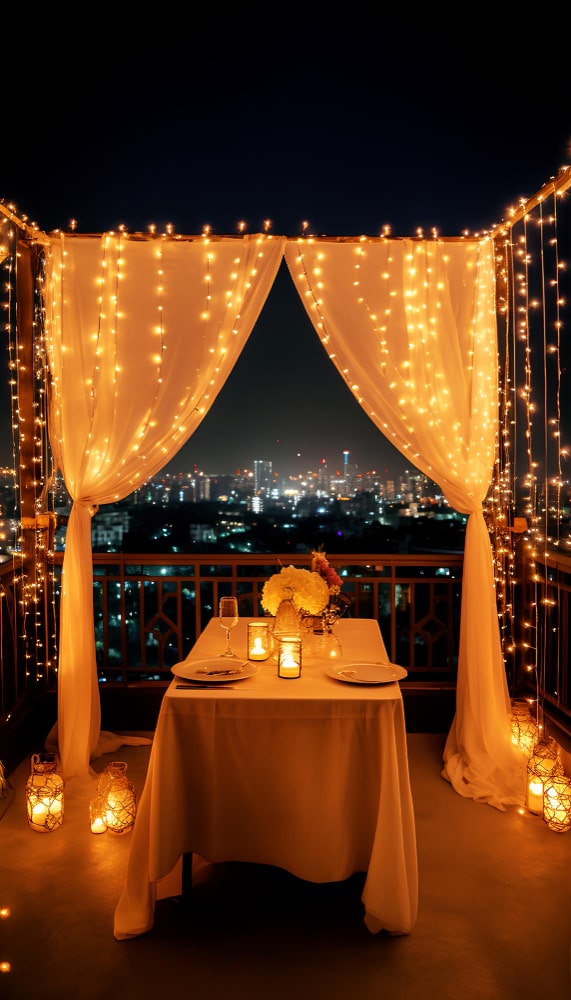 Bring cultural influences from around the world into your Diwali decor this year. Combine traditional Indian elements with bohemian, Moroccan or Chinese-inspired accents for an eclectic, globally-inspired look.
Drape colorful fabric like sari silk, patterned Moroccan wedding blankets or embroidered Suzani textiles as tablecloths, wall hangings or couch throws.
Scatter jewel-toned pillows, poufs, rugs and ottomans around your space for a luxe, lounge-inspired vibe.
Group candles of various heights, colors and scents together on tables and counters. Include Indian diyas as well as Moroccan glass lanterns.
Display natural elements like gemstones, crystals, seashells or metallic vases and bowls.
Include decorative objects from different cultures like ornate Indian elephant statues, Chinese vases, Moroccan lamps or Turkish ottomans.
A fusion of cultural influences in your Diwali decoration ideas creates an inviting, globally-inspired space to celebrate the festival of lights. Mixing traditional with bohemian or ethnic accents gives a vibrant, eclectic look reflecting the cultural diversity of India and beyond.
d- Minimalistic Magic: Less is more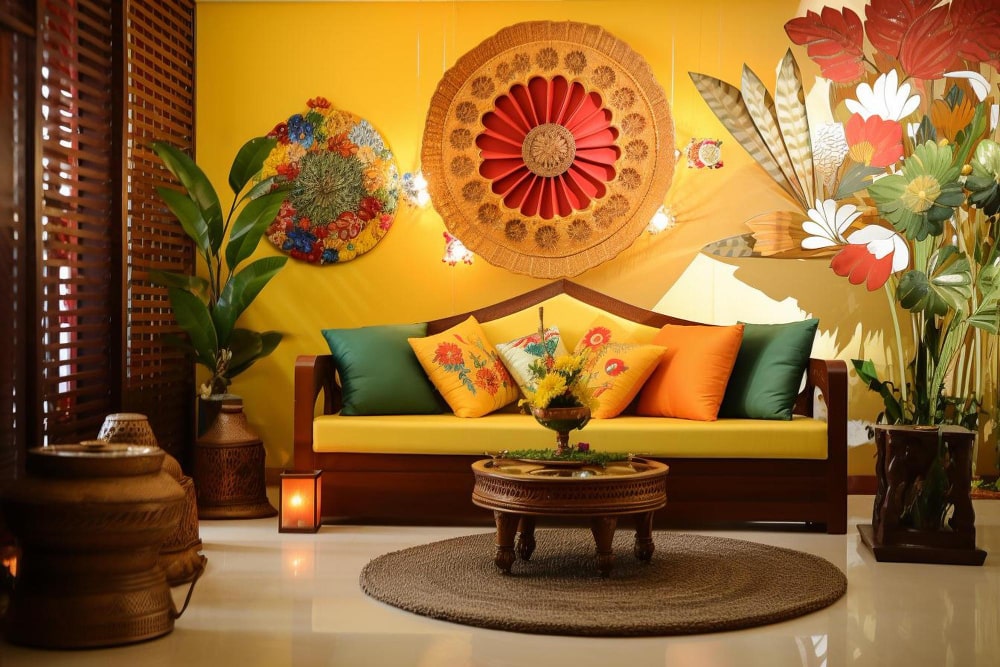 When it comes to Diwali decoration ideas, less can be more. A minimalistic style focuses on clean lines, neutral palettes, and sparse accents.
Metallics like silver and gold add a subtle glimmer without overwhelming. Pair metallic charger plates or candle holders with jewel-toned taper candles in ruby red or sapphire blue for a stylish vignette.
Incorporate natural materials like wood, rattan, and cotton for texture. A wooden tray holds pillar candles and greenery. Woven placemats or a rattan charger mat elevate a simple dinner setting.
Cultural fusion comes through in small doses. A Bengali alpana pattern stencil or kolam rice flour design brings tradition into a modern space. A single diya or lotus blossom motif provides an artistic accent.
Keep surfaces clear and clutter-free. A minimal tablescape with space for conversation is ideal for gathering with loved ones. Simplicity allows the true meaning of Diwali to shine through.
e- Natural Decoration: Flowers, Plants & Clay Pots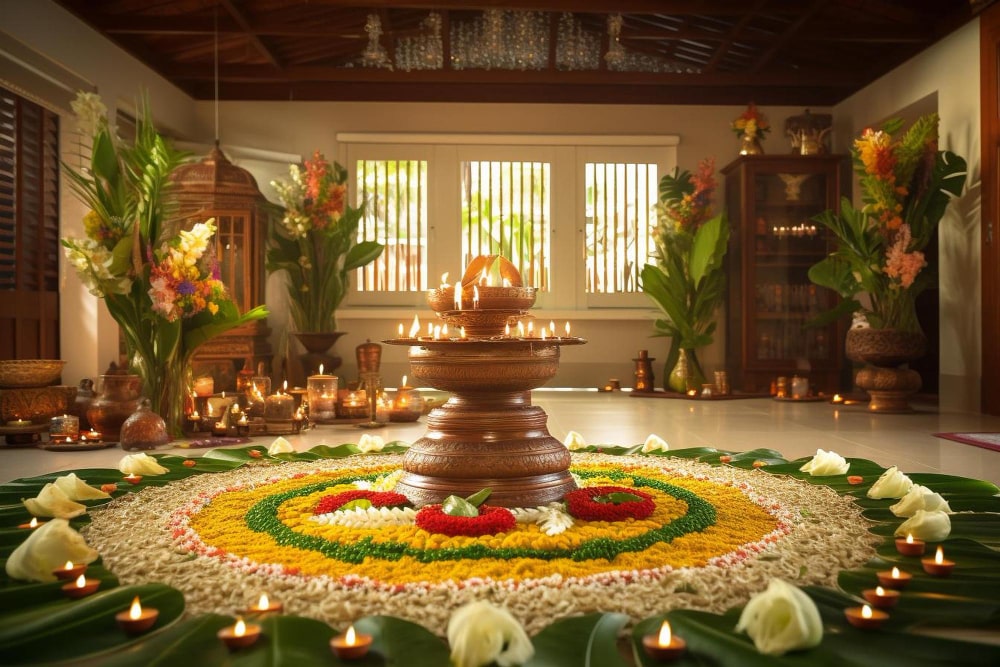 For natural Diwali decoration ideas, you can't go wrong with fresh flowers, plants and clay pots. Flower garlands made of marigolds, jasmine and red rose petals are perfect for doorways. Place potted plants with colorful flowers like gerbera daisies, orchids or anthuriums on tables and counters. For a more dramatic look, create a focal point with a large indoor tree decorated with fairy lights, such as a ficus or rubber plant.
Clay pots in earthy tones also make wonderful decorative accents and planters. Fill them with small succulents, air plants or blooming annuals for an organic feel. Don't forget to include lush greenery like ferns, ivy and philodendrons to bring a natural vibe indoors. Scatter fresh or dried leaves, berries, nuts and citrus peels on tabletops for seasonal touches. Natural decorations are an easy, eco-friendly way to make your home glow for Diwali.
Once you decide on a theme, build upon it by choosing complementary colors, decor, lighting, food, music, and activities. For a traditional Diwali, focus on golds, reds and oranges with lanterns, garlands, rangoli, and traditional Indian cuisine. Play some upbeat Bollywood music for extra festive atmosphere.
2- Decorating Your Home for a Festive Diwali Celebration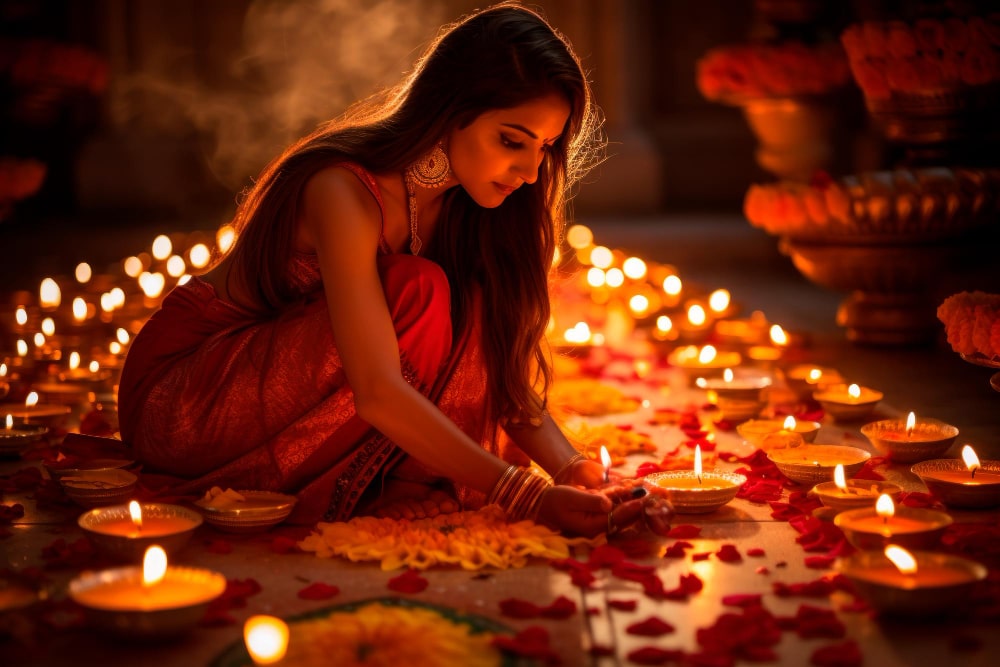 To welcome guests with the perfect Diwali vibe, focus on a theme that inspires you. Themes like 'Festival of Lights' or 'Celestial' are lovely, but anything meaningful to you will do. Once you have a theme, build on it with:
Soft lighting. Place string lights, lanterns or diyas around entryways, railings and door frames. Their warm glow will make a wonderful first impression.
Natural elements. Incorporate leaves, flowers, wood or metallic accents. For 'Celestial', try star or moon shapes. These touches bring your theme to life in a simple, organic way.
Entryway decor. A rangoli, hanging decoration or wreath on your front door sets the mood as soon as guests arrive. Stick with your theme's colors and materials for a cohesive look.
Fragrance. The scents of cinnamon, cloves, sandalwood or jasmine evoke the Diwali spirit. Use essential oils, incense, potpourri or scented candles to fragrance your home.
With a meaningful theme, strategic lighting, natural details, decorative accents in your entryway and festive fragrances wafting through the rooms, your home will give loved ones an unforgettable Diwali welcome. Focusing on what inspires you and sticking to a theme allows your personal touches to shine through. Less is more – keep things simple but striking. Your guests are sure to appreciate how you've made them feel at home for the holidays.
3- Preparing a Delicious Diwali Dinner Menu
Preparing a delicious Diwali dinner is all about choosing a menu that blends tradition with flavors your guests will love. Think fusion cuisine that incorporates classic Diwali dishes with modern twists.
For appetizers, serve up mini samosas or pakoras with mango chutney for dipping. These crispy, fried treats are always a hit. You could also do a cheese platter with cubes of paneer, goat cheese and creamy blue cheese alongside crackers and bread.
a- Main Dishes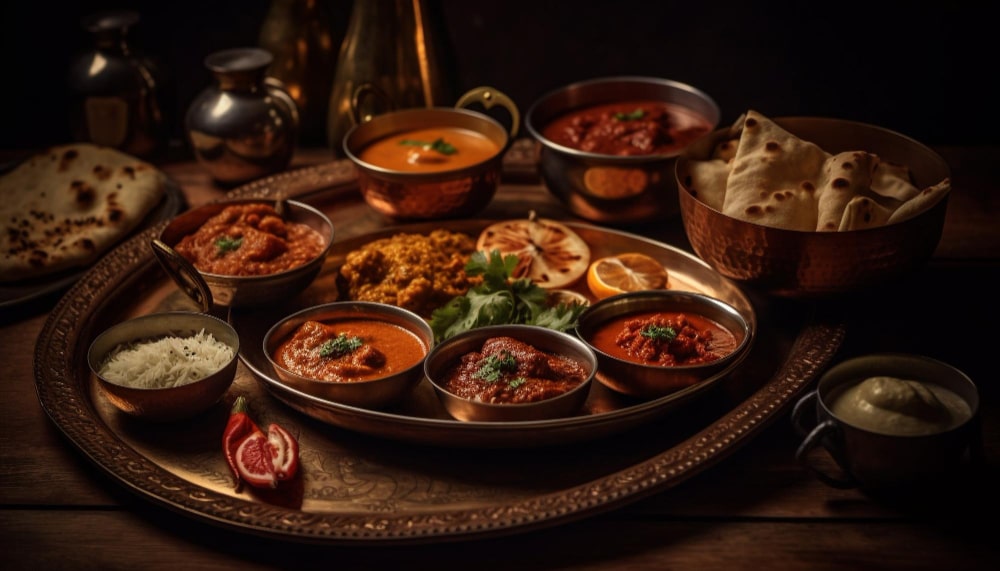 For the main course, a lamb or chicken curry is quintessential Diwali fare. Or try something unique like tandoori salmon with basmati rice and naan bread. Vegetarian options include malai kofta, creamy vegetable korma or chili paneer. But, do not skip on aloo puri, one and only traditional Diwali dish that has been in everyone's family since generations.
b- Sides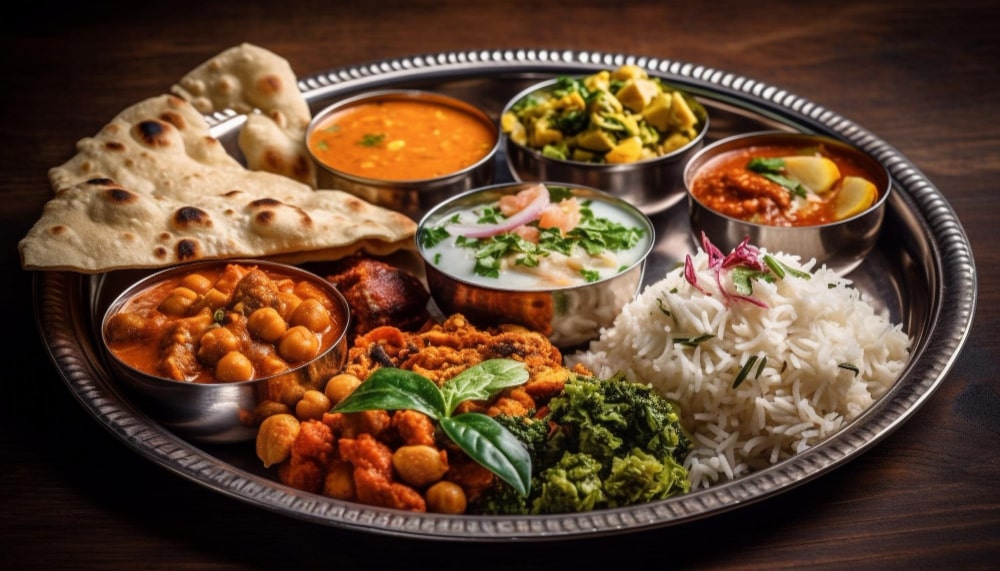 No Diwali meal is complete without sides like fluffy basmati rice, buttery naan, spiced potatoes like aloo gobi, and a fresh cucumber raita or onion salad. Lentil dishes like dal makhani are also popular.
c- Dessert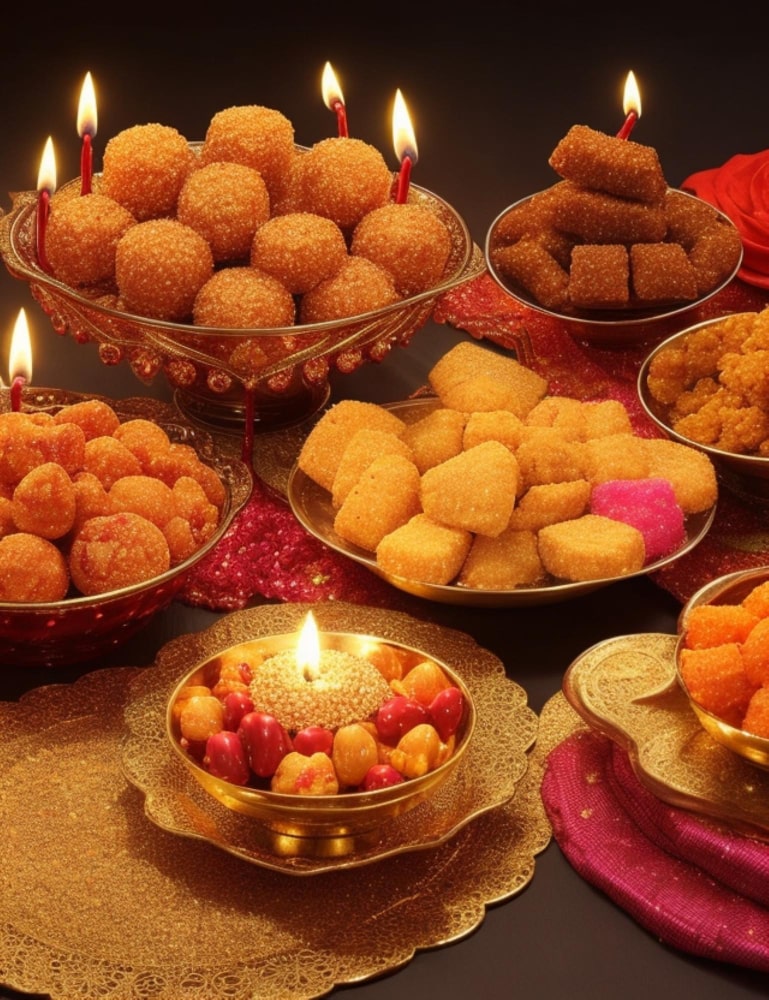 End on a sweet note with classic gulab jamun in rose syrup, creamy ras malai or decadent mango kulfi popsicles. Diwali sweets like barfi, ladoo and jalebi are wonderful too, with intense flavors of saffron, cardamom, pistachio and almond.
A delicious Diwali dinner with family and friends is all about enjoying each other's company, reconnecting and making new memories together. Focus on keeping things festive yet low-key, with a menu filled with authentic yet approachable dishes and lots of love. Your guests are sure to leave with full bellies and happy hearts.
4- Adding Fun Diwali Party Activities and Entertainment
Adding some fun activities and entertainment is a great way to bring the festive spirit of Diwali alive at your gathering. Think interactive, engaging things for guests of all ages to participate in.
a- Playing Cards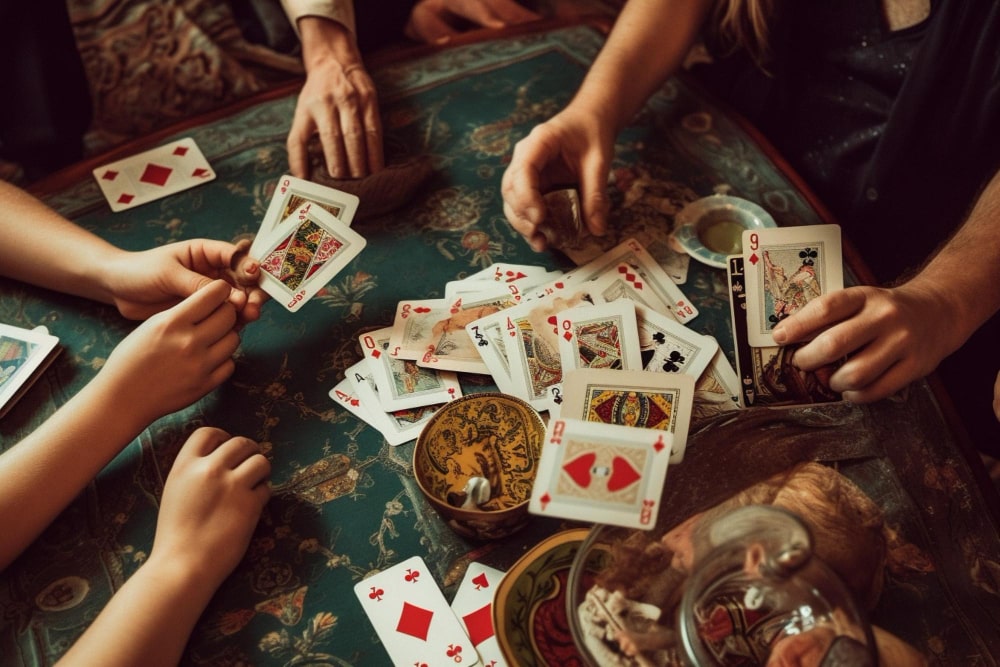 A classic Diwali tradition is playing rounds of cards with family and friends. Teach your guests some simple Indian card games like rummy, flush, or 28. Keep the stakes low and focus on fun. Provide snacks, sweets and drinks to keep energy levels up during games.
b- Music and Singing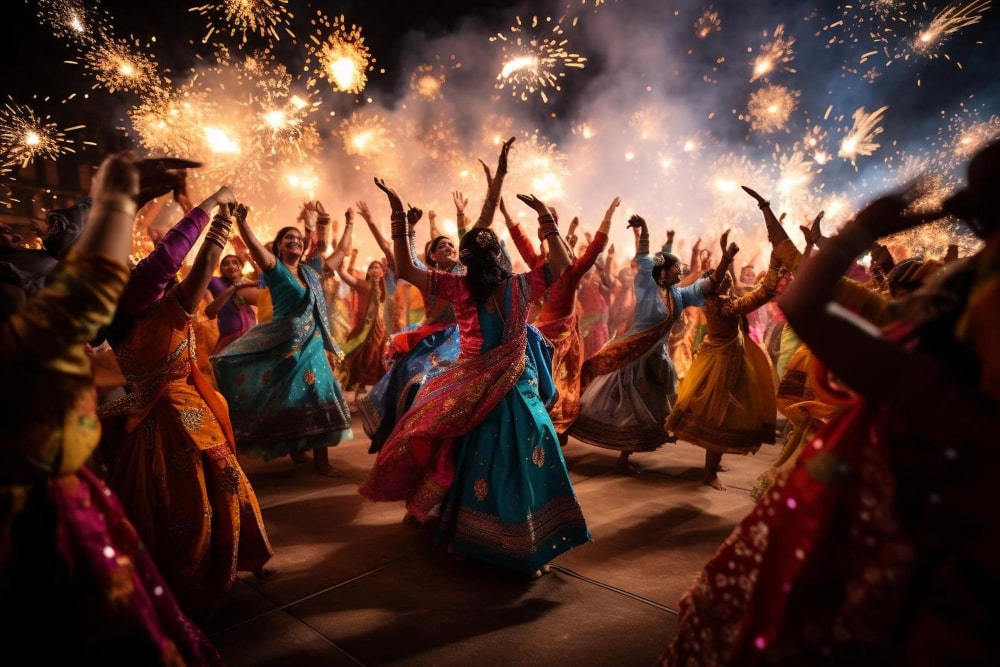 No Diwali celebration is complete without music. Create a playlist of upbeat Bollywood songs and classic Diwali tunes to set the mood. Have guests sing along to songs they know. You can also organize a karaoke session for anyone who wants to show off their singing skills. Dance performances are also popular at Diwali parties. Ask friends to choreograph a fun dance number to surprise guests.
c- Rangoli and DIY Crafts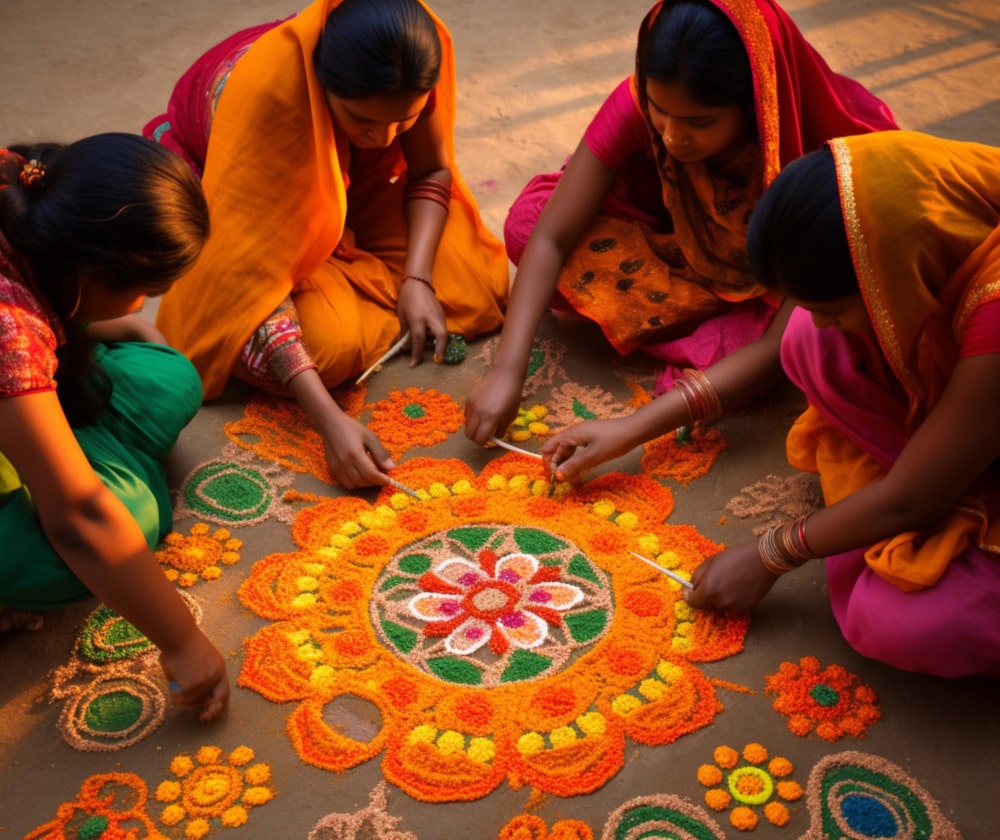 Get creative with colorful rangoli designs, diyas, crafts and other decorative items. Set up stations around the party for guests to make their own rangoli patterns, paint diyas or create other Diwali-themed crafts like paper lanterns or wall hangings. Provide stencils and guidance for beginners. These interactive activities are especially fun for kids and a great way for guests to personalize your Diwali decoration ideas.
Adding interactive elements like playing cards, music, dance and crafts will make for an entertaining Diwali gathering your guests will never forget. Focus on participation over perfection and most of all, have fun connecting with friends and family during this joyous festival of lights.
5- Personalizing Your Diwali Celebration With Family Traditions
Bringing your family's unique Diwali traditions into your celebration is a wonderful way to make the festival personally meaningful. Think about the special rituals, foods or activities your family has enjoyed over the years and find small ways to incorporate them into your gathering.
a- Doing activities together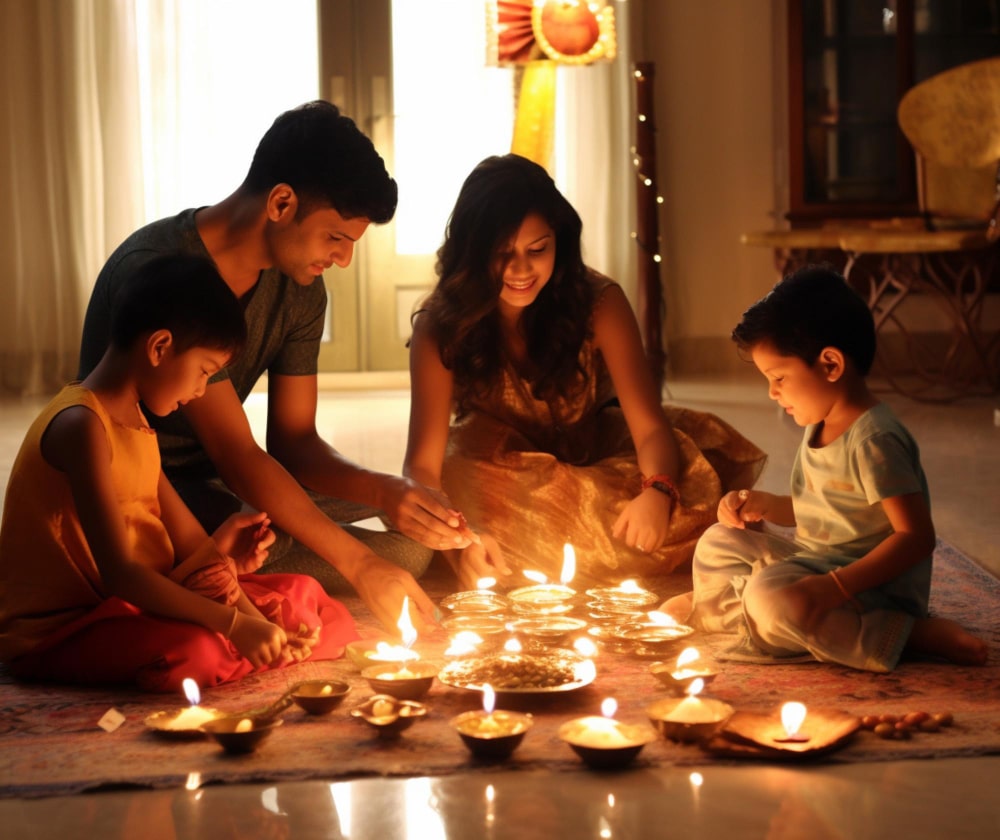 If your family always lights diyas or decorates rangolis together, set aside time before guests arrive to continue the tradition. You might make it an interactive activity where everyone contributes to designing a large, collaborative rangoli. Or have supplies on hand for people to make their own diyas to light.
Does your family read prayers or scriptures together during Diwali? Create a cozy space for people to reflect and share in this tradition if they choose. Some families exchange gifts on Diwali, so you could suggest a fun gift exchange activity where guests bring a small gift to swap.
b- Sharing love and joy
Sharing childhood memories of favorite Diwali foods is another great way to bond over family traditions. Try making some of the sweets and savories you enjoyed as a child to serve at your party. Explain the significance and history of the dishes to give guests insight into your cultural traditions.
While hosting a Diwali gathering for friends and community is meaningful, reserving time to honor family traditions makes the celebration especially poignant. Discussing the origins of your traditions helps strengthen connections between generations and passes cultural heritage on to younger family members. Welcoming others to participate in these traditions spreads awareness of the rich diversity within Hindu culture.
6- Safety Considerations for Indoors and Outdoors
When hosting a Diwali celebration, safety should be a top priority, especially with open flames and fireworks.
a- Safe placement of Diyas and Candles
Make sure to place diyas, candles and lanterns in secure holders on flat, non-flammable surfaces away from drapes or decorations. Never leave an open flame unattended. Have a fire extinguisher or bucket of sand nearby in case of emergencies.
b- Fireworks Safety
If doing fireworks, choose an open area away from buildings and flammable objects. Designate a responsible adult to light fireworks and supervise activities. Ensure all spectators remain at a safe distance from the firing area. Never relight a "dud" firework – wait 15-20 minutes then soak it in water.
c- Safety protocols with Electric Lights
When using electrical lights or sound equipment, check for any damage before plugging in. Ensure all wiring and connections are properly grounded and avoid overloading circuits. Place cords out of walkways to prevent tripping hazards.
d- Keeping Kids and Elderly Safe
For younger kids and elderly guests, avoid uneven surfaces. Make sure any decorations with small pieces are kept out of reach. Do not try to cover your floor with light wires, candles, diyas or other decoration items. After Laxmi Puja, make sure that kids are well informed not to touch anything. Keep the area with burning flames and lights secured from kids and pets.
By taking necessary precautions and planning ahead, you'll have a safe Diwali celebration and be able to focus on enjoying quality time with friends and family. Have a happy and safe Diwali!
7- Celebrating Eco-Friendly Diwali
An eco-friendly Diwali is a great way to honor the festival of lights without harming the environment.
Opt for green decorations like potted plants, flowers and reusable decorations. Stay away from plastic and disposable items. Create an eco-friendly rangoli using materials like rice, lentils, flowers and leaves.
Say no to fireworks which pollute the air and scare animals. Choose energy-efficient lighting like LED string lights, candles or diyas instead.
Gift responsibly by avoiding excess packaging and disposable items. Consider donating to a good cause or giving homemade, sustainable gifts.
An eco-friendly Diwali ensures we can enjoy the festival for years to come while also caring for our planet. Make small changes to your celebrations and encourage friends and family to do the same. Together, we can make a difference.
8- The Impact of Eco-Friendly Diwali Celebrations
Celebrating Diwali in an eco-friendly way has so many benefits.
a- Improved Air Quality
Burning fewer firecrackers and using natural, unscented candles or rechargeable string lights instead of paraffin wax candles will produce less smoke and pollutants.
b- Less Noise Pollution
You'll also experience Less Noise Pollution. Skip the noisy firecrackers and opt for hand bells, chimes or a gong to welcome the goddess Lakshmi. Your neighbors and any pets will surely appreciate the quieter celebration.
C- Reduced Waste
Reusable decorations, natural materials and less packaging will cut down on the trash produced. Compost food scraps and donate unused ingredients or prepared food to avoid excess waste.
d- Energy Conservation.
Using rechargeable lights or solar-powered lamps and avoiding keeping all the lights on all night will save electricity.
e- Preservation of Traditions.
Decorating with rangoli, lighting diyas, performing Lakshmi puja, exchanging gifts, and donating to charity are all traditions worth honoring. An eco-friendly Diwali allows you to pass these traditions on to future generations in a sustainable way.
Celebrating Diwali sustainably helps ensure that the spirit of this special festival lives on for years to come. Make small changes this year and enjoy a greener Diwali!
Take Away
So there you have it, endless inspiration and ideas to make this Diwali the most memorable one yet. Don't be afraid to experiment – Diwali is all about creativity, joy, and bringing people together. Pick and choose the suggestions that speak to you and your personal style. Transform your home into a warm, welcoming space filled with the sights, sounds and scents of the festival. Your guests are sure to be delighted by your efforts. Most importantly, take the time to slow down and be fully present with friends and family. Cherish each moment of togetherness and laughter. May the light of Diwali fill your home and heart with peace, prosperity and happiness.
click here for Diwali Cleaning Tips.