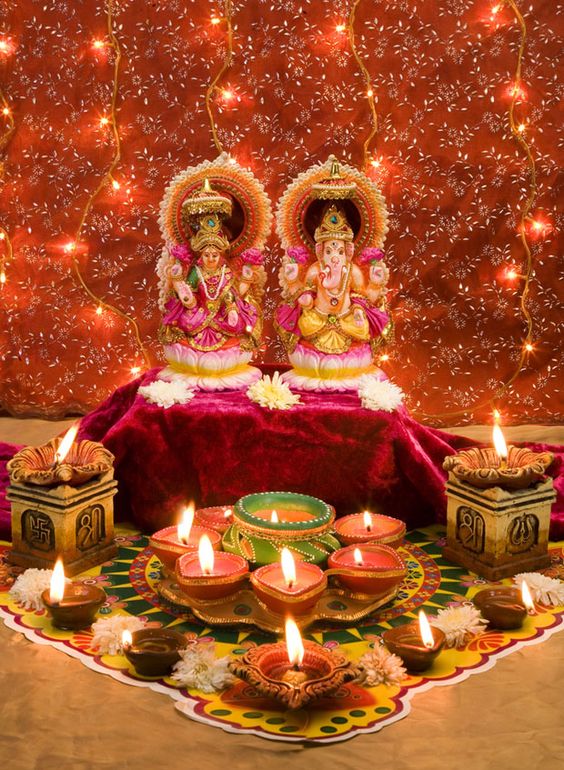 It's that time of year again – Diwali season is upon us. As the festival of lights approaches, it's time for some serious deep Diwali cleaning, decluttering, and organising at home. When you embark on your Diwali cleaning spree, you'll reap the benefits of a sparkling home and a clear mind. Where do you even start with all the cleaning, organizing and decorating that needs to happen before Diwali? Don't worry, we've got you covered.
Over the next few weeks, we'll walk you through everything you need to know to get your home guest-ready. From creating a custom cleaning checklist to eco-friendly cleaning tips, storage solutions, and prepping for decorations, this series will help you prepare for the festivities with less stress and more joy. Ready to get started? Roll up your sleeves, put on some music, and let's dive in!
1- Why Do a Deep Diwali Cleaning?
Why do a deep Diwali cleaning? There are so many benefits to giving your home a thorough cleaning before the Festival of Lights.
For starters, decluttering and organizing your space will make room for Diwali decorations and ensure you have a place for gifts. A clean home also allows you to welcome Lakshmi, the Goddess of Wealth, into your home. According to tradition, a messy or dirty home will not attract prosperity.
A deep clean also improves your health and well-being. Removing built-up dust, grime and allergens from your home can help reduce symptoms for those with allergies or respiratory issues. Fresh, clean air will help you and your family breathe easier and sleep more soundly.
Finally, cleaning and decluttering is rejuvenating. Getting rid of excess belongings and scrubbing every nook and cranny of your home will make you feel refreshed and ready to celebrate Diwali. Your sparkling clean and organized home will lift your mood and motivate you for the festivities ahead.
This Diwali, roll up your sleeves, put on some music, and get your whole family involved in a deep clean of your home. Make cleaning fun by turning it into a game or competition. Work together as a team to declutter, organize, scrub, mop, sweep, wipe down and polish your home into shape. Your efforts will make Diwali that much more special as you welcome the light and prosperity into your perfectly prepared space. Happy Diwali and happy deep Diwali cleaning!
2- Creating Your Diwali Cleaning Checklist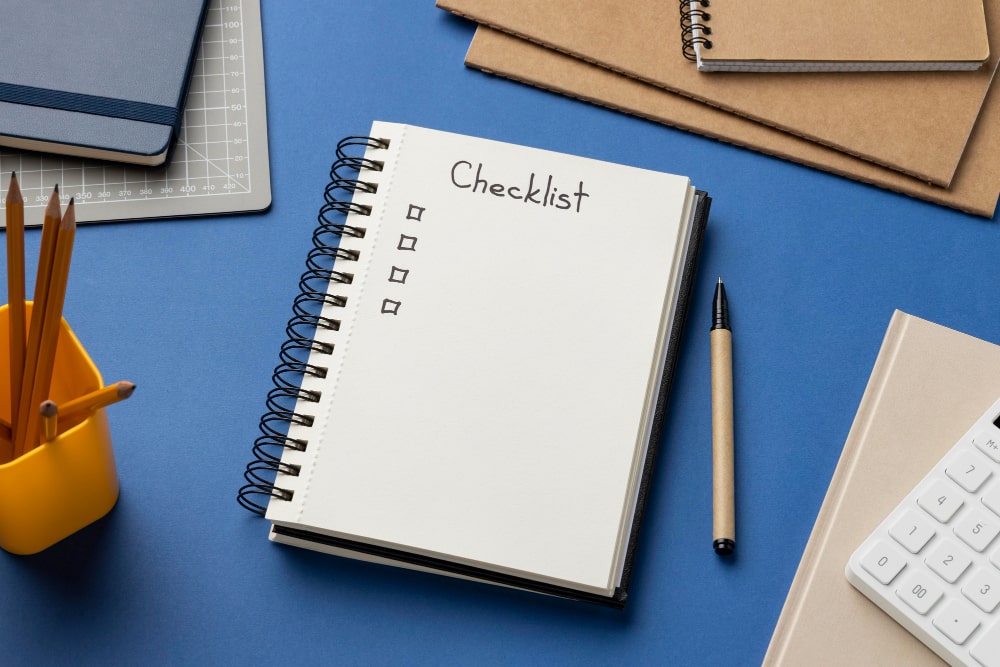 Creating your Diwali cleaning checklist will help keep you organized and ensure you cover all areas of your home. Start by listing each room, then note the major tasks for each space. For example:
a- Kitchen:
Wipe down cabinets and appliances, mop or sweep and vacuum floors, clean stovetop and oven, empty fridge and pantry of expired items. Rearrange items as per their usage and throw away or donate everything you never use.
b- Living room and family room:
Dust and polish furniture, vacuum carpets and rugs, mop or sweep and vacuum hard floors, wipe down baseboards, clean ceiling fans and lighting fixtures. Remove spider webs and clean fans before you start to clean the furniture and rugs. Try to cover the fruntiure and fold the rugs before you start cleaning the walls. It saves time and a lot of effort.
c- Bathrooms:
Scrub toilets, tubs, showers and sinks, mop floors, wipe counters and cabinets, clean mirrors and lights, empty trash cans. Using right chemical will help a lot and reduce physical effort a ton. Although hiring professional bathroom cleaning services is a better choice nowadays as their processes and cleaning material can turn your bathroom into as good as new. Try and fix all the leakage before getting bathroom cleaning done. As per Vastu, any kind of water leakage at home can invite diseases and money lose. These things need to be repaired immediately.
d- Bedrooms:
Change sheets and blankets, vacuum carpets and rugs, dust and polish furniture, wipe down baseboards, clean ceiling fans and lighting fixtures.
Once you have the major tasks listed for each room, break them down into smaller steps. For example, vacuuming the carpets may involve moving furniture, vacuuming edges and corners, and vacuuming high-traffic areas.
Assign each task a priority level – high (must do), medium (should do), or low (nice to do). Start with the high-priority tasks, then work your way down as time allows. Don't forget to schedule in breaks to avoid burnout!
Stick to your checklist and tackle one room or area at a time. Play some festive music to keep your energy and motivation up. Before you know it, your home will be sparkling clean and ready for Diwali decorations! A clean home is the perfect way to welcome the festival of lights.
3- Decluttering and Organizing Your Home for Diwali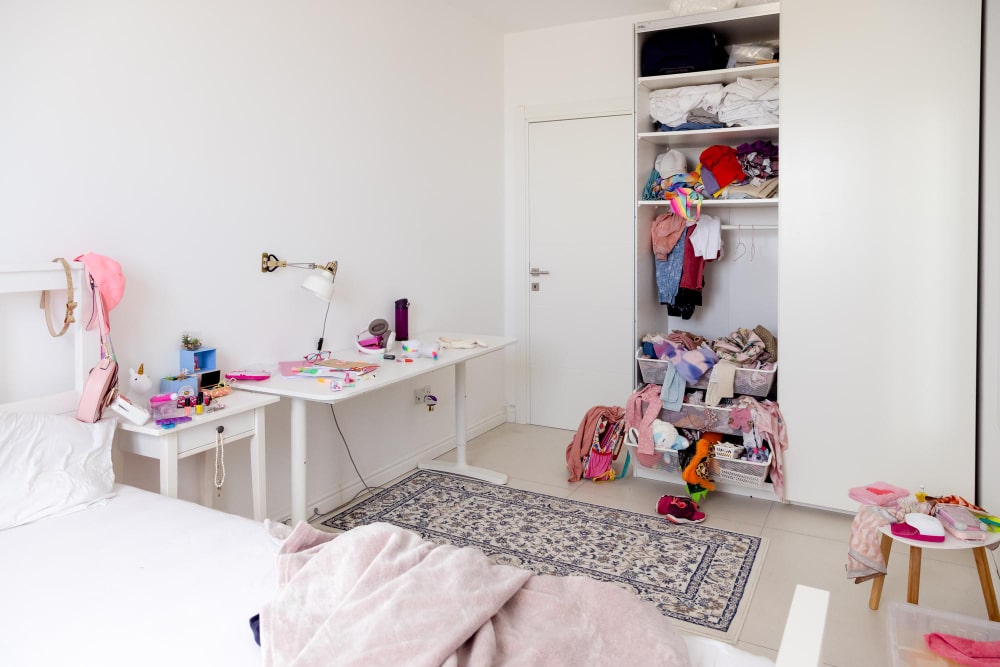 Decluttering and organizing your home is one of the most rewarding parts of Diwali cleaning. Go room by room to purge unnecessary items and arrange what's left in an orderly fashion.
a- Diwali cleaning for Kitchen
Start with cleaning and organizing your kitchen. Get rid of or donate unused utensils, pots, pans and any chipped or mismatched containers. Group similar items together in matching sets where possible. Designate zones for cutlery, pots and pans to keep everything neat and within easy reach.
b- Living Room Diwali Cleaning
Your living room is probably filled with knick knacks collected over the years. Keep decorations that spark joy and get rid of the rest. Dust and rearrange what's left in a symmetrical, minimalistic way. Store extra linens, pillows and other accessories in matching baskets or trunks.
c- Easily Ignored yet must Do Diwali Cleaning
Clear out expired medicines, used up lotions and old makeup from your bathroom. Toss worn out towels and organize what's left by color in a closet or cabinet. Group products by type and store in matching jars or bins. Keep only daily essentials out on counters.
d- Storage Organizing and Labeling
Go through your closet and dresser to purge or donate ill-fitting or outdated clothing. Arrange what's left by category and season to make getting dressed a breeze. Use matching hangers for shirts and pants and keep similar types of clothing together. Store out of season clothing in labeled boxes.
Take time to properly label and categorize items in your storage spaces. This makes it much easier to find what you need and prevents clutter buildup. Group similar items in matching bins, baskets or drawers and use labels to clearly mark each category.
Decluttering and organizing your home will make your space feel open, minimalistic and tidy. Take it one room and one drawer at a time. Keep only what sparks joy and brings you peace of mind. Your home will be ready to welcome the Diwali season in an uncluttered, harmonious way.
4- Eco-Friendly Diwali Cleaning Tips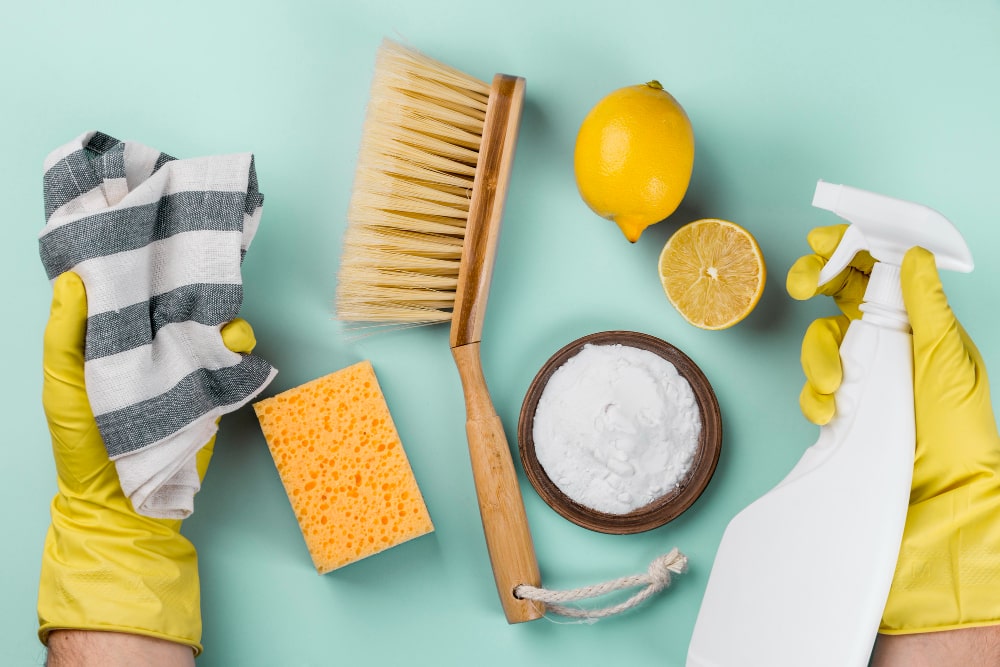 While doing deep Diwali cleaning, consider using natural and sustainable cleaning products. These eco-friendly alternatives get your space sparkling clean without the harsh chemicals.
a- Eco-friendly cleaning material
Use baking soda and vinegar for scrubbing sinks, tubs, and counters. The baking soda gently scrubs away dirt and grime while the vinegar disinfects and deodorizes. Mix into a paste and scrub with an abrasive sponge or scrubber. Rinse well with water.
Lemon juice is a natural bleacher and deodorizer. Add a few tablespoons of lemon juice to your mop water or duster cloth to brighten floors and dust wood furniture. The fresh citrus scent is an added bonus.
Coconut oil polishes wood floors and furniture. Rub a small amount of organic coconut oil onto wood with a soft cloth to moisturize, protect, and shine the surface. The oil also covers up small scratches and prevents dust buildup.
Essential oils like lavender, lemon or tea tree oil naturally deter pests when you add a few drops to your mop water or spray bottle. They leave your home smelling fresh without the use of harsh pesticides.
Steam mops and vacuums are very effective tools for deep cleaning and sanitizing floors without the use of detergents. The high heat kills germs and allergens while the steam lifts away dirt and debris. For stuck-on messes, use a natural paste of baking soda and water.
Microfiber cloths and dusters are highly effective at trapping dust and dirt. When dampened, they are great for wiping down and polishing surfaces without additional cleaners. Launder microfiber materials separately the first time before using.
Using natural, eco-friendly cleaning products and tools for your Diwali deep clean helps create a fresh, healthy home environment for your family while reducing your impact on the planet. A clean home and a clear conscience—the perfect way to welcome the Festival of Lights!
5- Get the Family Involved in Diwali Cleaning
Getting the whole family involved in Diwali preparations and cleaning is a great way to make the work go faster and bring everyone together.
As you make your cleaning checklist, assign tasks to each family member based on their ages and abilities. Have the kids help out with decluttering and organizing their rooms. Give teenagers responsibility for cleaning bathrooms or mopping floors. Ask your parents or in-laws to tidy up the kitchen or living room. By dividing and conquering, the big jobs won't seem so daunting.
Once you start Diwali cleaning, put on some festive Diwali music to boost everyone's motivation and mood. Dance and sing along as you work! Make it a game by setting a timer to see who can declutter and organize the fastest. Offer small rewards to the winners.
Have each person clean and organize their own space first before moving on to shared areas. This gives everyone a sense of accomplishment and progress right from the start. Then come together to deep clean, declutter and organize high-traffic parts of the home.
Most importantly, keep the lines of communication open during the cleaning process. Check-in with each family member to see if they need help or guidance. Provide encouragement and praise for their efforts and accomplishments. Let your loved ones know you appreciate them pitching in to prepare for the Diwali celebrations.
By working as a team to spruce up your home, you'll build closer bonds with your family and gain a sense of shared achievement. The end result will be a clean, organized and festive space to enjoy Diwali together! Make Diwali cleaning a new family tradition and see how much more fun the preparations can be.
6- Deep Cleaning Thoroughly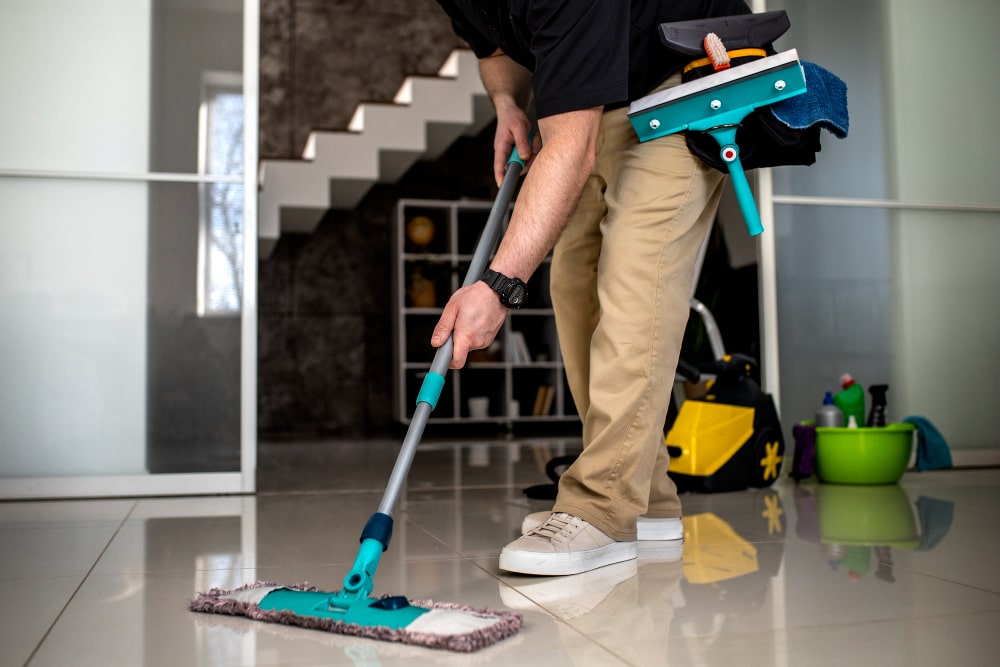 Now that you've armed yourself with the perfect cleaning checklist and eco-friendly supplies, it's time to roll up your sleeves and dive in deep. Start with the kitchen, the heart of any home.
a- Kitchen
Tackle one area or appliance at a time. Clean cabinets inside and out, wiping away crumbs and splatters. Scrub stovetops and ovens until they sparkle. For stuck-on messes in the oven, make a paste from baking soda and water and let it sit before wiping clean.
Don't forget the often-overlooked spots like cabinet handles, light fixtures, baseboards and backsplashes. Mop or sweep floors and vacuum entryways to capture dirt and debris. A clean kitchen sets the tone for the rest of your Diwali deep clean.
b- Living Spaces
In living rooms, dens and family rooms, dust and wipe down surfaces like tables, shelves and electronics. Vacuum carpets, rugs and bare floors and mop any tile or wood. Clean ceiling fans and light fixtures to remove built-up dust. Plump and rotate cushions and wipe down any leather furniture. Open windows to air out the space.
c- Bathrooms
Disinfect sinks, counters, toilets and showers until they gleam. Scrub away soap scum and mildew. Wipe mirrors and windows and don't forget door handles and cabinet hardware. Mop floors and vacuum rugs. Empty the trash and replace liners. Light a candle or diffuser to leave your bathrooms smelling fresh and clean.
d- Bedrooms
Change linens and launder bedding. Vacuum carpets and bare floors. Dust and wipe down surfaces like dressers, nightstands and windowsills. Make sure closets and storage areas are decluttered and organized. Your bedrooms should feel like a sanctuary after your deep clean—a perfect space to relax during the Diwali festivities.
Take Away
You'll feel a huge sense of accomplishment once you've completed your Diwali cleaning. Your home will be sparkling from top to bottom, free of clutter and chaos. All your storage spaces and cabinets will be neatly organized so you can actually find things when you need them. Best of all, you've set the stage to decorate your home in style for the festival of lights. When your friends and family come over to celebrate, you can proudly give them the grand tour of your refreshed space. The hard work will be worth it. So put on some upbeat music, grab your cleaning gear, and get started! Before you know it, your home will be ready to welcome Diwali.