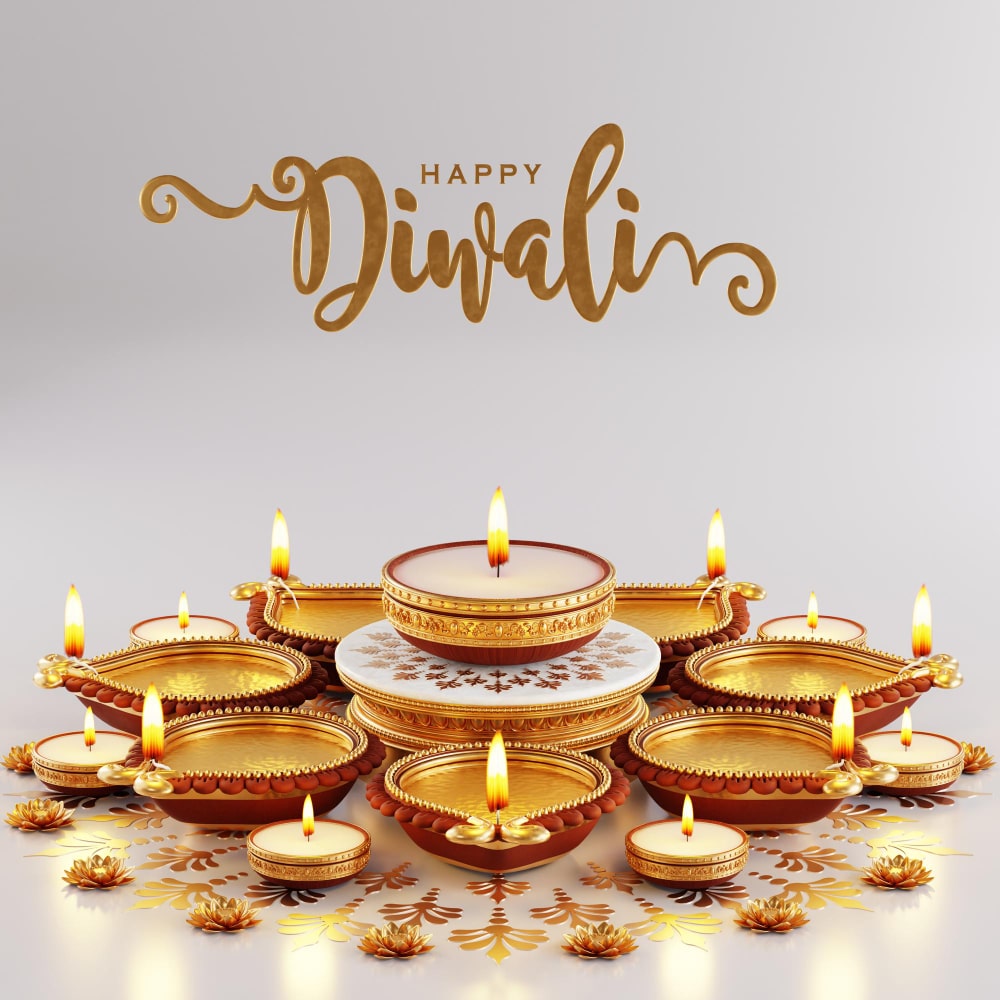 You've spent weeks cleaning and preparing for Diwali, putting in the work to make your home sparkle. Now it's time for the fun part – doing the Diwali decoration that will make your space radiate festive cheer. As you survey your home, thinking about the lighting, colorful accents, flowers and other details that will make this Diwali memorable, don't forget the most important element: personalization.
Add pieces that reflect your unique style and the traditions most meaningful to you. Whether you prefer to stick close to custom or like fusing modern with classic, make this Diwali an expression of all the things you hold dear. With some thoughtful choices and a few special additions, your home will be ready to welcome the festival of lights.
1- Pooja Room Preparation for Prosperity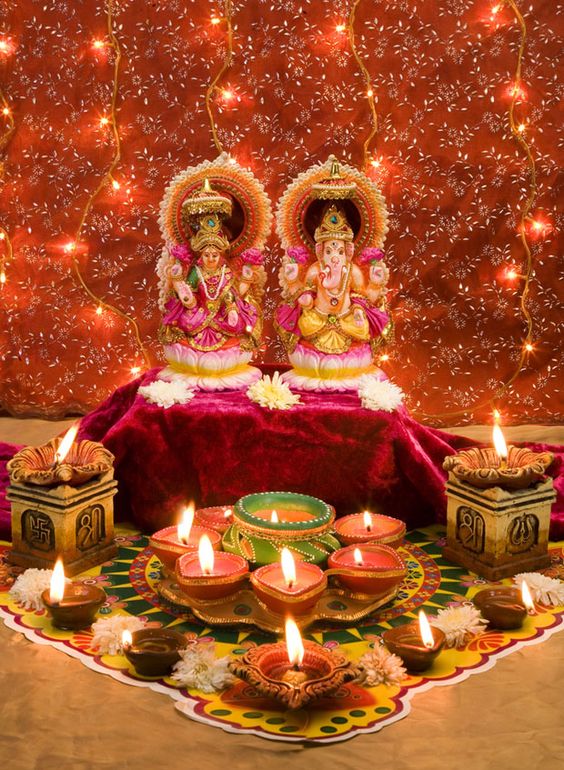 The pooja room is the heart of any Diwali decoration and celebration. Preparing this sacred space properly will ensure prosperity and positivity in your home.
a- Cleanse the Space
Start by cleansing the pooja room with incense or diya smoke to purify the space. Open windows to let in fresh air and natural light. Dust and sweep the area to clear clutter and make room for your Diwali decorations.
b- Add Festive Touches
Decorate the pooja room with marigold garlands, mango leaves, and colorful fabrics. Place diyas, candles or string lights around the room for a warm glow. You can also use decorative accents like metallic bowls, trays and platters to hold pooja items.
c- Arrange Pooja Items
Carefully arrange all items needed for pooja like incense, diyas, haldi, kumkum, flowers and prasad. Place images or idols of Lakshmi and Ganesha in a prominent spot. Have all pooja ingredients, bells and other items within easy reach.
d- Final Blessing
Once your pooja room is prepared, do a small prayer to bless the space. Light the diyas and incense, ring the bell and ask for prosperity and happiness. Your pooja room is now ready for Diwali celebrations and will be a source of positivity all year long.
2- Lighting Up Your Home With Diyas and Lamps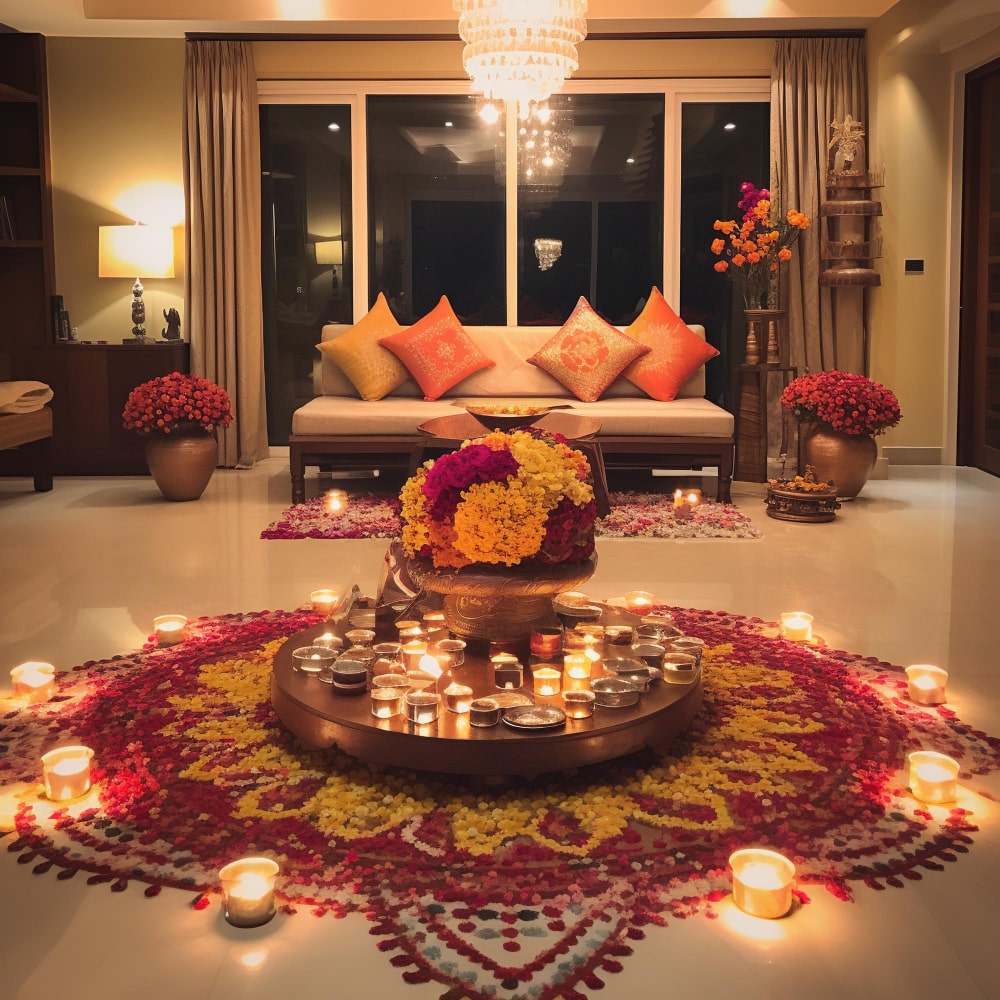 a- Diyas and Lamps
To set the mood for Diwali decorations and celebrations, lighting is key. Place diyas, clay lamps, around doorways and windows. Their soft glow creates an inviting warmth. For an enchanting look, line pathways or staircases with diyas.
b- String Lights
Use strings of lights, like LEDs or fairy lights, to decorate indoor and outdoor spaces. Drape them over railings, wrap them around pillars or hang them from ceilings. Mixing traditional diyas with modern string lights merges cultural tradition with contemporary flair.
c- Additional Lighting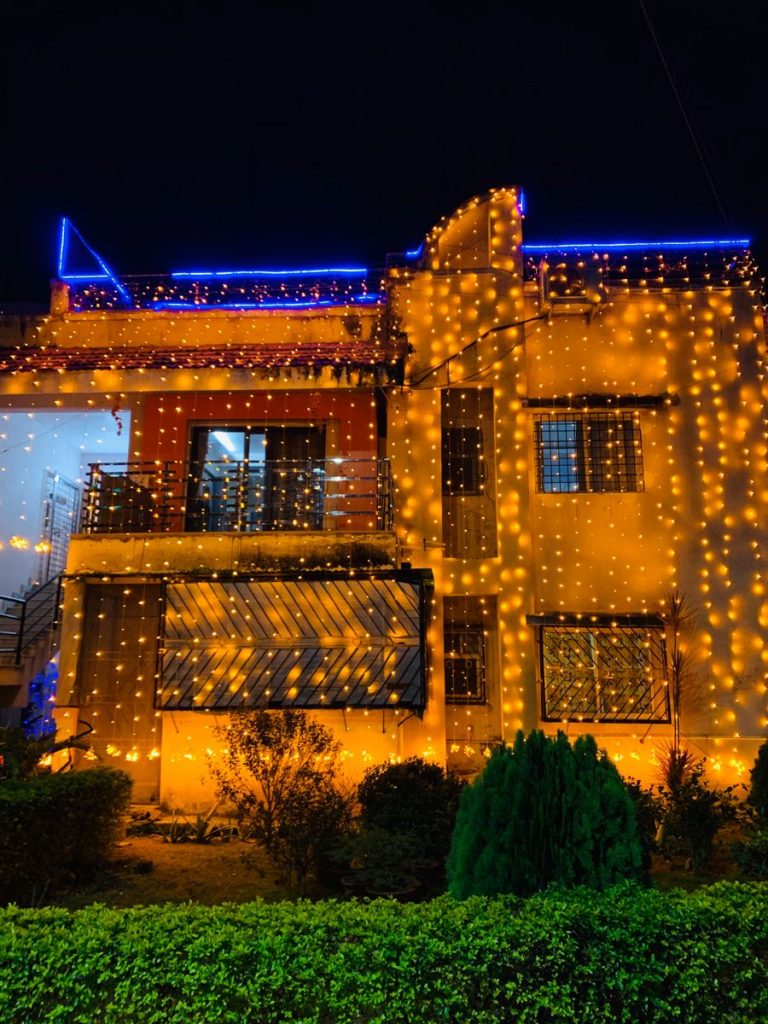 Accent tables, ledges and shelves with brass lamps, lanterns or hurricanes holding pillar candles. Their glimmer enhances the celebratory atmosphere. Groupings of three, five or seven lamps are considered auspicious.
Don't forget outdoor areas. Illuminate walkways, porches, balconies and entryways. Festoon outdoor plants and trees with strings of lights for an eye-catching glow.
Radiant lighting, from diyas to lanterns to string lights, brightens your home in the warmth and wonder of Diwali. Their luminous cheer welcomes Lakshmi, the goddess of prosperity, into your home. It is right to say that lighting is the heart of Diwali decoration.
3- Rangoli and Rugs to Welcome Guests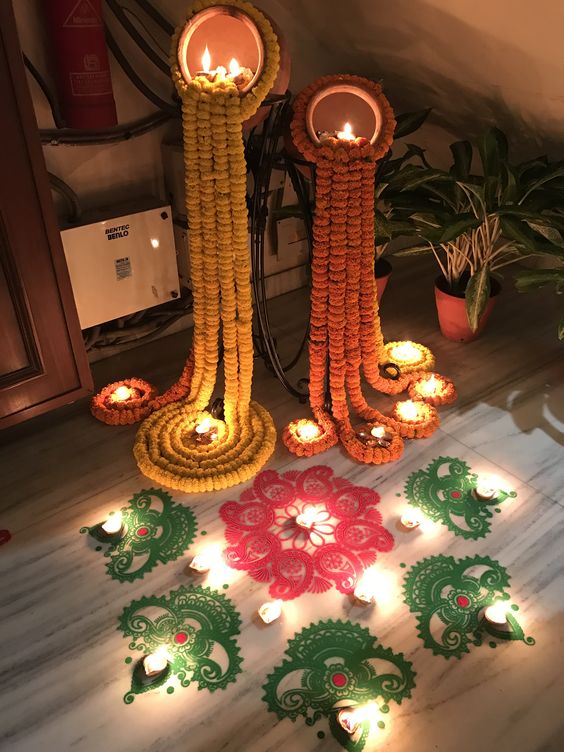 Every Diwali decoration is incomplete without a proper Rangoli.
To welcome Lakshmi, the goddess of wealth and prosperity, into your home this Diwali, a beautiful rangoli is a must. Traditionally made from colored rice, sand, or flower petals, rangoli are intricate designs drawn on the floor to bring good luck.
For Diwali, create a rangoli at your entrance way to greet guests and guide Lakshmi into your home. You can buy colorful rangoli stencils and powders to make an elaborate design, or keep it simple by drawing a colorful lotus flower, the symbol of Lakshmi.
a- Rugs and Doormats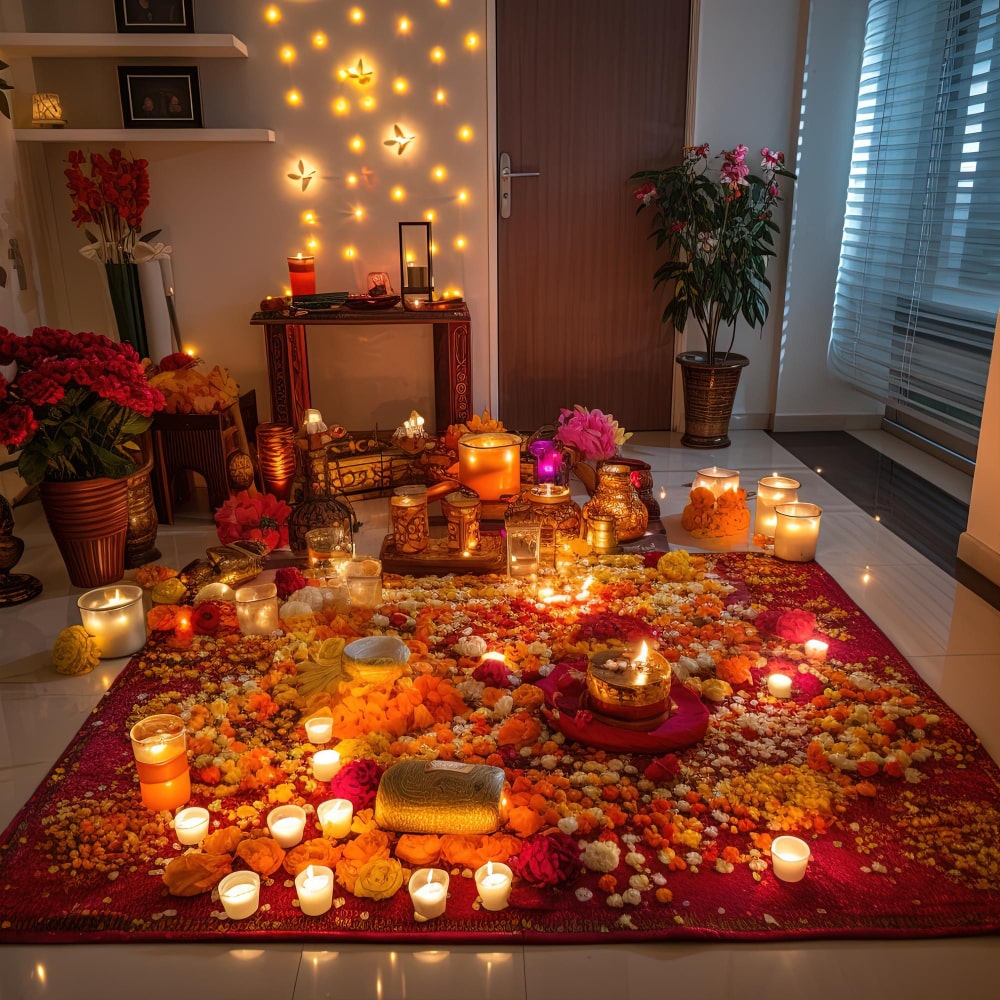 To glorify your Diwali decoration even more, place a decorative rug or doormat outside your front door. A traditional cotton dhurrie rug or a modern geometric design will work well for Diwali. For extra festiveness, you can stencil "Happy Diwali!" or "Welcome!" on your doormat.
With a beautiful rangoli and welcoming doormat, your home will be ready to receive Lakshmi and usher in prosperity for the new year. Your guests are sure to appreciate these colorful touches that make your home radiate the joy and warmth of the festival of lights.
4- Elegant Tablescapes With Vibrant Centerpieces
a- Creating a Focal Point
Once diyas, flowers, rangoli and lighting are sorted, it is time to take up this Diwali decoration to another level. And it is easy to do in just few steps. First is to create a focal point.
The focal point of your Diwali tablescape should be a vibrant, colorful centerpiece. For a traditional look, create a floral arrangement using marigolds, lotuses, or chrysanthemums in festive oranges, reds and yellows. You could also do a DIY centerpiece using candles, diyas, decorative accents like gemstones or beads, and fresh or dried fruit like pomegranates.
A decorative tray or platter under the centerpiece helps contain any drips from candles or flowers. Surround the centerpiece with small bowls of nuts like almonds, pistachios or cashews, as well as Indian sweets like gulab jamun or rasgulla.
b- Modern Style Incorporated
For a modern fusion style, use a metallic tray and combine traditional diyas with modern candle holders in gold or rose gold. Scatter petals from orange gerbera daisies or red carnations around the tray. Add height with decorative candlesticks in varying sizes.
c- Dinnerware & Linen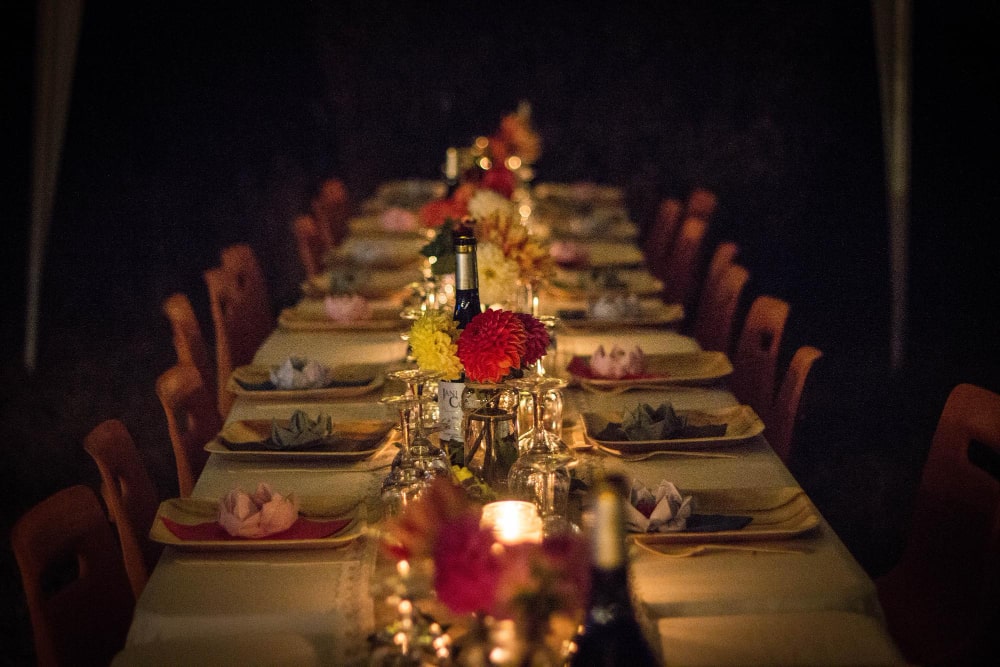 Don't forget place settings – use your best dinnerware and linens. Add charger plates under each place setting for an upscale look. To make it extra classy, you can write menu cards as well. Menu cards handwritten in an elegant font also make a nice personal touch.
A vibrant, decorative centerpiece combined with elegant place settings, candlelight and floral accents will make your Diwali tablescape a stunning focal point to celebrate the festival of lights.
5- Greenery and Flowers for Natural Beauty
Diwali decoration or something else, nature has to be a part of it. And to incorporate nature in anything, plants are the best option.
Nothing completes the festive look of your home quite like fresh flowers and greenery. Their natural beauty adds life and vibrancy, enhancing your decor in an organic way.
a- Flower Arrangement
For Diwali, consider marigolds (genda), orchids, roses or gerberas in shades of red, orange and yellow. Cluster several pots together on tables, counters or staircases for an abundant display. Or place a large bouquet in your entryway to welcome guests with color and fragrance.
b- Plant Selection for Diwali Decoration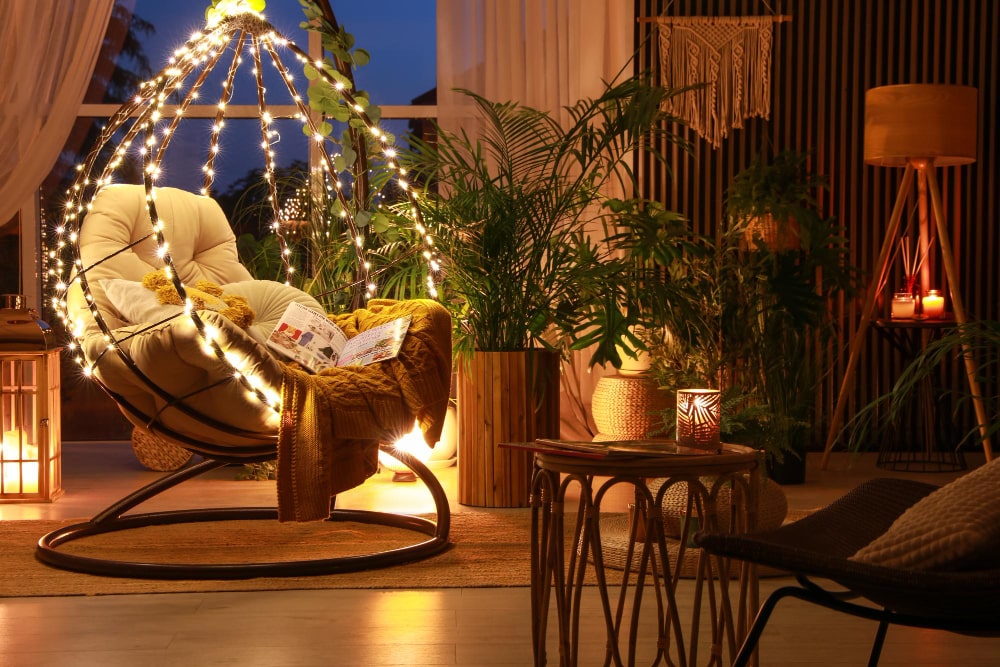 Eucalyptus, ferns or ivy are ideal greenery choices. Their trailing leaves and aromatic scents instantly create a warm and inviting atmosphere. Drape garlands over doorways, wrap potted plants or tuck sprigs into bouquets.
For outdoors, line your walkway with diyas and place pots of chrysanthemums, dahlias or sunflowers on either side. Their cheerful petals will glow in the soft light, guiding visitors to your door.
Fresh flowers and greenery are a simple way to bring natural splendor to your Diwali decor. With their verdant leaves and petals in festive hues, they embody the spirit of renewal and prosperity this joyous holiday celebrates. Let their beauty blossom throughout your home for an authentic touch of nature.
6- Blending Tradition and Modern Style for Diwali Décoration
Diwali decoration and celebrations is all about honoring traditions, but that doesn't mean your home decor has to be outdated. You can incorporate contemporary accents that complement customary Diwali decorations for a stylish fusion of old and new.
a- Making it Traditional
Group traditional diyas, candles and rangoli together on a modern tray or platter for an updated take on a time-honored custom. Or try battery-powered candles in sleek holders placed alongside traditional diyas. Framed family photos featuring Diwali celebrations from years past make heartwarming accents.
Bring nature inside with lush potted plants, leafy garlands or flower arrangements in metallic or geometric planters. Their organic shapes contrast nicely with the symmetrical patterns of rangoli.
Add pops of trendy colors like rose gold, copper or sage green with decorative bowls, candle holders, platters or small sculptures. Look for pieces with intricate patterns or filigree that nod to Diwali themes.
A mix of cultural styles can make for an eclectic, globally-inspired space. By balancing vintage and modern accents, tradition and trend, your Diwali decorations will be a perfect fusion of old and new. Celebrate this festival of lights in a way that uniquely represents you and your family.
7- Festive Wall Decor for a Little Extra Glamour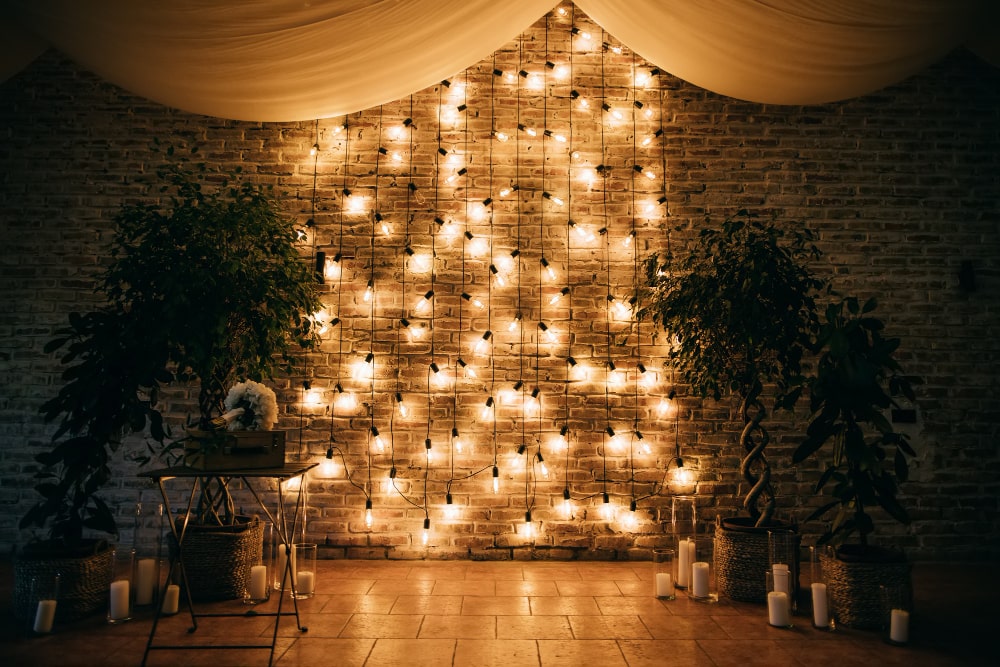 Adding some festive wall decor is an easy way to give your home a little extra Diwali glamor. String up sparkling lights along the walls for an enchanting glow, or drape colorful fabric for an elegant accent.
a- DIY Wall Decor
You can create DIY wall art using stencils or decorative paper to make lotus flower shapes, diyas or other traditional Diwali motifs. Arrange them in a creative pattern for an eye-catching display. Or pick up some readymade wall stickers featuring rangoli designs, diyas or 'Happy Diwali' messages to quickly dress up your walls.
b- Personal Touches
Don't forget to add photos of Diwali celebrations from previous years. Display them on your walls or stairway for a personal touch and a walk down memory lane. You can also frame children's Diwali-themed drawings or paintings to proudly put on display.
c- Balancing the Diwali Decoration
To balance traditional and modern, combine classic Diwali symbols with trendy metallic or neon colors. Or arrange traditional decorations in an asymmetric, free-form style rather than a symmetrical grid. Fusing cultural elements with contemporary design will give your Diwali decor a unique style.
With some festive lighting, fabric, stencils or wall stickers and personal photos on display, your home will radiate the joy and warmth of Diwali in no time. These decorative touches are an easy, impactful way to make your space Diwali-ready and capture the spirit of the festival.
8- Food Items and Table Setting is the Best Attraction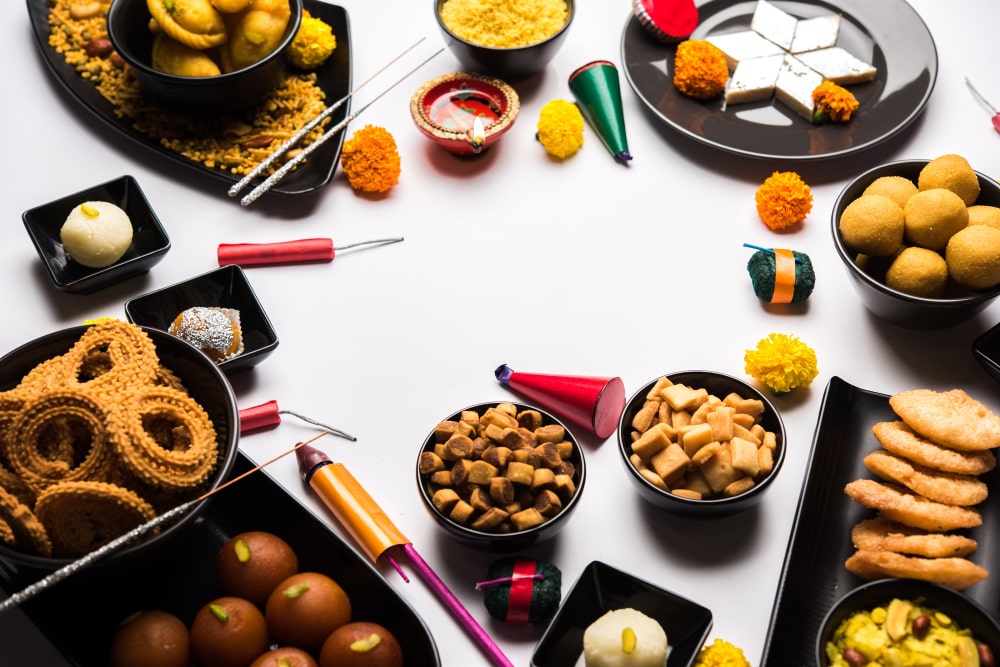 The focal point of any Diwali decoration and celebration is the delicious food and beautifully arranged table settings. As your guests enter your home, the mouth watering aromas from the kitchen and artfully decorated tables will be the first things to catch their attention.
a- A Colorful Spread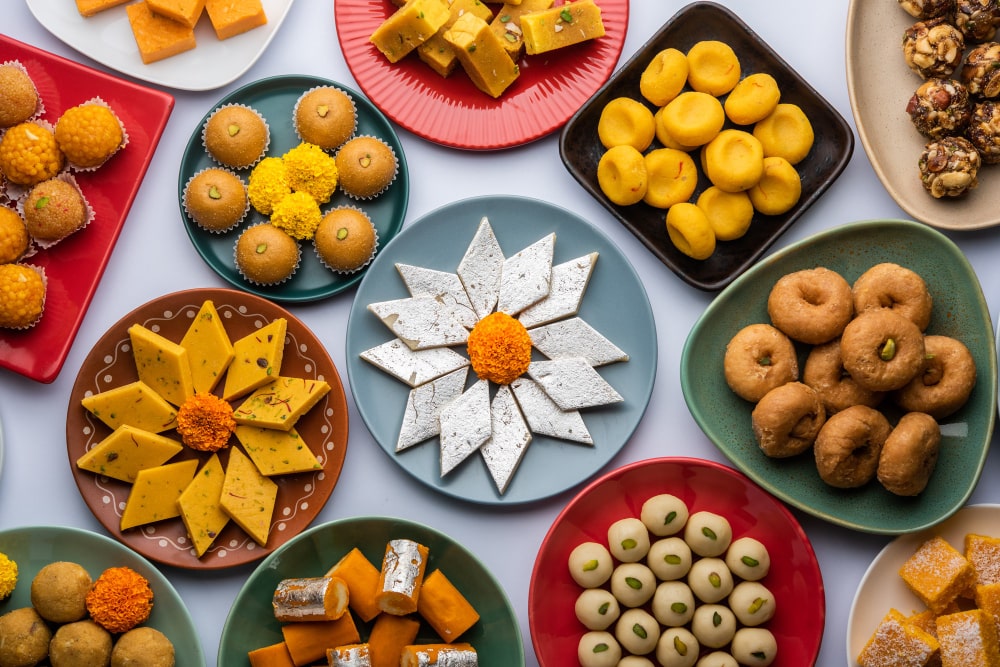 A traditional Diwali menu includes an array of sweet and savory dishes in a riot of colors. Display vibrant orange jalebis, pink gulab jamun, and yellow kesar peda on decorative platters. Arrange savory snacks like samosa, pakora and mathri on large platters garnished with mint chutney, tamarind chutney and coriander chutney.
b- An Elegant Table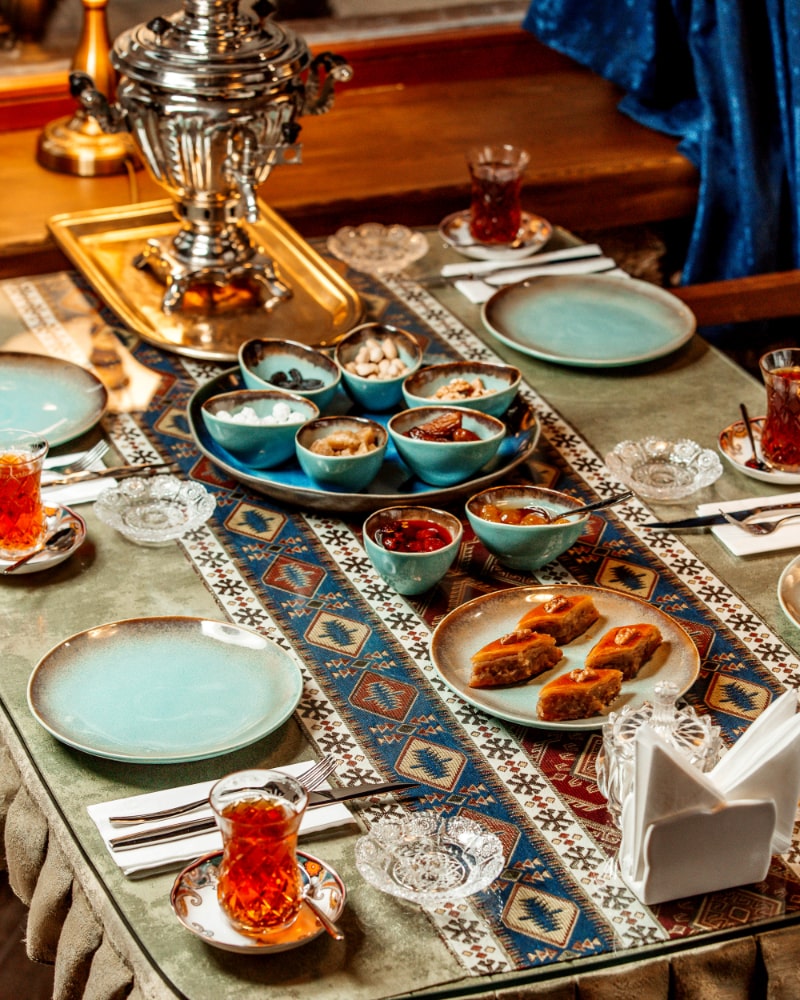 Set your table with a gold or red tablecloth and napkins for a dramatic yet festive look. Use your finest dinnerware and glassware for the occasion. Decorate the table with small diyas, marigolds, and candles. Place name cards handwritten in Hindi at each setting.
c- Personal Touches
Add personal touches with family photos in decorative frames, homemade torans or door hangings, and handcrafted decorations made by your children. These small personal accents will make your home feel warm and welcoming to friends and family joining your celebration.
A memorable Diwali feast and an attractively diwali decoration reflect your time, thoughtfulness and hospitality. Focusing on personalized details and a harmonious blend of colors, textures, flavors and aromas will make this Diwali extra special for you and your guests.
9- Deciding Fireworks Clothes in Advance
Deciding what to wear for Diwali celebrations, especially if going out to see fireworks shows, deserves some advance planning. You'll want an outfit that is festive but also practical and comfortable for an evening out.
a- Diwali Pooja Look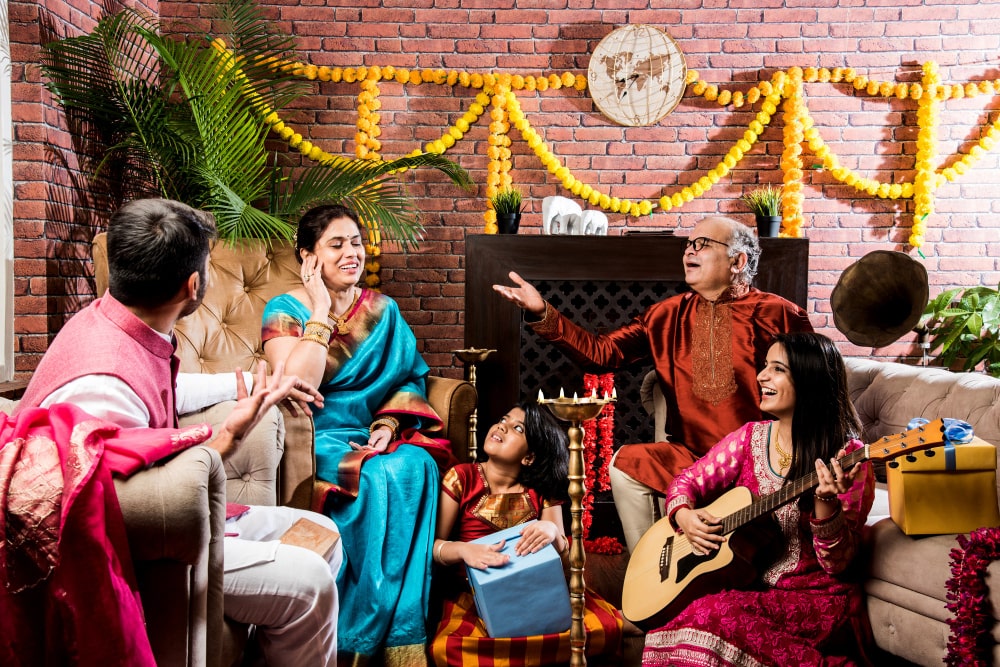 Aim for traditional Indian attire like a salwar kameez, saree or sherwani in a Diwali-inspired color like red, gold or emerald green. These vibrant and dramatic colors signify prosperity, luck and renewal. A modern alternative could be a tunic or kurta over jeans or palazzo pants in a metallic gold or red.
Fabrics like silk, chiffon or georgette drape beautifully and shimmer in the glow of fireworks and diyas. Embellishments such as embroidery, mirror work or sequins will reflect the lights and add glamor. Jewelry made of gold or gemstones also makes a dazzling statement.
b- Safest Clothes at the Time of Fireworks
We have to take all safety measures at the time of fireworks. Choosing the safest clothes for such occasions is essential. Opt for natural fabrics like cotton or wool, as they are less likely to catch fire compared to synthetic materials. For better air circulation, loose clothes are best. Even if you accidentally get near fire, these clothes will keep you safe by not catching fire easily. Additionally, cover yourself up properly. Long-sleeved tops and full pants are most suitable at the time of fireworks. Keep a close yey on kids and always follow all the safety rules suggested by the government.
The evening may be chilly, so bring along a pashmina shawl, jacket or wrap. Comfortable but festive shoes like mojari, juttis or metallic sandals are ideal for walking around.
A splash of your favorite perfume and kohl around your eyes completes the look. With your stylish outfit, radiant smile and positive spirit, you'll light up the night as brightly as the fireworks themselves. Focusing on comfort, color and sparkle will ensure you make the most of this magical Diwali night.
At the end of the day, nobody else but you are responsible for your safety. Please make sure that you and everybody around you have a safe and healthy Diwali.
10- Final Touches and Personalization Makes it Vibrant
The final touches are what will make your Diwali decorating really pop and feel complete. Adding personal accents and details allows your personality and style to shine through.
a- Pictures and Mementos
Display pictures of friends and family, or cherished mementos from holidays past. Group several together on a tabletop or mantel for an intimate gallery wall effect. These personal touches make your home feel warm and inviting for guests.
b- Handmade Decorations
If you have kids, let them create handmade decorations to display. Their artwork, paper chains or other DIY pieces will make them feel involved in the festivities and proud to show off to company. Use decorative tape, string or ribbon to hang up their creations around the house.
c- Greeting Cards
Prop up greeting cards from friends and family on tables, mantels or shelves. The heartfelt messages and festive artwork on the cards spread the joyful spirit of Diwali. Arrange them at varying heights for visual interest.
d- Gifts and Treats
Have snacks, sweets or small gifts on display for guests to enjoy. A bowl of chocolates, tray of mithai or basket of dried fruits says "Welcome!" and helps yourself. These edible treats also provide an interactive element for visitors.
Adding these personal touches, whether handmade or store-bought, gives your Diwali decoration a warm and welcoming feel. Your guests will surely appreciate all the care and thought you've put into making your home festive for the occasion. Celebrate Diwali with vibrancy, warmth and cheer!
Take Away
So there you have some quick and easy ways to put the final touches to make your home Diwali-ready. Add some festive lighting, create colorful rangoli designs, set an elegant table, incorporate floral arrangements and green accents, hang up decorative wall pieces, place candles and diyas around the house, and find the right balance of traditional and modern decor. Most importantly, personalize your space by adding unique touches that reflect you and your family. Make this Diwali memorable by preparing a warm and welcoming home to celebrate the festival of lights.