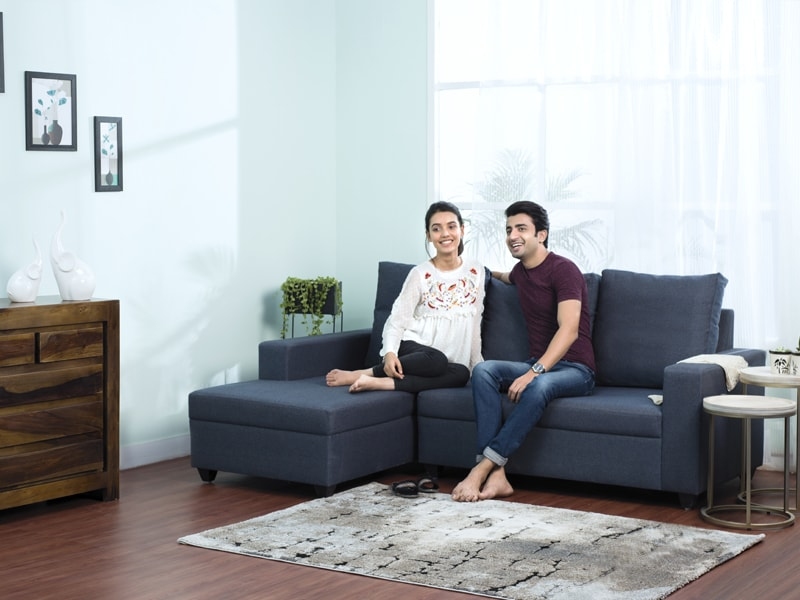 Making the proper design choices for your living room might be difficult if you're thinking of giving it a high-end makeover. After all, what really makes a space appear luxurious? Is it about living room furniture – changing your sofa and coffee table to more fashionable pieces? No, not always. While pricey furniture might increase the design element in a space, it does not guarantee a high-end look and is not affordable for everyone.
When effectively revamping your living room, you can use a couple of tried-and-true interior design strategies — going large and employing luxurious finishes — to generate high style without completely redoing the area and breaking the money. Here are eight ideas for giving your living room a high-end vibe and making it more luxurious and elegant.
Add Statement Lighting to Your Living Room
A lighting source, whether a table lamp, ceiling light, or floor lamp, may also be a statement piece. Experiment with big lampshades, a gorgeous gold lamp base, or a contemporary crystal chandelier to create drama. A gleaming finish or a huge size may provide a high-style focal point in space.
A beautiful pendant light might also be used in place of a standard table lamp. It's also a good idea to put candles in nice, reflecting hurricane containers.
A living room chandelier can be used to accentuate a space's inherent attractiveness. Two lights, for example, can pull the attention up to the high ceilings. The colors of the walls and ceiling might be consistent throughout. The installation of two lights elevates the space's historic atmosphere. This exquisite environment is enhanced by these stunning crystal fixtures.
Adding the brass chandelier and table lights, for example, adds a striking, glamorous glow to the mixed color scheme.
Select the Right Living Room Furniture
Simply glancing at the furniture in your living room may teach you a lot about it. Once you've settled on a plan, fill it with some fantastic furnishings. To begin, you will want some Luxury Sofas to give the space a lux look. A wall-mounted TV and TV cabinet, a coffee table, and probably some storage cabinets are also required.
You need to know which furniture item goes where and how it looks at that corner. Make sure you are placing the TV and sofas right because placing the furniture the wrong way can somewhat ruin the entire look of the room.
Of course, the furniture that looks luxurious may cost a lot. Maybe you have been eyeing certain pieces but are unable to purchase them because of your budget constraints. To help you out and get all the luxury furniture without burning a hole in your pockets, we have another option – renting! Yes, you can take all your living room furniture on rent at super affordable rates from Cityfurnish.
Add a Gallery Wall to Your Living Room
Art is a terrific way to make your living room lovely and is one of the most economical methods to boost the aesthetic of your living room. Look for living room art ideas that will catch the eye while also adding color and texture to your decor.
The cost of art varies greatly, but there are many economical yet gorgeous solutions that can instantly enhance your room. When it comes to art, let your room's color palette influence your decision; whether you choose something complementing or opposing is all up to you.
Framing might be expensive if you're putting together a gallery wall. Instead, go to a second hand store. They are a treasure mine of unique and fascinating frames that will elevate your artwork to the next level. Furthermore, they are frequently on sale.
Fun fact: When it comes to artworks for the living room, the larger the canvas or framed art, the more upscale the space will feel. Large artwork gives the impression of an upscale gallery.
Roll Out a Nice Rug
Your spaces will be overshadowed by small carpets. If you're thinking about how to make your house appear more luxurious, choose a bigger, less expensive rug over a smaller, more expensive one—especially if you have children or dogs, both of which may damage wool carpets.
A rug that fits comfortably beneath all of your important living room furniture (couch, coffee table, and also any armchair) can make your space appear larger. This is critical when it comes to raising the standard of design and elegance in a living room. The huge rug here highlights all of the furnishings. Its size allows the eye to move and take in the entire area, including the trendy accent chair and colorful pouf.
When your space feels larger and airier as a result of a larger rug, it instantly feels more costly. And just because it appears expensive doesn't imply it won't last. Jute carpets are an excellent choice and are frequently available at inexpensive home furnishings retailers. They have terrific texture and an earthy, grounded feel.
Add Some Pillows and Throws
Make a little investment in luxurious textile throw pillows and blankets. Silk, metallic linen, velvet, and even fake fur are examples of textiles to look for. When put on your current furniture, these textiles will not only look and feel costly, but their rough surfaces will also assist create a layered and highly designed aesthetic.
Choose fabrics that give a pop of color and match your existing couch or armchair. Alternatively, make a statement with your glam pillows by adding a more dramatic flash of color.
When shopping for linen-blend and velvet pillows, choose a soft and silky-down substitute or feather-down filler. These inserts are only a few hundred extras than poly-fill cushions, and they will give your cushions a luxuriant appearance while also increasing comfort.
Flowers and Plants for the Final Touch
Finally, to add an organic aspect to the living room and make it appear more alive, add some plants or just fresh flowers. A lovely bouquet on the central coffee table and a few tiny pots on top of the bookcases, mantles, or cupboards can provide the ideal splash of nature to your living area.
Fresh flowers can quickly raise a room's mood; the larger the bouquet, the more sumptuous the appearance. That's not to imply you need a giant flashy display on each and every surface, but whatever bouquets you present should be full and rich rather than drab. A large, abundant bouquet of flowers or a small house plant on a coffee table or mantle instantly adds sophistication. Flimsy displays give the impression that you cut corners.
Final Thoughts
Whether your living space is large or small, you can easily make it appear luxurious and attractive. You also don't require a large budget. Aside from the living room furniture, you won't need to spend much money to improve the appearance of the living room.
And if you don't want to burn a hole in your pocket by spending thousands on the furniture, you can always take all your living room furniture on rent via Cityfurnish. So, be sure to follow the recommendations above to make your living room appear more costly and livelier than before.