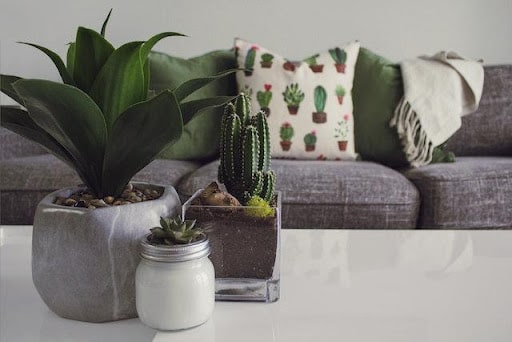 There are a lot of negatives when renting out a property. One includes not being able to decorate your home because of your landlord. However, for those lucky enough to decorate their home, there are a few things you can do to ensure you feel at home. Additionally, there are many non-permanent ways to decorate your home without causing any damage as well.
Mix Up Your Furniture
A great way to feel at home with your rented property is furniture. If you can take the furniture out of your rented property or there is no furniture at all, then great news. Get a two or three-seater sofa and have an armchair in the corner of the room. If you want something more affordable to feel at home, add a beanbag. You can throw a book-shelf in any corner and turn it into your cozy corner by adding a rocking chair. If you are on tight budget try renting furniture instead of buying.
Plant Decoration
A simple and affordable way to decorate your property is to buy plants. Plants are a great way to give your home more colour than it already has. Furthermore, they can help purify the air.

People will usually place plants in the hallway or their living, however, there are many other places they look great in as well. Bathroom plants can be a great place to give this room more life. Your bedroom is also another great place to put your plants.
If you don't trust yourself with keeping your plants alive, buy artificial plants. That way, you don't need to worry about looking after them.
Textiles
Textiles are another great way to redecorate your household to ensure you give it that homely feel. Plus, it is one of the quickest ways to make the place feel like home. Some things you can buy include a throw or cushion for your seating area. Find anything that can cover sofas and feel like they are yours.
Wall Hangers(That Don't Leave Holes)
Up next, we have wall hangers. Just because you cannot paint your rooms the colour you like doesn't mean you cannot decorate them. Buy damage-free wall hooks that allow you to hang up family pictures or even paintings without leaving any marks.
If you don't want to run the risk of damaging a wall then do not worry. Buy pictures and place them on small end tables/nightstands. You can also buy a tall mirror and prop it against the wall.
Lighting Is Key In Your Home
Lighting is a great way to redecorate your home and give it that homely feeling. If your living room is lacking a bit of light then buy a tall lamp and place it in the corner of your room. Not only will it brighten the room but, it will also make it feel like it is warmer.
If you want something more affordable, buy some wall hangers and hang LED strips off them. It will brighten the room up, make you feel like you're at home and be much more colourful.
Get Creative With Storage
When renting a property, you will have very little storage space. However, you can change this without having to worry about asking your landlord whether you can do it. Buy a footstool that has a small storage space inside it. You can place books or magazines there and can place your feet on the stool whilst you are reading.
Curtains and Blinds
Another great way to add a bit of life to your rented property is to buy a new set of curtains and blinds. However, this is something you may want to check with your current landlord. Some may require you to keep hold of the existing blinds and curtains and then replace them when moving out of the property. Nonetheless, this is a great way to make your home feel more homely.
It is a great way to add colour to your home as well. Buy plain coloured blinds and then have your curtains add colour to the rest of the room. You could also buy colourful blinds and have your curtains be the more basic colour.
Before you buy any blinds online, we advise you to go into a blinds shop. For example, if you live in Surrey, visit a store which sells curtains and blinds in Surrey. That way, you can make sure the two colours you pick look good together.
To Conclude
As you can see, there are many options when decorating your home. Some are more affordable than others but they do not cause any hassle to your landlord.
If you know your rented property will be your home for a long time. We advise you to spend big and feel at home as soon as possible. If you are the opposite and your rented house is only temporary, buy more affordable items such as plants.
A house is much easier to make a home compared to a flat. Nonetheless, there are many different ways to furnish a small apartment and make that feel like a home. The options are endless when it comes to your rented property.