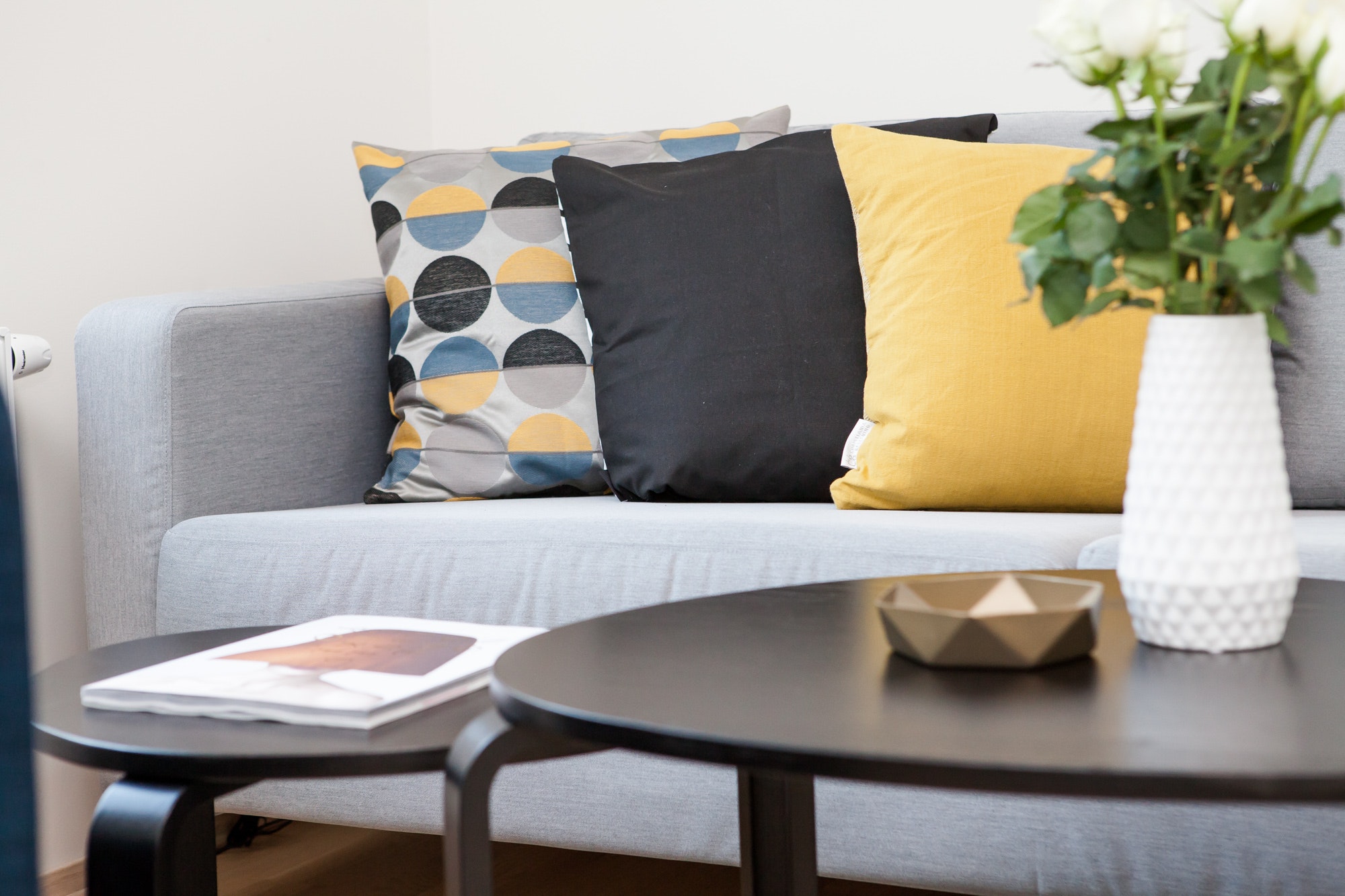 The living room is the space where people spend most of their time, watching TV, hanging out with friends and family, hosting, inviting guests, etc. makes how the room feels extremely important. This is why one of the frequently asked questions by people is – "How can I make my living room feel cosy and more inviting?"
Often, it's the little things, the finishing touches that matter, which people struggle with the most but that's exactly what sets the mood and dictates how the space feels. You have splashed out on your dream furniture, bought or have taken fancy living room furniture on rent.
And put a few of your favourite things out but there's still something missing, nothing seems to pull it all together into a cohesive, calm scheme. Let us tell you that it really doesn't take much to bring warmth to a space – you probably have most of the tools already – but you do need to have a careful thought and consideration.
It's not just about having nice living room furniture, lighting a few candles or pulling out some soft throw either. A cosy living room makes living or spending time in that space feel easy and natural because it has been designed with a level of comfort in mind.
From the way, your furniture is arranged to what the situation is of lighting and what other elements are used in that room. You need to think about small things like the scent, touch and sound of the room to create a comfy and homely ambience. How can you do that? Well, here are some tips for making your living room space feel cosy.
Rounded Edges and Smooth Shapes – Living Room Furniture
For a room to give a cosy and soothing feel, a room needs to have a smooth, curved shaped. Hard, sharp edges and lots of lines give out a feeling of rigidity and inflexibility, which gives an impression that you have to mind your posture, sit straight and make the ambience more seriously. This may add discomfort. Create a more relaxing space with a carefree type of ambience. A sofa set with squishy cushions that you can sink in to. Get a nice round coffee table and gather your furniture around it. Add a soft rug under the furniture.
Add a Tone and Some Colour to Your Living Room
White is the most preferred colour for many people. Though while walls feel brighter and airier during the day, they can sometimes feel quite stark and cold in some lights. Therefore, we suggest you to add a subtle hint of hues on the walls to warm everything up. Even just off-white walls or light beige walls can make the room feel more cosier because they would feel more natural. You can also add some colourful accessories, layering up the tone of the room to create pops of interest. To create a balanced look, choose complementary colours that are opposite each other in the spectrum, for instance, tan or navy blue.
Use Uplifting, Warm Scents in Living Room Area
The living room area is directly connected to the kitchen, be it the open kitchen or the other. And the smell of cooked food or musty linen and stagnant air can ruin the overall feel of the room. So, you need to set the mood of the room with some soothing scents that can transport you to the moment of escapism.
Make sure the room is aired during the day and then you can light candles or spritz an eco-friendly room spray. Use the scents that you like, which remind you of a happy or a good and relaxed time. Bring the outdoors in by using woody scents or you can even create a spa-like feel with some lavender fragrant. Scents can change the entire mood of a person!
Block Out the Noisy Outside World!
It's all about creating a space that is quiet, calm, away from the noises and the stress of the modern world. If you are an introvert, this interior is perfect for you. Go with the introverted living room settings and find little moments of solitude in your home. With introverted interiors, you can recharge your batteries and get back into the world with renewed energy.
There would be room to breathe, space calms down, dream and restore your creativity or develop new ideas. Hang natural linen curtains to add a sense of privacy. To take the silence on another level, use discreet technology to not dominate your space, turn your smartphones on silent in the evenings, put on some soothing music and hunker down.
Use Your Living Room Furniture to Create an Intimate Environment
Ever heard about furniture pieces being placed like they are in conversation? It feels more natural. Often the default layout of the room will mean pushing every big furniture piece against a wall to try and give the room a greater sense of space. But this can give the feeling of being in some waiting room or a doctor's clinic or something.
Cluster your living room furniture to give an impression of intimacy. Place your armchair at an angle opposite to your sofa set for instance. Keep a small round table in the middle to bring all the furniture piece together, which creates a cosy, closer ambience that's perfect for conversations with your friends and loved ones.
Make It Feel at Home!
For some people it's the surroundings filled with plants, for others it can be bright patterns. You need to figure out what makes you feel comfortable, cosy and more at home to design your living room that way. Add the elements, arts, rugs, patterns, pillows – anything and everything that you absolutely love.
And if you have your eye on some awesome furniture but it is getting out of your budget, don't worry, we have got your back! You can always choose to take your living room furniture on rent. Browse through our wide range of personally selected home furniture and order at highly affordable prices.