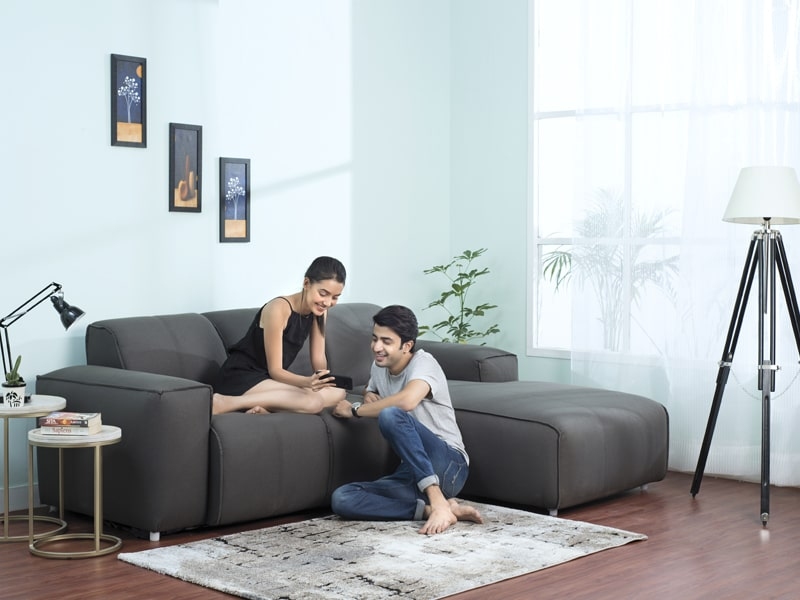 Is your living room decor in a dire need of redecoration? Does it desperately need is a fresh new look? Whether you have not redecorated your living area in a decade or just want some easy tricks to perk up the living room furniture, add some elements and turnaround the overall aesthetics of the room – these unexpected living room decor tips and ideas will help you update your room.
If you have been spending a lot of time in your living room but do not like what you see or how you fell while being there, this might be welcome advice for you right now. Borrowing some of the greatest and easiest decor ideas from designers and bloggers, we have compiled a list of the most inspiring ways to add some life to your living room.
Whether you invest in new furniture or take the living room furniture on rent or just move around some paintings and art pieces – be it adding a pop of pattern or setting the scene with an eye-catching area rug, decor works best when you have a plan and inspiration to make a plan and implement it. These pro-decor ideas will definitely help you create a stylish, comfortable and eye-pleasing living room you'll actually want to live and spend time in.
Fresh Accent Living Room Wall
The paint of the room plays an important role in how it looks. It makes the vibes and if you want to transform your space's look, paint is the answer. For open floor plans, try painting a bold colour in your living room to distinguish it from the other rooms. Paint a wall with a bold accent colour to create a focal point and define the space.
Try painting the baseboards the same colour as your coloured wall if you have a low ceiling. Don't be afraid to experiment with different colours because sometimes the colour you plan looks different after you paint the wall. You can always repaint and experiment or hang some beautiful elements on the wall to make it look more decorative.
Uncoordinated Living Room Furniture
Colour coordinated rooms do not always work out. Sometimes it's better to be creatively unique. You don't have to colour coordinate your living room furniture, down to the curtains, chairs or throw pillows. Go beyond the standardized look or a single coloured look. Play with the pallets, mix and match your room's paint colour and the furniture's colour. You can add some accent chair, patch work chair, a nice coffee set table, or be bold with the main furniture piece in the room i.e., the sofa. Take a unique coloured sofa set.
Bring in the Greenery and Nature!
Bring the outdoors into your living room. If you're ready for some refreshing feel, it's time to add some houseplants. Plants will not only make your living room more pleasing, refreshing and welcoming, but they are also good for your mental health and physical health. Plus, studies have found and proved that plants can reduce indoor air pollutants such as benzene and formaldehyde.
More recent studies show that plants can actually boost mood, creativity, productivity and they also help in reducing stress. Take a look at the room's lighting situation as some indoor plants prefer bright light. If you don't have sufficient natural light in your room, get LEDs to brighten up the room.
Make Your Living Room Furniture Symmetrical
Add balance to your living room and make the elements in the room symmetrical to give it an elegant and chic look. Living rooms that are a combination of symmetry and balance look very classy. If you have a big room, the oversized lounger or lounge chairs can flank the fireplace, creating an ideal conversation spot for a busy couple to catch up. Modular couches are making a comeback! Choose a modular sofa set i.e., an L shaped sofa. Try different sizes and colours and see which one fits your living room area better.
Add Black Pieces to Add Contrast in Living Room
An all neutral room can look summery and fresh but we don't think you would want to hit that point where you feel like you are living in a box of saltines. The use of strong, authoritative shades like black can add some contrast to the room and make it look more pleasing. If you have decided to paint the room neutral then add contrast by adding dark coloured living room furniture like a wooden black/brown coffee table, side table, some dark photo frames on the wall, and a lamp to play off your living room's serene, light coloured palette.
Carve Out Those Mini Spaces of The Room
If you have a small apartment and are trying to make full use or more use of your living room area, pay attention to the mini spaces of the room, that is, decorate the corners. Try breaking the room into smaller vignettes, add a small table or an ottoman to the corner for you to drink coffee in the morning. Or add a cosy chair and a lamp in a corner to create a makeshift reading nook. You can also add small art pieces or a mirror on the side wall in the corner to give the space more depth and make the room look bigger.
Add One or Two Wild Cards into The Room!
Even though there are many trends going around on how to decorate the living room in a certain way, choose what type of furniture or decorative items, sometimes it is more fun to not follow the trends and make a statement with something completely out of the blue.
Sometimes it is more fun to forget about the trends and just throw in some things that you love and make the room look pleasing but also feel extremely welcoming, warm, relaxing and comfortable. Get that statue that you might have seen somewhere, or an abstract painting, a bookcase or some prints galore.
At the end of the day, it's you whose taste and preferences matter. Though don't have to worry about the furniture. Take a look at our wide range of living room furniture on rent and get anything that you need without any fuss or hassle.