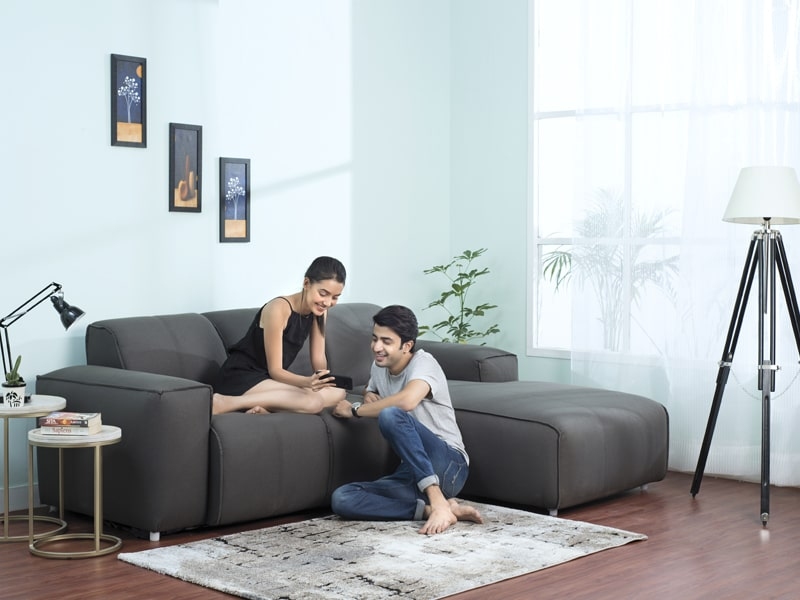 Are you planning on renting furniture but still a little indecisive? Let me share my personal experience with you to help you get more clarity.
Are you too, like I once was, caught in a moral dilemma regarding upgrading the interior design of your home space? Growing up in a traditional household, I was raised to believe that good furniture that lasts ages is a thing of pride and should be the only approach towards designing my house. My folks believed that furniture is one of the mediums to leave their legacy behind for future generations. There are still a couple of half-a-century-old pieces of furniture at my parents' place, which they too, inherited from the generation before them. Although this nostalgic feeling seems nice and warm, the fact of the matter is that those kinds of heavy-duty furniture pieces just aren't made anymore, nor do they offer the option to re-modify the furniture at a later date. Those archaic pieces of furniture were built only to last and do only that.
The thought of 'Renting Furniture', until recently, was as alien to me as technology is to a 90-year-old war veteran. Something completely incomprehensible. But with changing times and needs, everyone adopts, even the 90-year-olds.
In fact, the idea of renting furniture for my new place was suggested to me by my friend, who, like me, must constantly relocate and shift between cities every year.
When my journey as a corporate professional began 5 years ago, and I had to relocate to an entirely new city, I went ahead and bought myself some costly furniture, which included a queen size bed, an extremely over-expensive sofa set, a gaming chair, and the whole 9 yards of home furniture. And then, within the next year, I got a better offer and moved to another city. And trust me, I wouldn't wish the burden and stress of moving furniture on even some of the meanest and awful clients I've had to deal with once in a while.
On top of this, the sheer haphazard handling and multiple goof-ups with the moving company resulted in me paying a lot more than what was initially quoted by them, and what's worse, they even damaged a certain portion of my sofa set and refused to take responsibility for it!
And then another year passed before my landlord asked me to find myself a new place, and thus again began the exhausting and laborious process of finding a new house. And once I did find a house that suited my requirements and budget perfectly, the furniture I already owned barely fit accordingly in my new apartment, and honestly, the design wasn't a match. A pretty bad eye-sore to be honest. There was a certain vibe I craved for my place, but I just couldn't bring it to life using my old furniture.
A house isn't a home until it reflects your style.
That's when I decided to cut my losses and sell some of the furniture that I didn't need, including that over-priced sofa set, which was now dented (thanks to the moving company) and couldn't even fetch half the price of its original, even though being only a year old. But I let bygones be bygones and came up with a smart and fresh new strategy for designing the interior of my home, that not only adhered to my tastes but also didn't burn a hole in my pocket. And down below, I have listed some of the key points and arguments that I focused on while deciding to rent furniture instead of buying it. And I hope they help you as well.
1- What made me finally choose renting furniture over buying it?
Well, to be entirely honest, it just made sense for someone like me. A millennial who would probably need to move a lot before I find my permanent residence. And the sheer comfort, flexibility, and ease of just renting different kinds of furniture whenever and wherever I want it, played a major role in this shift.
Although I agree that buying furniture allows you to choose from an uncountable number of different catalogs and then design the furniture according to your own needs. However, at this point, I argued this reasoning with the fact that I am not looking for anything permanent right now, and better yet, my personality in itself likes to explore different styles of interior design every once in a while. And I am sure this will stand true even after I find a permanent residence. I like to change and revamp the vibe and decor of my home at regular intervals. And this is something that I simply cannot afford to do if I start buying and reselling furniture all the time.
Some of the key things that mainly work in favor of Renting Furniture are:
a- Freedom to tailor your furniture designs at a fraction of the price.
Using a rental furniture service allows you to simply go through their extensive catalogue at a later date and choose and exchange a different sofa, bed or recliner every time you feel your home could use a change of aesthetics!
b- Renting Furniture is a perfect and ideal choice for people who move a lot.
If you are someone like me, who has over the past 5 years, moved to 3 different cities, 5 different times, then renting furniture is the way to go. Renting furniture has been a god sent service since you do not need to worry about the exhausting and time taking process of relocating
c- The option of finding all your furniture needs in one place
By opting for a "FaaS" (Furniture as a Service) provider, you save a lot of time by avoiding going to the market and manually scouring different shops for different needs. Here, you get to choose all your furniture under one roof from the comfort of home.
d- Damage Protection for the furniture in case they get busted.
Most rental furniture companies offer damage protection by already insuring their furniture which is a lifesaver if you or anyone living with you are clumsy. Irrespective of which kind of accidental damage, you can sleep assured, knowing that your furniture is covered.
e- Free of cost relocation options in most major cities.
This is one of key reasons why you should prefer renting furniture over buying it. Most of these furniture rental companies have set up shop in all the major cities of India and offer a free relocation offer which saves you a ton of money!
Many rental furniture companies, CityFurnish being one of the ones I really liked, offer a wide variety of furniture options to choose from. Be it sofa sets to coffee tables, beds of all sizes to office furniture, these rental furniture companies have every kind of furniture a home might require. They also, in most cases, offer the option of free relocation to multiple different cities. And I know this suits a lot of you out there.
2- Pros and Cons: Renting Furniture vs Buying Furniture
When I started to do my research on renting furniture, I found out that I'm not the only one facing this dilemma. Infact, a large number of millennials and Gen-Zs are opting for this approach, which makes sense to most young individuals who are living the fast-paced, ever-shifting urban life. And this is only going to further boost the rental furniture industry in the years to come.
But nonetheless, some of the notable things which made me choose renting furniture were:
a- The cost of renting the entire furniture for my house for a year was a fraction of what I would've had to shell out if I was buying the same.
This is a no brainer. If you check out the prices of premium, well-built pieces of furniture in the market, you will be shocked beyond measure. I know I was. A queen-sized bed which cost me less than 10,000 Rs/- on rent for a year, would've cost me close to a lakh if I had gone with buying it. Comparing the return-of-costs, there is no way I would've used the same bed for 10 years, the minimum amount of time before its costs broke even!
b- Could choose from a wide variety of luxury furniture and styles which one could not otherwise afford.
As I had mentioned earlier, I like to revamp and change the interiors of my house according to my seasonal likings. My home is a warm and cozy sanctuary not just for me, but for a lot of my friends and family too. I sometimes go Bohemian, sometimes Modern, or even Minimalist and Boho. By choosing to rent furniture, I get the ability to choose from variety of design styles and what's more, the rental prices of luxury furniture are not as ridiculous as the MRPs. And this way, my home is always a posh Pinterest-esque picture perfect looking haven for me and my loved ones. And the best part is, by having luxury rental furniture in my home, I look way richer than I actually am.
3- Is Renting Furniture cost-effective? If so, then for how long?
Well, this is a subjective question and may differ from one person to another.
That being said, renting furniture is definitely a cost-effective approach if you are someone who has to relocate constantly or also like me, try and change the interior designs of your permanent home quite often.
On the other hand, if you are someone who is looking to settle down in a permanent residence and do not like the hassles which come with constant interior designing, it is best you opt for buying your furniture as it is sure to provide you with more ease of mind than renting furniture.
In the end, it all comes down to your preferences and also the breakdown of your ROI. Breakdown the yearly costs of renting a piece of furniture vs. buying it and divide it buy at least 10 years. Compare your ROI with both the options and make a wise, well-suited decision for yourself.
4- Whom would I suggest should be renting furniture instead of buying it?
Take for instance, if you are a professional or anyone who is looking for easy relocation and a posh home interior at a fraction of the price for a short amount of time, say a year or two, renting furniture is hands-down, the best option for you. Most of these rental furnishing companies offer the options of free returns and exchanges every time you feel bored of your furniture and would like to spice it up again.
If you buy your furniture and have a need to relocate, there is a chance you too will fall prey to the diminishing furniture prices and get a really shitty deal on reselling your furniture. But if you are going to stay in the same place for the foreseeable future, you might as well take the safe bet and buy your furniture.
Me, personally, like said earlier, like the option of having a posh and luxurious furniture designs for my home, which I can constantly change according to my needs at a fraction of the cost!
So, there you have it dear reader! I hope my two cents on why I think you should rent your furniture rather than buying it has helped you gain clarity in your decision.