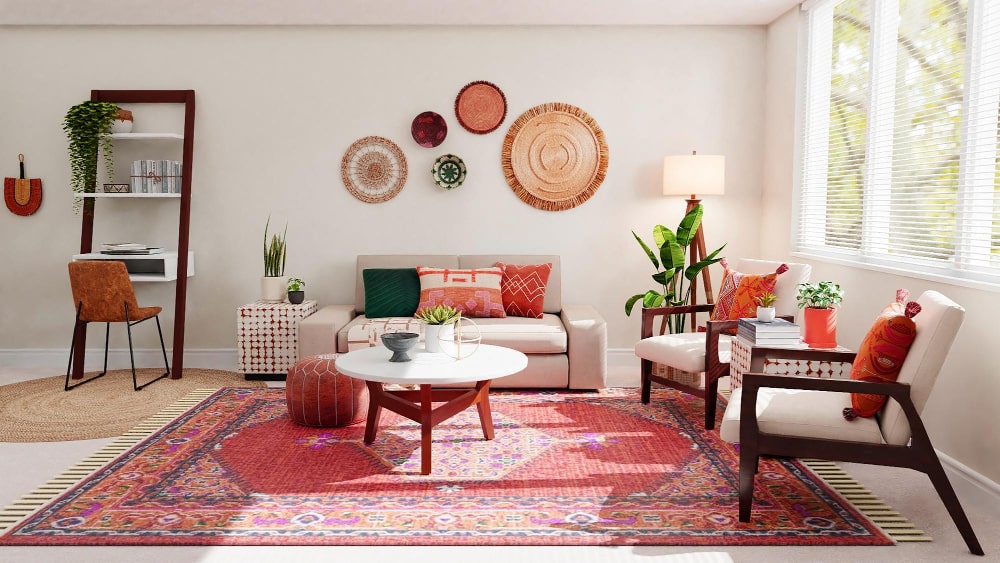 Ever find yourself overwhelmed when shopping for rugs for home, unsure of what material or style will work for your space? You want something stylish but also low-maintenance rugs for your home. Don't worry, we've got you covered. We searched high and low to find the easiest rugs to care for that won't break the bank. Whether you have kids, pets, or just want an unfussy option for a high-traffic area, these durable and budget-friendly rugs will make your life easier. In this guide, we'll share our top nearly indestructible rug picks along with the best places to snag them at a steal. We'll also provide some quick tips for keeping your new rug looking fresh for years to come. Ready to simplify your rug buying experience? Read on, friend, your new favorite rug awaits.
1- Choosing the Right Rug Material for Low Maintenance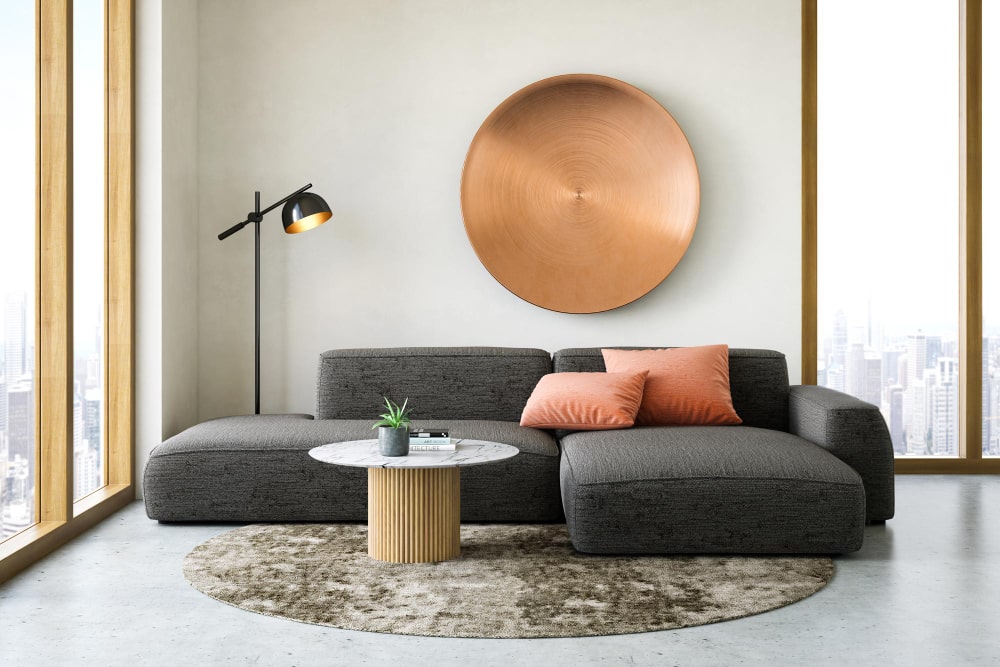 When it comes to low-maintenance rugs for home, material is everything. Some of the easiest to care for options are:
a- Synthetic fibers
Artificial materials like polypropylene, polyester, and nylon are durable, stain-resistant, and fade-proof. They handle high-traffic areas well and are inexpensive, so you get a lot of bang for your buck. The downside is they aren't the softest underfoot. But for utility, you can't beat synthetics.
b- Wool
Wool rugs are naturally dirt and stain-repellent, plus they're soft, warm, and long-lasting. However, wool requires professional cleaning and can be pricey. For low maintenance, look for wool-synthetic blends which provide the benefits of wool at a lower cost and can be vacuumed and spot-cleaned.
c- Natural fibers
Materials like jute, sisal, and sea grass are eco-friendly and budget-friendly. However, they stain easily, fade in sunlight, and can't handle high foot traffic. Use them in low-key, casual spaces and be prepared to replace them more often.
d- Leather
Leather hides are nearly indestructible and actually become softer and more supple over time. They're also naturally stain-resistant and easy to spot clean. The biggest downside is they tend to be expensive. But if you want a rug that will last a lifetime with minimal care, leather is an excellent choice.
In the end, for a fuss-free rug fro home, you can't go wrong with a synthetic or wool-synthetic blend. But no matter the material, regular vacuuming and prompt treatment of spills will keep your rug looking its best for years to come.
2- Top Easy-Care Rug Styles and Where to Buy Them
When it comes to rugs for home, easy maintenance should be high on your list of priorities. The last thing you want is a rug that requires special cleaning treatments or constant upkeep. Luckily, there are many durable and low-maintenance rug options to choose from. Here are some of the best:
a- Natural Fiber Rugs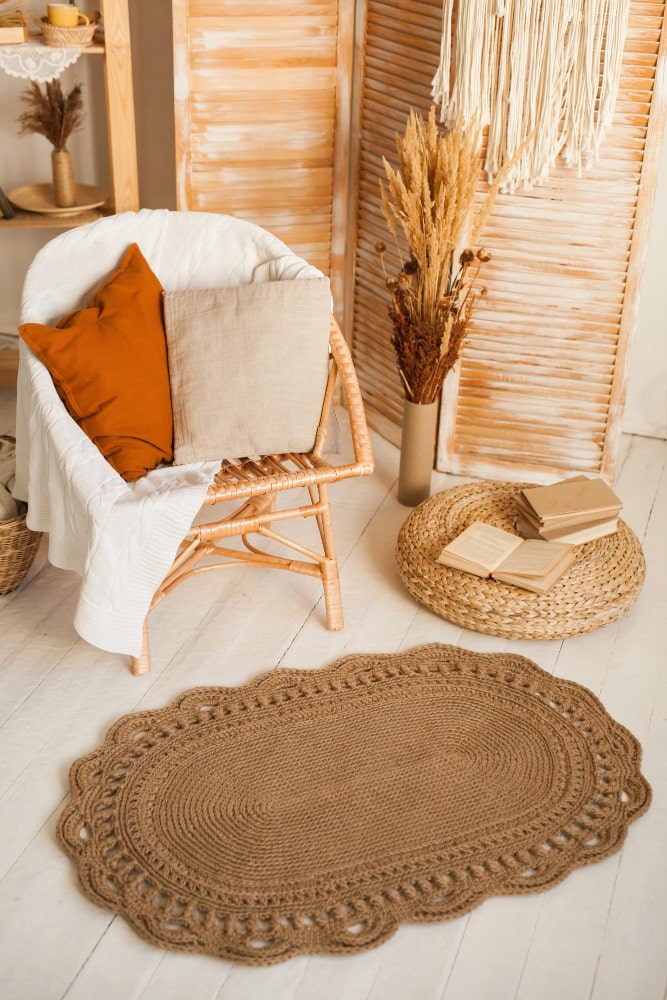 Rugs made of natural fibers like jute, sisal, seagrass or cotton are extremely durable and stain-resistant. They are also very budget-friendly. You can find natural fiber rugs at most home stores like Home Centre, FebIndia or Ikea.
b- Indoor/Outdoor Rugs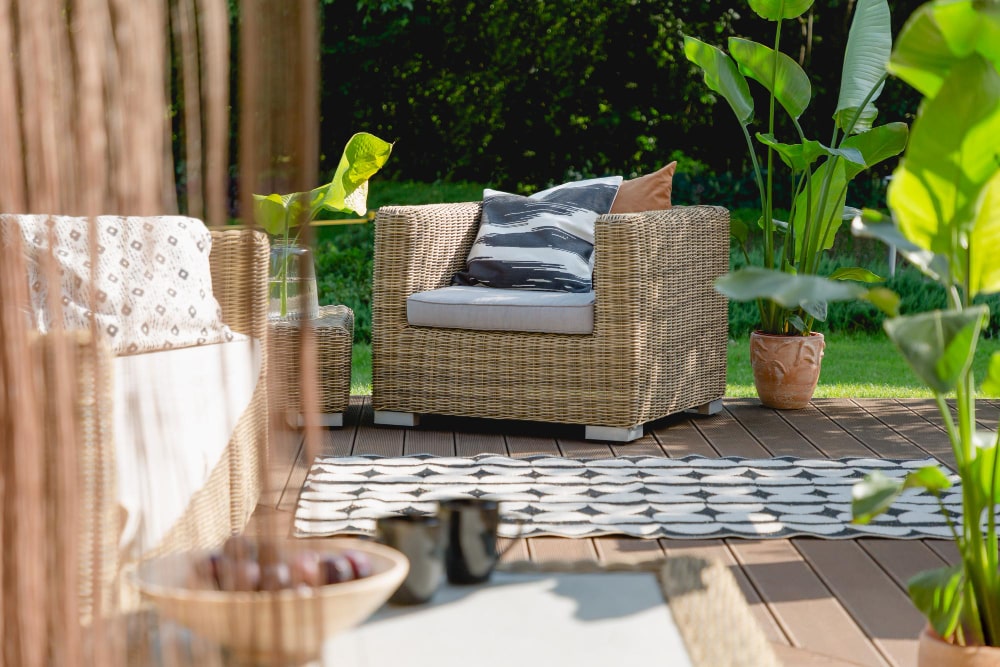 These rugs are designed to handle the elements, so they are naturally easy to clean and care for. Brands like Humminghaus and Jaipur Rugs offer stylish indoor/outdoor rugs that work well in any space. Shop online at Amazon or the brands' own websites.
c- Low-Pile or Flatweave Rugs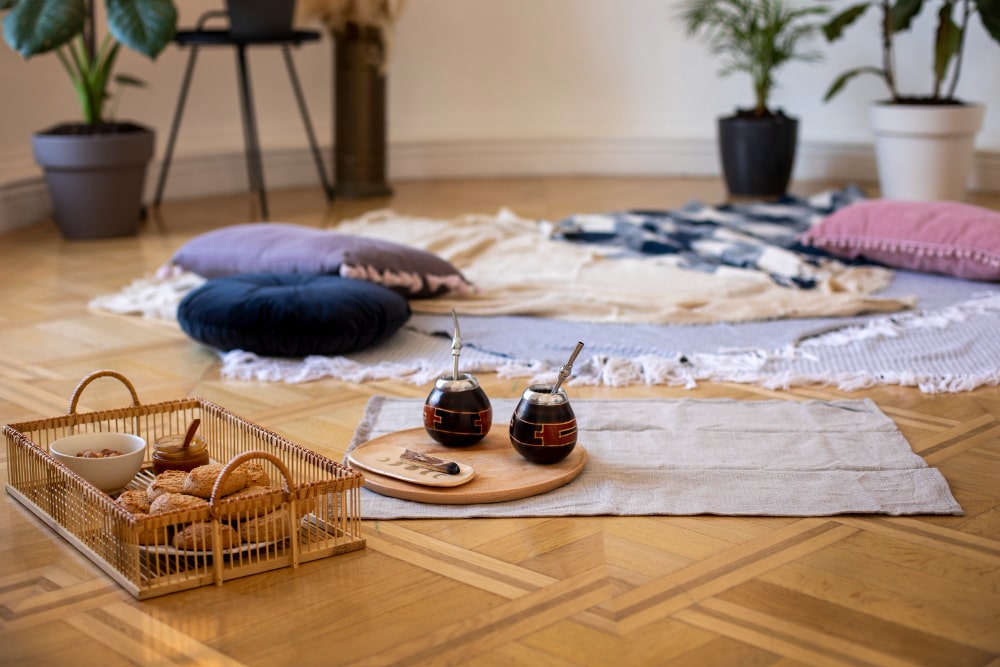 Rugs with little to no pile, like kilims or dhurries, show less dirt and are easy to vacuum or shake out. They are casual, global-inspired styles you can find from brands like Villedomo, VAS Collections and Homa Dorn.
d- Stain-Resistant Rugs
Many rugs today are treated with stain protectors or guards that prevent spills from setting in. Look for rugs labeled "stain-resistant" or check if a protectant can be applied after purchase. These rugs can be found anywhere from budget stores like Home Centre to higher-end retailers like HR Carpets & Rugs.
With regular vacuuming and occasional professional cleaning, these rug styles can stay looking fresh for years to come. Low-maintenance never looked so good!
3- Budget-Friendly Rugs That Offer Great Value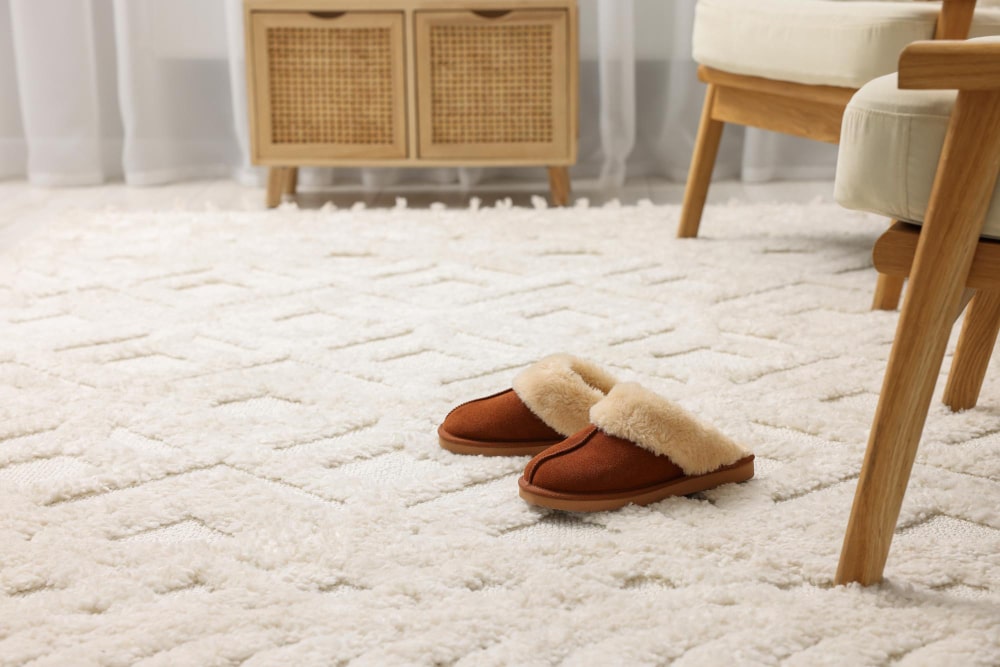 When on a budget, you want rugs for home that are affordable but still durable and stylish. Some great options include:
Wool rugs: Wool is a natural fiber that's soft, stain-resistant and long-lasting. Look for wool blends or smaller sizes to save money. Wool rugs often start around $200-$500 for a 5'x7' size.
Cotton or jute rugs: Cotton and jute are inexpensive, natural fibers perfect for high-traffic or outdoor areas. Prices for a 5'x7' size typically range from $50-$200.
Synthetic rugs: Polypropylene or polyester rugs are very budget-friendly at $30-$100 for a 5'x7' size. They're durable and come in many styles, though they may not feel as soft underfoot as natural fibers.
Area rug pads: Adding a rug pad underneath any rug, especially smaller sizes, helps prevent slipping, protects floors and makes the rug feel more plush. Basic rug pads start at around $20.
Off the rack or closeout: Buying "off the rack" or taking advantage of closeout sales is a great way to find deals on rugs up to 70% off retail prices. Check discount online retailers like Amazon, Jaipur Rugs, HummingHaus etc. for best selection.
You can discover high-quality yet affordable rugs if you know what to look for. Focusing on natural fibers, synthetic blends, smaller sizes or buying off season are all smart strategies to get the beautiful rug you want on a budget you can afford. With some savvy shopping, you'll be walking on an attractive new rug in no time without breaking the bank.
4- Tips to Keep Your New Rug Looking Its Best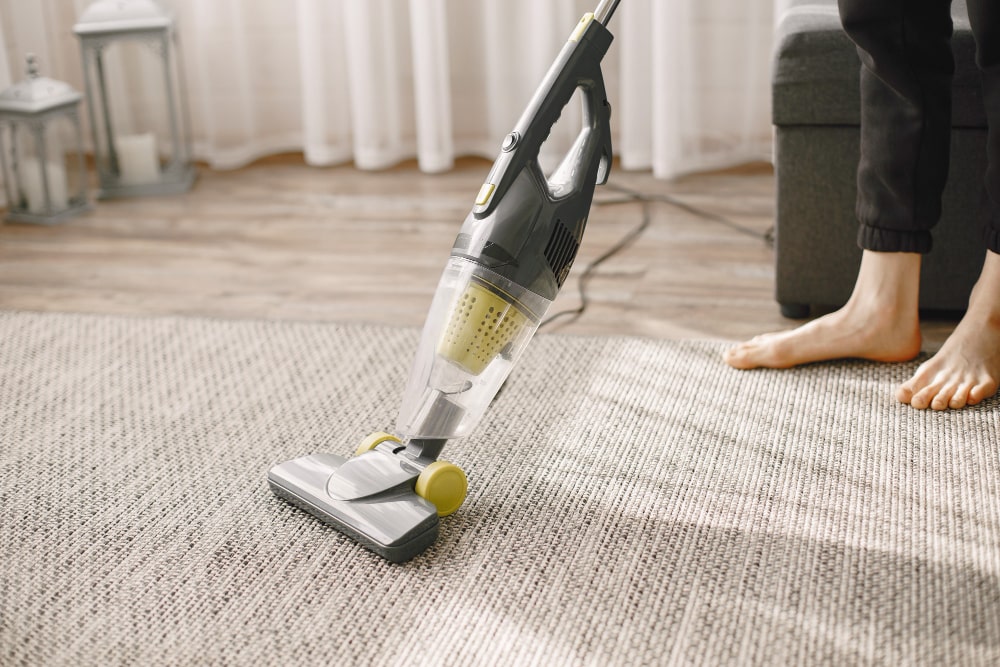 To keep your new rug looking its best for years to come, follow these tips:
a- Vacuum regularly
Depending on the material and pile of your rug, aim to vacuum it once a week or at minimum once a month. For high-traffic or shag rugs, vacuuming 1-2 times a week is best. Vacuuming removes built-up dirt and grit that can damage rug fibers over time. Use the proper height setting for your rug pile and vacuum slowly using multiple passes.
b- Rotate and flip
Rotate or flip your rug 180 degrees every 3-6 months to ensure even wear and fading. This is especially important for rugs in high-traffic areas. If possible, also rotate the position or placement of furniture on top of the rug.
c- Blot spills immediately
Attend to any spills, stains or spots immediately to prevent setting in. Gently blot with a clean, white cloth to absorb as much of the spill as possible. Do not rub the spill, as this can spread it and push it deeper into the rug fibers. Once absorbed, treat any remaining stain as soon as possible following the instructions on a carpet stain remover product.
d- Protect from furniture
Place protective pads under the legs of heavy furniture like couches, tables and chairs. This prevents dents, scratches and damage to the rug pile. Pads also allow furniture to slide more easily when moving, reducing excess strain on the rug.
e- Professionally clean when needed
For stubborn stains or a deep refresh, have your rug professionally steam cleaned once every few years based on the level of soiling and traffic. Steam cleaning removes embedded dirt and brightens colors to keep your rug looking new. Check if your rug is machine washable or needs dry cleaning prior to cleaning to avoid damage.
Following these easy tips will keep your rug clean, prevent damage and ensure it lasts for many years of enjoyment. An occasional rug pad, rotation and professional cleaning are well worth the investment to maintain the beauty and value of your new rug.
5- Additional Resources for Rug Selection and Care
Once you've selected a rug for your space, the next step is learning how to properly care for it to keep it looking its best. Here are some useful resources to help you maintain your rug:
a- Rug Pad Connection
Rug pads are essential for protecting your rug and the floor underneath. Rug Pad Connection offers a variety of rug pads for different rug materials and floor types. They provide guidance on which pads work best for certain rugs. Their rug pad finder tool makes it easy to find the perfect pad for your needs.
b- Rug Cleaning Tips
The Spruce and Good Housekeeping offer helpful tips for keeping your rugs clean. Things like vacuuming high-traffic areas regularly, avoiding harsh chemicals, and having rugs professionally cleaned periodically are good practices. For smaller rugs, you can rent rug cleaning equipment or hire a professional to deep clean in your home. They also provide recommendations for cleaning different rug materials like wool, cotton, sisal, and silk.
Click here for Sofa Cleaning Tips.
c- DIY Rug Repair
Over time, rugs can suffer damage like burns, tears, and frayed edges. If you're handy with some basic skills, you may be able to repair minor issues yourself. Check out tutorials from online sources. They show how to patch holes, bind carpet edges, and mend tears in woven rugs. For valuable or antique rugs, it's best to have repairs done by a professional rug restoration expert.
Professional Rug Cleaners – They specialize in all types of cleaning fro all kind of rugs, including steam cleaning for hand-woven rugs. Seek the service in your area based on reviews but get as much information as possible about their practices and material used in the process before hiring them.
With the proper care and maintenance, an easy-to-maintain rug can provide comfort and style in your home for many years. Following tips from trusted experts and knowing how to properly repair any damage will help keep your rug looking its best.
FAQs:
Have some burning questions about rug maintenance? Here are some of the most frequently asked ones:
Q- What's the best way to clean a rug?
The best method depends on the rug material. For most rugs, regular vacuuming, spot-cleaning spills, and occasional professional deep cleaning are recommended. Check the rug's care label for specific instructions. Some rugs can be machine washed, while others require dry cleaning or steam cleaning. As a general rule:
Wool or silk rugs: Vacuum regularly, spot-clean spills, professional deep clean 1-2 times a year. Avoid machine washing.
Cotton or jute rugs: Vacuum regularly, spot-clean spills, machine wash occasionally on gentle cycle using rug shampoo. Air dry away from direct heat.
Synthetic rugs (polypropylene, nylon): Vacuum regularly, spot-clean spills, machine wash occasionally using rug shampoo. Can machine dry on low heat.
Q- How often should I vacuum my rug?
For the best results, vacuum your rug at least once a week or more often depending on traffic and use. Vacuuming removes built-up dirt and grit that can damage the rug fibers over time. Use a vacuum with height adjustment and the proper brush roll for your rug type. Vacuum slowly and carefully, going over the entire rug surface. Pay extra attention to high-traffic areas and edges where dirt collects.
Q- Should I rotate my rug?
Rotating your rug 180 degrees every 3-6 months is a good idea. This helps ensure even wear and fading over the life of the rug. For larger rugs, you may need help to lift and rotate the rug. If rotating isn't possible, try to rearrange furniture on the rug occasionally. This also helps prevent uneven wear in high-traffic spots.
With regular care and maintenance, an easy-to-clean rug can provide comfort and style in your home for years to come. Still have questions? Check with your rug retailer or manufacturer for guidance specific to your rug.
Take Away
So there you have it, an easy guide to finding low-maintenance rugs that suit your space and style. With a few considerations around material, budget, and retailer, you can make an informed choice and find an area rug that will stand the test of time without demanding constant upkeep. Once you have your new rug in place, stick to a regular vacuuming schedule, avoid harsh chemicals for stain removal, and rotate as needed to prevent uneven wear. Your perfect, fuss-free rug is out there waiting for you. Happy hunting!