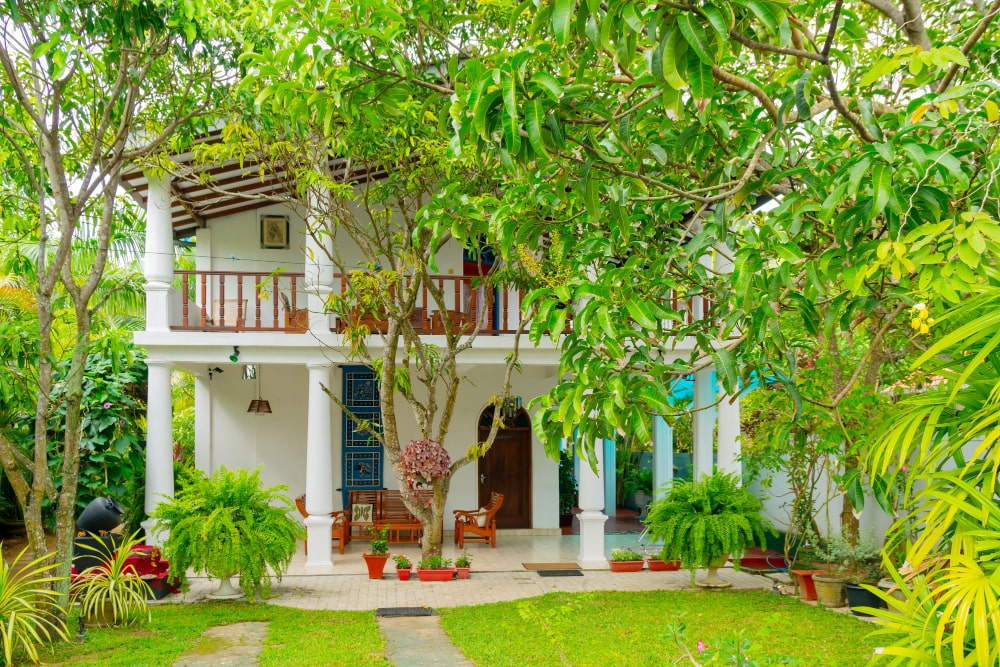 You want your home to make a statement. The exterior wall paint colour combination you choose can transform the entire look and feel of your house. Whether you want a bold, dramatic impression or prefer a more subtle, sophisticated vibe, selecting the right exterior wall paint colors is key. In this article, we explore 15 striking exterior wall paint colour combinations to inspire your next house painting project. From classic white and navy blue to trendy charcoal gray and teal, there are options for every style. You'll find ideas incorporating earthy tones, coastal colours, desert hues, and modern neutrals. And if you're feeling really bold, consider red and cream or black and white for maximum contrast. With so many gorgeous exterior wall paint colour pairings to choose from, you're sure to find a look you'll love.
1- Classic White and Navy Blue: A Timeless Exterior Wall Paint Colour Combo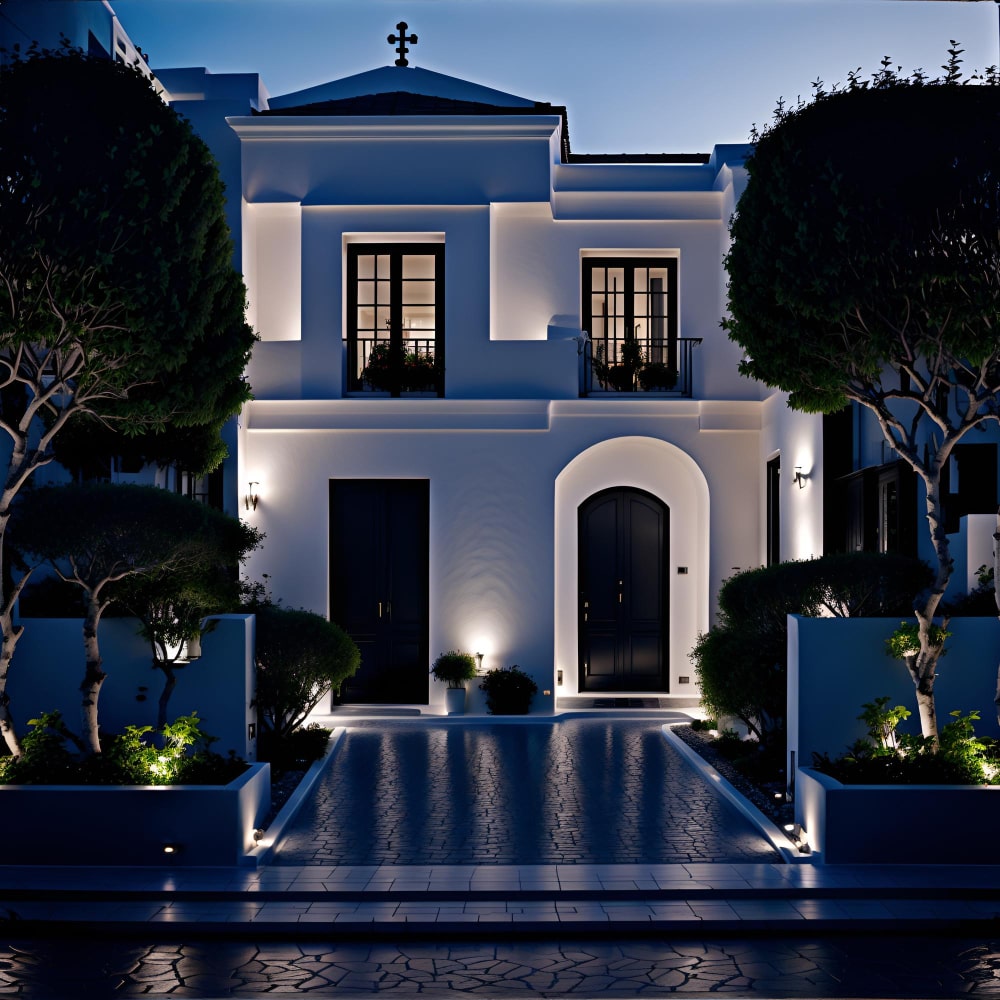 Want to make a bold statement with your home's exterior? Look no further than the classic combination of white and navy blue. This timeless colour scheme is crisp, clean and captivating.
White is a blank canvas, allowing the navy blue accents to take center stage. Consider painting your home's siding or stucco white and using navy blue for doors, shutters, trim or an accent wall. You really can't go wrong with this versatile duo.
For a coastal vibe, pair a bright white with a deep navy inspired by the sea. More subtle shades of blue like cadet or cerulean also pair nicely with white for a softer look. No matter the exact hues you choose, white and navy blue create a striking first impression.
2- Earthy Exterior Wall Paint Colour Combination: Taupe, Brown, and Beige House Paints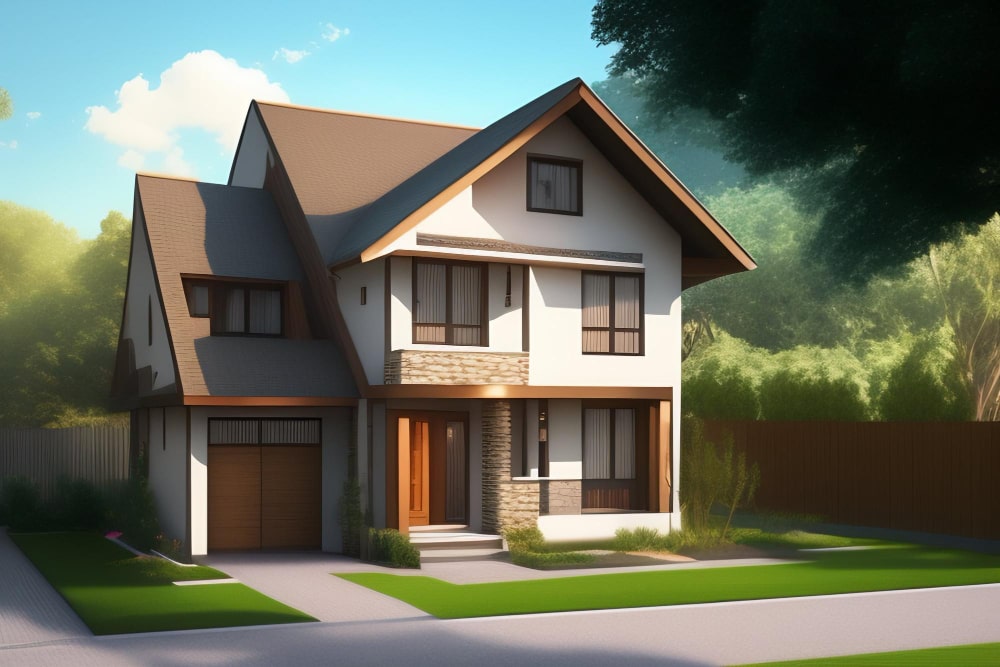 If you want an earthy, natural look for your home's exterior, consider shades of brown, taupe, and beige. These earth tones create a warm and welcoming impression.
Taupe is a versatile neutral that pairs well with cream, cocoa, sandstone or clay. Use it on siding, shutters or trim for a unified earthy scheme.
Cocoa brown has reddish undertones that evoke a sense of richness. Use it on doors, window frames or the lower half of walls for visual contrast.
Beige is a light, creamy neutral that brightens façades. Try pale beige on siding with chocolate trim and doors for a cozy complement.
With endless variations, earth tones let you achieve a custom look for your home's exterior that connects it to the surrounding landscape. Natural, grounded and always stylish, earthy paint colours are a choice you'll love for years to come.
3- Cool Coastal Color Schemes: Blue and White Outside Paint for Exterior Walls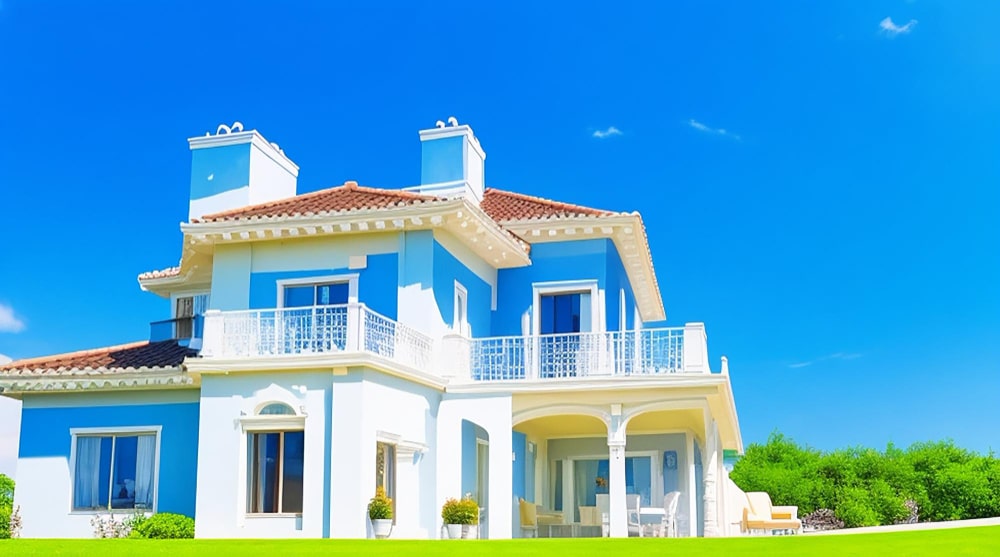 For a crisp, beachy vibe, blue and white is a perfect exterior wall paint colour combination for your home's exterior. Whether it's navy blue shutters and trim paired with a bright white siding, or a pale blue gray exterior accented by crisp white trim, this color scheme evokes feelings of calm and tranquility.
The versatile blue and white combo allows you to choose a shade that suits your home's style. A dark navy pairs well with a colonial or craftsman home, while a light blue-gray is ideal for a cottage. For a bold pop of color, paint your front door a bright shade of blue. White exterior paint helps make spaces seem more open and airy.
This breezy colour scheme is also low-maintenance, as any dirt or grime won't show as easily on lighter shades. Your home will give off a peaceful, seaside chic vibe that's perfect for a beach house or lakeside escape.
4- Modern Neutrals: Trendy Gray and White Exterior Wall Paint Colours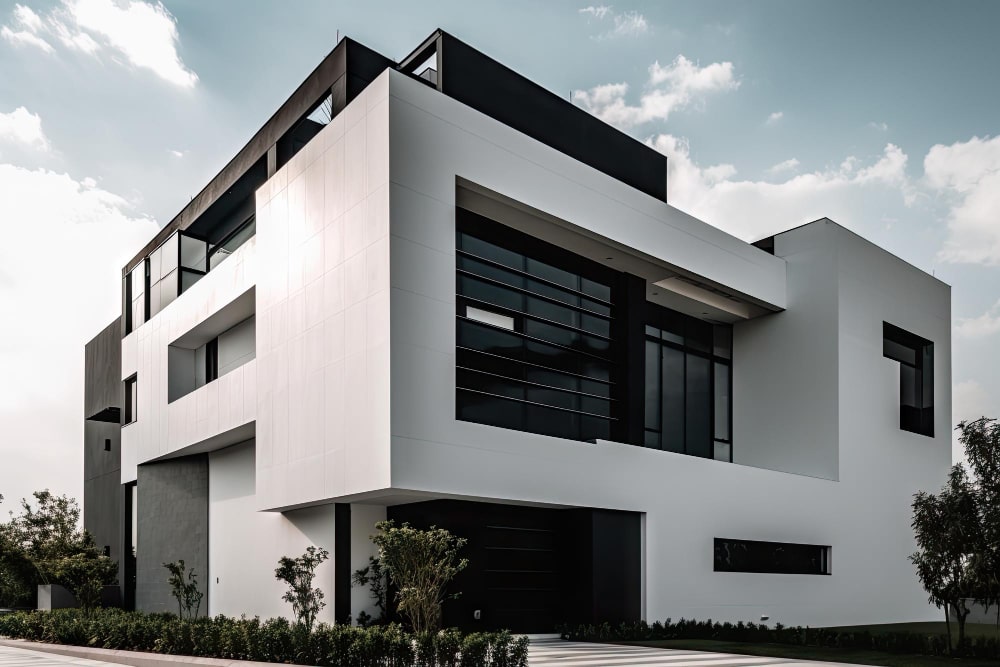 For a contemporary look, consider a stylish colour scheme of grays and whites. These muted, natural tones are versatile and timeless. Gray is a popular choice for house exteriors and pairs well with white trim for a sleek, modern style.
Choose lighter shades of gray like charcoal, slate or ash for a minimal and airy feel. For contrast, consider darker grays such as graphite or granite. Accent with bright white trim, shutters or railings. An eggshell or satin paint finish will provide a subtle sheen. This exterior wall paint colour combination is ideal if you want an exterior with clean, simple lines. The neutral grays and whites will blend in with most surroundings while still making a statement.
5- Barn Red and Dark Brown: Rustic Exterior Wall Paint Colour Combinations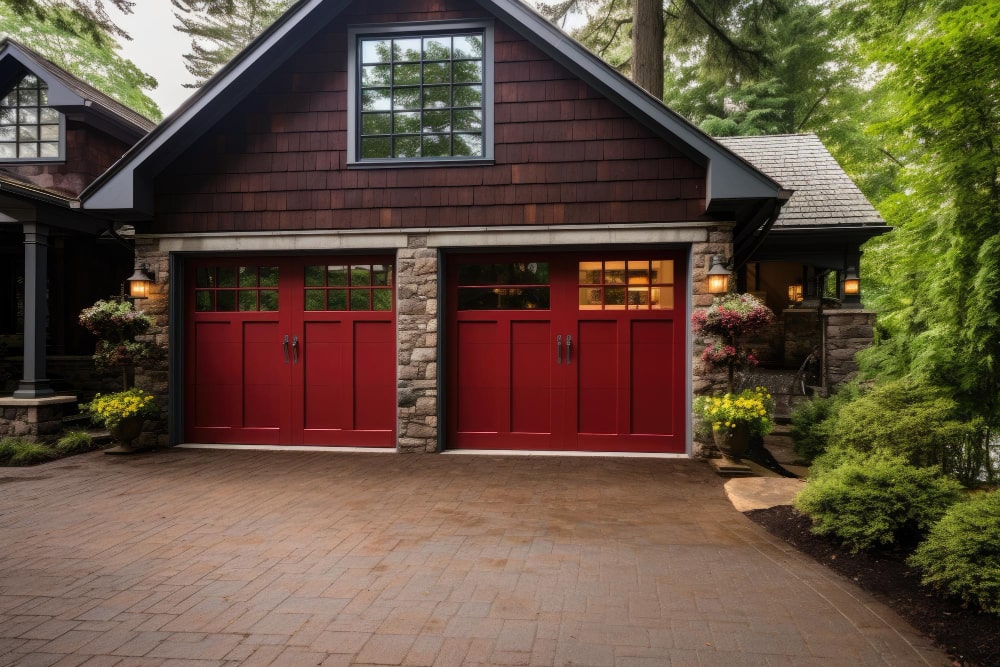 A barn red and dark brown colour scheme evokes a rustic, earthy feel. The deep red, nearly maroon, shade of barn red pairs beautifully with chocolate brown trim for an exterior that looks like it came straight out of the countryside.
a- A Classic Combination
Barn red and dark brown are a tried-and-true combination that never goes out of style. The bold, rich tones are perfect for a farmhouse, craftsman, or colonial home. For a more modern take, pair the dark red siding with sleek charcoal or slate gray accents instead of traditional brown.
A few details, such as a stone porch, timber beams, or a metal roof, help complete the rustic look. Keep the landscape simple with native grasses, lavender, and herb gardens. A barn red and dark brown home blends into natural, rural settings but can also make a statement on a suburban street.
6- Gray and Yellow: A Modern and Cheerful Choice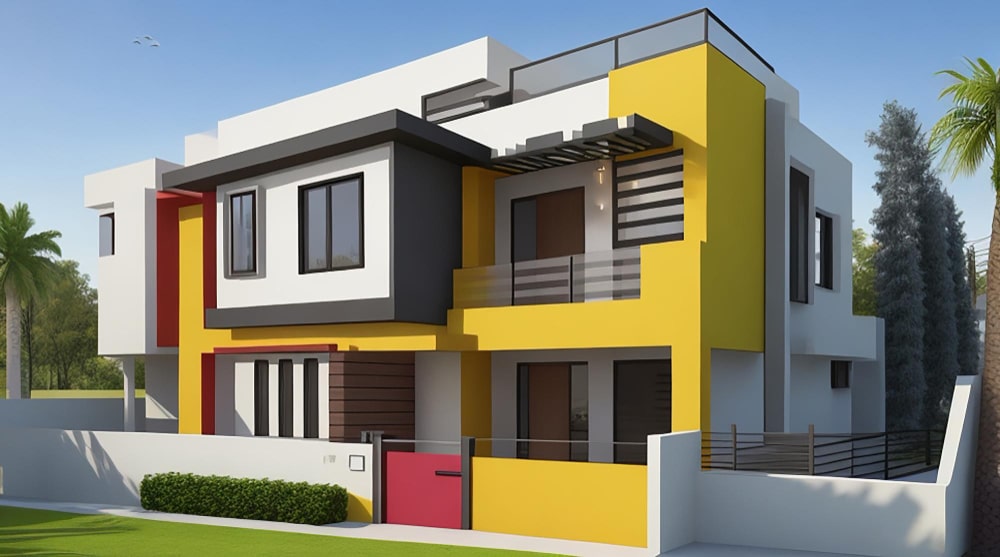 A cheerful and modern colour scheme, gray and yellow make a striking combination for a house exterior. The cool gray provides a neutral base which the vibrant yellow accentuates and brightens.
a- A Splash of Sunshine
Choose a warm, golden yellow to paint the front door, shutters, window trims or siding accents. The pop of yellow will attract attention and make a welcoming first impression. For a bolder look, paint the siding or wide window trims yellow and use gray for the accents. Either way, the splash of yellow brings warmth and sunshine to the gray exterior.
7- Sage Green and Cream: Soft and sophisticated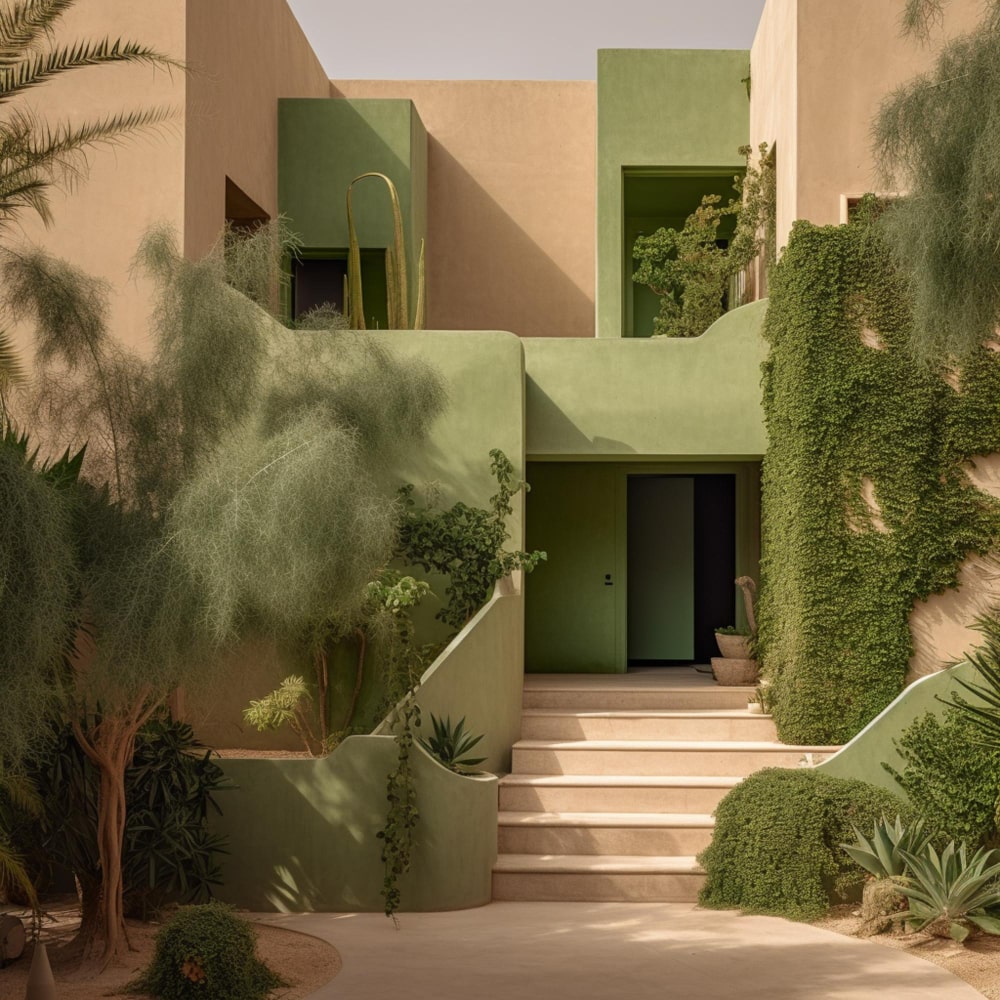 A sage green and cream colour combination creates a calming and stylish exterior. The muted green shades pair beautifully with creamy off-whites and beiges. This colour scheme gives homes a charming cottage feel.
The versatile sage green comes in light, medium and dark hues. A lighter sage pairs nicely with crisp white trim for a bright contrast. For a softer look, choose a medium sage and pair it with a warm cream or ivory. You can also create visual depth by using a darker sage on upper levels and lighter shades on lower levels.
No matter the specific shades you choose, sage green and cream is a timeless combo that provides curb appeal without being overpowering. It gives off a natural, earthy vibe that is perfect for any home style. This exterior wall paint colour combination is ideal if you want to make a subtle statement with your home's exterior.
8- Charcoal Gray and Teal: A modern and classy choice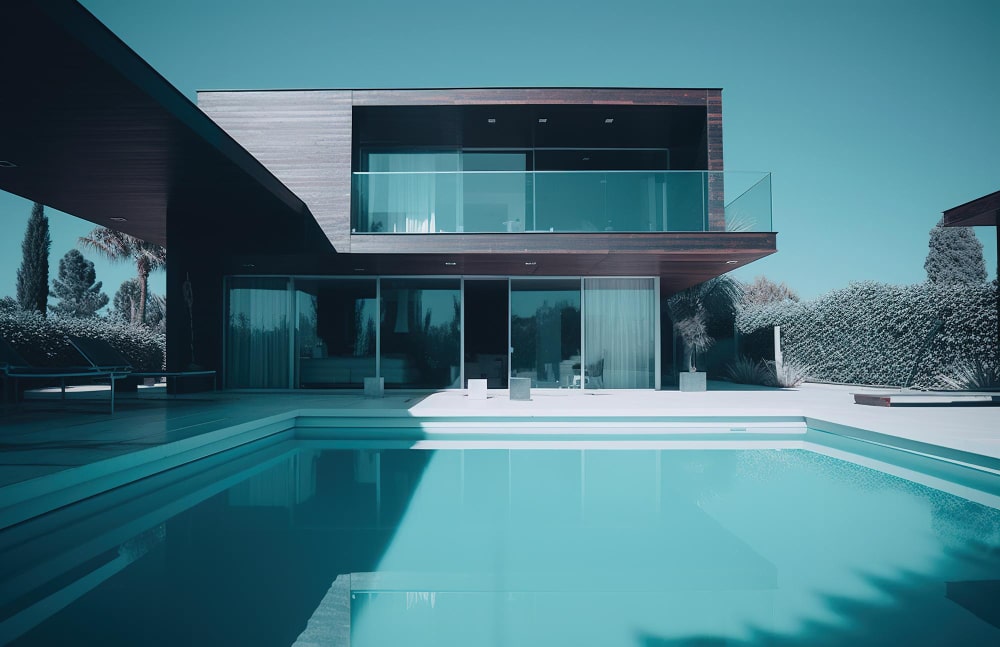 Charcoal gray is a deep, dramatic shade that pairs beautifully with teal, an ocean-inspired blue-green. This exterior wall paint colour combination instantly transforms a home exterior into a modern and stylish statement.
Teal trim or accents on a charcoal gray base creates a stylish contrast. You could paint the siding or stucco charcoal gray and use teal for the front door, shutters, or trim around windows. A teal front door in particular makes for a welcoming pop of colour.
Charcoal and teal work with a variety of architectural styles from contemporary to craftsman. For a coastal look, incorporate natural wood elements. In a more modern home, sleek lines and minimal details keep it polished.
This bold yet sophisticated exterior wall paint colour combination may not suit every homeowner, but for those looking to make a trendy and memorable impression, charcoal gray and teal is an ideal exterior color combination. When done right, it results in a house exterior with serious curb appeal.
9- Brick Red and Beige: Naturally Beautiful Exterior Wall Paint Colour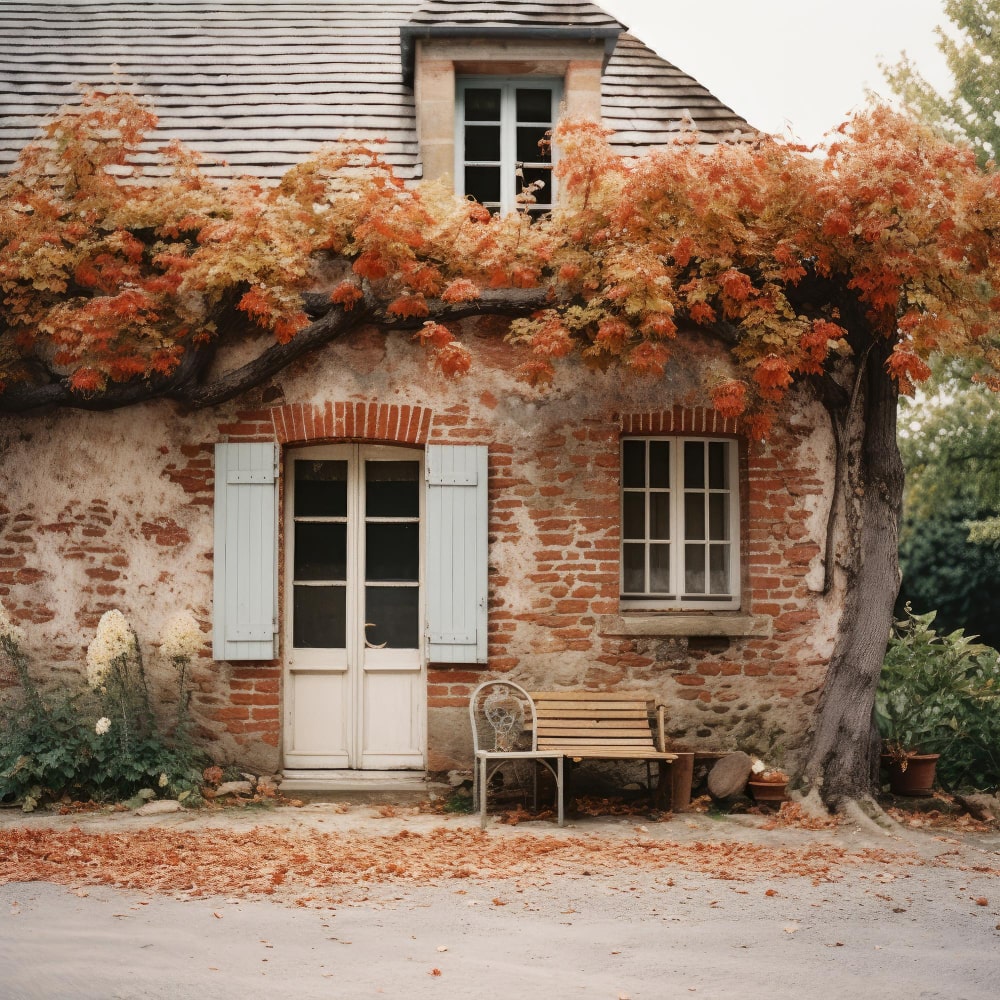 Brick red exterior paint is a classic choice that complements beige or cream trim for a naturally beautiful look.
The warm, earthy red shade is reminiscent of traditional brick houses, evoking a sense of stability and timelessness. Pairing it with a lighter beige or cream helps balance the boldness of the red, creating visual contrast. This combination of complementary colours is harmonious and pleasing to the eye.
For the siding, consider a rustic red in a flat or satin sheen. For the trim, a creamy beige or light taupe in a semi-gloss finish helps highlight architectural details. The lighter trim also makes a crisp accent, emphasizing the red siding.
This exterior wall paint colour combination works well for ranch-style homes as well as two-story houses. It gives a casual, lived-in feel that blends with surrounding natural landscapes. For a final flourish, add cream or beige accent details like shutters, a trellis, or a front door.
A brick red and beige exterior makes a statement that's simultaneously vibrant and down-to-earth. With this timeless look, your house will appear inviting and as enduring as the surrounding terrain.
10 -Black and White: A high-contrast combination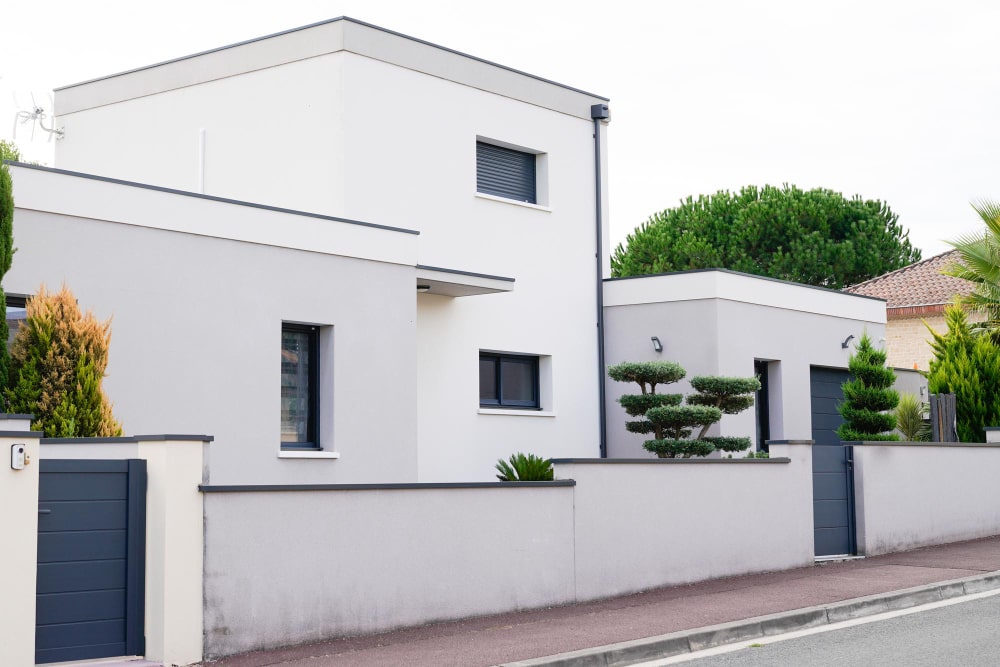 A black and white colour scheme is a bold, dramatic choice for any home's exterior. The stark contrast between the dark black and bright white creates a very modern, polished look.
Black accents like shutters, doors, window frames or trim pop against a crisp white siding. For a craftsman style home, black brackets under the eaves or a black stone skirt at the base of the house complement white stucco walls.
To prevent an exterior from appearing too harsh, soften the colour combination with natural wood elements. A wooden front door, porch beams or an arbor provide warmth while still retaining a contemporary vibe.
For a nautical twist, incorporate navy blue accents with black and white, such as a blue front door or window boxes overflowing with blue blooms. The dark, dramatic colours are perfectly suited for a beach house esthetic.
A black and white colour scheme may be simple, but it's a stylish, timeless choice with major curb appeal. By balancing the contrast between light and dark, this dramatic yet versatile exterior wall paint colour combination creates a stunning first impression.
11- Muted Pastels: Whimsical look, Best for Cottage Style Homes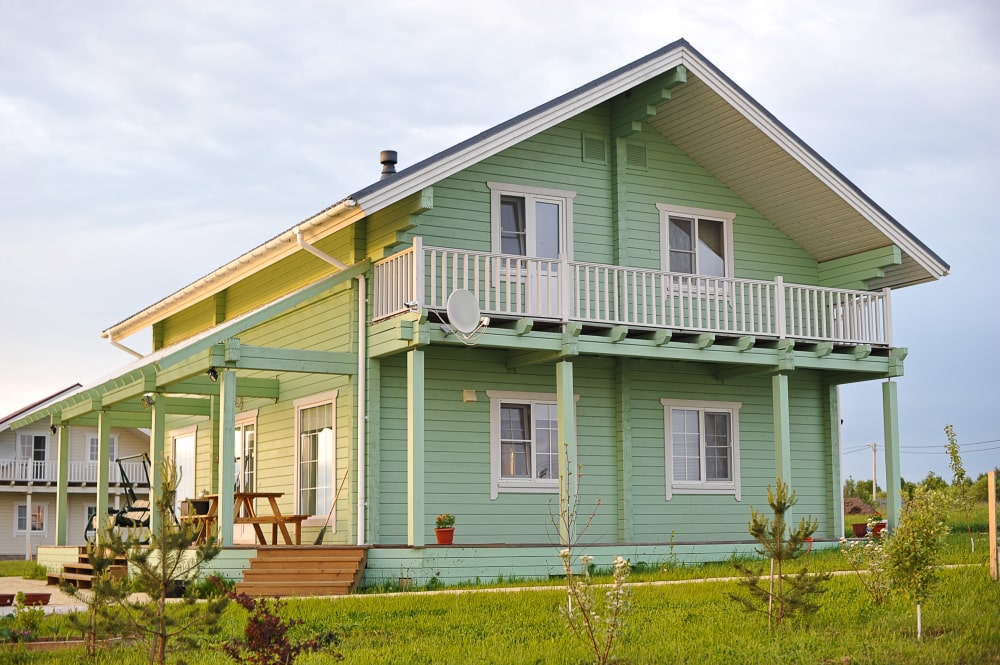 Muted pastels evoke a whimsical, romantic look perfect for cottage-style homes. Pale pinks, blues, greens and yellows – like petal pink, robin's egg blue, seafoam green and lemon yellow – create a soft, dreamy exterior. These lighter hues give a home a charming, welcoming appearance.
For a harmonious look, choose 3 complementary pastel shades and use the lightest for trim, the midtone for siding and the darkest for accents like the front door or shutters. Keep the colour palette consistent across details like the roof, garage doors, porches and any fencing for a cohesive style. Muted pastels pair well with white or gray for contrast and to prevent an overly sugary effect.
A pastel exterior wall paint colour combination works best on simple home styles with minimal architectural details. The whimsical, casual feel helps downplay the seriousness of more formal designs. Before painting the entire house, do some samples to see how the colors look in different types of light – muted pastels can appear more intense in direct sun. With the right color combination and application, a pastel exterior will give your cottage curb appeal as sweet as a fairy tale.
12- Desert Tones: Earthy colours like terra cotta, sand, and muted oranges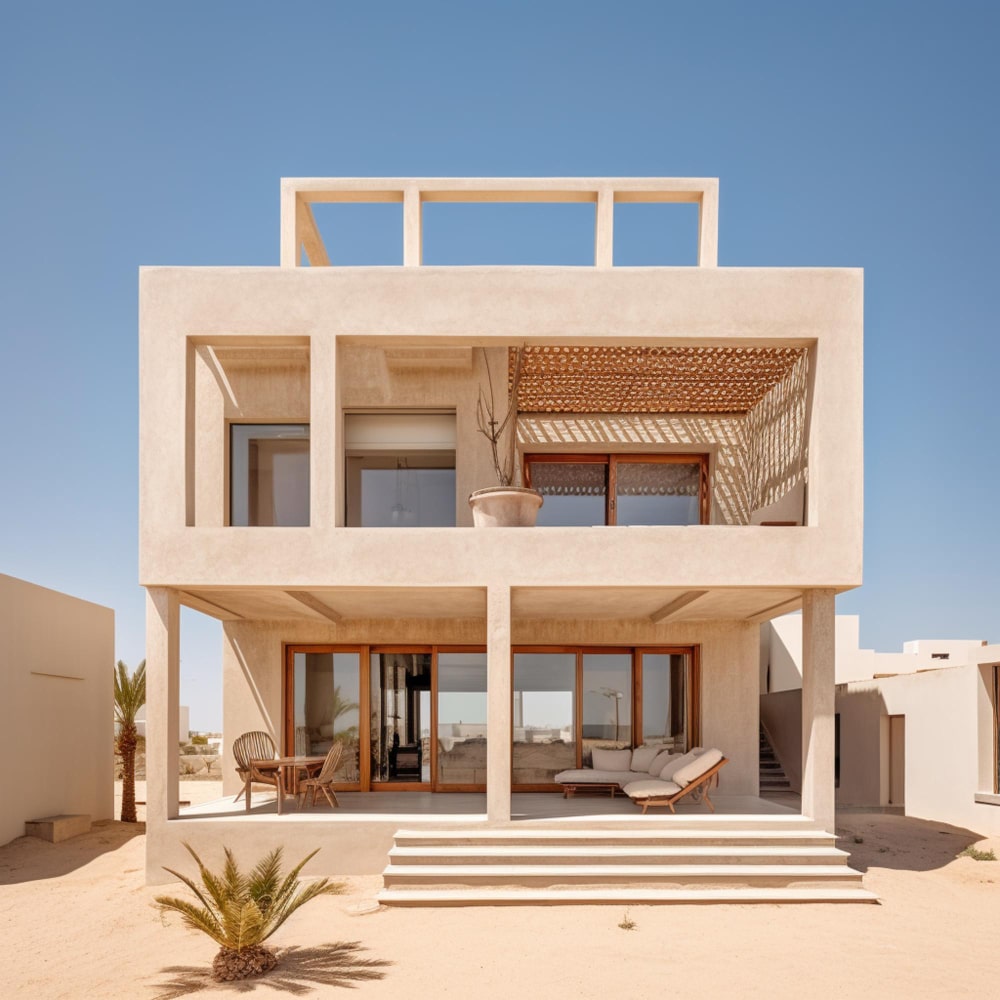 Desert tones evoke warmth and natural beauty. Shades of terra cotta, sand, and muted oranges are perfect for homes in arid climates or those wanting an earthy vibe.
Terra cotta is a reddish-orange colour reminiscent of clay pottery. Use it on exterior walls for a Southwestern look. Pair it with tan or sand-coloured accents.
Sand is a pale, muted shade that provides a neutral but warm backdrop. Accent with terra cotta or orange and natural stone for texture.
Muted oranges, like canyon or adobe, provide rich colour without being overpowering. Tone it down even more with cream or khaki trim.
Desert-inspired colours create a casual, laid-back feel that celebrates the landscape. Keep the overall look cohesive by incorporating natural materials like stone veneer, wood accents, and desert plants in your landscaping. A bold terra cotta front door will make a dramatic statement. With the right touches, your home can radiate warmth and welcome visitors like an oasis.
13- Nautical Navy and Crisp White: For a coastal or Cape Cod style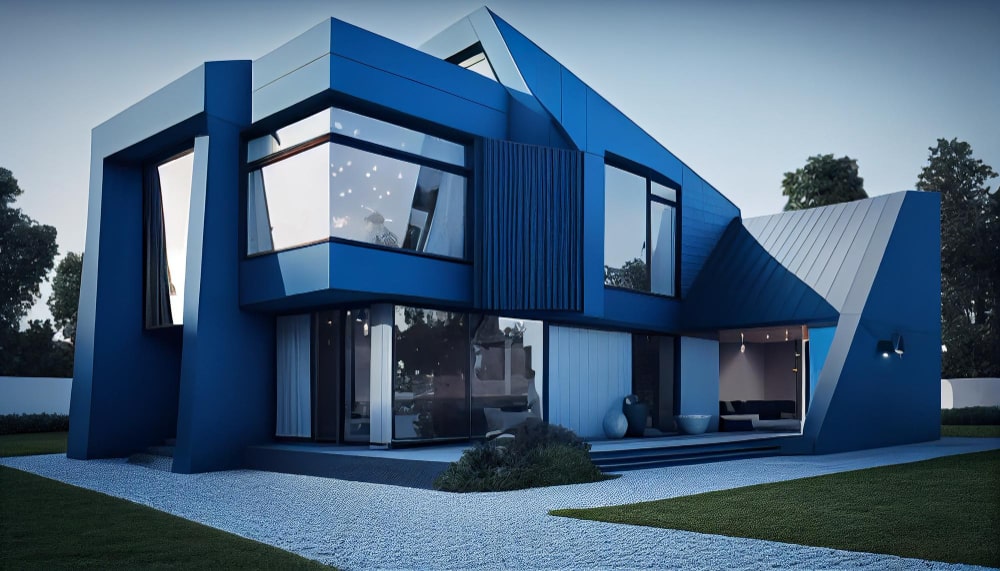 The classic nautical colour combination of navy blue and white is a timeless choice for a coastal home.
Pair crisp white siding or trim with navy blue shutters and a front door for a nautical vibe. The dark navy anchors the light white, creating a bold yet balanced look. For extra coastal flair, add details like a white widow's walk, lighthouse-inspired accents or nautical rope.
Keep the colour palette simple – stick to just navy and white or add only one accent colour like red or yellow. Limiting the number of colours creates a clean, beachy esthetic. For a more muted palette, choose a lighter navy or slate blue with gray undertones instead of a bright royal blue.
A navy and white exterior says 'relaxing beach getaway' and is ideal for homes in coastal areas or those wanting a casual, seaside style. The timeless combination provides lasting curb appeal and conjures feelings of sun, sand and sailing adventures. Your home will be the envy of the neighborhood, whether it's actually on the coast or hundreds of miles away!
14- Olive Green and Stone Gray: Complements a Wooded or Rural setting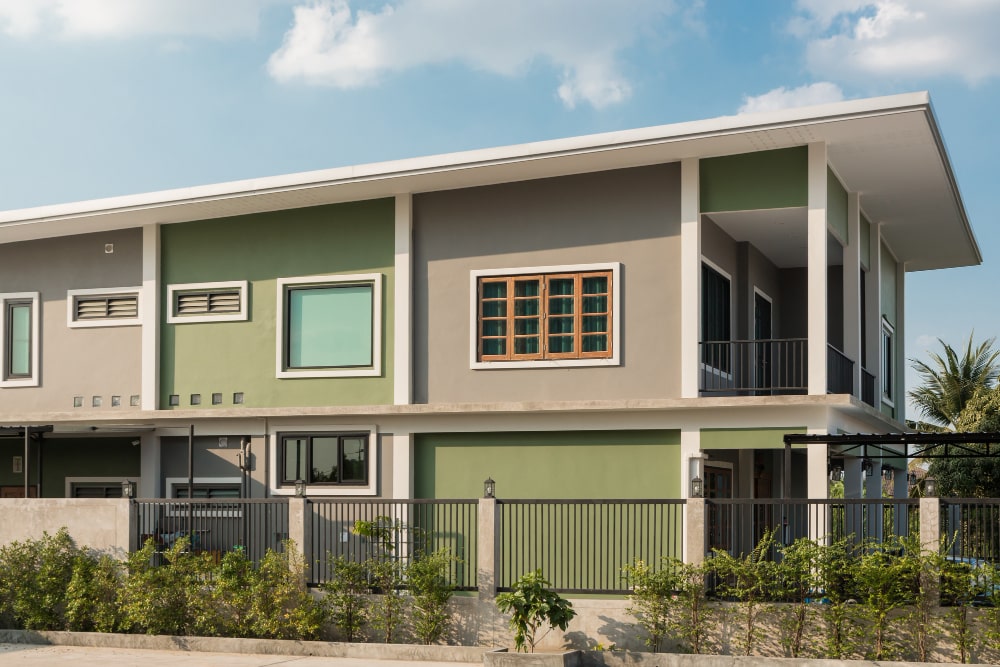 The olive green and stone gray exterior wall paint colour combination complements a wooded or rural setting.
These natural, muted tones blend into the surrounding landscape. The olive green evokes foliage while the stone gray resembles rock or masonry. Together they create a harmonious palette perfect for a cottage in the woods or a ranch house.
For trim, stick with shades a few tones lighter or darker like sage green or charcoal gray. Add warmth with red or orange accents like a barn red front door or terra cotta flower pots. Let the home's architectural details shine through with this understated colour scheme.
Whether your home is modern or traditional in style, olive green and stone gray present a casual, laid-back vibe. They give the impression of an escape to nature without being overpowering. For an updated look, consider olive green with undertones of blue or gray rather than yellow. Pair it with a lighter stone gray for good contrast.
This combination is ideal if you want your home to blend into a natural setting. The muted tones won't detract from surrounding foliage and landscaping. Olive green and stone gray – two classic, earthy colours that complement a wooded or rural esthetic.
15- Barn Red and Dark Brown: Evoke a Charming, Countryside feel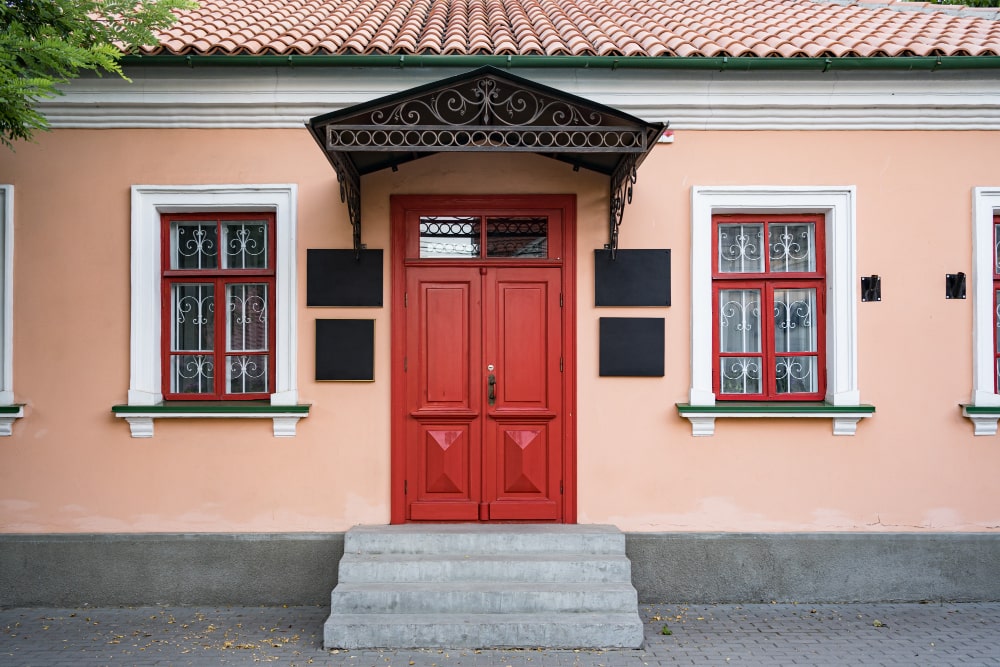 The classic barn red and dark brown colour combination evokes a charming, countryside feel.
Pairing deep, rustic shades together creates an earthy, grounded look. The rich, warm tones of brick red and chocolate brown are reminiscent of historic barns, stables and farmhouses.
For a bold statement, paint the entire exterior of your home in barn red with dark brown accent trim, shutters, doors and porch ceilings. Or use dark brown for the siding and barn red for architectural details like the front door, window frames and porch railings. More muted shades of burnt sienna or terra cotta can be used in place of bright barn red for a softer look. – Dark brown complements most wood tones, so it pairs well with natural wood accents like timber beams, shingle siding or a wooden porch.
This exterior wall paint colour combination is ideal for country, farmhouse or rustic style homes. It gives off a warm and welcoming vibe that is perfect for rural or woodland settings. For a cozy touch in colder weather, add planters of orange and red flowers like geraniums, marigolds or chrysanthemums.
Take Away
You now have 15 striking and stylish exterior wall paint colour combinations to consider for your home. Whether you prefer bold and dramatic, soft and subtle, or trendy and modern, there are options on this list to suit any taste. Take your time reviewing the colour swatches and envisioning how each combo would transform the look and curb appeal of your place. Once you've narrowed down your favorites, buy some paint samples to see how the shades appear on your actual house siding in different lighting conditions throughout the day. With the right exterior color scheme, you'll have neighbors and passersby doing double takes and longing for a fresh coat of paint on their own homes. The perfect wall colors are out there – now go find your match!