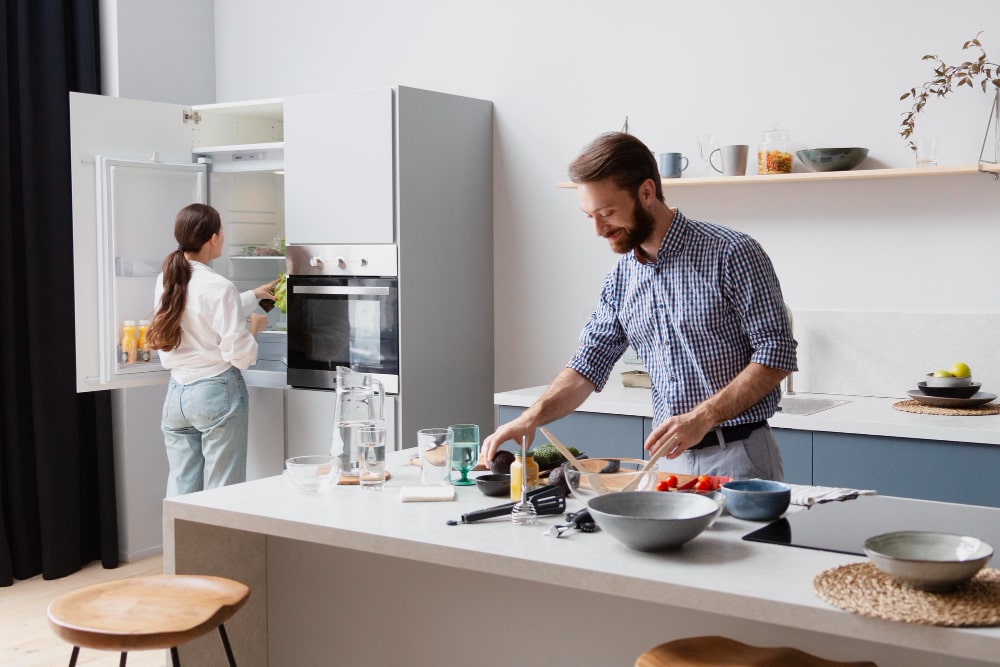 A- Top 9 Brands of Refrigerator
When you're shopping for a fridge, it's important to make sure that the one you select is reliable—that way, it won't break down on you in the middle of making dinner or when your kids have friends over. In the modern marketplace, where there is an overwhelming availability of products and brands competing for consumer attention, it can be tricky to determine which items are worth buying.
Here are the top 10 best refrigerator brands in India, according to our research. We considered each company's reputation, warranty coverage and customer service as well as their products' features and prices when determining this list. When you decide to buy a new refrigerator, having all the information at your fingertips will make it easier for you to choose one that's right for your family.
1- LG – A Trusted Brand for Refrigerators
LG, one of India's most trusted brands for appliances including refrigerators, has a wide range of designs and features on offer. The company manufactures both budget models and advanced versions that appeal to shoppers with different needs. LG offers a variety of refrigerator styles, including French door, top freezer and side-by-side models—as well as bottom mount options. Each style addresses the needs of different customers by providing storage and temperature control features that match their individual preferences.
Energy-efficient LG refrigerators are well-known for lowering electricity costs. Additionally, they have cutting-edge technology including ice makers, temperature sensors, digital displays, and others. To ensure that food stays fresher for longer, these features enable precise temperature adjustment. Additionally, LG refrigerators come with a wide range of security mechanisms that guarantee the safety of your food against germs and other impurities. You may be certain that your refrigerator will endure for many more years with little maintenance needed if you purchase an extended warranty period.
2- Whirlpool – High Quality Low Price Refrigerators
One of the best brands to consider when choosing a refrigerator is Whirlpool. Whirlpool has been a global leader in appliances for more than a century and is famous for providing high-quality products at reasonable prices. Choosing the right refrigerator as per your demands and budget isn't too difficult as these home appliances come in a variety of sizes and designs. Furthermore, they are energy-efficient models that help you save money without compromising on its duties and work. They also have a variety of features like door-in-door storage and French door designs that make managing your fridge easier than ever. Whether you require a basic model or something more sophisticated, Whirlpool has a product to meet your needs.
If you want to trial first or budget is your concern, you can try refrigerator on rent. This way you can save money and once your requirement changes you can return or easily shift to any other model available.
3- Samsung – Innovative and Stylish Refrigerators
When it comes to fridges, Samsung is one of the most popular and trusted brands in India. Apart from the fact that Samsung fridges are reliable, they are also incredibly stylish and innovative.
Samsung refrigerators feature sleek designs, intuitive technologies, and a host of other features that make them stand out from other brands. For instance, their popular Family Hub refrigerator comes with a 21.5-inch touchscreen LCD display where you can check your calendar and grocery list and even watch TV shows while you cook!
Then there's their Triple Cooling System which helps keep food fresher for longer by controlling humidity levels inside the fridge. Samsung also offers customizable storage options to help you store different kinds of food conveniently and efficiently.
On top of all this, their Ultra High-Efficiency Digital Inverter Technology helps save energy while keeping the fridge running smoothly. With all these features and more, it's no wonder why Samsung refrigerators are so popular in India!
4- Bosch – Reliable and Durable Refrigerators
Bosch has always been a topper among refrigerator brands, especially if you are looking for a durable and long-lasting refrigerator. Laced with every modern feature, these refrigerators are powerful and silent home appliances everyone should have. But this isn't all. Bosch keeps working on its style and a vast selection of attractive styles makes them a great choice for people searching for something modern, highly functional and extremely stylish.
German Engineering
German engineering is renowned in the entire world for its advancement and unique inventions and Bosch is no exception. So without any worry, you can be sure that the refrigerator will last long and operate effectively. The materials used in manufacturing these machines are of a high calibre and designed to survive harsh climates. You can rely upon the warranty given by the company. Their promises are real. Nothing would easily malfunction but even if it does, Bosch's professionals will come and fix it in no time.
Smart Fridge Design
Bosch offers a variety of refrigerator models, from sleek counter-depth versions to roomy side-by-side refrigerators. All versions have reversible doors, adjustable feet, soft-closing drawers, and cold-air-tight door seals. Additionally, a lot of refrigerators have movable shelving options so you may change the space as needed.
Quality Inside & Out
Inside the fridge you'll find bright LED lighting that illuminates every corner so you don't have to hunt around for what you need. These refrigerators also feature built-in water filters that help remove impurities from your water supply before it is dispensed through the water dispenser in the door. With a stainless steel interior that helps keep things clean and hygienic, plus twin cooling systems which ensures even temperature distribution throughout each compartment, these are some of the best quality refrigerators out there.
5- Godrej – Affordable and Energy Efficient Refrigerators
If you're looking for an affordable and energy-efficient refrigerator, Godrej is a good option. These fridges come in a range of sizes, from single door to side-by-side models, so there's something for every budget and living space. They also come with energy-saving features like power cool and power freeze, which help keep your food fresher for longer.
High Rating Fridge
Plus, all Godrej fridges come with three-star or five-star ratings, depending on the model — this means they use less electricity and are more cost-effective than models with lower star ratings. On top of that, they have advanced levels of temperature control so you can set different temperatures for different sections of the fridge.
Other features include anti-bacterial door seals that reduce bacterial growth in your refrigerator, as well as advanced digital displays that make it easy to manage your fridge settings. So not only are Godrej refrigerators reliable and efficient, they are also easy to use.
6- Haier – Compact and Budget Friendly Refrigerators
As a leader in electronics and home appliances, Haier is probably a name you are familiar with. The business has long been one of India's leading refrigerator companies and provides a variety of models with popular features. Whether you need a small refrigerator or one that is affordable, Haier provides everything you need.
Budget Friendly Fridge: Haier refrigerators offer great value for money with their budget-friendly models that start at just Rs 10,000. Not only are these Fridges affordable but they also have all the necessary features that make them durable and energy efficient.
Compact Size Fridge: If your kitchen space is limited, then Haier fridges are your answer as they come in small sizes that can fit into tight corners or be tucked away in cabinets without occupying too much room.
Features: In addition to its affordability and compactness, Haier fridges come with useful features such as multi-airflow cooling that circulates air evenly throughout the fridge, adjustable shelves for convenient storage, and an anti-bacterial gasket to keep food fresh for longer periods of time.
So if you are looking for an affordable, reliable refrigerator with all the features you need to fit into your kitchen space perfectly, then Haier is definitely one of the top brands worth considering.
7- Panasonic – Sturdy and Long Lasting Refrigerators
When it comes to refrigerators, reliability is a must. That's why Panasonic is a great choice; they are known for their sturdy and long-lasting refrigerators. They have a wide range of models that suit all budgets, so no matter what your needs are, there's something for everyone.
Fridge with Efficient Cooling
The unique cooling mechanisms of Panasonic refrigerators ensures efficient cooling and fast ice making. It also offers energy savings – their latest models offer up to 20% energy savings compared to non-inverter models.
Advanced Inverter Technology Fridge
The advanced inverter technology in Panasonic fridges come with features like quick freeze and fast cooling, which help keep the food fresh for longer periods of time.
Multiflow System
Their Multiflow System allows for cold air to circulate in every corner of the fridge – from the freezer to the vegetable box – providing uniform cooling throughout. This feature helps keep your food fresh and optimizes energy consumption at the same time.
When you buy a Panasonic refrigerator you know you're getting a product that will last you years without any major issues. From efficient cooling systems to advanced inverter technology, there are plenty of reasons why Panasonic refrigerators stand out in the market today.
8- Electrolux – Stylish and High Performance Refrigerators
Do you desire a sleek, effective refrigerator? The brand for you in that case is Electrolux. They manufacture premium refrigerators with a variety of distinctive characteristics, such as cool lighting and exceptional cooling.
The following are some distinguishing characteristics that set Electrolux refrigerators apart:
With inverter technology, the compressor operates at varying speeds, improving energy economy and lowering noise levels to prevent disruption of your sleep.
Food is cooled rapidly and keeps its freshness for a longer period of time thanks to the TwinTech cooling technology, which maintains a constant temperature on each tier of the refrigerator.
Adaptive Defrost System: This feature optimizes cooling performance by automatically detecting when ice or frost needs to be defrosted.
Super Freeze & Super Cool functions: These two features allow you to quickly lower or raise the temperature in the fridge to suit your needs in no time at all.
Luxury interior design: From wooden shelves to steel finishing, Electrolux refrigerators boast stylish designs that are sure to complement any kitchen decor.
If you're looking for a refrigerator that offers a combination of style and top performance, then an Electrolux fridge is definitely worth considering!
9- Hitachi – High Quality for the Right Price Refrigerators
Hitachi refrigerators are renowned for both their high quality and low price. To fit any budget, Hitachi refrigerators are available in both conventional and more contemporary styles. Since a few years ago, the company has dominated the Indian refrigerator market, providing a range of models with attributes including energy efficiency, auto-defrosting, temperature control, and movable shelves.
The refrigerators created by Hitachi are constructed from premium materials and have cutting-edge technologies that guarantee secure food storage and increased product lifespan. They also provide ample storage capacity to help you store large amounts of food conveniently.
Hitachi also provides excellent customer service and after sales support, so you can rest assured that if you ever face any issues with your refrigerator, the company is there to help you resolve them quickly.
As one of the top 10 refrigerator manufacturers in India, Hitachi distinguishes out for providing exceptional quality at a competitive price. Hitachi ensures that clients receive the best value for their money without sacrificing performance or convenience thanks to their cutting-edge technologies and dependable customer service.
B- Understanding the Importance of Warranty, Price, and Lifespan
Before diving into the specifics of each brand, it's important to grasp why warranty, price, and lifespan are significant considerations when purchasing a fridge. The warranty provides assurance and protection in case of any defects or malfunctions, ensuring that you won't incur additional expenses. Price, on the other hand, is a deciding factor for many buyers, as it directly impacts their budget. Finally, the lifespan of a refrigerator indicates its durability and long-term value, making it essential to choose a brand known for reliability.
Are you in the market for a new refrigerator? Whether you're moving into a new house, redoing your kitchen, or just shopping for a better model, it's important to make an informed purchase. Refrigerators can be expensive, and no one wants to end up with a lemon in their kitchen.
But there's more to consider than just price; you need to look at warranty and life span as well. In this article, we'll explore the warranty price and life span of some of the top brands of refrigerators so that you can make an informed decision when purchasing your new refrigerator. We'll look at the warranties offered by LG, Samsung, and Whirlpool— three of the biggest companies in refrigeration—and compare their warranties side-by-side. So let's dive into it!
1- LG Fridge: Warranty, life span and price
LG has been a trusted name in the refrigerator industry for a long time now. Trusting all products offered by LG is quite easy as their quality test standards are really high and proven for not falling for decades. Reliability, great warranties and long life span are some key points which you do not have to worry if you have decided to choose LG refrigerator.
Let's look at the details of their warranty and life span:
Warranty: LG provides an industry-standard warranty period that typically ranges from 1 to 5 years. Over 90% of their parts are covered for five years after purchase, and many major parts are covered for up to ten years.
Life span: On average, an LG refrigerator can last 11-13 years with proper care and maintenance.
Price: LG refrigerators range in price from INR 30,000 – INR 2,30,000 depending on features and size. Usually more expensive models come with better warranty coverage and longer life spans.
Overall, LG refrigerators are a great investment because they are reliable appliances with good warranties that should last you many years.
2- Samsung Fridge: Warranty, life span and price
When it comes to technology, brand loyalty is sometimes hard to come by—unless you're talking about Samsung refrigerators. The South Korean tech giant has been producing some of the world's best refrigerators for years now, and their life span and warranty certainly make them well worth their price tag.
So what can you expect from a Samsung refrigerator? First of all, their warranties are incredibly robust—normally five years or more. This covers repair costs in the event of any manufacturer defects that may arise during the life span of the refrigerator. And speaking of life spans, expect your Samsung fridge to last up to 10 years or longer with proper maintenance.
The price tag for these luxury appliances is also very reasonable, especially if you consider how long you can expect it to last and the level of protection offered by the warranty. Plus, with all the advanced features that come with a Samsung fridge (such as Twin Cooling+, Smart Divider and energy-saving technology) you can rest assured that investing in one will be an investment for many years to come.
3- Whirlpool Fridge: Warranty, life span and price
When it comes to buying a new refrigerator, you may be wondering about the warranty, life span, and price of the different brands available. One of the top brands on the market is Whirlpool refrigerators.
Whirlpool offers its customers a one-year limited warranty on parts and labor. This ensures that any defects or malfunctions due to manufacturer's parts will be taken care of during that first year, giving you peace of mind for at least a year with your new refrigerator. They also offer an upgraded five-year extended warranty at an additional cost.
The life span of Whirlpool refrigerators is dependable, with an estimated 15 years before problems such as decreased efficiency or thermostat issues start occurring.
The price range for Whirlpool refrigerators ranges from INR 60,000 to INR 1,50,000 depending on the size and style you choose. That means you can find a great refrigerator without breaking the bank!
4- Bosch Fridge: Warranty, life span and price
Bosch should be high on your list if you're searching for a refrigerator with a long lifespan, an excellent warranty, and a reasonable price.
Bosch is one of the greatest brands on the market when it comes to warranties. You may be sure that you're covered if something goes wrong because they give up to 5 years of parts and labour coverage on all of their refrigerators.
If taken care of and maintained properly, Bosch refrigerators have a life expectancy of up to 15 years. That exceeds the length of some other well-known brands on the market!
Last but not least, Bosch refrigerators are shockingly inexpensive. There are models available for between INR 45,000 and INR 2,00,000.
5- Godrej Fridge: Warranty, life span and price
When it comes to refrigerators, one of the top brands is Godrej. Their warranty period is a staggering 5 years and they also guarantee a life span of 8 to 10 years—which is amazing for their price range.
Godrej refrigerators offer great value for money—they offer the highest quality performance with their energy efficient technology and modern designs at competitive prices. Plus, their customer service is one of the best in the industry.
Godrej offers a range of models with different features to suit different lifestyles and budgets, so you're sure to find something that fits both your needs and budget. From the stylish Neo-FRESH to the slimline Personal plus, there's a variety of options available for everyone.
In terms of pricing, Godrej offers very competitive prices starting from as low as Rs 8500 to as high as Rs 65000—an extremely reasonable price range for such good quality products. With this kind of warranty period and life span coupled with their competitive prices, Godrej refrigerators are definitely worth considering when looking for a durable solution for your home.
6- Haier Fridge: Warranty, life span and price
You might not be aware that Haier is a top choice among refrigerator brands. For the majority of its refrigerators, it provides a one-year parts and labour warranty, with a five-year warranty available for some higher-end models.
In addition, Haier refrigerators are made to last up to 10 years or longer, making them a perfect option if you want a fridge that will last for a longer period of time. Haier refrigerators also have some of the lowest prices on the market, with costs starting at about INR40,000 and going up to approximately INR 1,30,000.
Therefore, Haier is undoubtedly a brand to take into consideration if you're looking for a cheap refrigerator that will serve you well for many years. Haier offers everything, including large warranties, a long lifespan, and affordable rates.
7- Panasonic Fridge: Warranty life span and price
Panasonic is a reliable brand to consider when buying a refrigerator. They provide a range of refrigerators, each with unique features and advantages, but they all share a long warranty and life term.
The 10-year warranty that Panasonic refrigerators come with gives you the assurance that your investment will be safeguarded for many years to come. Additionally, their refrigerators have a 15-year lifespan, so you'll have plenty of time to enjoy one before having to replace it.
Comparatively speaking to other leading brands, Panasonic refrigerator prices are also reasonable. There is a model for any budget, with prices ranging from INR 45,000 to over INR 2,50,000. They provide affordable prices and extensive warranties, so you can be sure that investing in a Panasonic refrigerator will be worth your while.
8- Electrolux Fridge: Warranty, life-span and price
Do you know how much more reliable and long-lasting Electrolux refrigerators are compared to other brands?
When it comes to warranties, Electrolux offers one of the most comprehensive warranties in the industry. They offer 10 years on parts and labor for Sealed system components, 5 years on all other parts, and 1 year on labor. This warranty puts Electrolux at the top of the pack when it comes to reliability—you know that if your fridge breaks down, they'll back it up with their warranty.
How about lifespan? The typical lifespan of an Electrolux refrigerator is up to 13 years, while some models can survive much longer. Everybody whoever is investing in appliances as costly as refrigerators expect durability and easy maintenance.
Electrolux has some of the most competitive prices on the market. They provide prices that are competitive with those of other brands without compromising on longevity or quality.
9- Hitachi Fridge: Warranty, life-span, and price
Laced with impressive features, long warranties and life spans Hitachi refrigerators are everything you are looking for in a fridge. Hitachi refrigerator comes with a warranty for up to five years. And with proper care and maintenance, you can expect it to last for many years beyond that warranty.
Hitachi fridge are usually priced in the mid-range category for quality refrigerator brands. They are typically cheaper than higher end brands like Samsung or Bosch, but more expensive than some more budget-friendly options like Godrej or Whirlpool.
So when you compare warranty coverage, life span, and price all together, Hitachi refrigerators strike a perfect balance of quality and affordability. If you're looking for a reliable fridge with great warranty coverage at an affordable price, then Hitachi is definitely one brand worth considering.
C- Best Time & Avenues to buy Refrigerator
What is the best time to buy a fridge? If you are in a hurry and there is an emergency, try renting fridge instead of buying. This way you can wait for the discount season and save money.
The best times to buy a fridge are usually in August and September, when retailers often introduce new models and clear out their old inventory.
Another great time to buy is when major appliance manufacturers introduce new lines of fridges at the start of spring and summer – they'll often offer discounts on last season's models when introducing new ones.
Finally, if you're looking for used or refurbished fridges, spring cleaning season is typically a good time to look – you can often find great deals on Craigslist or second-hand stores during this period.
Doing a proper research ahead of time and compare prices across different retailers before deciding on brand and model might come really handy.
1- Out With the Old: When to Replace Your Fridge
Being the biggest appliance and investment in your kitchen, a refrigerator must be researched and maintain thoroughly. When is the right time to repair and when is the right time to replace must be calculated properly to save money and a lot of hassle.
Experts says that a new refrigerator should last about 10-15 years, though this can vary depending upon usage and maintenance. The general rule is, if your fridge is more than 12 years old or having issues with cooling, then it's likely time for a replacement.
Sometimes, however, you may not have the means to buy a brand-new refrigerator right away. This would be the best time to explore fridge on rent. Renting home appliances is relatively a new concept, yet if you are not in mood to spend a lot of capital, renting fridge is a great option.
2- Online Retailers: Convenience and Competitive Pricing
Online retailers are making it easier than ever to shop for your new fridge. All different brands and models are present online with their features, price, and warranty mentioned in detail. You can access every information from the comfort of your home and take your own time before deciding. Comparing different dealers is also easy without having the pressure of a salesman breathing down your neck, expecting you making a quick decision.
But what should you be aware of when shopping this way?
Check Reviews: Checking reviews can immensely help, just pay close attention that the review should be from a verified user. Also check out the retailer's return policy just in case something isn't quite right with your purchase. It's also smart to compare prices across different sites—you might find that one is offering a better deal than another!
Shipping Fees: Make sure you check potential delivery costs before you opt into buying something, so that you're not unpleasantly surprised after the fact. Many online retailers offer free shipping, but sometimes there may be extra fees involved with getting your product delivered. Read everything carefully.
Timing Matters: Be aware of sale times and promotions offered by different online retailers. If you want to get the best deal on your new fridge, timing is key! It might be worth holding off on making a purchase until an online retailer offers a promotion or deal on their fridges—you could save yourself a bundle as a result.
3- Home Appliance Stores: Selection and Expert Advice
A home appliance store is your best bet if you are looking for an expert advice that only an appliance store can offer. You should explore this avenue especially if you are looking for a high-end or specialized refrigerator. These stores typically carry refrigerators in various sizes and styles from leading brands, giving you a wide variety of options to choose from.
Additionally, most home appliance stores have knowledgeable salespeople on hand to answer any questions you might have. They can help you understanding the features and size best suitable to you as per your eating habits and number of family members. But please check their delivery and installation policy. most big retailers provide free delivery and installation. So do not settle on anything less.
4- Warehouse Stores: Bulk Purchasing Power
Although it's pretty unconventional and rarely heard, yet if you can you should try to check warehouses as well. Decide on what model and brand you want, try to look for a warehouse and get in touch with the manager or person in charge. the price difference you would find is amazing. But buying from warehouses has its drawbacks. As they wont deliver for free and they won't be able to provide the installation as well.
If you decide to go the warehouse store route to buy a fridge, here are a few tips to keep in mind:
Research which brands the store carries and read online reviews so that you know exactly what type of quality to expect from each model
Ask questions! If you have any doubts about a model, ask the experts at the store for more information and advice.
Make sure that the size of your new fridge fits your space perfectly—measure the area first and give yourself enough room to open the doors easily
Price match if you can—many warehouse stores offer price-match guarantees within 14 days after purchase
Don't limit yourself – look at other products from the same manufacturer and see if they offer any discounts on bundles or package deals.
So whether it's convenience or price that matters most, take advantage of the buying power in warehouse stores when considering your next fridge purchase!
5- Private Sellers and Secondhand: Hidden Deals and Negotiation Opportunities
You might want to consider buying a fridge from private sellers or secondhand.
When it comes to private sellers, the best time to buy is usually towards the end of summer or winter. At these times, residents tend to be replacing their old fridge with a new one, so you could find yourself a great fridge at an amazing price. Just make sure you check for signs of wear and tear before buying.
Finally, remember that negotiation is always on the table when dealing with private sellers and secondhand sources – so don't be afraid to haggle! With some luck and perseverance, you could get an even better deal than expected.
Parting Words
Choosing the right fridge can be a tricky business. A good brand will provide you with quality products, with features that meet your every need. Not to mention, the after-sales service will take care of any issues you may have post-purchase. By keeping all the attributes in mind and doing your research, you can narrow down to the best brand for your needs.
The top refrigerator brands in India are the perfect place to start your search. Keeping quality, energy efficiency and budgeting in mind, you'll be able to identify the ideal fridge for your needs. You can also compare their features, price, and user reviews to make an informed decision. Don't forget to also keep safety in mind while looking, and make sure you're buying a refrigerator that comes with the necessary safety features. Happy shopping!