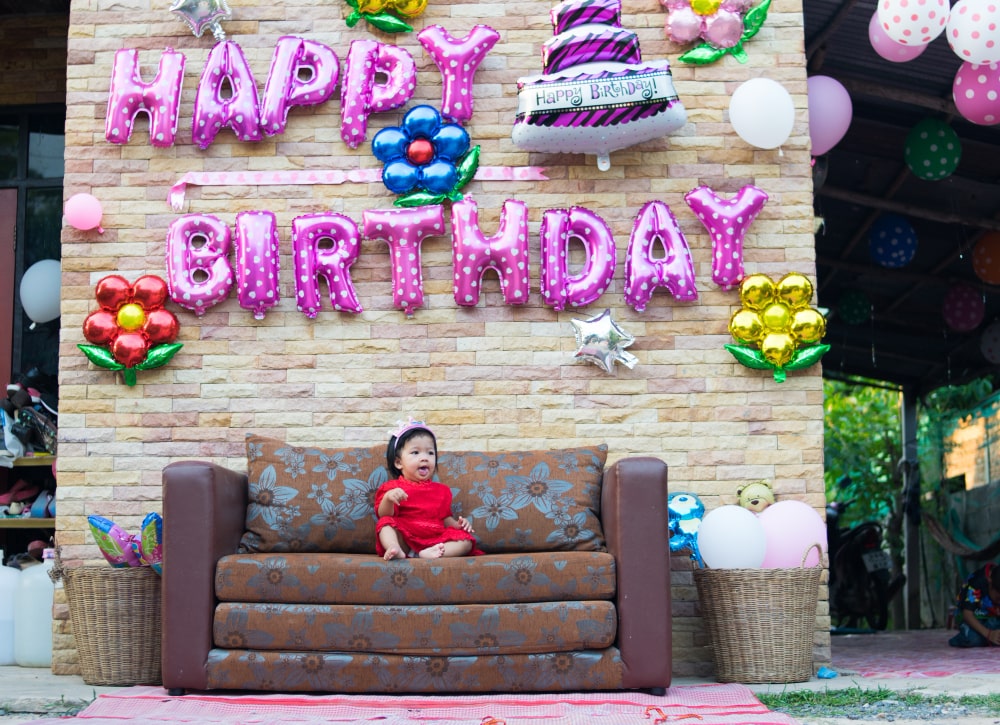 If you're planning a special occasion for the birthday person in your life, it's never too early to start thinking about decor! The beauty of decorations is that they can be as small or as grand as you want them to be. You can fill an entire room with balloons and streamers or keep it small and to the point.
No matter which direction you decide to go in, a little preparation and planning will go a long way in turning your vision into a reality. In this article, we'll help you tackle everything from choosing the perfect theme, budgeting for your decorations, selecting balloons and backdrops, lighting up the room, and setting up (and cleaning up) the party space. We'll also share common mistakes to avoid — because no one wants their celebration spoiled by any mishaps. Let's get started!
1- Choose an Exciting Birthday Party Theme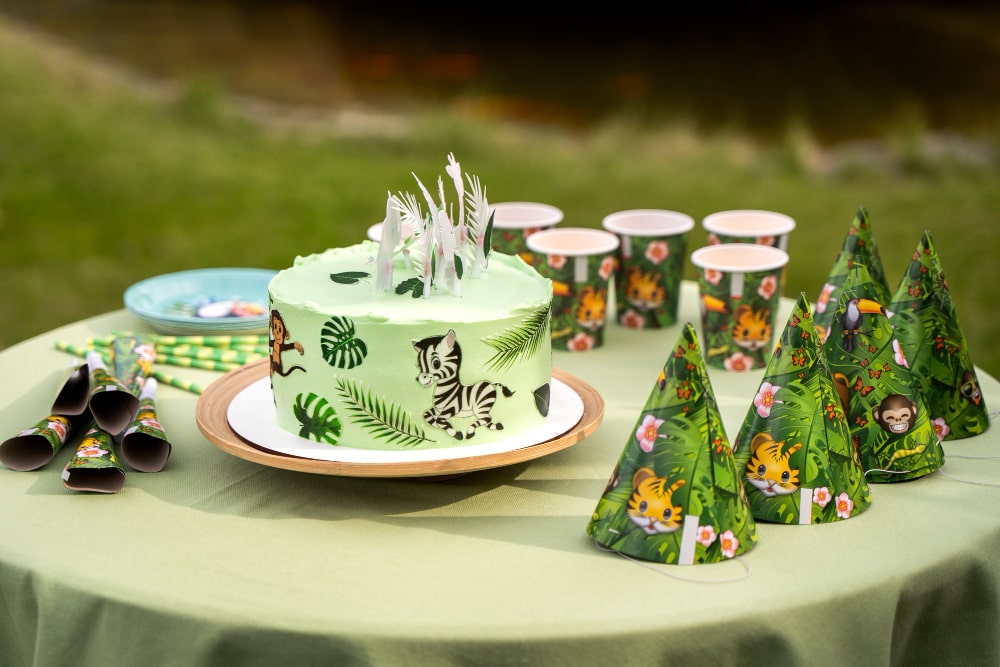 Having a themed party is a great way to make your child's birthday memorable. It adds extra excitement to the celebration and allows you to customize the decorations and activities to your child's taste and interests. Plus, it can be a great way for your little ones to show off their own personal style—whether it's a superhero theme, rock star theme or princess party.
When choosing a theme, think about what your child is into and brainstorm ideas that will excite them. Popular birthday party themes include movie characters, animals, art-focused themes such as abstract art or painting, and outer space themed parties. Don't be afraid to get creative—you can often add some personal touches for an even more memorable celebration. For example, if you are having an animal-themed party, you could incorporate stuffed animals into the decorations or have each guest bring their own stuffed animal!
2- Set a Budget for Your Birthday Party Decorations
As with any party, you'll want to set a budget for your birthday decorations. To help save money, consider doing some DIY decorations. You can make a lot of the decorations yourself and even involve the birthday guest of honor in the activity. If you keep the budget low, this will also leave room in the budget for any other party items or activities you have planned.
You can also look for ways to save money on store-bought decorations, such as shopping at dollar stores or discount stores and taking advantage of sales and coupons. Additionally, you can use online resources like Pinterest for ideas on how to cheaply decorate for a birthday party.
To get the best bang for your buck (and stick to your budget!), be sure to make a thorough list of what you need ahead of time before purchasing any items and try not to impulse buy unnecessary decorations. Choosing the right decorations is key when it comes to planning an amazing birthday celebration!
3- Balloons and Streamers: Fun Birthday Party Staples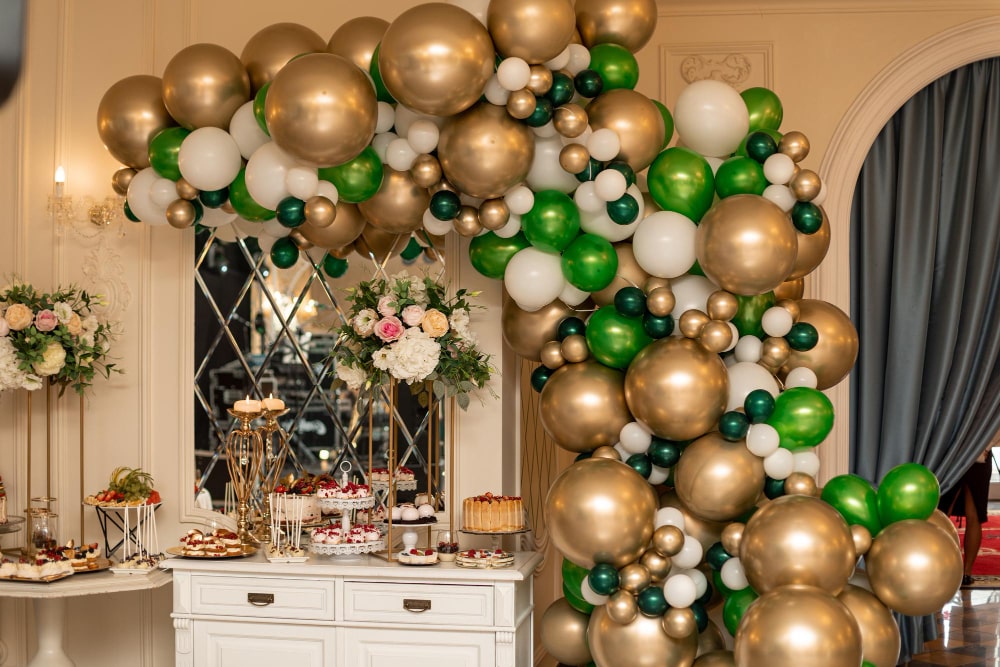 When it comes to birthday decorations, balloons and streamers are a must-have. They come in all sorts of colors, sizes, shapes and designs, so you can really customize your decor to fit the birthday theme.
Types of Balloons
There are foil balloons that come in all sorts of shapes — like animals, numbers, letters, cars and more — that can be arranged into creative balloon bouquets. Then there are regular latex balloons that come in every color imaginable. You can also mix and match both types for a unique take on birthday decorations!
Balloon Arrangements
If you decide to go with foil balloons, aside from making a balloon bouquet, you can spell out the guest of honor's name or age in foil letters. If you want to get really fancy with the balloon bouquets you can use weighted bases or attach them to something like a potted plant or wreath.
Balloon Games and Activities
Using balloons at your party is not only fun for decorations — they can also be used for games or activities as well! You can play traditional games like Hot Potato or even create your own birthday-themed game using balloons. Activities like creating balloon sculptures of animals or playing balloon tosses create extra entertainment at kid's parties – they'll love it!
Using balloons and streamers is an easy way to add fun elements to your birthday party decorations that everyone will love!
4- Create a Stylish Table Setting for Guests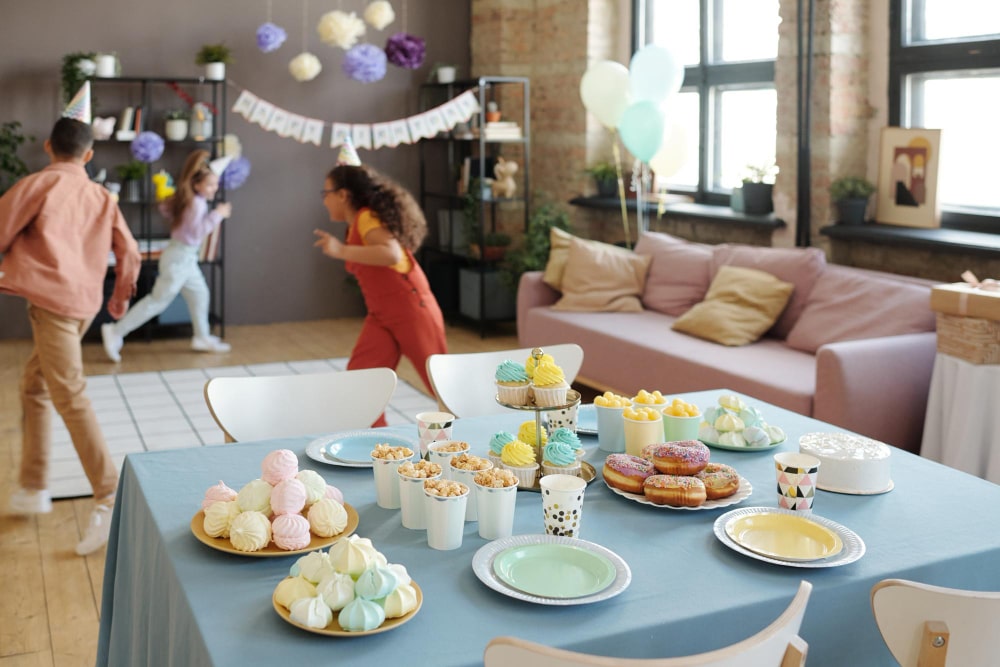 As the host of the party, you'll want to create a stylish table setting for your guests. This is where the right tablecloths and table runners can help you transform any space, while ensuring that the décor looks put together.
When it comes to plates, cups, and utensils, there are endless options available so that you can choose colors and styles that reflect your theme. And, of course, centerpieces are also key in completing a stunning tablescape. Whether you're starting with a simple vase of flowers as the centerpiece or crafting an elaborate floral arrangement or sculpture from everyday items around the house—with a little creativity, it's easy to make your decorations stand out from all others!
5- Set the Scene With an Eye-Catching Backdrop or Photo Booth
Now that you've chosen your theme and budgeted for the decorations, it's time to set the stage by adding some backdrops and photo booths. No birthday party is complete without them! They add a touch of beauty, whimsy, and—of course—fun!
Types of Backdrops and Photo Booths
When it comes to backdrops and booths, your options are virtually endless. With a professional setting, you can go all out, or you can get crafty with a DIY backdrop. To really wow your guests, you can even rent decorations like balloons, banners, garlands, or canvas paintings. For amazing shots, don't forget about interesting accessories like hats, masks, and spectacles.
DIY Backdrops and Photo Booths
If you're on a budget and want to give your photos an extra touch, consider making your own DIY backdrops. All you need are some cardboard boxes (or poster boards), colorful paints or markers and construction paper to make amazing backgrounds that'll make your party photo album really pop! You can also get creative with fun items such as fairy lights, fabric pieces or even outdoor plants. With some creativity and elbow grease, you can make sure all your guests take home a party souvenir they won't forget!
6- Keep the Party Going With Entertainment and Activities
Parties are about celebration, and of course, a bit of fun! Keep the party going with some entertaining activities and games. There are plenty of entertaining options depending on the age of the attendees, but remember that some may tire out earlier than others.
Party Games
Party games are popular options for birthday celebrations. They're great for getting kids involved during a birthday party and allowing them to have fun while bonding with each other. Some popular party games include scavenger hunts and pinata's. Consider whether you want to buy a game set or make your own.
Entertainment Options
For a more grown-up atmosphere and slightly older kids, you can add different forms of entertainment that still keep everyone engaged. Karaoke is always a crowd pleaser and you could also hire a local band or DJ to provide music and create an energetic atmosphere for the guests.
DIY Activities
If you're feeling creative, there are plenty of DIY activities too! For instance, you could get the kids making their own arts and crafts or create photo booths for lots of laughter snapping photos as memories to look back on in years to come.
7- Invitation and Thank You Cards
Once you've chosen the theme for your birthday party and figured out the decorations, it's time to think about the invitations and thank you cards. Sending out beautiful and personalized invites is an easy way to get your guests excited for the big day!
Types of Invitations
First, you have to figure out what kind of invitations you're going to send out. Paperless? Mimicking tickets or boarding passes? Printed on cardstock? Each option has its own special charm, so think about what fits best with your party theme.
Creating Personalized Invitations
Once you've figured out the type of invitation you want to use, it's time to start personalizing them! Think about adding a photo of your birthday boy or girl along with a sweet message that sets the tone for the party. This is also when you can start getting creative with fonts, colors, and design elements related to your birthday theme.
Thank You Card Ideas
Finally, don't forget about thank you cards after this awesome birthday bash! You can choose a matching design as with the invitation or go with a completely different style. Writing heartfelt messages expressing appreciation will surely make your guests feel extra special. They might even want to save it as part of their mementos from this special celebration!
8-Common Mistakes to Avoid
Throwing a birthday party isn't as easy as it sounds. There are a lot of details to consider and any mistake you make can often impact your entire party. To make sure you avoid the top mistakes, here are some things you should always keep in mind while planning and executing your decorations:
Overcrowding the Space
When planning, you don't want to overcrowd the space—you want everyone to be able to move around and enjoy themselves at the party. Make sure there is enough room for guests to comfortably walk around, eat and dance without feeling like they are stepping on each other's feet.
If you are arranging for seating, make sure there is reasonable distance between all the chairs. If you are annoyed and don't want to rent those old used party chairs, rent good quality furniture from any online furniture rental company. They deliver, install and pick in a blink of eye.
Focusing Too Much on Decorations
The decorations are important—but remember that it's all about celebrating the birthday person first and foremost. If you focus too much on decorations, it becomes about how impressive your decorating skills were, rather than how great it was for your loved one to celebrate their big day with friends and family. So consider how much time and money you should be spending on decorations before going overboard with them.
Forgetting About the Birthday Person
It goes without saying that above all else, this is the birthday person's day—so don't forget to include them in decorations or even activities! Whether it's having personalized items like their name or face printed on items or even just specific elements of decor that reflect their individual tastes and interests, making sure they feel included will make a world of difference.
Parting Words
Whether you're planning a small family gathering or a larger birthday celebration, it takes careful planning to pull everything off. If you remember to choose a theme, set a budget, focus on decorations that make a statement, and be aware of common mistakes to avoid, your party will be a hit with the birthday honoree.
It's also important to take care of details like decorations, entertainment, and activities, as well as invitations, thank you cards, and setup and cleanup. With the right planning and execution, you'll be well on your way to planning the perfect birthday party.