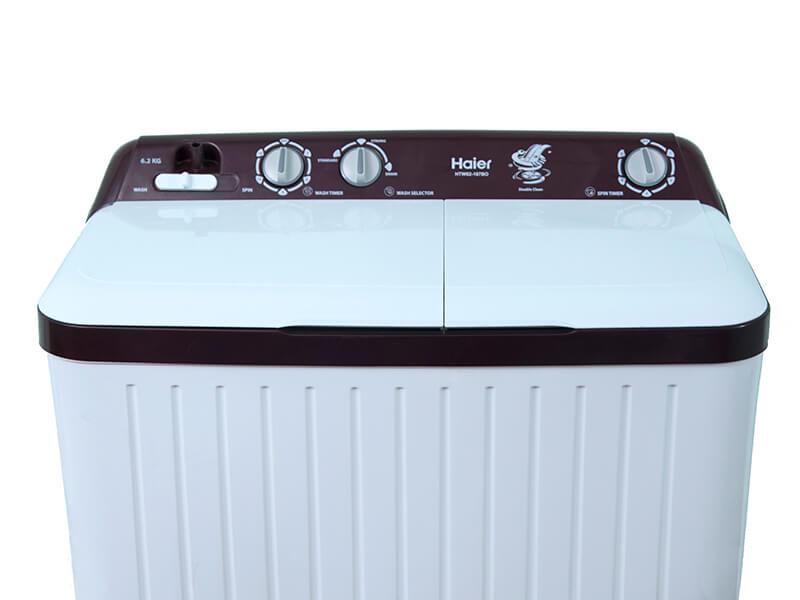 Planning on getting a washing? We understand what a hectic task it can be to search, select and settle down on a perfect washing machine, especially with all the latest technology hitting the markets. It's great to have a washing machine at home, which is both a tremendous improvement over spending all the extra time and energy into hand-labour and paying heavy money on getting your clothes washed from a service provider. Whether it's a compact washer or a large capacity machine, you're always going to appreciate the convenience.
Of course, when you're getting a washing machine for yourself, you want it to be certain that you are making the right choice on it and getting that one washer which is of perfect size, capacity, style and quality, which fulfils all your laundry requirements. But hold on, before you decide to pick any washing machine, let us tell you that it's not just about brand, size or price of the machine. There is a lot more that goes into getting the right washing machine.
You'd think you have all the information that you need for choosing a washing machine. Some of that information would be based on personal experience, like, you may have used LG or a Samsung washing machine before. Some of it would be based on good words or reviews from friends, family or even the repair guy, who at some point may have shared his opinions.
Whatever it may be, you walk into a store ready with your info, thinking it's an easy task but soon, you're baffled with so many choices. Therefore, it is always good to have done a thorough research before making a decision and we're here to help you make that decision. Here are some important questions you should ask yourself, that will help you.
What Type of Washing Machine Do You Want?
First things first, decide which type of washing machine suits your needs – Fully automatic washing machine or semi automatic washing machine? Most of the people prefer to have a fully automatic washing machine because there is no need to check the washer during the cycle. All you have to do is load the detergent compartment, switch the machine on and that's it, you're done. The clothes only need to be put out for air drying. A fully automated washing machine gets further divided into two sub-categories
Top Load Washing Machine
The lip is on the top, to load the clothes. Needs more water for washing and takes a longer time to complete washing cycles. A better option for the ones with back or joint or knee pain issues.
Front Load Washing Machine
The lid is in the front to load clothes. Requires less water and less detergent and also have shorter washing cycles.
A Semi Automatic Washing Machine on the other hand has two tubs. The clothes need to be transferred from the tub to the dryer/spin tub manually. It may seem a little more tiring to operate, as compared to the fully automated one, but you save on money, electricity usage and water consumption. Though, if you want a fully-automated machine but are compromising due to budget issue, you can always consider taking a washing machine on rent at an affordable rate.
You can compare these machines and select the one that suits your laundry needs.
What are the Must Have Functions of the Best Washing Machine?
One of the most important features of a washing machine is the wash settings available. Take a look at some essential ones which you should have in your washing machine:
Wash Cycle
Most of the new age/modern washing machines come with a gentle or delicate wash cycle for delicate fabrics. There are wash cycles for heavy fabrics as well, which are pre-programmed.
Spin Cycle
In washing machines, spin cycles are measured in rotations per minute (RPM). The higher the RPM, the better the washing machine will dry your clothes. In some models, you can set these cycles manually while some machines decide which spin cycle to run.
Fuzzy Logic
With technology advancing every day, washing machines have become intelligent too. Based on the weight of your clothes, the machine knows how much water or detergent has to be used and how much time to set to wash the clothes. This saves your time because you don't have to set the setting each time you load the laundry.
Pre-Soak
Some washing machines allow you to soak the clothes for a specific duration before the wash cycle starts. You can use this feature if you have a really dirty load.
Temperature Control
Some of the latest models of the washing machine, especially the front loaders, come with temperature control feature. This means you can wash your clothes in warm or hot water based on your requirements. This not only kills the bacteria but it also cleans the clothes really well. Use this feature only when necessary because it consumes a lot of energy in heating water in the washing machine.
Besides these, also look out for some of these important features –
Hard Water Processing
Hard water is a common problem and it is very hard to dissolve the detergent in it. As a result, a white layer deposits of salt gets accumulated around the drum, over the period of time, and supply pipes end up choking. But many new models of the washing machines have hard water treatment technology, which turns hard water into soft water. Look out for those.
Energy Efficiency
The energy efficient machines are the ones which save your electricity bills and also improve the overall performance of cleaning clothes. Higher star rating washing machines point to higher energy saving. For instance, a 5-star machine saves more energy than a 4-star machine. Though the more the stars, the more expensive the washing machine.
Auto Detergent Dispenser
This is the feature to look out for if you are indecisive about optimum quality detergent in the washing cycles because the less detergent can affect the quality of cleaning, lead to discolouration. On the other hand, a higher quantity of detergent increases water requirement and depletes the detergent faster. So you can choose an auto detergent washing machine because it will automatically determine the required quantity of the detergent based on loading sensors.
What Smart Features are Included in the Washing Machine?
Apart from the must-have features, there are a lot of smart features which you can consider looking at. Here are some of them –
Quick Wash
This feature takes about 15-18 minutes only to wash around 1 to 1.5 kg of clothes, which is way faster than the ordinary wash cycles. However, the quick wash cycle time is solely dependent on the load of the clothes. This feature is really helpful when you have a busy schedule or are in a hurry to get somewhere and want to wash your clothes as soon as possible. Remember, this feature is restricted to small load washes only.
Delay Wash
This feature is a saviour for those who have a busy schedule, especially the working couples as it allows you to plat your washing ahead of your schedule and lets you delay the washing function for up to 22-23 hours. The washing cycle starts automatically, on its own, without any human interference. It'll wash your clothes even if you are sleeping.
Child Lock
People who have kids at home would find this feature very useful. Washing machines with this feature lock down the machine's program panel so that the kids won't be able to affect the on-going washing process.
App Availability
In the era of smart devices, washing machines are not behind. If you are a phone person or someone who uses smartphones a lot, you would love this feature. You can connect your washing machine with your phone via an app and access or control the washing machine. You can start wash cycles remotely, see the status, get alerts and more. But this feature comes with an added cost and you need to check with the brand.
What's the Capacity and Material of the Wash Tub?
If you like doing small loads of clothes every day, then it is better to get a washing machine which has a relatively small wash tub. But if you run large loads, for instance, you wash everything on weekends, then you need to find a model which has good capacity wash tub. There should be enough space for your clothes to move during the wash cycle. If you want to wash curtains, bed covers or any other big piece of clothing material in the washing machine, then you need even bigger capacity wash tub.
Talking about the material of the wash tub, it matters because it plays a significant role in the upfront cost and longevity of the washing machine. Porcelain enamel, stainless steel, and toughened plastic are the three most popular wash tub material used in good washers. If you compare washing machine rates based on the type of wash tub material, you will find that stainless steel tubs are more costly. However, they last a long time and are corrosion resistant as well.
Have to Researched and Read the Reviews of Washing Machines?
Once you know which type of washing machine you want and know which all features you need in your machine, it becomes easier to make a decision. Although, there are many brands available in the markets and plenty of washing machine models which might still confuse you. It will be really helpful if you check out the reviews of each model and then compare the models. Reading all these reviews will also help you understand the advantages and disadvantages of different washing machines because most of the reviews are based on personal experience of the customers.
You can easily see which one is the most popular, works better, reliable and is of good quantity. This will help you make the right choice, confidently.
Is the Washing Machine in your Budget?
After you have determined which type and style of washing machine you want to get for your household, this question still remains – Is that washing machine in your budget? Can you afford to purchase and maintain it? Suppose if you want a fully-automatic washing machine with all the smart features – it will surely cost you a lot. Moreover, you need to think about various other factors like water consumption, energy consumption, detergent usage, maintenance etc. which requires for you to spend more money frequently.
Budget is an essential factor and you need to set one before looking out for washing machines in the market. However, you can easily get your desired type, features, and benefits at affordable prices if you decide you get your washing machine on rent. The choice still remains yours. If you can afford to purchase a smart, modern, advanced washing machine with all the smart features, you should compare and buy but if your heart is on such a washing machine but are compromising for the sake of budget, then consider renting it because it will come with other benefits as well. Want to know about it, and see how it works? We can help! Check out our website and browse through a variety of products, compare the home appliances and get them home delivered without any hassle!