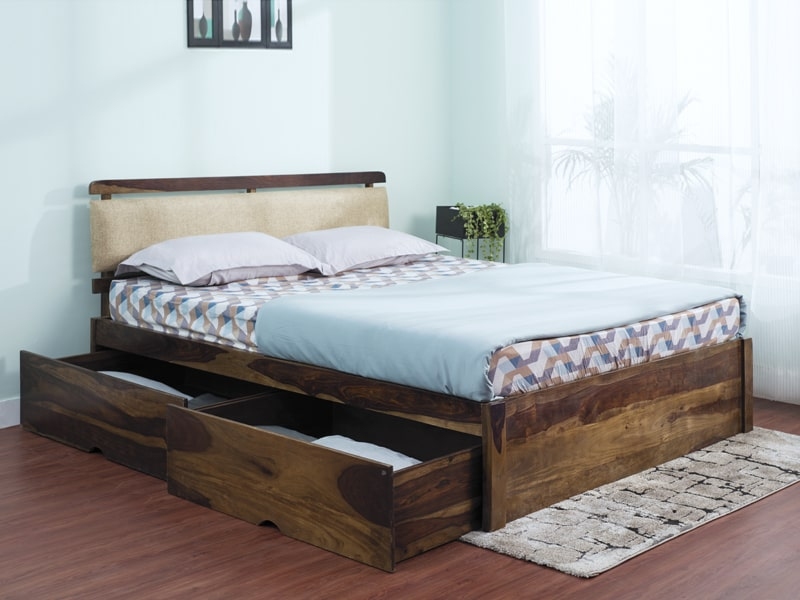 We may have just moved to the big city, or you grew up the youngest of many, but we all have actually lived in a small bedroom, at some stage in our life. And this is in no way a negative thing. Actually, given the option, one should rather sleep in a small, cozy room than spend nights in a cavernous space.
The problem however occurs, when the small space starts to feel uncomfortable. When we have too many items or those things are too big, they can easily overload a room, displacing the feeling of the bedroom as a place of rejuvenation and retreat. Optimizing the sense of space and restore a sense of order and relaxation in the bedroom requires using minimal elements.
A small bedroom can feel more like a cave sometimes than a cozy refuge. It can feel crowded and uncomfortable if a room lacks natural light, smart storage, and the right color palette. But even the smallest bedrooms can be much more usable with the correct techniques and even look bigger.
To make your bedroom a cozy space you, your friends and family, you can use these professional tips.
1. Add Built-In Shelves
Shallow built-in shelving will enable you to preserve floor space and gain storage. Stick to shelving that is no deeper than 12 inches. The units here double as bedside tables, which removes the need for more furniture. In the center of the shelving, the recessing of the bed stops it from invading the much-required floor space.
Try taking them all the way to the ceiling to make the ceiling appear better if you go for built-ins in your tiny bedroom. And to create layering and depth, paint the back wall in a contrasting color. In a small bedroom, add built-in storage as it won't take up too much floor space. Built-in cabinets, headboards with built-in storage, hydraulic beds, box beds, a window seat with storage, and so on are part of the various forms of built-in storage inside the bedroom. This kind of furniture has a small footprint and so it offers a broader look to the room.
2. Use Space-Saving Furniture
If you have limited space in your bedroom, then by using furniture such as a sofa cum bed, day beds, and storage beds you can save a lot of space. Daybeds are distinct, and when you have more visitors than anticipated, they will provide you with more sleeping space. Another piece of furniture in this league is storage beds. In your bedroom, they act like hidden compartments for extra storage.
These beds are ideal for holding additional bedding, seasonal pieces, and pillows. Daybeds are an efficient way to utilize space, as they make good use of the space under the mattress. In a small bedroom, where every inch is worth saving, a practical storage bed will provide you with dozens of cubic feet worth extra space. To make sure you do not buy furniture that does not fit in your bedroom or save space, you can get your furniture on rent. This way you don't have to live forever with something you would want to change after some time.
3. Have the Same Color Painted On the Walls, Floor, and the Ceiling
Another major element in making a small bedroom look larger is the movement of light and air. If you feel cocooned by the four walls of your bedrooms, make them disappear by painting the floor and ceiling with the same color. Similar to the impact of being outside whereby the horizon and sky are indistinguishable, it lets them move away from each other by painting both sides with the same hue, producing a more accessible feeling.
Given that soft shades reflect light, the walls should be painted in light colors. This will make your bedroom look spacious and airier. Avoid using dark-colored wall paint, as it absorbs light and so it makes the room appear small. If you are planning to put wallpaper on your bedroom, choose the ones which have vertical or horizontal stripes. This can give the illusion of width and height.
4. Keep Your Bedding Simple
Your bedroom can also be affected by something as minimal as your bedding. You may be tempted to select bold, heavily patterned designs and as many pillows as possible, but your bedroom may really close up and make it feel cluttered by complicated bedding setups. Instead, opt for modest bedding to ensure that the bed is part of the room's rhythm and ditch extravagant pillows and embellished patterns in favor of light-colored linens.
5. Hang the Curtains From Ceiling to Floor
Another easy way to make your bedroom look more spacious is by using curtains. You will achieve two room-opening results by hanging drapes from the top of the wall down to the floor or an inch above it. Next, these types of curtains will make them look longer and wider if your bedroom windows are smaller than you would have liked. The length of the drapes would also lead the eyes upward, which generates the illusion of a higher ceiling apartment. However, be careful of the color scheme; use pastel or translucent curtains to make sure they do not absorb the natural brightness or cut off a critical source of light.
6. Have Mirrors Placed at Critical Spots
Using mirrors to open up space is one of the best small bedroom ideas. Have you ever been inside a funhouse that looked like it would go on forever because it was covered in mirrors from floor to ceiling? You can create a similar effect in your bedroom, without the distortions of the funhouse.
Mirrors bounce light, the same way as the bright colors do, which can produce the perception of depth and height. Make your closet doors mirrored, as the floor to ceiling height will create the illusion of space. Mirrors give the impression of a larger space and often reflect light, allowing more luminous appearances in darkened places. Attach a floor-length mirror to an area of the wall that doesn't get much light or to the doors of your closet to create the illusion of space.
As long as the mirror faces a clutter-free corner of the room, the effect will be visible instantly. To make your bedroom seem more spacious and bright, you can take advantage of natural light by hanging a mirror opposite a window or by placing a mirror behind a light source.
7. Avoid Excess Items in Your Bedroom
Your bedroom will create the illusion of extra space with less clutter on the floor. Visually, an ordered, clutter-free and streamlined bedroom looks better than what it really is. Make it a habit to de-clutter and periodically clean your closets or wardrobes, otherwise, the bedroom would feel overcrowded. Remove extra pieces of furniture from the room and do not have too many photos or paintings crowding the walls.
Having your furniture on rent is one way to reduce the furniture in your bedroom. You should make sure you don't have to carry some piece of furniture you don't use, only because you purchased it and can't get rid of it right now. You can also mix sections that can serve different purposes. Some tables and ottomans, for instance, have concealed storage compartments that can be used to store additional pillows and blankets. There are also space-saving bed frames with drawers built in, that would serve well as a dresser substitute.
8. Use Large Items for Decoration
Decoration seldom comes to mind when you're trying to think about ideas for your small bedroom. But while it might seem like a smart idea to avoid decorations entirely, you do not need to compromise your style for space. Having a few big statement items and avoiding small knick-knacks is a simple solution to holding the space open when showing off your personality.
Although small sculptures, bowls, or other characteristics can help you diversify your bedroom's appearance, they can also make it feel cluttered. Find a big vase or sculpture with a bold but understated design instead and avoid putting it next to other objects. Choose sizeable pieces and hang them low if you hang wall art, so they make your bedroom look bigger. Choose abstract designs that integrate plenty of room within the art itself for an added touch.
9. Color-Coordinate the Space
Speaking of color, as far as possible, reduce contrast. A color scheme based on the same color's multiple shades provides consistency and prevents the room from feeling too busy. So what colors make it look larger in a bedroom? As colder colors are more likely to offer the room dimension, light blue and bright green are often great choices. However, you can still use them as long as you don't pick one that is too distracting, such as bright red if you prefer warmer tones.
10. Minimize the Furniture
Buying furniture for a small bedroom can be difficult because space is limited. However, less space is also a chance to get creative with the type of furniture you want to order, and how it can affect the overall look of your bedroom. One of the cornerstones while designing smaller bedrooms is to have as little furniture as possible.
You want to save as much room as you can, so even if they provide a bit of extra storage, avoid clunky pieces. Plus, without wasting space, there are actually quite a few tricks to make room for your belongings. For instance, with the help of a few containers, use the area under your bed for storage. Or to store blankets and more, buy a bench or an ottoman with space inside. Finally, avoid having things like bedside tables, that can be put to some use, but are not completely necessary.
11. Use Furniture With Legs Exposed
Having furniture with exposed legs creates a feeling of space in any room. That is because furniture that does not hit the floor directly, creates space where otherwise it wouldn't be and makes your bedroom feel much airier. An additional bonus is that you can also use some of the space for storage with a few baskets; just be sure to keep much of the extra space free of clutter. Alternatively, try a DIY method to add legs without having to buy new furniture if you already have furniture that touches the floor.
12. Install Pendant Lights
Do not let the bulky lamps and oversize shades, take up the precious bedside table space; instead, add pendant lighting. Hanging pendant lights from the walls, while providing task lighting on either side of the bed, provides a focal point. Just remember to carefully calculate and hang them in a way that you don't need to get out of bed to turn them off.
Conclusion
If you keep a few rules in mind and use these space-saving ideas, even the smallest of bedrooms can be turned into a soothing oasis. Only remember the basics: paint the room with light colors, use only a few big decorative pieces to illustrate your style, and reduce furniture and clutter. A good way of keeping any unwanted clutter off your bedroom is to rent furniture for your bedroom. This way, you can be sure that you don't have to accommodate any piece of furniture that you do not want to have anymore.