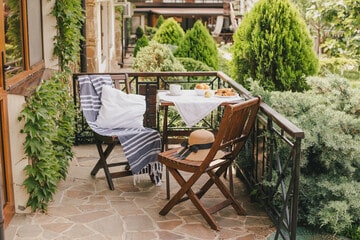 A balcony is the best space for making your personal world. It is a place to relax, socialise and entertain yourself. You can also use it as an extension of your living room or bedroom. Your balcony should be given proper care so that there is no water leakage or any wastage of energy during summers. It is important that you keep your balcony clean and tidy. You can do minor repairs, replace broken furniture or add new pieces to make it look beautiful Make your balcony beautiful by adding the right furniture and decor. The right furniture can help you enjoy your time in your balcony even more. You can make it a place to relax or entertain guests. You can also make it look attractive by adding colourful plants, flowers or art work.
1- DIFFERENT TYPE OF PLANTERS
There are different types of planters that you can use to decorate your balcony. You can choose from the following:
Porcelain planters: These are a good option if you want something that is easy to maintain and will last for a long time. They also come in different shapes, sizes and colours so you can easily find one that matches your balcony décor.
Plastic planters: These are an affordable option that you can use in your balcony. They come in different shapes, sizes and colors so it's easy to find one that matches your balcony décor.
Metal planters: These are ideal for people who want something that is durable and long-lasting. You can also use them as a way to prevent plants from getting damaged by strong winds or sun exposure since they protect them from both.
Terra cotta planters: These are a great option if you want to create an organic look for your balcony. The best thing about these planters is that they come in different shapes and sizes so it's easy to find one that matches your balcony décor.
Wooden Planters: Wooden planters are a good choice for the balcony. They can be made from wood or iron and they look great in any colour.
Ceramic Planters: Ceramic plant pots are an ideal way to decorate the balcony. They can be used for both indoor and outdoor use, depending on the material of the pot itself.
Clay Pots: Clay pots are traditional. The best thing about clay pots is that they are easy to maintain. You don't need to worry about watering them too much or overwatering them, which can be disastrous for your plant's health. Clay pots are also lightweight and portable, so if you're looking for a way to move your garden around the apartment when you're doing some cleaning or rearranging furniture, these pots will make it easy!
Metal Pots: Metal pots are durable, long lasting and easy to clean which makes them perfect for balcony decor. You can use metal pots to grow plants, herbs and flowers. There is a wide variety of metal pots available in different shapes, sizes and colors. Metal pots can be used indoors or outdoors. They are also very versatile so they can be used in combination with other materials like wood or stone.
Wall Hanging Garden Pot: If you're working with a small space and need to fit in some greenery, these wall hanging garden pots are the perfect solution. They're easy to hang and can be used for indoor plants, outdoor plants and herbs alike.
2- BALCONY LIGHTING IDEAS
LED lights, floor lamps, wall lamps and solar-powered string lights are all examples of decorative lighting. Solar-powered string lights are great for outdoor spaces because they don't require any wiring and can be hung from trees or railing posts. Plus, they're super convenient for when you want to add some extra ambiance to your evening parties!
3- BALCONY ART WORK
Artwork for your balcony can be made from a variety of materials, including wood and metal. You could try making it yourself or buying it from a store. The artwork can be something simple, like a painting or photograph; or something more complex, such as a sculpture or mosaic.
Consider what kind of message you want to send through your balcony art work. If you want to show off your personality then choose something that reflects that.
4- DIY BALCONY GARDEN
An outdoor space can make a huge difference to your life, whether it's an urban balcony or a country garden. It's the perfect place for your plants and flowers, so you can enjoy the sunshine, fresh air and nature at any time of year.
To create a balcony garden that suits your lifestyle, first think about what you want to use it for: growing herbs? Growing fruit? Or just something pretty? Then consider how much time and effort you're willing to put into maintaining it. Are you able to tend a large vegetable patch every few days or are there other things in life (and work) that need more attention from you?
Basic tools like an old trowel or fork will help make gardening easier – as will some simple techniques such as sowing seeds directly into pots rather than using seed trays which take up more room on the balcony (and often become potbound).
5- BALCONY SEATING ARRANGEMENT
When it comes to balcony seating arrangements, there are a few factors that you should consider. The most important of these is comfort. Your guests and you would want to be comfortable. To make that possible choose furniture carefully. A cushioned porch swing, some lightweight weather resistant chairs with removable cushions or a low wicker seating arrangement would be the best choice. Another factor that you should take into account when setting up your seating arrangements is visual appeal; this ties directly into aesthetics and function because it affects both how appealing the space looks as well as whether or not people can use certain areas of the balcony comfortably (if there isn't enough room for their legs or hands). Finally, sustainability should always be kept in mind when designing your patio furniture—you don't want anything too large or heavy so that it doesn't lead to damage over time!
6- GREEN BALCONY
For the green balcony, it is important to choose plants that are not water-intensive and can withstand the climate. Also, you should consider using plants that are native to your area as they are more likely to survive than exotic varieties.
7- YOGA SPACE ON BALCONY
Yoga is a great way to relax and keep yourself fit. It is also a great way to make new friends. You can practice yoga on your balcony, or even in your apartment's living room if you have one big enough. If you decide to create a yoga space on your balcony, it is important to choose the right equipment. For example, you should look for a mat that is thick enough so that it provides cushioning when you are lying down or sitting in a cross-legged position. You should also make sure that any props you use are sturdy enough not to fall over during your practice.
8- BALCONY WATER BODIES
A balcony water body is one of the best options for your balcony. It can be any shape or size and it doesn't have to be in the form of a pond; it can be simply an elegant fountain. Some people build ponds on their balconies and they look gorgeous!
If you don't want to clutter up your space with a big pond or if you live in an apartment, then consider installing small water fountains. They make great decorative items for your balcony as well as for indoors (if there are no regulations against them). Choose a design that blends well with your other balcony decor. For example- if you are using clay pots a cement made water-body would look perfect in your garden.
9- KEEPING IT CLEAN AND ORGANISED
The first thing that you should do is make sure to keep your balcony clean and tidy. This will enable you to enjoy the space without any distractions. If you have a large balcony, then it's best to divide it into sections for different purposes. You can use one side for dining, another for lounging and reading or even sunbathing if you have enough space. On another side, you can keep a mini garden that can be used for growing fresh herbs and vegetables.
If you have a small balcony, don't divide it. Instead, use it to keep a small garden or plant some herbs. You can also place a table and chairs on your balcony so that you have a nice place to sit outside when the weather is good.
10- YOUR PERSONAL TOUCH AND LOVING ATTENTION
If you want to do something more than just create an aesthetically pleasing space for yourself, then you need to give your balcony personal attention and loving care.
What this means is that when designing a balcony garden, it is important not only to have a keen eye for aesthetics but also a caring heart for nature. For instance, when deciding what plants would be best suited for your balcony garden (or any other type of outdoor gardening), consider how each plant will affect the overall health of the environment around it.
For example: Are there enough nutrients? Does it require lots of water or sunlight? Is there enough soil? Will its roots grow through concrete slabs? These are all questions worth asking before investing time and money into growing anything on top of your house without considering how well-suited it will be as part of an ecosystem in years ahead!.
Conclusion
I hope that the ideas and inspirations I shared with you in this article will help you to create a beautiful, functional and peaceful outdoor space where you can relax after a busy day of work. It is important to remember that what matters is not only how much money or time you spend on decorating your balcony but also personal touch and loving attention that you give to it!