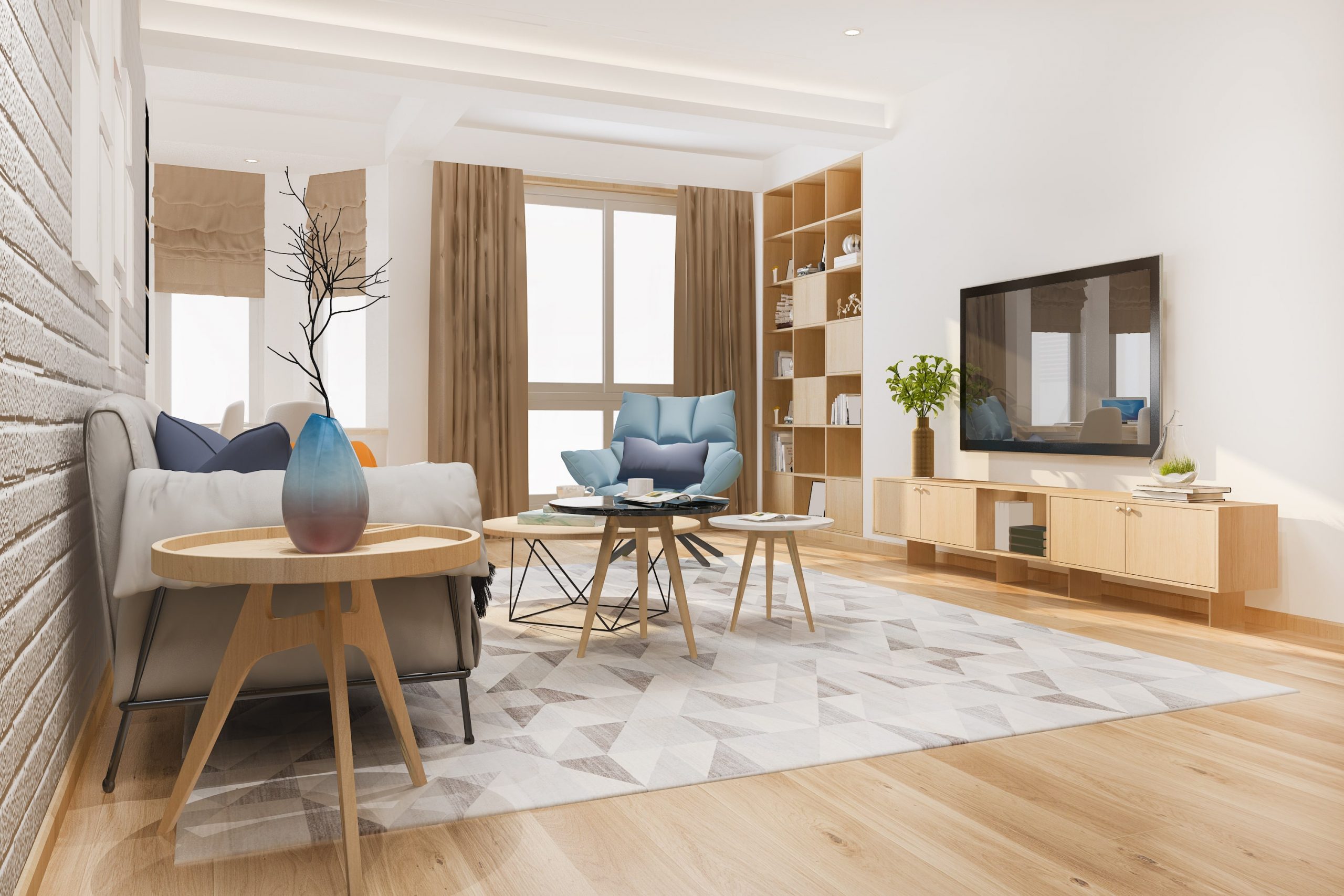 Furnishing Small Sized Apartments (400 to 600 square feet): The most important thing to consider when you have a small space is how you will use it. If your home is more than 400 square feet, it can be tempting to fill it up with furniture and accessories. But this isn't always practical or even desirable in a smaller home. This range of rooms is not that large and will not require much furniture.
A small living room can be decorated with a sofa, and a coffee table. You can also add a TV stand if needed. A small kitchen will also need only a few pieces of furniture. In kitchen you can add a small island with counter space for preparing food. For the kitchen, you will need a table with chairs and a few cabinets. A small bedroom can be furnished with a bed and nightstands, but it's also possible to use the room as an office or study area.
There's less room for storage, so make your home multi-functional. If you have a small home, it's important to make the most of your space. The best way to do this is by adding built-in storage units. These can be used for everything from storing clothes and shoes to books and office supplies. For a bedroom, add storage space under the bed. You can also build in dressers and nightstands to give you more room for clothing and accessories.
The scale of your furniture matters. A large sofa or chair will dwarf a small living room, so consider furniture that is more compact. You can also add smaller pieces, such as an accent chair or coffee table, to help fill in the space. Keep the colour scheme simple with neutral colours that are easy on the eyes.
Furnishing Medium Sized Apartment (600 to 1,000 square feet): A medium apartment is similar to a small one, but it has more space and can be decorated in a different way. Medium-sized apartments are ideal for young families or couples without children. This type of apartment will have at least one bedroom and a living room, and possibly also a kitchen and bathroom. You can add an armchair or sofa set in the living room and another set of chairs if needed.
A medium-sized apartment will require more furniture than a small one, but it's still not too large. If there is enough room in your living room, add some artwork on the walls. A medium sized kitchen needs a few pieces of furniture such as stools at the island countertop or bar stool seats around a breakfast bar. If there are several bedrooms in your apartment, you can use a double bed for each one. If you have only one or two bedrooms, choose a queen-sized bed instead.
Choosing the Size of Furniture for a Medium Sized House: A medium-sized house will require furniture that is a little larger than what you find in an apartment. You can choose from sofas and chairs that are long enough to seat four people comfortably without feeling cramped. A dining room table should be large enough for six people to eat comfortably as well. The same rules apply to the bedroom. A queen-sized bed will be more appropriate than a double bed. However, you can still choose a king-sized bed if you have a large family or want to accommodate more than two people comfortably in each room.
Furnishing Large Sized Apartment (1,000 to 2,000 square feet): If you have a large apartment, you can afford to add more furniture. You might want to consider having two or three couches instead of one, as well as a dining set that seats eight people. You can also add a small living room set and an entertainment centre. The kitchen needs to be well stocked with cabinets and countertops, as well as appliances such as an oven, dishwasher, microwave and refrigerator (if you don't have one).
The bedroom should have a king-sized bed, dresser and nightstands. You can also add an entertainment centre with a TV and stereo system in your bedroom if you like. The bathroom needs to be fully stocked with cabinets and countertops, as well as a shower/bathtub combination. You can also add a vanity with a mirror and lights. If you have children or pets, the home should have an outdoor area where they can play safely. You can also add other amenities such as an in-ground pool, hot tub or slide for kids.
Making it look bigger is all about the Light and Texture: In order to make your home appear bigger, you will need to make sure there is plenty of light in each room. You can do this by adding windows and skylights, as well as lamps and fixtures. The colour scheme should be neutral so that it doesn't take away from the space. Avoid dark colours like black or blue since they'll make rooms look smaller than they really are.
Choose the right flooring: Flooring is an important part of any home, and it can be used to make your house look bigger. Texture is a great way to do this; using materials like stone or tile on the floors will give the illusion that there is more space. You could also add carpet in certain areas if you want something soft underfoot.
Takeaway: Finding ways to maximise your home's space can help keep it feeling open. When you're designing your home, think about how you can use space to make it look bigger. This could be by keeping furniture to a minimum or using light tones that reflect off the walls. Get creative with your space: If you're trying to make a room feel bigger, you can use mirrors. They reflect light and will make any space look brighter and more spacious.
You could also try adding plants or artwork that features natural elements like trees or water. If you want to make a room feel oozier, try adding throw blankets or pillows to your furniture. You could also hang up pictures of your family or friends in the room; this will help people feel more at ease when they're visiting.
It's important to realise that there are no hard and fast rules for making a room feel bigger or smaller. Everyone has a different idea of what looks good in their home, so it's up to you to decide which changes will work best for you. You can try some of the options above or come up with your own ideas; just use them sparingly so they don't overwhelm your space!