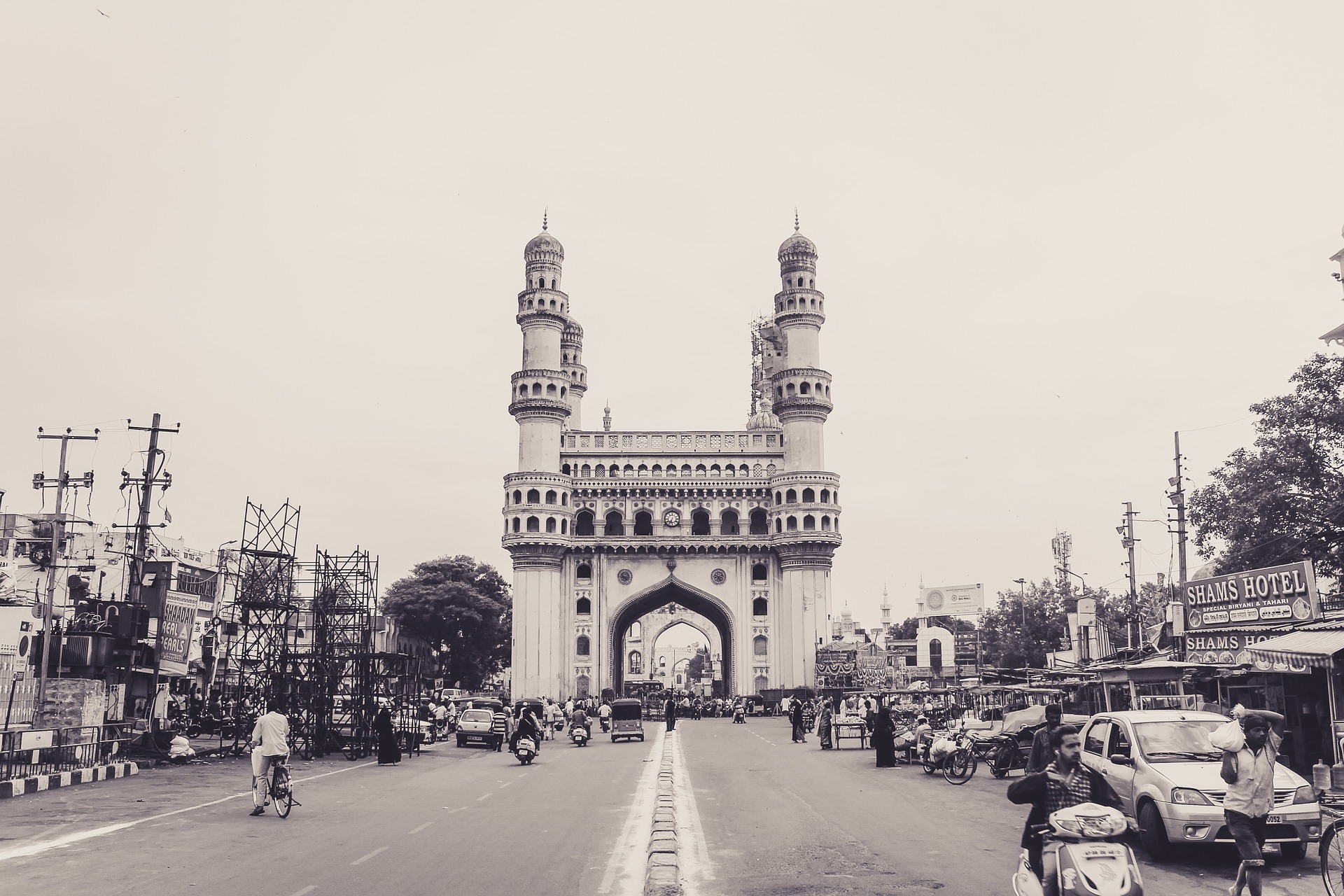 These days, Hyderabad may seem like a city mostly frequented by tech employees and businessmen. The city was, however, at the center of the Indian medieval history, and the only place where diamonds were mined in India. Today in Hyderabad, old bazaars and mosques coexist with new malls and office buildings in perfect harmony. It's these contrasts and glimpses of a grand past with promises of a successful future that make Hyderabad a city worth living. Here is a list of places you can choose from if you want to explore this, but wondering where to start from.
Lotus Pond
This place is ideal for couples looking for a fabulous day out with a variety of birds and lotus flowers around. Also, because of its calm surroundings, this is one of the best places to visit in Hyderabad. There is a pond in the center of the park. The walkway is well kept, where you can take a stroll. This place, particularly because of its nice weather, is one of the best hangout places. Surrounded by concrete houses, this spot nevertheless retains its greenery and beauty. If you're looking for a rejuvenating experience where you can relax and appreciate the scenic beauty, this place is your go-to place.
Hussain Sagar Lake
Located 2 km from the city center of Hyderabad, this heart-shaped lake stretches over an area of 5.7 square kilometres. In the mornings or evenings, you can either go running around the lake or just have a nice time there, enjoying water sports and laser shows. In the middle of the lake, there is a Buddha statue which is also one of the main attractions. When out there, you may also enjoy boating in the lake. Lumbini Park, which is an amusement park next to the statue, is a well-known tourist attraction and it offers numerous entertainment activities. In the surrounding areas, there are some other parks where you can have picnics, or just spend some quality time. The view is breathtakingly stunning at sunrise and sunset and should not be missed.
Ramoji Film City in Hyderabad
This is a great place to be for all film lovers. Founded in 1991 by Ramoji Rao, head of the Ramoji group, this film city, just outside Hyderabad is a spectacular getaway. It is spread over 2,500 acres and has been recognized by the Guinness Book of World Records as the world's largest film studio complex. Ramoji Film City can handle 20 movie units in one go and has a range of shooting locations including London Street, Hollywood signage, Japanese gardens, an airport, hospital, landscapes and houses, and labs.
As it is one of Hyderabad's most popular places, it can be reached via a number of packaged tours and buses that leave from Hyderabad city daily for this place. Ramoji Film City is a fun and vibrant location where you can participate in a range of events, from film city tours to adventure sports and toy train rides to a range of gardens. Moreover, you can also walk through a variety of other sets and environments, such as royal courts and other places that have drawn inspiration from various architectures around the world. If you plan to visit this destination, be sure to keep a whole day aside for this fun-filled spot!
Birla Mandir, Hyderabad
The Birla Mandir in Hyderabad is a great place for all those, who wish to escape the city life and immerse themselves in prayer and meditation. The Mandir is dedicated to Tirumala's Lord Venkateshwara and is modeled after the Tirupati's Balaji idol. It was established in the year 1976 by Swami Renganathananda of Ramakrishna Ashram and was developed by the Birla Foundation. Since then, this place has been a haven for all those looking for a few hours of peace in the glorious countryside.
The temple itself stands on top of a 280-foot-tall hill called the Naubat Pahad, overlooking Hyderabad and Secunderabad as well as the Hussain Sagar Lake and is one of the city's best viewpoints. The Birla Mandir's main idol is eleven feet tall and made entirely of white marble, making it a truly magnificent sight to behold. The idol is also surrounded by a carved canopy of the lotus made of granite stone that contrasts well with the marble of the idol.
Jalavihar Water Park in Hyderabad
Want to beat the heat during summers in Hyderabad? Well, if this is the case, Jalavihar, the famous water park, located on Necklace road, in the heart of the city, is the coolest place to be. It is a family entertainment park with many fun activities for adults and kids alike. This park is an exciting place to be with friends and relatives and provides its guests with a countless number of trips. A variety of water games and rides offered are offered here, for both adults and children. Games like family slide, mini aqua vans, tilt bowl, mushroom umbrella, float slide, and pendulum are just a few of the options that will keep you engaged and entertained at Jalavihar all day.
Lumbini Park, Hyderabad
Lumbini Park is a stunning urban park named after the Lumbini garden situated in Nepal. The park is situated next to Hussain Sagar lake and has an artificial water tank. In the middle of the tank, there is a huge statue of Lord Buddha, which can be reached by paddle boats. Musical fountain shows are also held at the Lumbini Park and is an important tourist spot in the region. The Hyderabad Urban Development Authority created this park during the year 1994 and is spread over an area of 7.5 hectares.
Lumbini Park received its name from Lord Buddha's birthplace. Lumbini Park has many tourist attractions. It's a perfect tourist spot. This spot is ideal for picnic goers, lovers of nature, photo fanatics, wildlife enthusiasts, and adventure seekers. It's a perfect place to relax. One of the main attractions of this park is the Laser Show, which is hosted here every day. The best part of this show is when a 3D city is created using laser beams.
There is also a synchronized musical fountain in which the water from the fountains is released in accordance with the tunes of the music. The musical fountain is operational between 6.30 pm to 8 pm. At the entrance of the park, there is a large clock decorated with colorful flowers. This park also has a toy train and a wave pool exclusively for kids. Visitors can easily spend about 3 to 4 hours in this park and have fun.
Charminar
Situated right in the heart of Hyderabad, this place is this city's most prominent landmark. Quli Qutub Shah erected this monument to mark the establishment of Hyderabad. While it lies right in the city center with traffic and crowds crashing all around it, Charminar still manages to hold your gaze. It is also famous for the vast market around it called 'Laad' or 'Chudi' Bazaar. Since the monument was built in 1591, Charminar has been associated with Hyderabad's culture, standing tall, serving as a reminder of the glorious days of the past.
It is a huge structure that has four minarets that many claim, reflect the first four prophets. Known as Char Kaman, towards the north of the monument, four gateways have been constructed in the cardinal directions. This structure was supposed to act as a Mosque or Madrasa. In its present form, Charminar has been added to the 'tentative list' of UNESCO World Heritage Sites along with Qutub Shahi Tombs and the Golconda Fort.
Chowmahalla Palace
The Chowmahalla Palace was built between 1857 and 1869 in Hyderabad and was once the seat of the Asaf Jahi dynasty. Chowmahalla can mean 'Four Palaces' in essence. This splendid monument has two huge courtyards and a large dining hall which is known as 'Khilawat.' This palace, which once served as the official residence of Nizams of Hyderabad, still retains some of its past splendor. This property still belongs to the heir to the Nizams.
The Chowmahalla Palace architecture is a sight to behold. The facade itself is a delicate piece of the dome, arches, windows, and finely sculpted designs. The complex is elegantly decorated with lush vast gardens, various palaces, water fountains, Roshan Bangla, the Clock Tower, and the Council Hall. Here the Courtyard is a fairy tale venue for hosting the most elegant dinner parties, with the palace standing firm in the background.
Papikondalu
A very scenic spot on the East Godavari River, Papikondalu is one of the few nearby places around Hyderabad, one shouldn't miss. Though not very popular among tourists from outside, locals flock this place making it very crowded. Known as South India's Kashmir, Papikondalu is a hill range, which is one of Andhra Pradesh most-visited tourist attractions.
The stunning scenery combines with the lush green hills and scintillating skies. The river is clean and is a safe place to enjoy boating. Papikondalu also has a wide range of natural vegetation and wildlife, which stretches across three Andhra Pradesh districts. Papikondalu wildlife sanctuary is an animal shelter that includes wild animals like tigers, panthers, antelopes, hyenas, jackals, spotted deer, and several bird forms.
Wonderla Amusement Park, Hyderabad
There is no better place to go out in Hyderabad and experience something different than this amusement park. Make sure to check out the most thrilling attractions the land rides and water rides. Keep a close eye on timings of various other fun programs around the park – whether it's the next wave at the Wave Pool, or the next dance at the Rain Disco, or the next performance at
'The adventures of Chikku'. Your visit here will be a non-stop fun ride. If family fun is on your mind, the Wonderla Amusement Park is the exact place to be. One of the city's most popular family attractions, Wonderla is all about fun and thrill. The amusement park offers a bunch of land rides and water slides to keep you fully engaged for a whole day. The Park's most famous attractions include the Wave Pool and the Rain Dance area. The best part is that there are a number of children's rides in the park, specially designed to keep the young brigade interested.
So if you are new to Hyderabad and have just shifted to this beautiful city, why not plan a visit to all these places and explore them on your weekends? It will help you to know more about the culture of this place and also get to know the locals. And if you are new to this city, our furniture and home appliances rental services in Hyderabad can help you settle down in this city, without burning a hole in your pocket. This is because we offer competitive prices on home furniture on rent in Hyderabad.
We not only help you with your furnishing needs but with us, you can also choose electronic home appliances on rent in Hyderabad. By visiting our website, you can browse through our categories of furniture and home appliances on rent in Hyderabad. Now that you know that you don't have to worry about spending a fortune on buying new furniture and appliances, you can relax and concentrate on your weekend plans and places to visit in this beautiful and historic city of Hyderabad.