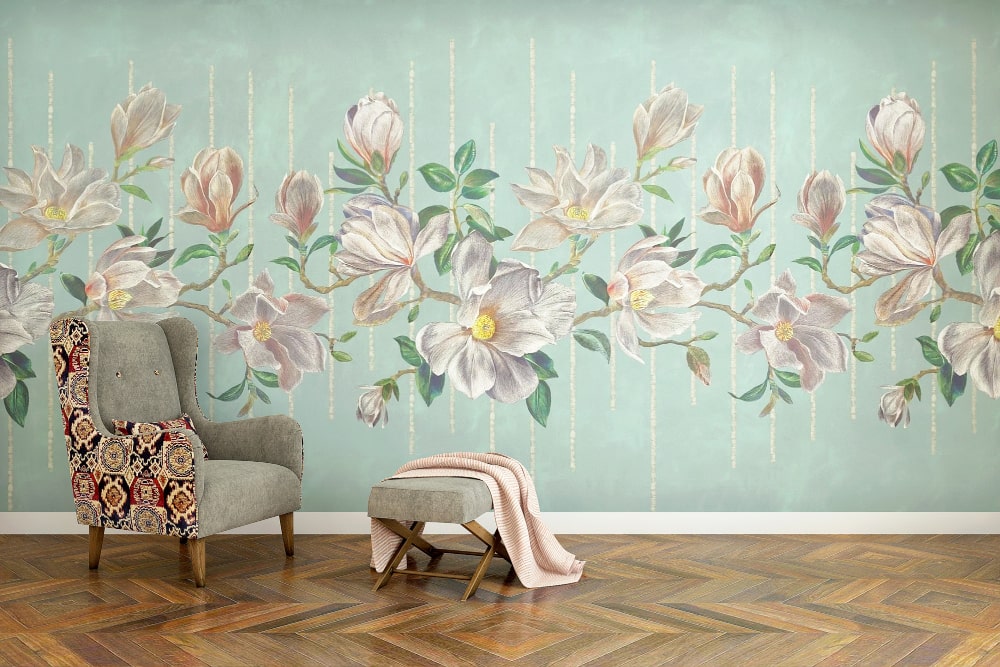 When it comes to living room decor, the walls often take a backseat to furniture, accents, and design. But if you want to really elevate your living space and make it shine, wallpaper is the way to go. Wallpaper allows you to instantly change the look and feel of a room without having to do any major renovations. This means that you don't have to worry about breaking the bank.
From statement walls and muted tones, to nature-inspired prints and textured wallpaper, there are plenty of options when it comes to wallpaper design ideas for your living room in 2023. In this article, we'll explore 15 trendy wallpaper designs that will help you create a living room that's sure to impress!
1- Statement Walls: Make a Bold Statement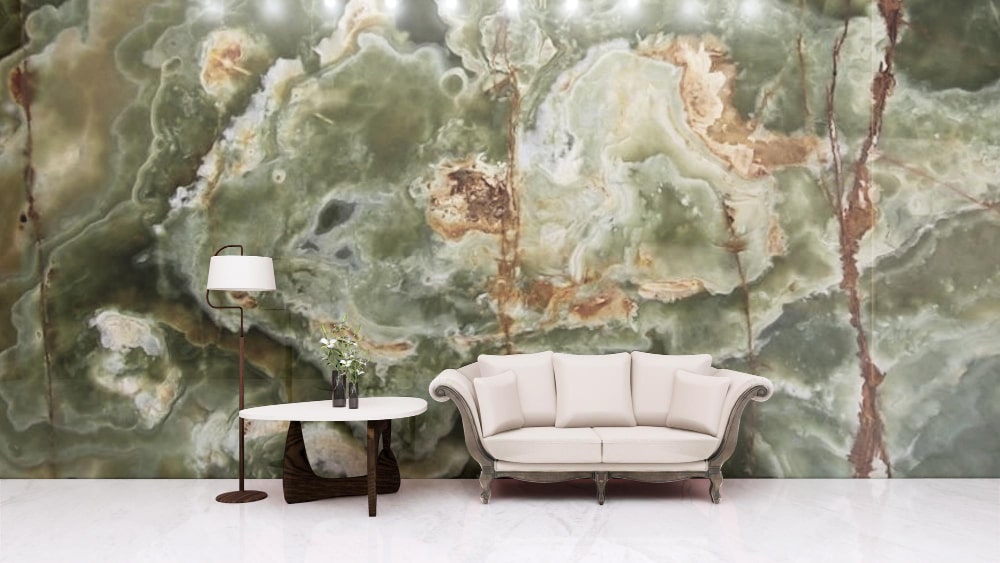 Do you want to make a statement with your walls? Then statement walls are the way to go. With a variety of wallpaper styles, colors, and textures, these exciting designs can bring your living room to life and create a wow factor.
Statement walls can help you elevate the look of your living room in an instant. For example, you could opt for bold stripes, metallic finishes, or art deco inspired prints. Or if you're looking for something more subtle, muted tones or textured wallpaper will give just the right amount of impact without overwhelming your space.
Whatever your style, statement walls are sure to turn heads as soon as your guests walk in the door. So don't be afraid to take risks and have fun with what could be the show-stopping element of your living room design.
2- Muted Tones: Adding Softness to the Room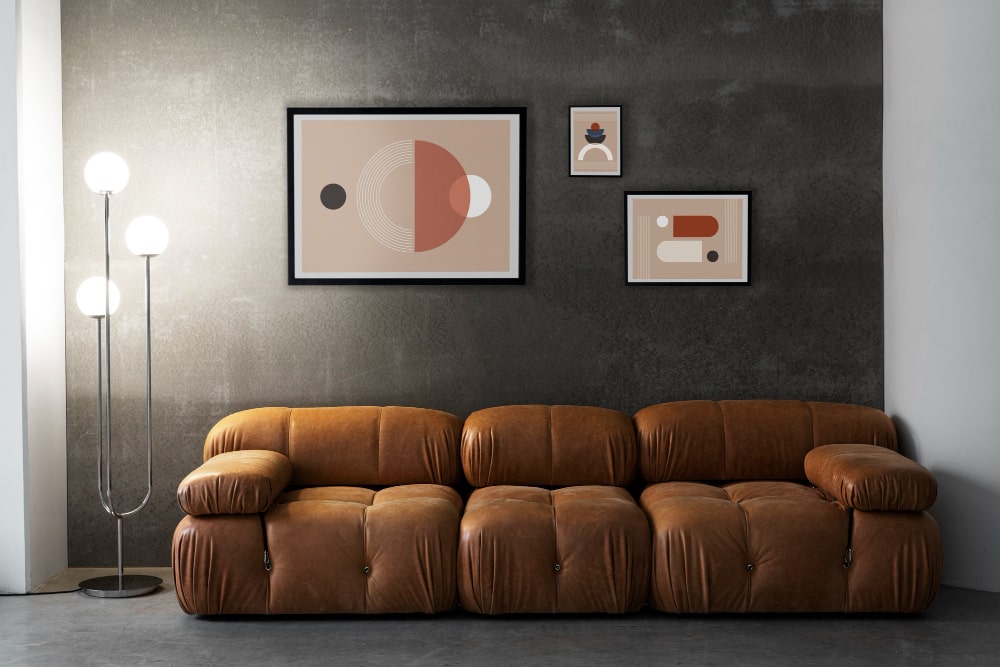 If you can't decide between a bold statement and something softer, muted tones may be the answer. A painted wall is great, but if you're looking for a little more texture and interest, muted tones can add subtle drama to your living space.
Neutrals like taupes, grays and beiges are all excellent choices for any living room design. They bring a sense of tranquility and stillness—perfect for creating an inviting atmosphere with a laid-back vibe. Whether you choose one particular shade or mix them together to create an ombre effect, these muted tones will never overpower the rest of your design elements.
You can also add pops of brighter hue in accent pieces without detracting from your warm and cozy atmosphere. Soft colours are also excellent for creating the ideal background to display artwork or just attract attention to a certain area of the room. Muted tones will maintain equilibrium in any living room decor because of their adaptability and endless choices!
3- Nature-Inspired Prints: Bring the Outside In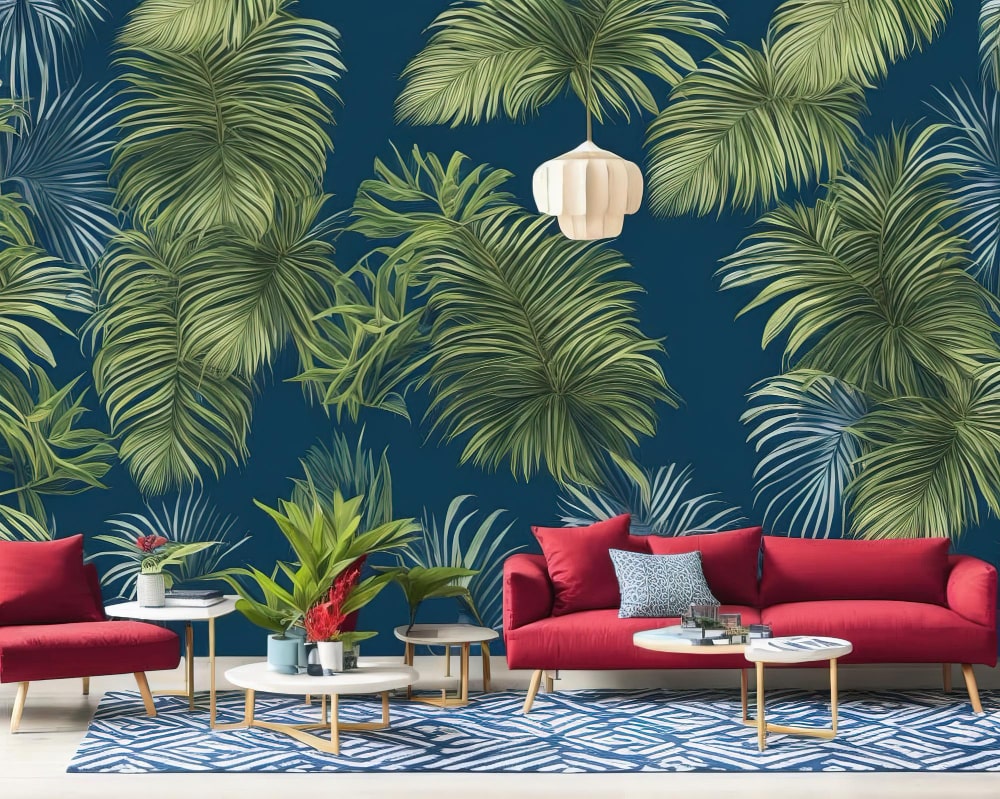 If you want to include nature-inspired designs into your living area, choosing proper print can be a critical point. Although it's your absolute personal choice, yet bold designs that stand out in your house can transform your living room completely and turn your wall into an statement. Consider creating a sizable mural that depicts a wild animal or a colourful scene. Prints with a natural theme can also be utilised as accent pieces on smaller walls to create a relaxing atmosphere.
If you want something more understated in your living room, you may also utilise images that are inspired by nature on larger surfaces like complete walls, doors, and windows. Look for muted tones like soft blues and greens which offer calming visuals while not overpowering other design elements in your living space. For more texture and depth, go for textured wallpaper — we love scenic views of lush forests or waves breaking against the shore!
4- Textured Wallpaper: Add Texture to the Space
Textured wallpaper is a great way to add an interesting layer of texture to the space. Whether it's a subtle, woven pattern, grasscloth, vinyl material or something more adventurous like corkboard, textured wallpaper can help you create an amazing depth and dimension.
To make a statement, look out for textured wallpaper with raised designs and patterns—but remember that it can also be used as an accent wall to add personality or color your room in a more subtle way. And if you prefer neutral color palettes, you can also find textured paper in shades of beige and gray for added tranquility.
Let's take a look at some of the benefits of textured wallpaper:
Unique look to add interest
Whimsical and retro vibes for dramatic flair
Tactile feel that adds luxury
Great way to create contrast through texture
Can hide imperfections on walls with raised designs
5- Art Deco: Add a Touch of Glamor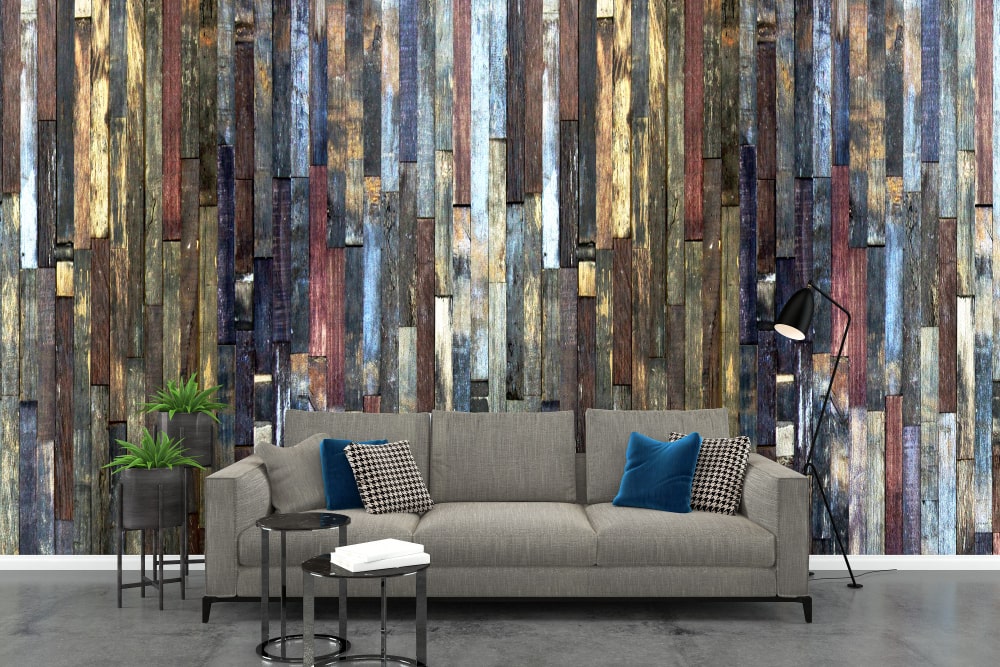 This year, Art Deco is making a major resurgence, and it's the ideal approach to give your living space a dash of glitz. This enduring fashion trend from the 1920s and 1930s is distinguished by geometric patterns, luxurious materials like gold, silver, and glass, and vivid colours. It draws inspiration from everything from contemporary architecture to jazz culture.
You have a choice between stronger and more subdued art deco wallpaper patterns for your living room. Here are some art deco-inspired designs that can really elevate your space:
Geometric Patterns: Art deco wallpaper often involves geometric prints that feature lines, circles, squares and other shapes combined in creative ways. Opt for designs with steel or brass finishes to really bring out a luxurious vibe.
Muted Tones: Alternatively, you can go for muted tones instead of brighter hues. Look for subtle patterned wallpapers in shades like black, beige or gray — they will give your room an instantly sophisticated feel.
Opulent Materials: Incorporating materials like gold and silver into your art deco wallpaper will give it an extra touch of luxury too! Plus, they're very on trend right now so they're sure to help make your living room look extra glamorous!
6- Tropical Prints: Give Your Room a Bright and Cheerful Look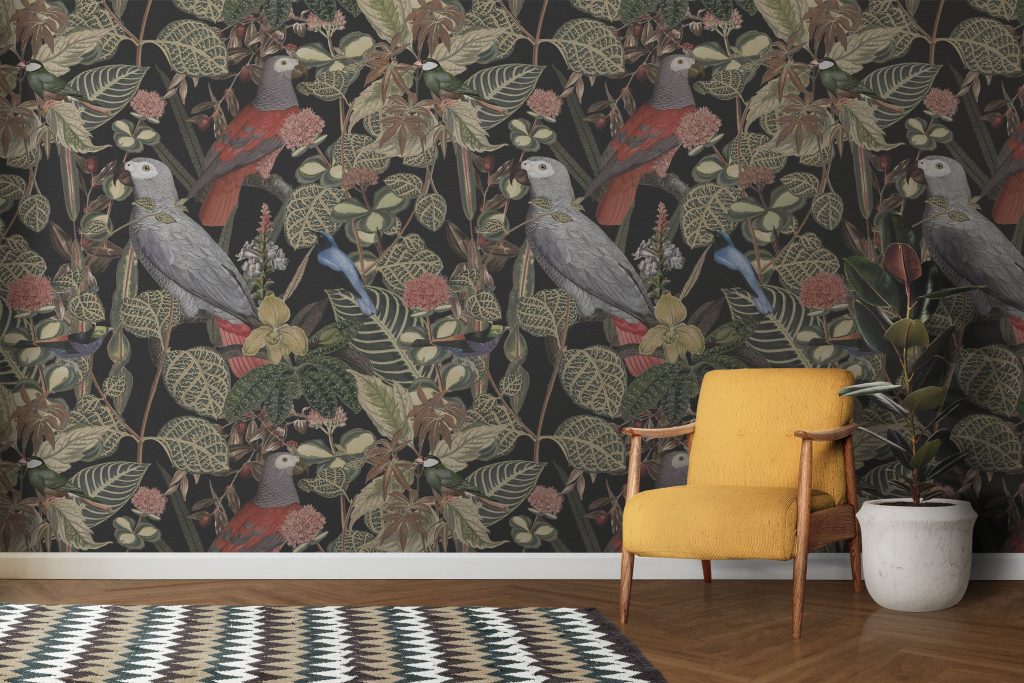 Are you looking for something bright and cheerful to brighten up your living room? Tropical prints might be just the thing you've been searching for! Tropical prints are perfect if you're looking to add a bit of flair and personality to your walls, as they bring a taste of the tropics right into your home. The bold colors, lush foliage and exotic animals are sure to make any room come alive.
Bringing nature indoors can be a great way to relax your mind after a long day, and tropical prints make for especially vibrant wallpapers that can be used in almost any style of interior decor. Whether you want something big and striking or something more subdued and understated, tropical wallpaper pattern can be ideal for your living room.
These tropical wallpaper patterns don't require any additional decorations or accents; instead, they may be used as standalone statement pieces as they are an statement in themselves. You can even mix several patterns in various parts of the room if you're feeling daring. For example, sunflowers on one wall and a little high green grass land on another might give you an illusion of flowers on hill.
Vintage-inspired patterns with fading colours can bring in a timeless feeling inside your home. Its classy and bold at the same time. Try an ombre pattern with an eclectic mix of colours for something more contemporary, or go all out with one of the more popular 3D wallpapers. Whichever one you pick will bring a little colour and life to your living room.
7- Bold Stripes: Create Visual Interest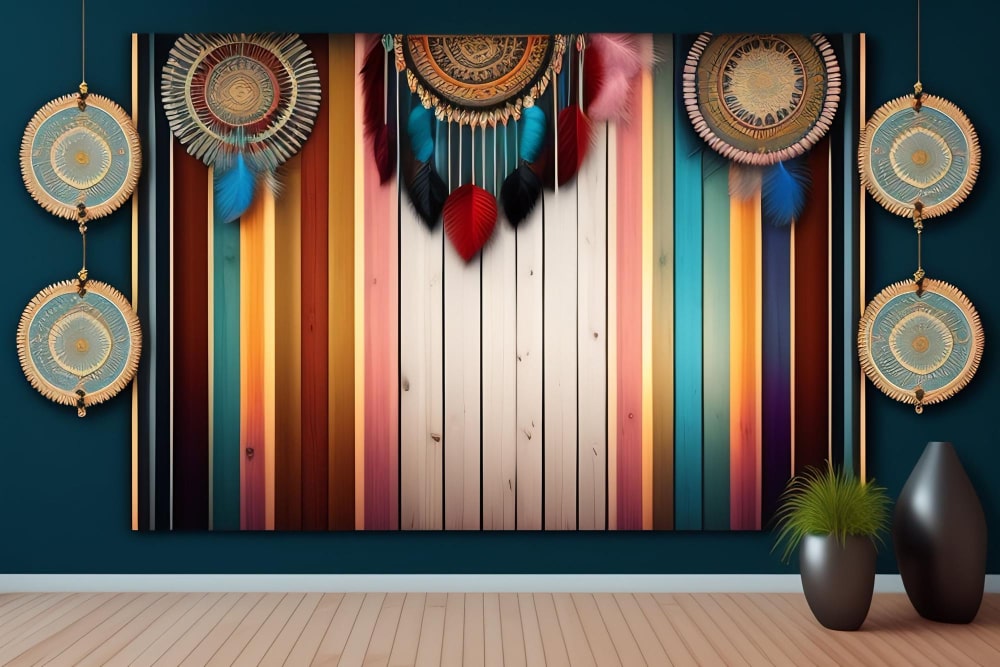 Bold stripes provide a powerful visual impact that is difficult to match in your living space when it comes to visual intrigue. Whether you go with vertical or horizontal stripes, the repeated lines make a striking feature wall that will capture the eye from all angles. Additionally, you can add even more visual interest to your stripe wallpaper by selecting a vivid colour.
Just remember to take your proportions into account when choosing bold stripes. If your room is already pretty large, vertical lines could be overkill since they can create the appearance that a wall is higher. Horizontal lines can create the illusion of a wider space, which could be just perfect for those rooms that are already quite long and narrow.
The beauty of bold stripes is that you can find patterns for any design esthetic — from subtle and muted tones to bright colors and tropical prints. No matter what kind of look you want to achieve in your living room, adding some statement-making stripes will be sure to create major visual appeal!
8- Metallic Finishes: Add a Touch of Metal Shine to Your Space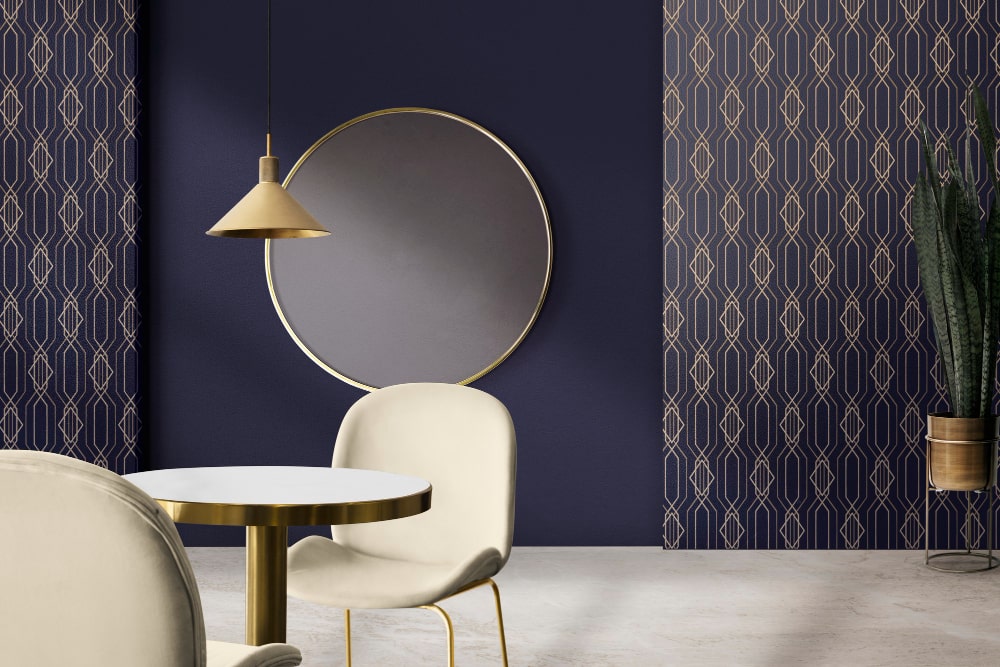 Metallics add a touch of class and sophistication to any space, and metallic finishes on your wallpaper is a great way to give your living room an opulent feel. Metallic wall treatments are ideal for achieving a distinctive industrial-style, minimalist effect.
Metallic wallpaper offers a level of sheen and glitter that is impossible to attain with conventional paints, from monochromatic to antique golds and silvers. One statement wall with a subdued metallic finish can have a dramatic effect, which is the beauty of metallics in that you don't need to go overboard.
Therefore, how do you pick the ideal metallic wallpaper? Here are some tips:
Look for metallic finishes with high-quality inks—these will reflect light better and last longer.
Consider the color scheme in the room before making your decision—cooler colors of silver works best with pale blues and grays while warm colors like copper can work well with rich hues like yellow, pink or purple.
If you're going all out, create an ombre effect by starting off with a lighter color at the top of the wall, gradually deepening it towards the bottom.
9- Ombre Wallpaper: Transform Your Room With Color Gradients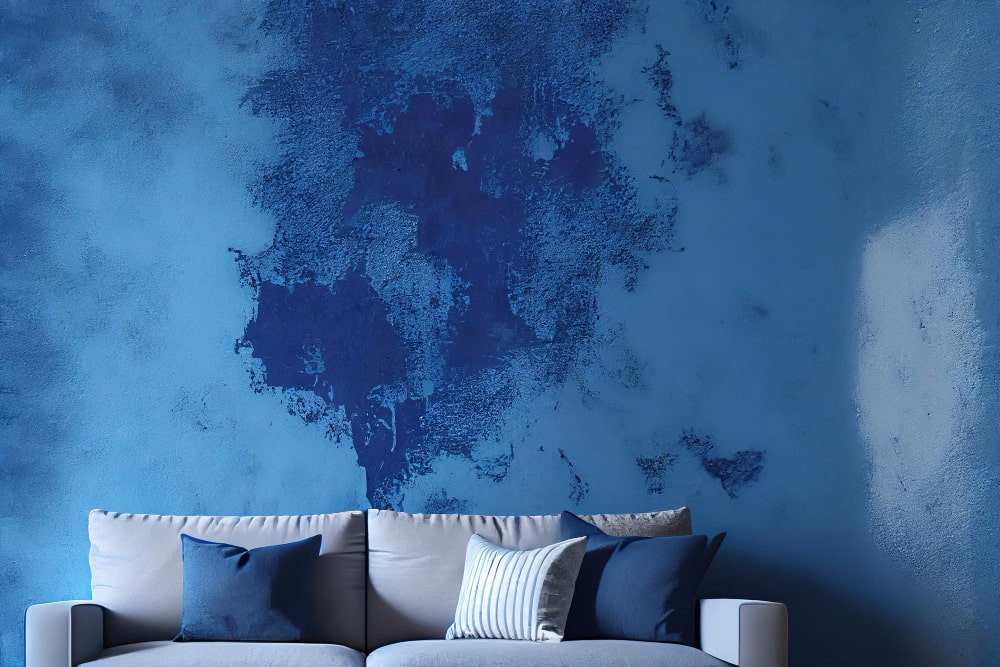 Wallpaper that is ombre is a fantastic method to change the look of your space and create drama. It can add depth and a modern, clean look to your decor with its colour gradients and seamless transitions. The best part is that you don't have to go with one color—by varying the colours you use, ombre wallpaper can provide a variety of effects.
The benefits of adding ombre wallpaper to your living room include the following:
A simple method to increase the attention in tiny spaces is to use ombre wallpaper. The subtle changes in colour that create the illusion of space make a room appear bigger than it actually is.
After a hard day at work, you may unwind and relax thanks to the relaxing effect produced by the gradual change in colour.
Ombre wallpaper is ideal for tiny spaces with limited floor space and natural light because it may provide texture and dimension to your walls without making them appear cluttered or overbearing.
Ombre wallpaper gives you several possibilities for personalising the look of your area and generating a distinctive ambiance in any room, whether you select vivid colours or subdued shades.
10- Vintage-Inspired Prints: Get Old-Fashioned Charm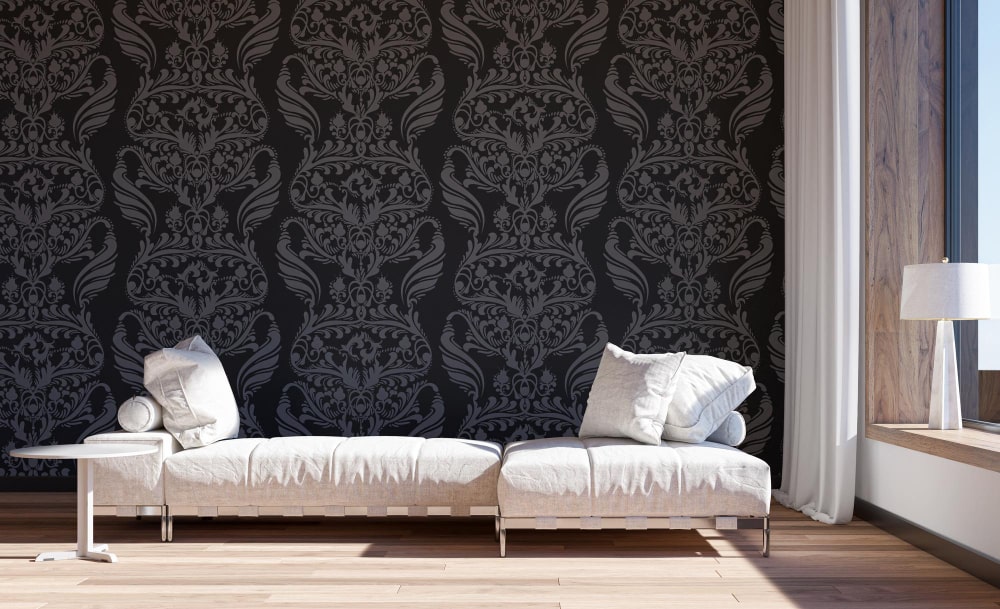 If you are a lover of retro vibe and want to state it strongly, choosing vintage-inspired wallpaper is a great idea. Although matching these vintage inspired wall paper designs rarely match with modern contemporary homes, yet by choosing rustic furniture in addition with metal decor ornaments and french doors you can convert your home into a little vintage-looking and then this wallpaper will only enhance the feel of times we have touched only through history.
But how can vintage-inspired wallpaper be used to achieve the ideal look? Here are a few advices:
Choose muted colors. Try warm blues, greens and oranges to give your room a cozy retro feel.
Look for prints from classic wallpapers from the 1960s to add depth and texture to your walls.
Go for intricate patterns like delicate botanical gardens or garden scenes for an old world charm.
Don't forget about subtle details like stripes, florals or plaids. They add just enough texture to give your walls a hint of classic style without being overpowering.
11- Watercolor Wallpaper Design Ideas for Living Room 2021 : Get Creative With Colors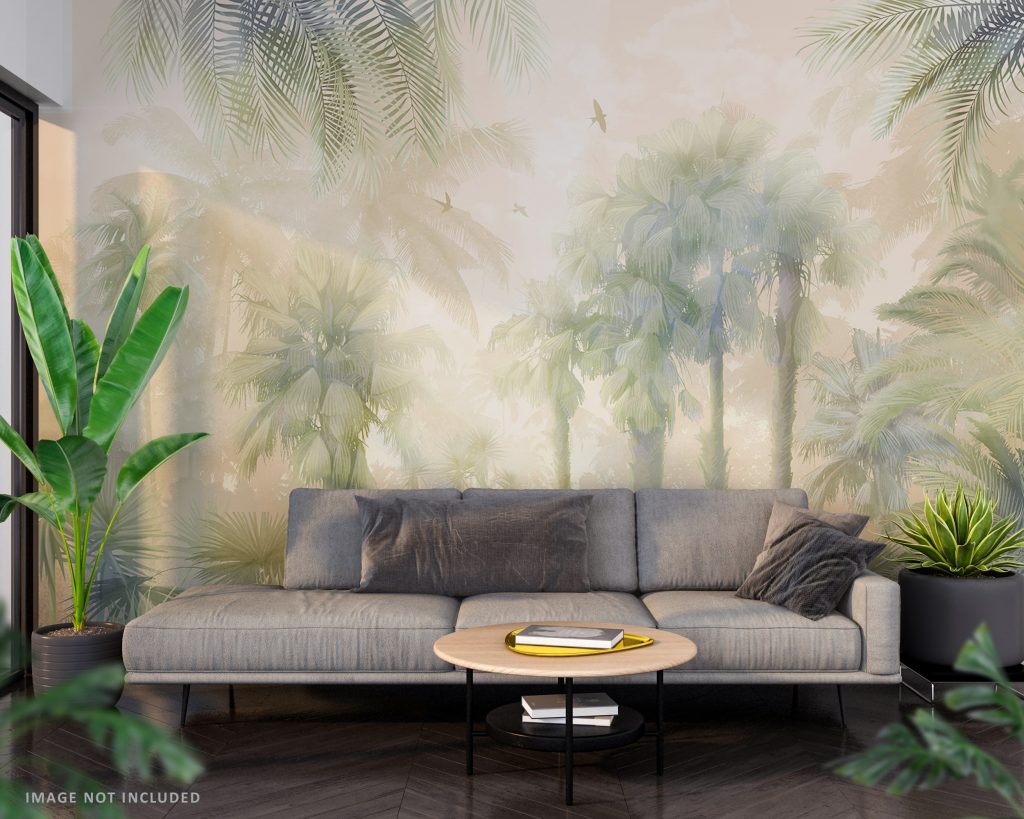 Watercolor is one of the trendy wallpaper designs for 2021, perfect for those of us wanting a unique and creative twist in our living room. If you're looking to take your walls from dull to vibrant, watercolor wallpaper is definitely the way to go!
Make a bold statement or simply add a touch of whimsy with watercolor wallpaper. The vivid colors draw attention and create a stunning accent wall that stands out from all other home decor. Here are some tips on how to make the most of this style:
Get Creative with Colors: The key to achieving beautiful watercolor wallpaper design is getting creative with colors and patterns. Play around with different hues and shades, like bright oranges and reds, cool blues and greens, or even pastels that can be used to introduce more subtlety into the room.
Layer Your Design: Layering different textures for depth can also be an effective way to bring movement into the space. You could try experimenting with stripes, blocks, geometrical shapes or even floral wallpapers – all important elements of traditional watercolor art.
Balance Out The Room: Finally, make sure that your use of color doesn't overwhelm the room but instead manages to strike a perfect balance between shades and tones – whether they are combined together or used in isolation on a single wall. This will help add personality to your home while allowing you to still be able maintain a classic look that won't go out of style anytime soon!
12- 3D Wallpaper Design Ideas for Living Room 2021 : Create Depth and Volume in the Space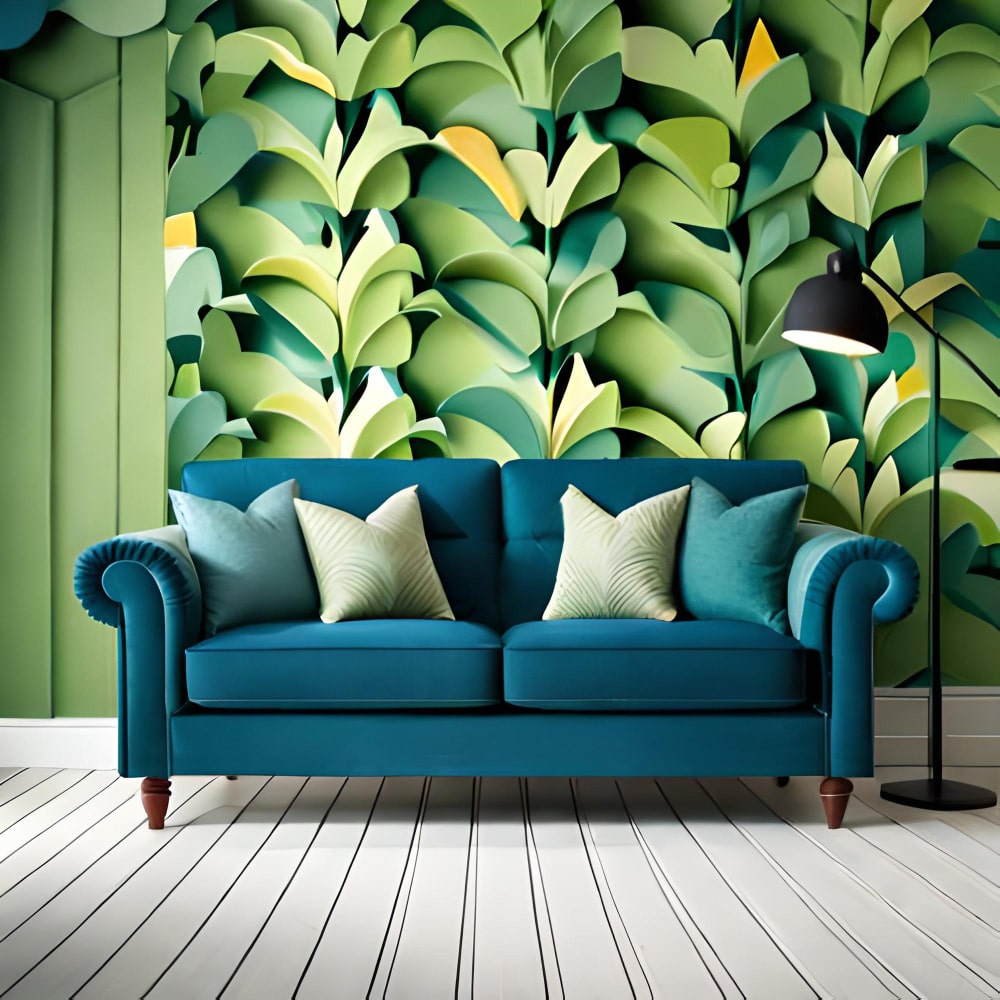 3D wallpaper is the way to go if you're searching for wallpaper that gives your living room a little drama. By giving the impression of depth and volume in the room, it may turn plain walls into a work of art. Whether you want to give your living room an artsy, modern feel or a more timeless, classic touch, 3D wallpaper can do the trick.
There are lots of creative ways to use 3D wallpaper for living rooms:
Create an eye-catching feature wall with graphic prints, like interlocking circles or swirling shapes.
Create a serene background with soft colors and abstract patterns.
Create an ombre effect with color-changing wallpapers that transition from light to dark hues.
Give your walls a luxurious, spa-like look with metallic 3D patterns or textures like velvet or leather.
Add some whimsy to your home with bright colors, playful designs and bold patterns featuring animals and plants designs.
Play with photographic elements like fish scales or rippling water for a unique look in your living room.
Give your living area even more depth by using multiple layers of 3D wallpaper for added texture and volume.
No matter what style you choose, 3D wallpaper is sure to spruce up any living room in 2021!
13- Geometric Patterns : Get Modern and Stylish
Do you want to get modern and stylish with your home décor? Then why not consider using geometric patterns for your wallpaper? It might sound intimidating, but it actually adds a lot of character to a dull wall. Plus, it's one of the hottest wallpaper trends in the decorating world right now!
Color Play: Playing with colors is one of the most fun aspects when it comes to geometric patterned wallpaper. It offers an array of options to choose from, like monochromatic colors, muted tones, or bold and vibrant shades, depending on the look that you're going for. Not only are they classy and sophisticated, they will also add depth and dimension to any space.
Texture: Plain walls can dim the candour of your happening and gorgeous living room laced with stylish yet affordable furniture and quirky decor. Think of creating textured walls instead. Producing fascinating textures is easy just by adding additional layers of pattern and shape or geometric patterns. Combining this with colour, whether monochromatic or other hues that help highlight the design's features, works well. Additionally, textured wallpaper adds a further touch of style and elegance to a space.
Whatever style you choose for your walls – from contemporary to bohemian – there is always an option including geometric patterns that will fit perfectly in any living room design. So stop by your local store today and take a look at all the stylish options available!
Parting Words
Whether you're the type of person who likes to keep up with the latest interior design trends or someone who prefers timeless designs, there's definitely a trendy wallpaper design idea that can suit your style. From muted tones to bold stripes, tropical prints to metallic finishes, and everything in between, take into consideration your current living room decor and find a wallpaper that blends in perfectly or stands out as the statement piece. Whichever design you choose, you can't go wrong with the freshest trends in wallpaper designs for living rooms.