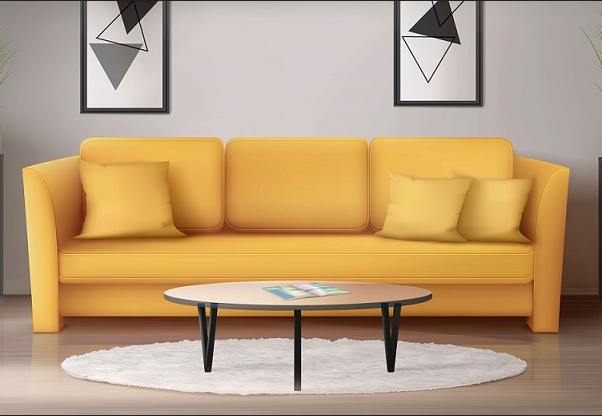 It's time to give your living room a refreshing look. Whether you're looking to upgrade your living room decor or fully remodel it, this guide and decor ideas will help you navigate the most popular home decor styles.
Welcome to yet another guide for learning how to decorate the living room. There are a few simple things to consider before taking the plunge. Think about the intended purpose of your room's area, this will help you pick the right living room furniture and keep the room look cohesive.
Regardless of how you intend to use the room's space, some important elements contribute to a well-decorated and comfortable room. Comfortable seating i.e., sofa set, table space for coffee table, lighting, and decor combine to create a welcoming place.
Living room furniture is, of course, the main and the most integral part of the room but every single element that you add around it makes a huge difference. After all, furniture alone cannot make a room look good. So, before jumping onto the ideas, here's a list of some of the living room essentials other than main living room furniture.
Decor accessories – art pieces, funky assets, functional accents etc.
A rug for the centre of the room.
Lamps to add ambient glow in the room.
Coffee table to provide a surface to other decor pieces.
Let's begin with the top 6 easy tips or ideas to elevate your living room!
Know Your Living Room Space
Before you start decorating your living room, channel your style and taste into deciding the design scheme for your room. Would you prefer a casual look or industrial loft kind of space, a colour coordinated or colour palette theme or a vibrant and bold design? Would you rather purchase every element of the room or cut down on expenses and get the living room furniture on rent? What colour would the walls be or would you prefer wallpaper? Know where you stand, what's your style and preferences, what you want to do with the room and then move onto the decorations.
Get Somewhat Weird on the Coffee Table
Skip the traditional decorating approach and go for something quirky and unique to put on the coffee table instead of classic assortments. You can opt for classic pots and planters to enhance the look of the table and make it more fun, electric as well as timeless. Why? Because plants are known to bring life into any room. You can add a small potted plant to the table. And if you have crisp white walls, then colorful elements on the coffee table would look even better.
Make a Bold Statement
Wallpapers are in trend. Choose a bold wallpaper for your living room's walls. If you choose to go with a classic chinoiserie wallpaper, you can do anything with it as your preference changes over the year. Pick a contrasting wallpaper that complements other elements in the room i.e., sofa set and enhances what's put on the wall such as art pieces, portraits etc.
You can also try a fabric effect wallpaper for a classic and elegant look, which will give warm vibes and go great with blue painted accents. You can also add a bold wallpaper on the wall where you're going to hang your television. The TV and the entertainment unit would stand out and look good in front of a classy wallpaper.
Install Statement Lighting Overhead
Want to make a statement, go glam but not look too showy? Incorporate minimal brass accents such as metal-frame coffee table and on top of it, eye-catching metallic lighting. While the only three living room furniture items can be two seater sofa set and a coffee table, the lighting on the ceiling is all it will take to make the entire room look and feel special. That's how strongly lighting affects the overall look of the room. It can make or break its appearance – can either make it look dull and depressing or completely change its aesthetics and bring the room to life.
If you have a window in the room, do not block the natural light with any furniture piece. The more the light, the better.
Have Some Fun with the Pillows & Rug
Add on some funky looking, comfy cushions on the sofa. They will not only make the seating more comfortable but also make the room feel more approachable. Take the decor a step further and add layers to the sofa – throw in a blanket or drapes, including chairs for extra seating, add big plush floor cushions so you can unwind.
Complete the look of the room by adding a vibrant rug and sheer drapes. The rug should be in the centre so that other furniture pieces can be placed in-line with that. Get on with the boho living room decor and make it free carefree with a mix of vibrant cushions, bold patterns and drapes.
Double up on Living Room Furniture's Functionalities
Double your room's function by investing in multi-purpose living room furniture. Make it a multi-purpose room without compromising its appearance. You can place a sofa cum bed in the room. If you have space then you can go for big sofas or even a recliner set. But if you have less space, sofa cum bed would do wonders for the room. If it's not your style, you can still opt for the classic furniture set.
Put a chest of drawer in the room to add more storage space where you can keep your things. You can even add a small Hugo bar unit to flaunt your wine collection, if not it can be used to place fancy cutlery.
Too busy to explore the markets, search the shop for all these things and decide on the things you want to add to your room? We'll make it easy for you. Go through our portal and browse through a wide variety of living room furniture on rent at affordable rates.