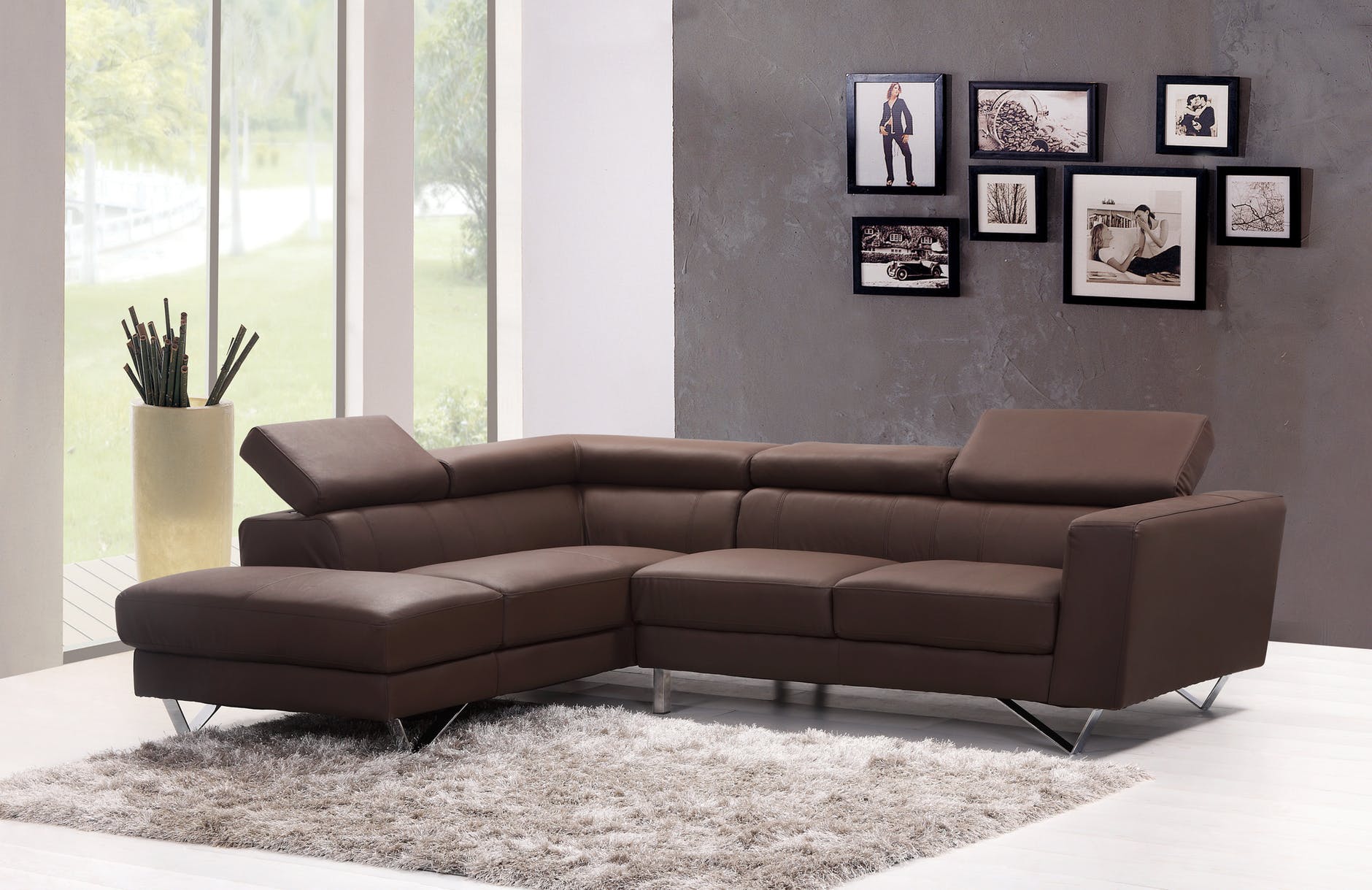 It can be tough to get a luxurious looking living room, particularly if you are on a budget. Fortunately, even on a budget, there are ways that you can get the look that you dream of. Over the years, interior designers have shared a few secrets that have given people some insight into how they can make their home look elegant without spending a lot of money.
There are quick ideas you need to know that include adding inexpensive pillows, a fresh coat of paint or window treatments. Here are ten of the easiest and least costly ways to make your living room look stylish. You might just be amazed at these easy tricks to make your guests into believing that you are living a high-end life.
1. Crown Molding
Details are important when it comes to decorating your living room to look high-end and custom-made. In this case, it's adding details to crown molding. Crown molding has a way of making a space look complete; it binds together the ceiling and the walls, giving them an elegant look. Rooms tend to look cheap or unfinished without this finishing touch. Luckily, crown molding, especially the plastic, paintable versions, is relatively inexpensive, making it affordable even on a tight budget.
There are several widths to choose from but choose the widest trim that your budget will allow if you want a greater effect. Try adding all forms of molding to your home to get the ultimate touch of glamour, i.e. high baseboard, crown, ceiling beams, columns, chair rails, etc.
2. The Right Paint
Perhaps one of the most difficult choices to make when decorating a room is paint color, especially when the remaining decor is focused on the color palette. However, certain colors add instant glamour to your home if beauty is what you are after. Choose either the bold and dramatic or light, understated hues. You can add instant luxury and beauty to your home with these hues. It simply relies on the personality of your color in terms of which choice you select.
Another thing that you can try is to paint the interior doors black in color. It produces an expensive feeling instantly, without causing a dent in your pocket. However, if you choose this option, be sure to add some black accessories to your living room, to tie together the overall design.
3. Keep Your Living Room Clean and Free of Any Clutter
Surprisingly, one of the most economical ways to make your living room look elegant on a budget is free. What you need to do is clean your home and declutter it. To make the room look clean, tidy, and welcoming, make sure that you perform daily cleaning sessions. It is not just for hygienic purposes; your newly painted walls and new accessories will also stand out with daily cleaning. In fact, weekly regular dusting and vacuuming will make your home feel high-end.
Secondly, cleaning helps you to easily take care of stains and spots on area rugs, preventing them from looking shabby and scratched. Do clean the windows as it allows natural light to fill up the room, making it feel bright and inviting. Finally, daily cleaning makes it possible for you to declutter your living room. Not only do you feel better about your living room, but it helps the other elements like paint, pillows, and accessories to really stand out.
Another way of making sure that you don't accumulate any unwanted pieces of furniture is to get furniture on rent. After the rental period is over, if you think that this is not something that you desire to have anymore, you can always return it. This will save you from having the unnecessary burden of keeping a piece of furniture in your living room that you no longer require.
4. Comfortable and Elegant Pillows
Pillows fulfill two purposes in designing. First, they can really punch-up the elegance aspect if they are chosen correctly. Secondly, they provide a little extra comfort on the couch for your guests and give your rooms a comfortable, layered look. If you choose pillows that are big enough to sit on and soft, the comfort part speaks for itself. Speaking of size, for a throw pillow, you want to avoid the usual 12 to 18 inches. For instance, fill up a 22-inch pillow cover with 24-inch inserts. Big, overstuffed pillows build a very plush, elegant feel.
5. Window and Curtains
A home without window treatments can look unfinished and inexpensive. Fortunately, one of the most budget-friendly ways to add some sophistication to your living room, as well as much-needed privacy, is window treatments. You want to make clever choices when choosing window treatments. Curtains and blinds help enhance the look and feel of the room as well. The significance of window care is often ignored, which is why the type of curtains and blinds you use is important.
The windows and the overall appearance of any living room can be uplifted by curtains. Two classic options for a luxurious look are full-length white curtains or high-quality Roman blinds. You can purchase Roman blinds online if you don't have enough time to go shopping, where you can find a selection of elegant pieces in no time. To soften the light in the room, go for blinds and curtains that are sheer. For an elegant, 'loft-like' look, opt for floor-length curtains. Selecting unlined flimsy fabrics, looks terribly inexpensive, even though they are the least costly alternative.
It's advisable to avoid see-through fabrics. This does not mean you should not buy curtains off-the-rack. Many chain stores sell lined draperies that look elegant and costly, although the price is right. Stick to elegant fabrics such as natural silk, linen, and cotton when it comes to window treatments On the other hand, Polyester or man-made fabrics usually look cheap. If drapes aren't for you, consider woven shades of bamboo or wood blinds. Just make sure that your windows are well dressed, to ensure that your living room looks beautiful and well designed.
6. Choose Unique Hardware Finishes
You can indeed walk into a home improvement store and stare at a whole wall of knobs and drawer pulls. That is the precise moment, however, that you should turn and walk out of the door. These pieces of bulk hardware are inexpensive, but they are also low quality and cheap-looking. You may buy beautiful, more expensive-looking pieces elsewhere for a little more money, but not enough to break the bank. The best places to look are smaller hardware stores, flea markets, and antique shops. At a much more affordable price, you will find heavy-duty, expensive-looking drawer knobs and pulls, giving your living room the trendy and luxury look that you crave for.
7. Rent Furniture to Afford Luxurious Items
While many people feel that investing in expensive furniture is not within their means, it will eventually cost you more to buy cheaper furniture. Furniture rental has come as a solution for individuals who want to purchase fashionable and expensive pieces of furniture for their home and do not want to spend a lot of money on purchasing them at the same time. Renting has changed from what it used to be when it was a taboo while owning things was a matter of pride.
Earlier, due to social pressure, people would spend a lot of money on something they would need for a short period of time. Although EMIs can spread the cost of owning furniture for your living room, this can dent one's finances, especially when it comes to fittings and fixtures, which have a limited lifespan. Simple monthly rentals according to your needs, maybe a much better choice instead of paying heavy EMIs for furniture that is out-of-trend or gets damaged over time.
8. Lighting Matters
Many contractors would prefer standard lighting fixtures, which are likely to be the same in all the homes they have constructed. Designer light fixtures, on the other hand, will bring more charm than the regular chandelier to your home. Luckily, without the high-end price, there are a few tricks you can use to get a high-end look. You can go around and check the flea market and some second-hand shops.
At a budget-friendly price, you might find a unique piece. Or try this trick of applying a drum shade around an old chandelier for that personalized look everyone is missing right now. Some sections may need a little buffing or a new job with paint, but for just a few bucks it can look worth a million. Besides, to enhance the elegant feeling, be sure to have many distinct light sources, including table lamps and floor lamps throughout the house.
9. Prefer Tiles Over Carpet
It is true that wall-to-wall carpeting provides a warm and soft touch to a living room, but it does not look modern and elegant, the way a solid, shiny, tiled surface does. Tiles offer an elegant, trendy look at an affordable price. Getting tiles for your home is going to be an investment, but it is probably a smart one. Tiles last longer, and, especially if you ever resell your home, provide a pleasant return on investment.
Laminating the floor is another choice, but in order to ensure lasting quality, be sure to purchase the best laminate in the market. You may want to look at various types of tiles to get the best value for your money, as some are more expensive than others. Also, consider selecting a light color for a more spacious and modern look, but be sure to add a few area rugs to connect the room's overall design from floor to ceiling together.
10. Add Accessories
To really bring the elegant touch to the room, most average homes lack the necessary accessories. Although many might use the argument that accessorizing will over-extend their budget, the exact opposite is true. There are many inexpensive ways to accessorize your home, especially if you think smart while remaining within your budget. The golden color is linked to wealth and it and can create an elegant feeling instantly, as long as there is not too much of that color in one room. You can accessorize your living room with gold picture frames, gold-framed mirrors, or one of the latest, sleek gold-legged tables that you find in one of those designer showrooms.
Conclusion
These tips are some surefire ways to turn your living room into a stylish and luxurious looking space that will please both your guests and family members alike. To purchase any of these items, make a budget, and search for cheaper shops, flea markets, or thrift stores. To find the best things for your living room, take some time to browse around. Finally, if any of these recommendations seem to be out of budget, try ordering your furniture on rent for your living room. This will not only allow you to bring down the cost, but you can also make sure that your furniture always stays updated. This in turn, will provide a luxurious and modern look to your living room.