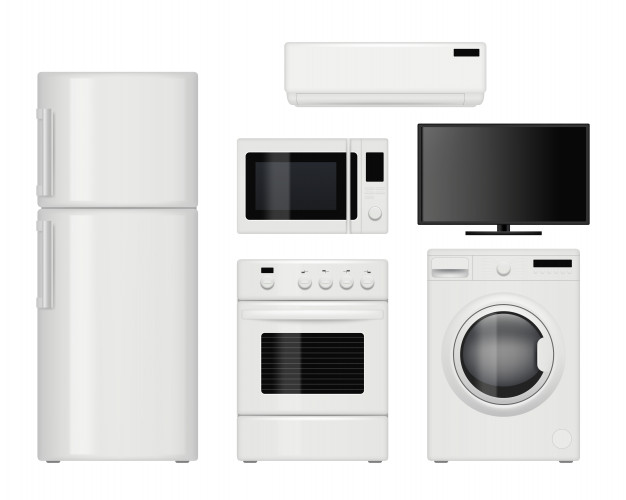 Shifting to another city to study or for a new job can be challenging for many bachelors. Most of them are not used to doing the little household things on their own. Besides, their studies and job in a new town hardly leave any time for them to do household chores. Appliances on the other hand make it easier for us to carry out our day-to-day household chores. So here is a list of 10 essential home appliances that will make it easier for bachelors to manage their life away from home, and perform their daily chores independently.
1. Microwave Oven
Most people prefer to microwave some items that were refrigerated, rather than warmed over a stove. A microwave-oven can be used for several other things like grilling, thawing frozen food, making pop-corn, frying rice, etc. You can always rely on your trusted microwave-oven to whip up a fast meal on the days when you just want to cook up a simple and quick meal. There are countless options, whether it's breakfast, lunch, snack, dinner, or dessert. When you want to save your time and resources, getting a Microwave-oven is a great option for a bachelor pad.
2. Induction Cooktop
In contrast to a standard gas stove, an induction cooktop saves you a lot of time when cooking. In an induction cooktop, what we like the most about cooking is that you can set timers. Imagine the pleasure of not having to keep an eye on the milk to make sure it doesn't boil out of the vessel. Only set a timer, and without any mess, you have boiled the milk. Besides, when you are new in a city, it's always a hassle to run around for a cooking gas connection. This is not the case when you cook on an induction cooktop, as it operates on electricity.
3. Electric Kettle
One of the handiest kitchen appliances for bachelors who live away from their family is an electric kettle. Once you get this kettle, you will realize that you will use this kettle for most of your work in the kitchen. One of the most energy-efficient kitchen appliances, it will save you electricity, time, and money. If you're a fan of coffee or tea, then you'll surely enjoy it. Particularly for lovers of Maggie, this kettle should be the first choice. It comes with different temperature settings for different drinks like 165°F for milk tea, 170-185°F for green tea, and 205°F for black tea.
4. Refrigerator
A Refrigerator is a must-have for every home these days. During the unforgiving summers in India, all you need to keep your cool is to have a cold beverage or water in the fridge. A refrigerator can come in handy when you want to cool your drinks, save your leftover food for the next day, or just plan meals to make cooking easier during the week. This is one place that will become your one-stop solution. Feeling unhappy or sad? Grab an ice cream bowl. No time for cooking? You've got the leftovers from last night. Want to chill out with friends? Stock it up with some chilled beverages.
5. Washing Machine
The everyday tasks we do have been made simpler, thanks to the new technology. One such technical marvel that has made our lives hassle-free is the washing machine. A washing machine has helped to add some respite to our busy lives. As washing clothes using hands takes a lot of time, it can get very difficult at times, considering the hectic lifestyle most of us have. Washing machines even support us with multitasking in a way that we never thought was feasible. When our clothes are washed in a washing machine, we can easily walk away and come back once the washing cycle gets completed.
6. Dishwasher
We all know that if there is one job we hate, it's doing the dishes. It appears to pile up magically in the sink no matter how many times a day you do the dishes. A dishwasher comes in super handy in such situations. Perhaps the biggest benefit of using a dishwasher is that it saves time and is convenient. All you've got to do is put your dishes down in it and that's going to do all the work for you. The end of a meal meant the beginning of a chore for decades — someone had to wash the dishes. All that changed, with the invention of the automatic dishwasher. With the click of a button, bachelors, who are always short of time, can now renounce the time-consuming task, and still have sparkling clean dishes.
7. Air Fryer
Essentially, an air fryer operates through the convention. Think of it as a convection oven that has been amplified for greater efficiency. Besides, it can cook even faster because it has a compact space. We have a heating mechanism at the top of the air fryer and a fan. Without using oil, these countertop devices pump heat at high temperatures to roast, grill, or bake. While leaving food moist and chewy on the inside, they produce a crispy outside layer. For bachelors, it's a perfect choice as it is a compact appliance and the food cooked is oil-free and healthy.
8. Toaster and Sandwich Maker
A toaster is an electric device that exposes radiant heat to different types of bread, providing enough heat to it so that it becomes a toast. It is something that cannot be overlooked when making a list of handy appliances for bachelors. It gives you speed and the perfect toast for your bread slices at the same time. It is easier to eat crunchy bread rather than a cold one just out of the fridge. A toaster helps you accomplish just that. A sandwich maker, on the other hand, helps make the proper sandwich, scrambled eggs, and even makes perfect waffles.
9. Vacuum Cleaner
It can be a time-consuming and physically tedious job to clean the floor. When you don't have the time or resources to scrub your floors, this epic invention comes in handy. It'll make your floor spick and span without the need for physically exerting yourself with a broom. There may be certain places in your house that might have a lot of dust which can cause allergies. Harmful pet dander, dust mites, and a dozen other allergens that lead to cold and flu-like symptoms can be eliminated by vacuuming your house, particularly the carpets, beds, and sofas.
10. Water Purifier
When a person is away from home, it is important for him to take care of his health. A lot of diseases these days occur due to contamination of water. Providing safe drinking water is the main purpose of water purifiers. Contaminants such as suspended particles, bacteria, parasites, algae, viruses, and fungi are minimized by the purification process using a water purifier. Having a water purifier ensures that we drink only clean, pure, and uncontaminated water in our home.
Now we know about all the necessary home appliances that will make life convenient for bachelors staying away from their home. However, it's a well-known fact that a lot of appliances like the refrigerator, microwave-oven, washing machine etc., come with a high price tag. Also, most of the bachelors keep shifting accommodation as most of them live on rent and change accommodation as they get better options to stay.
Under such circumstances, it's a smart idea for bachelors to get their home appliance on rent. This is because it will save them a lot of money. Moreover, when they shift accommodation, they don't have to worry about moving their appliance to their new location. It will be taken care of by their rental company.