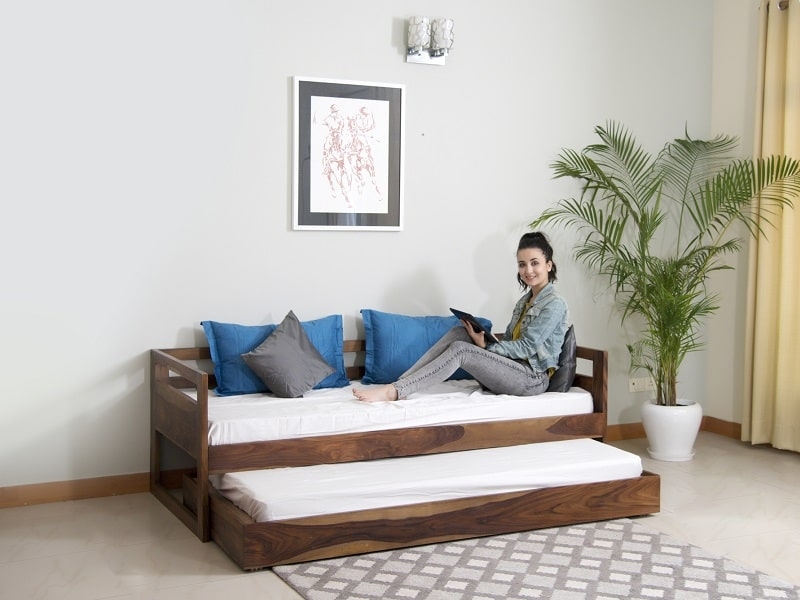 Space is the most common restriction in the small home and studio apartments. This is the fact of today's modern living that there is not much space to show your creativity in home decoration and furnishing. So, when you have such limitations for your furnishing in your modern life then only modern space-saving furniture for small apartment can do the perfect job.
The main purpose of modern furniture is allowing people to avail multiple functionalities in a single product. For example, if you think that there will be not much space left in your apartment for other furniture if you will put one bed in it. So, instead of changing your mind of getting an important furniture like a sofa rent a sofa cum bed. This way you can your cake and eat it too. It is a way better choice to simply prefer furniture that can do the job of both for your apartment.
Let's Explore 10 Modern Space Saving Furniture For Small Apartment
Space management can be a bit and burdensome task when you have less space in your home or apartment. So, instead of just getting rid of important furniture, the idea of replacing old styled furniture with modern space-saving furniture makes more sense. Why? Because it will help you fulfill all your daily needs without taking much space. It will be a perfect option for you to do proper furnishing even in a small space. So, let's see what are the common options of modern space-saving furniture that most people can find useful.
| Furniture Item | Space Requirements | Storage Capacity | Functionality | Versatility | Ease of Use | Aesthetic Appeal |
| --- | --- | --- | --- | --- | --- | --- |
| 1. Sofa Cum Bed | Moderate | Limited | Acts as both a sofa and a bed | Suitable for guests | Convenient | Stylish |
| 2. Bed with Storage | High | Ample | Provides sleeping space | Extra storage space | Standard | Varied options |
| 3. L Shaped Sofa | Moderate | Limited | Offers ample seating | Configurable | Comfortable | Contemporary |
| 4. Entertainment Unit | High | Ample | Accommodates electronics | Storage compartments | Practical | Modern |
| 5. Multipurpose Center Table | Moderate | Limited | Functions as a table and storage | Adaptable | Convenient | Sleek |
| 6. Folding Chairs | Low | Limited | Portable and space-saving | Versatile usage | Easy to use | Simple |
| 7. Nesting Tables | Low | Limited | Stackable for space-saving | Multiple surfaces | User-friendly | Chic and compact |
| 8. Compact Desk/Workspace | Moderate | Limited | Provides a functional workspace | Optimizes space | Practical | Minimalist |
| 9. Wall-Mounted TV Stand | Low | Limited | Holds TV and media components | Saves floor space | Convenient | Sleek and modern |
| 10. Stylish Bookshelf | Moderate | Ample | Displays books and offers storage | Customizable | Functional | Stylish and versatile |
1- Sofa Cum Bed with Sliding Under Bed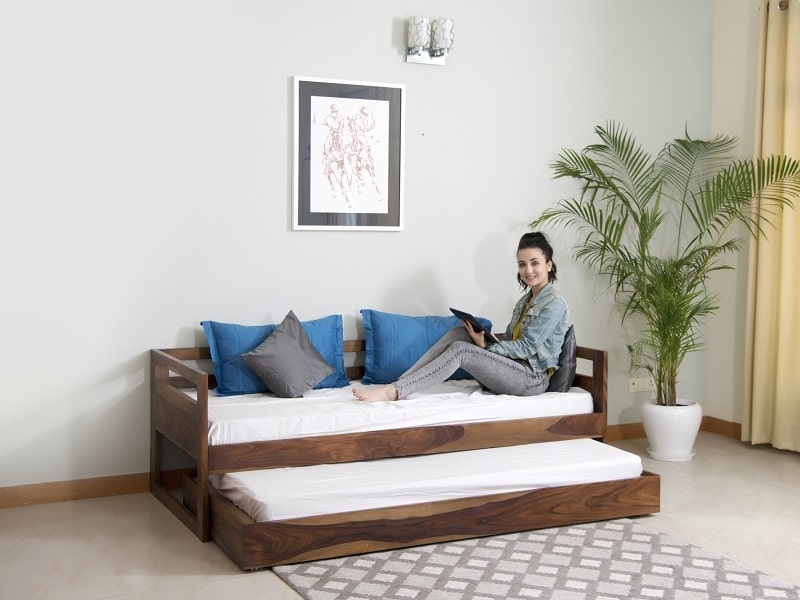 When your home does not have enough space to keep sofa and bed in the same place, instead try renting Sofa Cum Bed with Sliding Under Bed. It will be the perfect and most suitable furnishing option. It will maximize the possibilities of furnishing in a small apartment. You would be able to get the comfort of the sofa in the day and then you can easily transform it into a perfectly comfortable bed that will give you pleasant and good sleep time at night. A stylish sofa cum bed is the perfect example of a dual purpose furniture for small apartments.
You can put this in the place where you will keep your bed and leave the space of the center for other furniture. There will be plenty of space in your room. This is the perfect choice for those who live in a studio apartment or small spaces. If you are thinking about buying it then there will be many options available for you to browse and purchase the best furniture in most competitive prices. But, if you don't want to do a big investment in furniture just yet then you can simply consider taking furniture on rent. Renting Sofa Cum Bed with Sliding Under Bed will be a much cheaper furnishing option that is suitable for everyone.
2- Bed with Storage: Best furniture for small apartment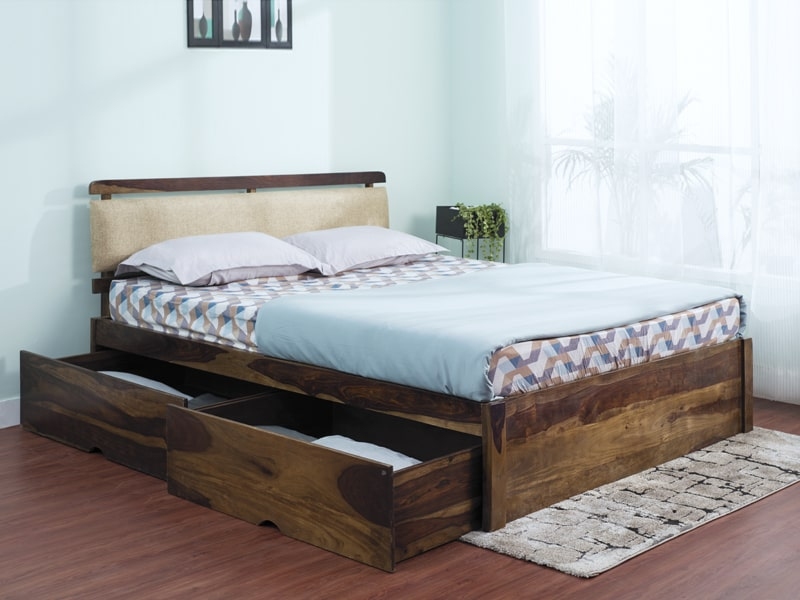 When we have a small home, storage is the primary problem that we face. This is the most realistic worry of people who have small size studio apartments or homes because they can't have sufficient furniture or decorative items in their homes. Because if they do, it will only become a crowd in the rood. But, this problem has a perfect solution that is a preference by most of the people who have a small house. You can consider renting a Bed with Storage. This will give you additional storage space without crowding your home. A bed with storage is a mush have furniture for small apartment. It modern, compact as well as multifunctional furniture for small apartment.
When you can keep things in your bed's storage, then you would not need to worry about storage. You can fill this storage with things that you rarely use. Or when you want to buy a new decoration for events or festivals, you can keep those items or decors safely in your bed so that you can use them again next year without investing the second time in the same thing. And, if you already have a plan to purchase Bed with Storage But you couldn't do it because of its price then furniture rental services will always be an option for you. Instead of waiting for the time when you will have enough money to actually purchase the bed, it is way to better to simply rent your preferable Bed with Storage and it will cost you minimal as well.
3- L Shaped Sofa: Most compact furniture for Small Apartment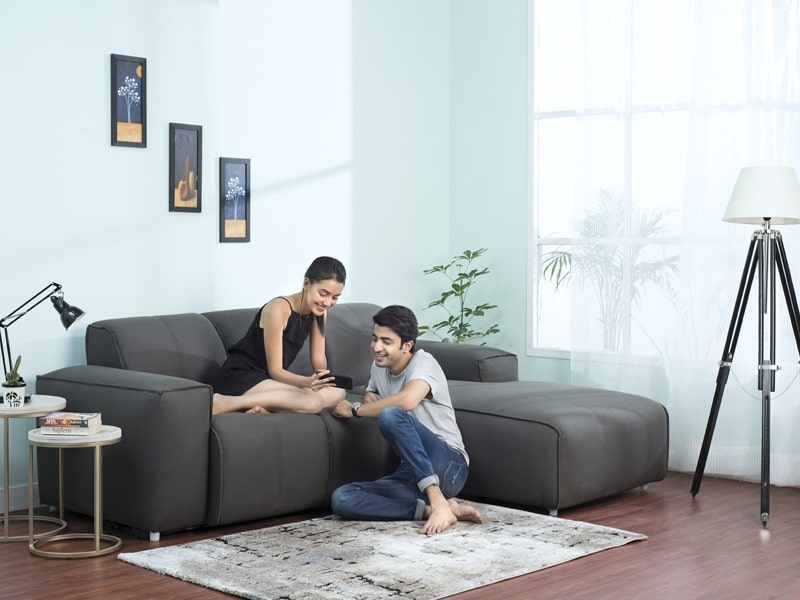 Some apartments don't have enough space to properly manage the sofa set with four sofa chairs in the center of the room. Well, in such a case, it would be a wise choice if you will use the corner area of your room for sitting arrangements. Instead of using a traditional sofa set, you can use L Shaped Sofa which will give you sufficient sitting space and it will not hinder your center area as well. After putting L Shaped Sofa in your home, you would also be able to have a table or other necessary furniture without losing the charm of furnishing. It can also give a clean and modern look to your apartment which will definitely be a positive point of having L Shaped Sofa.
If you want to make sure that your home has proper furnishing without compromising your basic needs then modern furniture for small apartment is the only choice that can give you the results as per your expectations. This kind of furniture will add space management advantage to your small size apartment. In short, using an L Shaped Sofa will be a smart way of utilizing the available space without losing the furnishing charm of the area.
4- Entertainment Unit: Slim solution for big problems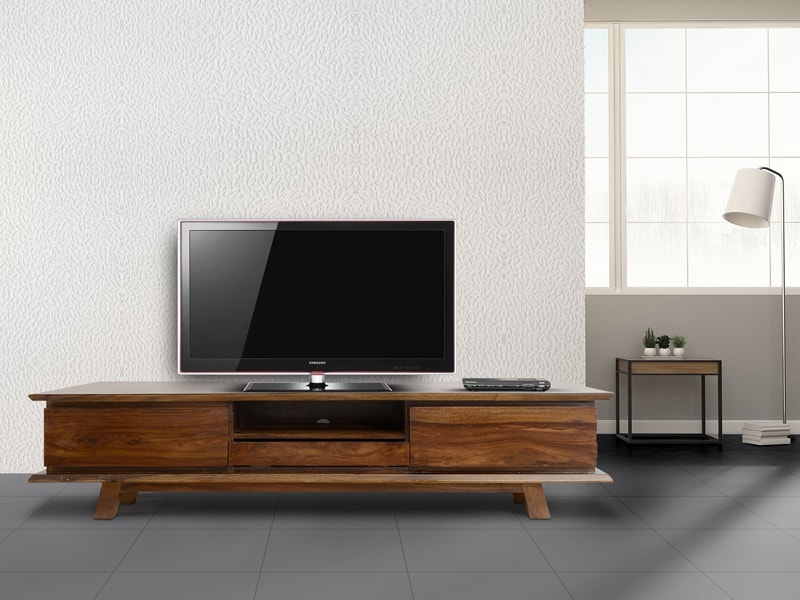 When you don't have sufficient space in your apartment for proper television space management then you will probably choose to place the television in the area that is left after other furniture. Well, this is not an efficient way of managing your home furnishing. If your television is not placed in the right position then it can lead to neck pain or back pain. There can be many more harmful health consequences of maintaining the wrong posture while watching television. So, instead of just putting your television without any plan, you should rent a TV Unit which can give you proper space for your television and other entertainment electronics.
And of course, if you are thinking about the management of space then you don't have to worry about it. Because you will get storage space in your Entertainment Unit that can be used for décor purpose or storage purpose. You can use the space of the TV Unit to keep all the open stuff managed and this will also help you keep your things safe from damage. If you have any doubts, Renting furniture instead of buying will be a perfect plan for you to try new furniture. And when you are sure that the specific furniture for your small apartment is the correct choice for your home then you can consider investing your funds in its purchase.
5- Multipurpose Center Table: Modern piece of furniture for Small Apartment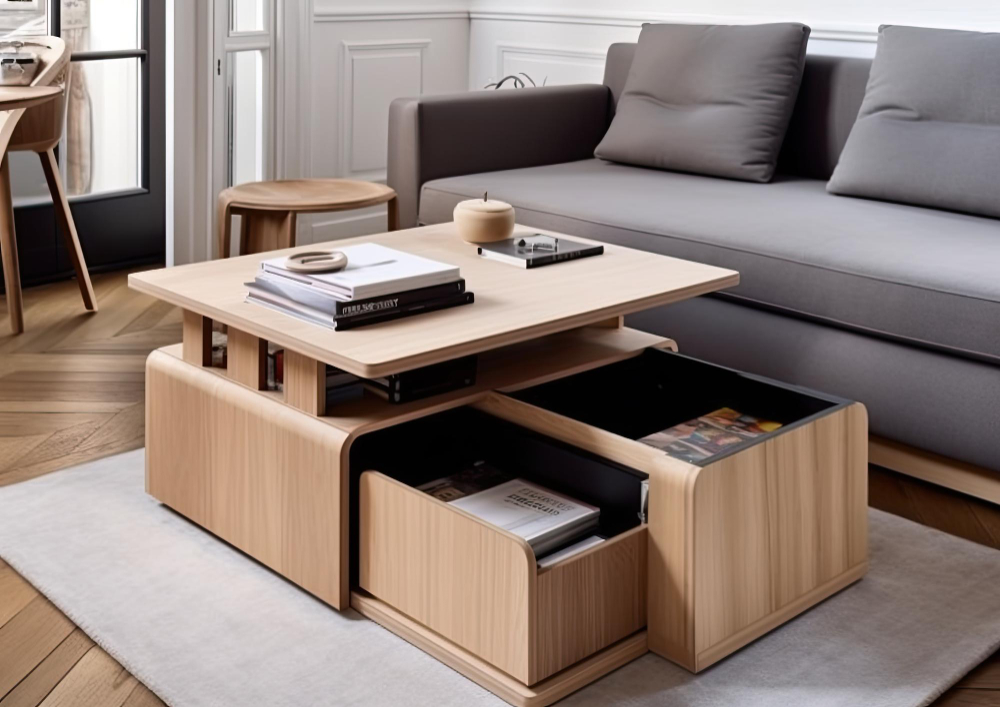 We all know that we can use the center table for snack time, morning time and it can be used as a dinner table as well. But, can you expect to get efficient storage and space management advantage from your Multipurpose Center Table? Well, now you can. Because Multipurpose Center Tables portable furniture that will allow you to get multiple advantages with a single piece. And it is certainly a much better choice than traditional tables that we use generally. Why? Because when we keep stuff on our tables, it just makes the space look messy. But, Multipurpose Center Table is like a portable box that can keep your stuff properly stored without making any mess to your room.
Multipurpose Center Table has sufficient storage space to keep your study or office items. You can even consider keeping your everyday use items in it like laptop, music device and other regular use devices that need proper safety and quick access as well. And most importantly, if you are working in your Multipurpose Center Table at home and you want more height for your laptop or computer then you will also get the option of managing the table height in it. You can choose the best level that works for you. It is must-have furniture for modern and small size apartment.
6- Folding Chairs: Convenience and Style
Folding Chairs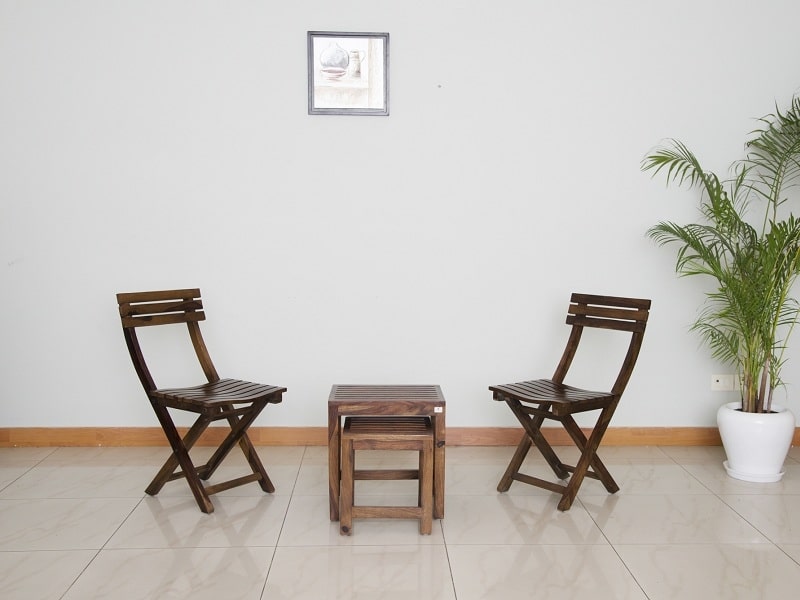 When space is limited, folding chairs are ideal for seating guests without taking up precious floor space. Look for chairs that fold flat for easy storage under a bed or behind a dresser.
Metal folding chairs are lightweight, durable, and inexpensive. They come in a variety of styles from industrial to retro.
Wooden folding chairs add warmth to a space and are more comfortable for long periods of sitting. Teak and oak hold up well to frequent use.
Padded folding chairs provide extra comfort for guests. The padding also helps muffle the sounds of the chairs unfolding and folding.
Stacking folding chairs allow you to store multiple chairs in a small footprint. Some stack up to 10 chairs high.
For daily use, have 2-4 folding chairs on hand that can be set up around a compact dining table or used as extra seating in your living room. When hosting guests, you can set up additional chairs as needed. Look for a folding chair that suits your decor so they blend in when in use and can be tucked away when not needed without sacrificing style.
With furniture for small apartment that serves double duty, you'll have seating for guests in a snap without cramming your apartment or committing valuable square footage to permanent chairs. Folding chairs are ideal for small space living when you want to be prepared for any situation.
7- Nesting Tables
Nesting Tables: Multipurpose furniture for Small Apartment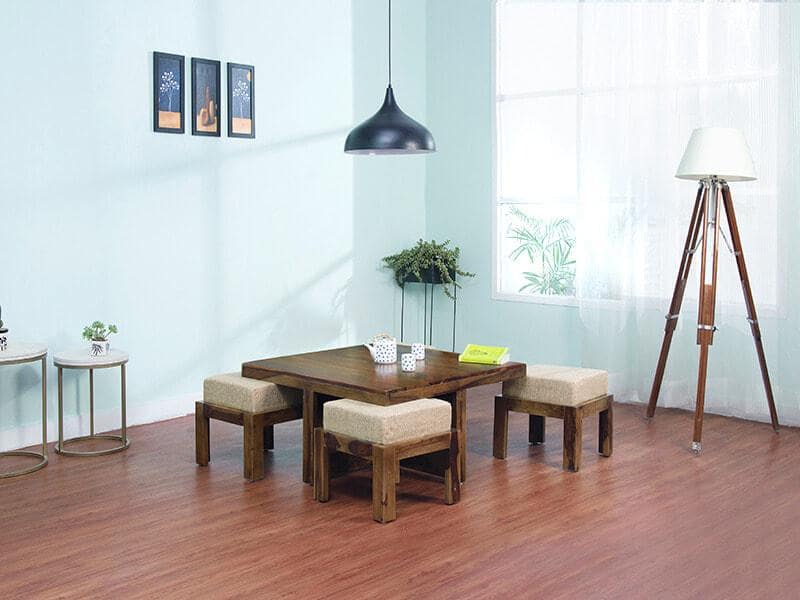 Nesting tables are space-efficient pieces of furniture perfect for small apartments. They provide extra table space when you need it but can be collapsed and tucked away when you don't.
Look for nesting tables that slide or fold under each other. Round or square tables often work well for nesting. Rectangular tables can be more difficult to slide under each other.
Use nesting tables as side tables in your living room, bedside tables in your bedroom, or as extra counter space in your kitchen. They provide flexibility and convenience in small spaces.
When not in use, slide the tables under each other and store them against a wall. This frees up floor space and keeps your apartment feeling open.
For extra table space when entertaining, simply slide out as many tables as you need. Nesting tables are ideal for playing board games or enjoying a casual meal with friends in an apartment.
If possible, look for nesting tables on wheels or casters. This makes them easy to slide out and slide back under each other when done. Locking wheels will keep the tables securely in place when in use.
Nesting tables are a must-have for small space living. They provide useful extra table space when you need it but can be stored away in seconds when you don't. For maximum flexibility in a compact apartment, nesting tables are an ideal choice if you want to opt for best furniture for small apartment.
8- Compact Desk/Workspace: Making the most of everything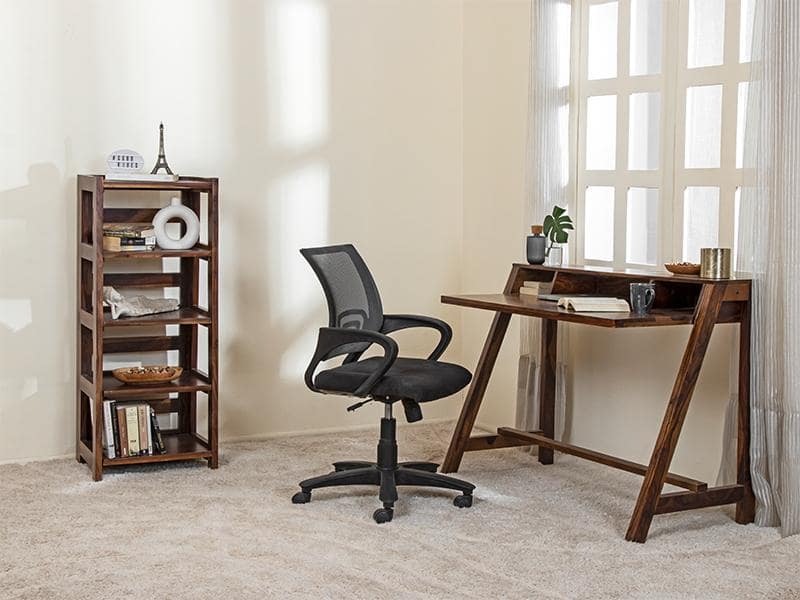 A compact desk or workspace is essential furniture for a small apartment. Look for a desk that folds up or slides under your bed when not in use to save space.
Folding desk
A folding desk attaches to your wall and folds down when you want to work. When folded up, it's nearly flush with the wall. Popular brands like Cityfurnish offers stylish, space-saving options.
Pros: Folds up and out of the way when not in use.
Cons: May feel unstable for intensive tasks like typing. Limited surface area.
Nesting tables
Nesting tables are lightweight tables of different heights that slide under each other when not in use. Pull them out when you want to work and slide them back together to save space when done.
Pros: Versatile and movable. Can be used as a desk or for other purposes like dining or entertaining.
Cons: May scratch or dent easily. Not ideal for intensive typing or writing.
Convertible furniture
Look for convertible furniture, like a sofa that converts to a bed or a coffee table that raises to a desk height. This multifunctional furniture for small apartment is perfect choice for people who have less space.
Pros: Serves more than one purpose. Maximizes usable space.
Cons: Mechanisms can be difficult to operate and may break down over time.
A compact workspace is key to productivity in tight quarters. With some creative solutions, you can set up an efficient workspace that folds away when you're done for the day, opening up your small apartment.
9- Wall-Mounted TV Stand: Best furniture for Small Apartment
Free Up Floor Space
A wall-mounted TV stand is a space-saving solution perfect for small apartments. By mounting your television on the wall, you free up the floor space that a traditional entertainment center would occupy. This open area can then be used for extra seating, a reading nook, or whatever else you need in your compact living room.
Look for a low-profile wall mount that sits close to the wall. Articulating mounts that extend out from the wall require more space and aren't ideal for small rooms.
Ensure your wall can support the weight of your TV before mounting. You may need to locate studs or use heavy-duty wall anchors for larger televisions.
Hide cables and cords in wall tracks or conduits to keep the area looking neat and prevent tripping hazards.
Optimize Viewing
With a wall-mounted TV, you can install the television at the optimal viewing height for your space. Mount it higher to allow for furniture or other items below, or lower if you primarily watch TV while reclining. Some mounts even allow you to tilt the screen to reduce glare.
Consider the primary viewing position in the room to determine the best height for your wall-mounted TV. The center of the screen should be at or slightly below eye level for the best experience.
Look for a mount that offers some degree of tilt to adjust the screen and reduce glare from windows or overhead lighting. Many mounts provide at least 15 degrees of tilt in either direction.
For the most flexibility, choose an articulating mount that lets you pull the TV out from the wall and swivel it side to side. This allows you to view the screen from multiple angles in an open-concept space.
A wall-mounted TV stand helps make the most of limited square footage while also providing an optimal viewing experience. By reclaiming floor space and customizing the installation height, you can create a cozy entertainment area even in the smallest of living rooms.
10- A Stylish Bookshelf With Hidden Storage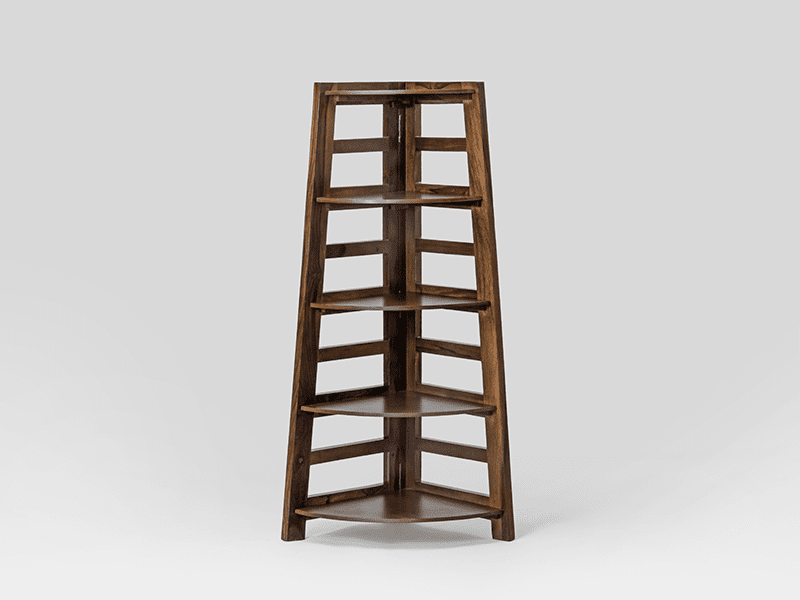 A space-saving folding bookshelf is a great solution for small spaces or minimalists. This versatile furniture for small apartment adapts to your needs, expanding and collapsing as your library grows and changes.
Start with the bare minimum. Get a compact folding shelf, maybe 2 to 3 feet wide. This stores the essentials and tucks away neatly when not in use.
Add panels as your collection expands. Most folding bookshelves allow you to add or remove panels to adjust the height and number of shelves. Start with a short unit, then get additional panels to make it taller over time.
Consider a ladder design. Some folding bookshelves have a ladder-style design with angled shelves. This is ideal if you have limited wall space since it stands on the floor. The angled shelves also make books easier to see and reach.
Look for sturdy construction. While folding furniture is designed to collapse, the materials and build quality still matter. Metal or hardwood frames and shelves will last longer than softwood or laminate. Thicker shelves also prevent sagging under the weight of books.
Fold and unfold as needed. The beauty of a folding bookshelf is its versatility. Leave it unfolded as a permanent bookcase, or fold it up and slide it under a bed or behind a sofa when you want to reclaim your space.
With the right folding bookshelf, you can have a fully functional library that adapts to suit your needs and your available square footage. All the joy of books with none of the clutter!
Living in a small space means making the most of what you have. One way to do that is with multifunctional furniture for small apartment, like a slim bookshelf that pulls double duty.
A narrow shelving unit is ideal for cramped quarters. Look for one that's 6 to 12 inches deep and 3 to 4 feet wide. That slips into even the tightest spots but still provides storage and display space.
For extra versatility, choose a design with hidden compartments. Some bookshelves have built-in drawers or cabinets behind a front panel that you can use to stow away clutter. Others feature a drop-down desk or tabletop that folds up when not in use. With one of these convertible shelves, you gain a work surface without sacrificing floor area.
Modular shelving is another option if you want flexibility. Start with a single unit, then add components like drawers, doors, and extra shelves as needed. Rearrange them to create custom storage for your space.
A multi-purpose bookcase in a small home helps make the most of limited square footage. And when space is at a premium, modern furniture for small apartment that serves more than one function is always a smart choice. With some hidden storage and modular components, a slim shelf can do double duty in even the tiniest of apartments.
A slim bookshelf that packs a punch, this multifunctional marvel is ideal for small spaces.
Space-Efficient Storage
Standing just 6 inches deep, this compact bookshelf slides into the narrowest of nooks. Yet its four shelves provide ample space for displaying books, photos, plants, and knickknacks. Group a few together to create a modular storage system perfect for an apartment or condo.
Versatile Design
Featuring a minimalist design in a sleek metal frame, this bookshelf complements any decor style from midcentury modern to bohemian chic. Its open-backed construction makes it suitable for use as a room divider or display shelf. For extra flair, paint the frame to match your wall color or furnishings.
Sturdy and Durable
Don't let its delicate proportions fool you. This bookshelf is crafted from steel, so it's built to last. Each shelf can hold up to 15 pounds, enough for stacks of heavy books or bulkier items. Anti-tip hardware and protective pads on the bottom of the frame help prevent scratches to floors.
While compact, this multi-talented bookshelf expands your options for storage and display. Use it in the living room, home office, bedroom or entryway for an organizational solution that's simple but stylish. For maximum versatility, consider buying two to use as a makeshift cabinet or shelving unit. This space-saving shelf may be trim, but it sure can carry its weight.
Benefits Of Modern Space Saving Furniture?
There are several other modern space saving furniture choices that are available in the market. If you don't have much space in your home then it is the best choice to choose the furniture that can manage the space and maximize the functionality of the area. This kind of furniture can be found in most modern houses, and there is a definite reason for it. This kind of furniture can give you so many benefits that you cannot even expect. So, let's see what are the most common benefits of having space-saving furniture for small apartment at your home.
1. These kinds of space-saving and transforming furniture can give you extra storage space. Most of these modern furniture comes with storage capacity. So, when you will buy new furniture in your home, it will take a little space but will increase a lot of storage capacity as well.
2. Appearance is another most important factor that we see in modern and transforming furniture. When you have a complete range of such furniture in your home, then it will fill your home with modern appeal. Your home will become a place that is properly managed and clean all the time.
3. Such furniture is developed with lightweight material so that it can be easy for you to move them or relocate them. Especially when you need to relocate, you can carry then unassembled and then reassemble them in the new location. You can move them in pieces and install them in the new location.
4. No matter how lightweight they are, you will not find them lacking in sturdiness. Your modern furniture for small apartment will be perfectly able to give you the benefit of durability. You can use them freely without worrying about their lightweight. They will not break easily even if you use them regularly.
5. Most of the modern furniture comes with the benefit of water resistance. But, this is something that can vary as per the product quality. Some low quality or cheap furniture can be damaged by extreme humidity or water. So, before choosing the furniture, it is best to read the description of the product.
6. Finally, the most attractive thing about transforming or space-saving furniture for small apartment is that you don't need to invest a big amount in them. Most modern furniture is available in an affordable range. You can also rent them for your home so that you can manage to have a perfect modern home with modern furniture without crossing your budget at all.
Tips for Maximizing Small Apartment Space
To maximize space in your small apartment, try these tips:
Multipurpose Furniture
Choose best furniture for small apartment that serves more than one purpose, like an ottoman with storage inside or a desk that folds into a wall. Nesting tables, folding chairs, and murphy beds are also great space-savers.
Wall-Mounted Storage
Get storage up and off the floor. Wall-mounted shelves, cabinets, and racks are ideal for small spaces. They keep items visible and within easy reach while opening up floor space.
Hidden Storage
Look for hidden storage opportunities, such as under the bed, inside ottomans or benches, behind furniture, or in unused areas like the sides of cabinets. Use lidded baskets, bins and drawers to keep items organized and dust-free.
Keep it Light
Choose lighter colors for walls and compact furniture for small apartment which make a small space appear more open and airy. Lighter wood tones, glass, and metal accents also help create an illusion of more space.
Multipurpose Room Dividers
Use room dividers that serve dual purposes, such as a bookshelf to divide a living room and dining area or a folding screen with shelving. This adds extra storage and separates spaces in an open floor plan.
Declutter Regularly
Go through your space regularly and get rid of anything you do not need or use. Donate or throw away unnecessary knick knacks, papers, and other clutter. Keep only essential and meaningful items that you have room to store properly. A decluttered space will instantly feel more spacious.
Following these useful tips will help you make the most of your small apartment and create a space that feels open, organized, and livable. Focus on multipurpose and wall-mounted furniture, hidden and decluttered storage, and an light, airy esthetic. Your compact home will seem more spacious in no time.
Using Wall Space
When living in a small apartment, every inch of space matters. Your walls are prime real estate, so utilize them to their full potential with wall-mounted shelves. These shelves are ideal for storing and displaying items without taking up valuable floor space.
Choose shelving that matches your decor style. There are sleek metal options as well as rustic wood shelves to suit any space.
Stagger the shelves at different heights for visual interest and to accommodate items of various sizes. Leave some open wall space in between for art or photos.
Use the shelves to store books, plants, baskets, and decorative objects. Get creative with vertical storage for things like spices, towels, and linens.
Install floating shelves for an open, airy look. Secure them directly to wall studs for maximum strength to hold heavier items.
Wall-mounted shelves are a simple solution for gaining extra storage in a small apartment. Make the most of your wall space by choosing shelves that complement your style and arranging them in an artful, functional way. Your walls will transform from empty space into a decorative storage spot for all your essentials and accessories.
Parting Words
So there you have it, 10 essential furniture pieces to maximize your small apartment space. With some creative solutions and multifunctional furniture, you can have a stylish and functional home even when square footage is limited. Don't feel constrained by the size of your space – get innovative with your layout and storage options. And remember, just because your place is compact doesn't mean you have to sacrifice comfort or style. With the right furnishings and decor, your small apartment can feel open, cozy, and chic. Make the most of what you have and happy decorating! Your perfect little home awaits.