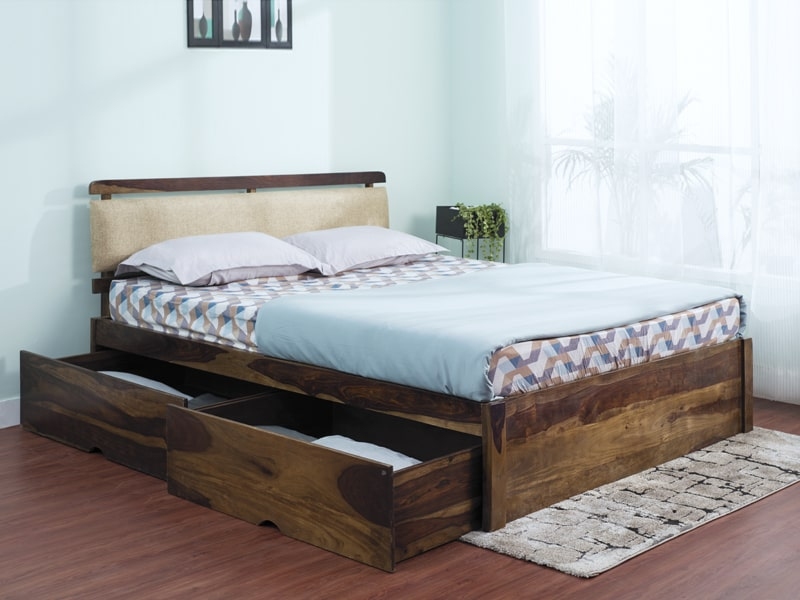 Do you have a small bedroom but want to make the most of every corner and turn the space into a modern bedroom with the right bedroom furniture and other elements? We get that decorating a small bedroom can be overwhelming and downright stressful. It adds a lot of limitations which might lead to frustration but a little bit of creativity and thoughtfulness and you can easily overcome all the limitations of a small spaced bedroom. Living in a small space does require a little bit of extra thinking and creativity, like considering smart solutions for storage and other arrangements. But no matter how small your bedroom is, that creative side is easy to unlock when it comes to designing your own personal space.
There are plenty of examples of how to design a small bedroom, what to add and how to incorporate every piece of essential furniture for bedroom, along with other things, into the room. Our team brainstormed, have selected and curated a list of the best ways to furnish your small bedroom and make it look modern but also feel extremely comfortable and relaxing.
8 Brilliant Space Saving Ideas for a Small Bedroom
We believe that there are out sized opportunities in small bedrooms and getting your creative side out is how you can utilize your space to create a small layout, which looks and feels larger and also more stylish. You need to see how you can arrange the bedroom and organize everything in it. Let's jump right into the ideas.
Create a Layout for the Bedroom!
The first and foremost thing while thinking of decorating a room is to create a layout. Start by putting the double bed in the center of the most visible wall, it will give the room a symmetry and you can use the rest of the space effectively. Once you have put down the bed, you'll have enough space for nightstands. You can add two (if you have the space).
If you do not have enough space for the nightstands, remove them. If you have added a bedside table, you can remove that as well as it will add more space to your design. And you can move your bed towards the wall to create more room and put a small closet instead of bedside tables.
Take Advantage of Your Bedroom's Height
When the floor has a limited space, make the most of the room's height and take advantage of that extra room. This idea also works if you do not have space for big closets to hold extra furniture. You can add dressers and can out a TV on top of it. Or you can put the TV on the wall and remove the chest i.e. dresser if you want a spacious room.
Another way to make a multi-function room is to add a side table that also works as a desk. You can use it as an office during the day. Instead of cramming your room full of bedroom furniture, opt for smaller pieces like a side table cum desk cum a nightstand, which can serve multiple purposes.
Elevate the Ceiling of the Bedroom
Let your bedroom's ceiling make a statement. You can add a patterned design on the ceiling, like gold polka dots which elevate the appearance of a small room. It will work better if you have sloped ceilings. Other than that, you can add other things with the help of the ceiling. No space for a nightstand? Hand it from your ceiling instead.
Another way to camouflage the room's size is the lighting. Consider getting ceiling lighting fixtures, a chandelier or modern sculpture piece that will draw your eye upwards. It will make a great impact on the room without sacrificing any floor space. Make your room feel bigger by drawing attention upwards.
Decorate the Bedroom with the Right Mirror & Arts!
Don't forget to add a decorative and stylish mirror on one of the walls. A nice mirror will give a feel of vanity and open up the room without the need for a bigger dresser. Mirrors add depth in the room, they make a powerful visual impact in small rooms as they bounce light throughout the space, instantly making the room seem bigger. You can add the mirror above the bed, which will help amplify the space, reflect and blend the feeling of indoors and outdoors.
The icing on the cake would be unique pieces of art as decor. A creative art piece will be the first thing that people will notice in your room and it'll be something you will see every day. Therefore, it is important that you choose an art which you love and that speaks your mind, style and reflects your personality.
Create Extra Storage with Multipurpose Items
If you want to organize your bedroom, storage is the key. Look for creative ways to create storage solutions by choosing the bedroom furniture that can do a double duty. And under bed storage are a no brainer here. Raise the storage level to a new stage with bed compartments. Don't limit yourself to plastic containers, closet storage cubes or any other piece of furniture when you can create space with end-of-bed trunk or storage bench. Storage beds will help you create under-bed storage to stash your clothing and the ottoman at the foot of the bed can be used as the extra storage space, as well as a seating place.
You can get the one with the tiny footprint. That area can also be used to put your shoes, along with clothing items. Other than these, there is also an option of dresser drawers mounted on casters or sliders for under bed storage. Paint the drawers to match the colour or design of the room to suit the decor.
Merge the Spaces in Your Bedroom
This idea may not follow the principals of the usual fengshui or the generalized decor idea of the bedroom, but you can merge your sleeping space with the working space. It will help you do more in less and create more space for other things. You can get a work/sleet set to make the most of the space. Adding on to this, if you do not want to mix your work with sleep, you can consider getting a Daybed. A daybed can serve as a seating area during the day.
Other than this, you can merge your closet and work space. A part of your closet area can be posed as a convenient spot for storing and the other can be used as a workstation. Create a study or work area nook in your wardrobe or closet.
Shelves Along the Perimeter of Your Bedroom Walls
Use the walls to your advantage. The wall perimeters, 12 inches below the ceiling, are the least used space in the room. You can use that space to install shelves and store things there. Books, decorative items, rarely clothes, plants, etc. This will add a lot of storage space. You can keep your exercising things like yoga mat there, without needing to create a separate space for them.
You can also create a staircase up to the ceiling. A bit of an architectural intelligence is required but if you are handy, consider a shelf like stairs and install it up to the ceiling. You can add it beside the bed and keep things there. Stack up your night lamp, books etc.
Creative Double Bed with Unconventional Headboard
The most essential part of your bedroom would be the bed. A medium sized bed in the center of the room, against the back wall creates space for all the other things you want to add. However, instead of choosing a bed with a conventional headboard, you can try something that takes less space. You can install a mirror, a wallpaper of any sort of art instead of a thick wooden headboard, eating up the space. If this idea does not sound appealing to you, you can get an upholstered headboard, which is slim and elegant.
Remember, the layout of the bedroom circles around the placement of the bed. With a slim headboard, you can push your bed further up the wall and create more space in the bedroom. You need to get the right sized bed that fits your room's layout. Smaller layouts are just out sized opportunities. Instead of stretching to fill your room's massive space, small rooms let you focus on a few perfect elements to create a special space. With a little bit of imagination, and Cityfurnish helping hands, you can turn the look of your bedroom around and make it feel more personal, relaxing and stylish. After all, it is your personal haven. You need to think smartly and organize your bedroom in such a way that it is both functional and relaxing. It should serve the purpose of providing you with a good night's sleep but you should also be able to do more than just that. If you make it more purposeful, multi-functional, you can make room for a lot of things.
All the above mentioned hacks are wonderfully and smartly crafted but do not feel like you have to cram everything shown here into your small room. It would just be counter productive. You can take help from all these ideas and let your imagination wander and create something beautiful of your own. A bedroom which is cozy, personalized to fulfill your needs and requirements, with all the special elements attached to it. The ultimate decision will, of course, be all yours and the layout of the bedroom will be according to your style and personality.
We hope you enjoyed the article and make the most of the tips provided!