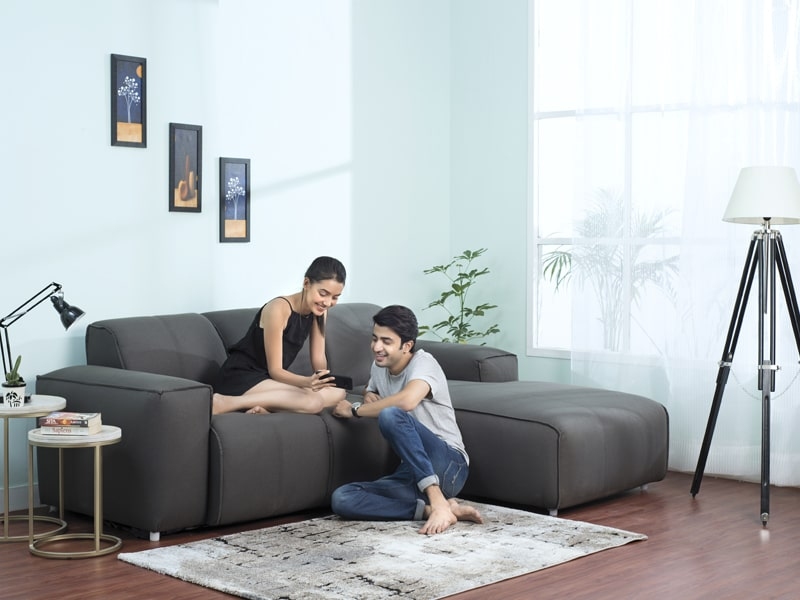 The living room is unquestionably one of the most significant rooms in any home (if not the most important). Consider it this way: The living room is where you and your family spend the majority of your time. It's a place where you may unwind, read a book, or watch your favourite show.
It's a place to meet up with friends and family and have a good time while doing so. Whether for creating some homely memories or enjoying festive events with your loved ones, it is that one place you will always come back to.
We can't help but admit that the living room of 2020 was the place we spent most of our time. It was both our office space and our online classroom. So it becomes obvious to decorate and design it well to get that warm comfortable feeling while we are working.
So here are the top 10 decorating ideas and trends for your living room:
Decide on Your Layout
Before you think about decorating your living room, let's just have a look at some practical stuff first-the layout of your living room. Whether you are starting from scratch in a new room or you just want to upgrade your existing space, figuring it out early can give you the whole outline of your decor choices.
Usually, when we think of living room decor, we tend to push everything up against the walls, put a coffee table in the centre and direct everything towards the TV. But it's time to get over that mundane living room vibe and get creative! Move some furniture from the walls, let it breathe and you will be surprised to feel all the air coming in more than ever.
Make Your Favorite Sofa the Center
We all have a favourite sofa in the living room where we love to sit, chat, or work. Your sofa is the largest piece of furniture in the room, so if you want to decide on a colour scheme for your living room, use your sofa as your base. There are many types of sofas available these days. You can go bold or pastel- totally your call.
Now comes the style- you can either go with the classic sofa or tweak it a little into an L-shaped sofa or a sofa cum bed. Choose a sofa that complements the floors and walls and doesn't overwhelm the room. If this is your first time decorating and you are not sure about what kind of sofa to get, you can experiment by getting different kinds of sofas on rent and deciding your favourite.
Invest in Multifunctional Living Room Furniture
You do not want a living room to feel cramped with furniture, so choose items that are truly functional when finalizing your selections. Furniture that serves multiple purposes, such as an ottoman or a stool, is good since it saves room. Nested furniture, such as coffee tables is also great for providing extra surface space when needed without taking up the entire room. If you like to change the look of your living room a lot, you can get furniture on rent instead of buying it.
Decorate That Cozy Window Side
The window side in the living room is probably one of the most favourite places for many people. If you have window space in your living room, consider adding a window seat to your living room. To provide comfortable space and storage, place a cushioned bench in the corner of your window. If you don't want to spend the money on something built-in, a strategically placed armchair or wingback chair can give a very similar impression.
Add More Seating Area
When we talk about living rooms, we think of something comfortable, usable, approachable, and functional. With people spending a lot of time at home, including things like a gaming table, a multipurpose study table, and a few reading and relaxing seating areas will allow the family to be together in the same room no matter what activities they're doing.
Get Statement Rugs
Layering the two materials adds a layer of comfort underfoot while also allowing for the introduction of colour and the division of spaces, which is very useful in open-plan living areas. To create a point of focus in the area, choose big and bold patterns with large-scale patterns and vivid colorways.
Add Some Nature
Adding a lot of indoor plants to your living room is an easy and inexpensive way to add life and greenery to your area. Invest in a variety of tiny and large indoor plants and place them on shelves, decks, and mantle pieces throughout the room. A palm will offer an exotic boho feel to your living area, while a bonsai will add a refined and more architectural aesthetic.
And Some Texture
Look out for more subtle, textured details rather than big patterns and colours. Nubbly textiles like bouclé will be popular on upholstered pieces such as couches, chairs, and ottomans. These types of elements give warmth and character to a place without the clutter that large prints can sometimes bring to a design concept.
Keep it Green
Green is the pure shade of nature, and we identify it with the serenity of the great outdoors, making it an excellent choice for resting spaces of the home. Use green on all walls for a comfortable, wrap-around vibe in your living room for a relaxing atmosphere. Go for rich jewel tones that add warmth and intensity to a room and go well with furniture painted in rich tones like Chocolate Colour.
Treat Your Windows Well
It might be difficult to choose the perfect living room window treatment since you want both the delicacy of curtains and the privacy of shades – especially if your living room is at the front of the house. Therefore, a mix of the two works best when layering a curtain over a blind. But, of course, we can't get enough of the aesthetic of shutters, and cafe shutters. They are a terrific alternative for living rooms if you want a clean, basic look.