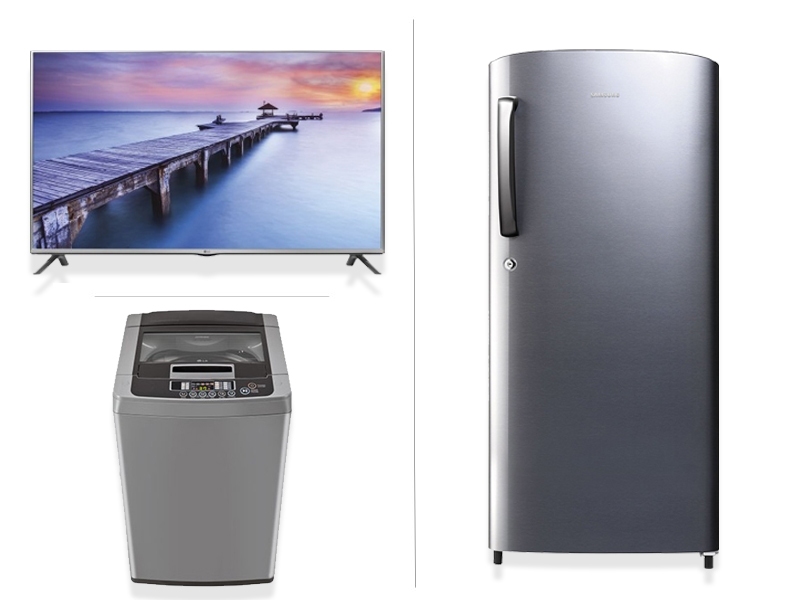 The modern life throws many challenges at people but the two challenges that the people face every single day is how to use their time as efficiently as possible and keep their lives organized while they are trying to work for many other things – keeping both office and household work in line. While there are a set schedule and operations followed at the workplace, what keeps the house organized is home appliances.
People are busy in their lives, everyone wants to get by the day as fast as possible, which is impossible without smart home appliances because they make life way easier. Earlier they only were a staple in the kitchen, but now they can be found in every room of the house – TV, Washing Machine, Refrigerator, Microwave, Water Purifies, Air Fryer etc.
These have become essentials in every household as they play a major role in the domestic lives of modern people. The more people try to make the life more convenient and comfortable, the more significant the role of the home appliances turns out to be determining the lifestyles of people. Whether it is cleaning, cooking, food preservation, exercising, purifying the air – you need one home appliance or the other for any specific household function.
Though before making a purchase or getting your home appliances on rent, you need to consider various things like, brands, their functionalities or features, prices etc. but most importantly, you need to know which of the home appliances you require the most and which can take the burden of daily household chores off your shoulders.
Are your daily chores eating up all your free time? Imagine cutting the time that you spend on menial daily chores and redirect your time precious time to something that you really enjoy. Let's take a look at the smart home appliances with which you can live a better, easier and more comfortable life.
Essential Home Appliances For Your Household
If you want to spend a comfortable and easier life – with more time in your hand and less energy wasted on chores – you will be needing these home appliances in your life. Manufactures of home appliances these days are bringing in more advanced appliances which are more effective as well as more efficient to work with. Let's take a look at the list of such appliances which will reduce your time and efforts put into daily routine tasks.
A Smart TV to Keep You Entertained
Imagine coming home and wanting to keep your mind off of things or having a meal without any entertainment factor. Sports fan? Imagine missing out on getting to watch an important match o a big HD screen and having a good time with your family or friends!
A TV is an essential home appliance because how else would you take your long day's edge off. It's not just the entertainment, but TVs also keep you updated about what is going around the world, through the news. You get to watch movies with your family or friends, play cartoons for your children or become a host and play matches or even games on your smart TV.
But how to know which one to get? A nice TV in your drawing room can also make a statement but to choose one is not a simple task. There are many options available in the market, that too with somewhat similar features which could get you confused. So, you need to compare carefully to either get the best smart tv on rent or purchase it.
A Washing Machine to Ease Your Laundry Chores
Washing clothes is indeed a hectic task. You wash all your clothes, dry them, keep them in order and the next thing you know – it's laundry day again and you have to go through all that work all over again. But with a good, smart washing machine, you can save yourself the trouble. A washing machine is one of the most important home appliances in any household. It saves time, energy and helps you easily wash your clothes, without really breaking a sweat.
Earlier, you had you wash clothes manually or even washing machines required manual labour. You had to use your hands to do both cleaning and washing but with time, that has changed. After the semi-automated washing machines, came more advanced and very little manual labour washing machines which allow you to set timers, pre-soak and dry your clothes – simple, efficient and fast. You simply need to decide if you're going to buy or get a washing machine on rent, and if it's going to be fully-automatic or semi, or if it's top-loaded or front-loaded. Whichever you prefer for yourself!
A Smart Refrigerator For Food Preservation
Refrigerators or fridge are one of the most essential pieces of equipment or home appliances for the kitchen – keeping all your food safe. We are constantly reminded of how important it is to have a refrigerator in the house when the power goes off or the place's unit fails which puts all the food in jeopardy. Refrigerators keep the perishable food safe, keeps is cold, which is the fundamental reason for having a fridge at your home. The basic idea behind the appliance is to slow down the activity of bacteria, which keeps the food from getting spoiled. Try keeping milk out in the open, on the kitchen counter – it will spoil, whereas, the refrigerator will not let that happen.
Moreover, you can preserve food, vegetables etc in the fridge and do not have to run to the market every time you need anything to cook or eat because that would be insane. But in today's world, the refrigerator is not just for the kitchen and its way past getting used just for food. It has become a style statement as well. Stylish doors, multiple sizes, impressive features, striking colours etc, therefore compare from the dynamic range available in the markets and choose well according to your style, budget, space available, and usage requirements.
A Microwave to Help With Your Cravings!
Microwaves will truly make your lives much easier with the convenience that they provide. From loving to cook or try out new recipes in your spare time, to just getting hot food instantly after a long day at work and not wanting cold food – microwave comes handy in many ways. Just pop your leftovers into the microwave, set a timer and get your food ready in no time. And if you're lazy and do not want to add a pile of dishes, it's even better because you can just wrap a plate of food with a plastic wrap and pop it into the microwave. Nice and Easy!
If you have a busy life and after working the whole day, do not have enough energy or time to cook a whole meal at night then a microwave is a "must get" home appliance for you. Especially if you do not know how to cook – you do not have to control the level of heating. All you need to do is set a timer and cook any frozen food. With some food, 10 minutes or even seconds could be enough. Cooking could not be easier with a microwave!
Some Other Appliances You Should Consider!
The home appliances mentioned above are basic yet very important ones for your household. Which brand, model, style, the colour of the appliance to get is up to you but to make your life simpler and more convenient, you should have them at your house. Now coming to the home appliances other than those, here are some of them which you should consider making your life a little bit better than having those.
Water Purifier
Yes, some people prefer drinking tap water, most of the population actually, but to get a water purifier means drinking cleaner, better, high-quality water that will lead to a healthier life. Water affects your health a great deal. So if it is not clean or has way more germs in it, it will lead to health issues. To be on a safe side and keep your health in check, you should seriously consider installing a good quality, branded water purifier at your home.
Air Purifier
The news about bad air quality hit hard and has been affecting the health of hundreds of people. You cannot fully control the air you breathe outside but you can take care of the care inside your own house. And it becomes even more important if you have kids or old people i.e., your parents around the house. Install an air purifier at your home to make the air more fresh, breathable and bearable. This will help you with your health issues as well.
Induction Cooktop
Electric and gas counterparts take longer for the heating element to kick in when you're cooking. They take time for heat to transfer to the pan but with induction cooktops, heat's much faster, its more direct and quicker. Induction cooktops are more energy efficient as well which leads to cost savings and cook the food faster. Not only that, these maintain a cool cooking surface and are also much safer to cook on as compare to electric or gas.
Electronic household appliances have been around for a long time now and they only keep evolving with time, adding on more features, getting more advanced as the technology grows. This is an indication that we can hardly live without the technology of these household appliances. Most of the people are depended on most of the home appliances and rightly so, because, in this fast-paced life and busy schedules, it is difficult to maintain everything – work and household – and these home appliances are the ones that help people get though or get along with life more conveniently.
The happiness, peace and delight are generated in the whole atmosphere because the household missions or tasks get done more efficiently and in time and people get to rest more instead of getting stuck doing work even on the weekends. Everything is made in such a way that you mostly only need to set timers and get the work done in no time, without putting in much effort.
But now the final question comes, where to get all these appliances without the headache of having to take out time from your busy schedule or going to different places, running from one store to another and then comparing? Seems a lot of work. Well, we have got you covered. You can browse through our website, see all the home appliances from top brands, take one glance at the features and select the ones you want to get. It's that simple. Get all the electronic home appliances on rent that you need to live your life smartly and get them delivered at your home in no time, without any hassle!