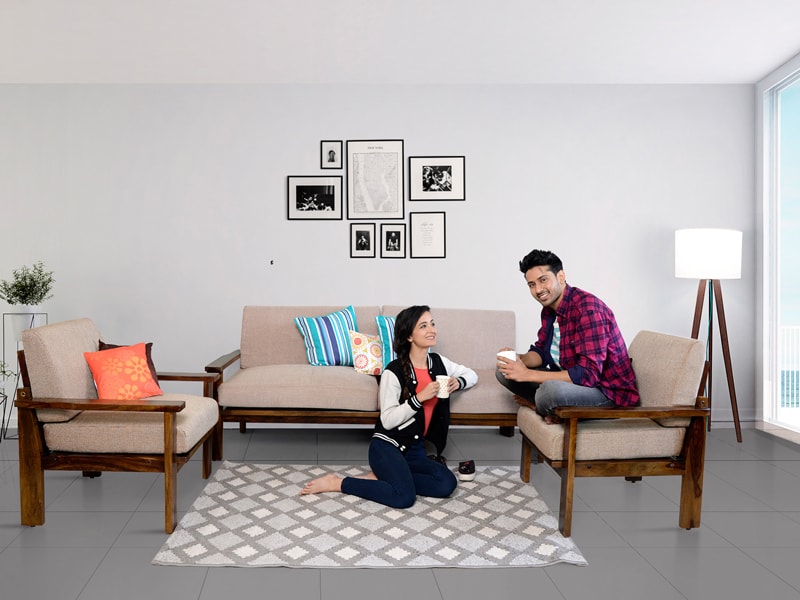 Renting is not a brand new concept, though it has always been restricted to high-valued things like a house, jewellery, etc. But with changing time and the new generation, the idea of taking furniture on rent is engraving in people's brains. The furniture rental market has seen a drastic change in the recent years – the graph is gone up significantly and when you look at it, it's the millennials who have contributed to it the most!
Yes, according to the surveys and reports regarding rental services, it was noted that millennials prefer renting furniture instead of buying it. Why? Let's look at 5 reasons why it's their most preferred choice.
Renting Furniture is Super Easy on the Pockets!
The first key factor is that taking furniture on rent is its affordability. Millennials are constant movers. They move to new cities in search of jobs or get an education or other personal reasons. They are more likely to explore new opportunities in different places rather than getting stuck in one place for years. Since they move frequently, they do not think buying furniture is practical. Purchasing each piece of furniture for every new place will take a major toll on their pockets. If not that, the movers charge a huge amount.
With rental services, millennials get to enjoy whatever furniture or home appliances they need and for however long they need it, without any hassle of selling it or moving it later at extra costs. Some rental service providers, like Cityfurnish, offer free delivery and pick up, which is a major plus.
Quick and Easy Installation
Moving to a new place means going through the headache of looking for new furniture and then installing it. The same goes for when you move the old furniture. You have to put so many efforts into putting the furniture in the right place and furnishing the whole house. And if you're working and do not have enough time on your hands, this could take days.
But with furniture rentals, the service provider gets it all done for you. It's pretty easy really. This is why millennials prefer renting over purchasing the furniture. The rental company delivers everything on time and gets everything installed all at once so you can sleep comfortably in your bed on the same day, with ease. With renting, moving is much easier.
More Flexibility – Can Change Home Furniture!
When you purchase home furniture, it means you get stuck with it for at least 7-8 years, unless of course you are rich and can afford to purchase new furniture often. Furniture is a huge investment. Each item, take a double bed, for example, costs a lot. Due to high costs and investments, there is less scope of change.
With time, our preferences and tastes are bound to change. And millennials believe renting furniture gives them the flexibility to upgrade their house's appearance whenever they feel the need to go with the new preferences or new furnishing trends. Playing with furniture, changing home décor, is relatively easy when you take furniture on rent.
You can explore new sets, styles or colours of furniture and experiment with the house's ambience, all this without heavy costs. So, it's a good thing that renting is perfectly suitable for short term requirements.
No Headache of Selling the Furniture Later
So, let's say you purchase a whole bunch of home furniture items and even appliances to furnish your apartment for the month or two or let's say six months, that you will be living in it. Think about what happens when you need to head back home, or what happens when you have to move into a new place again which doesn't even have enough space for you to keep all that furniture?
What do you do with all of it? Well, you will most probably try to sell it, but let us tell you that selling furniture can be hard to do. Of, course you cannot find a buyer in a single day. So how do you sell the furniture? Well, maybe you put up a Facebook post or you put it up on online buy & sell websites like Olx etc. If that doesn't work, you try something else, maybe some references that might want to purchase the furniture.
But tell us, do you really want to go through all that headache and hassle? Ugh. We certainly would not want to. And that's what great about furniture rentals. The beauty about taking furniture on rent is that when you don't need it anymore, that is it – you simply give it back, and you stop paying the fee for it! No need to text all your knowns or friends, asking them if they know anyone who needs a double bed or a dining room table.
No Compromise on Dream Decor
Well, it's usually the students or the working class that moves a lot. And all of them are on a budget. Suppose, it's a student living away from home and wants to decorate his room or apartment, maybe get a good TV or refrigerator. But since they cost too much, they have to compromise and either completely drop the idea of getting it or settle for something way less.
But with renting, there's no need to compromise on these choices. Everything is available at nominal subscription rates that anyone can afford. And on top of it, millennials can even share or split this cost if they're living on a sharing basis. So, there is no budget issue, nor the heavy monthly instalments for the furniture. They can simply return when the purpose is served. This again is a huge advantage that makes them choose to rent over buying.
With these, there's also the seamless process of it all. They just have to browse through the web, select and compare the products that they want and order within minutes. Moreover, with Cityfurnish, they can get the documentation done easily and also get more added benefit like free delivery, installation, maintenance, and pickup.
Browse through our website to check the wide range of furniture and get it delivered to your doorstep in no time!