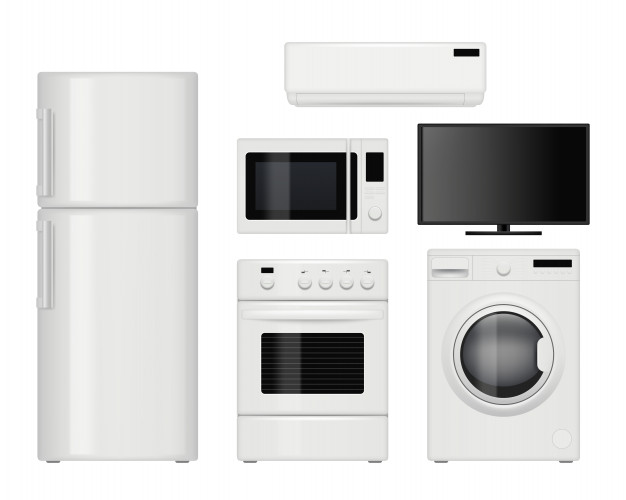 When it comes to the pricy home appliances, there's always a dilemma whether to repair them or to replace them. Each appliance costs a ton, if you think about it and buying them is not a piece of cake, especially if you're new to town and have to furnish the place from the scratch. Picking up new home appliances can be really intimidating, with their big price tags, the delivery truck charges, installations, and whatnot. The whole process is very daunting.
And, if you're an average household, that may mean it has been around 10 years or so since you last purchased the home appliances. Well, the time has completely changed now. There's way more confusion as there are now a plethora of brands, sizes, designs, colours, types of appliances with numerous features. There have been major technology breakthroughs and the efficiency has literally accelerated with the new models. Not to mention the new cosmic trends.
So, you have a world of options to consider and not just in appliances but in the buying method as well. You can not easily and affordably get home appliances on rent and eliminate all that hassle of searching through stores. Anyhow, the ultimate decision depends on you. But let's guide you and help you make the right decision.
In this blog, we're going to discuss the 7 major things that you must consider while you're out looking for home appliances!
Set Your Budget for Home Appliances
Budget! Yes, that should be on the top of your list. It may seem a little obvious, but a large number of consumers find themselves magnetically drawn to the stylish, sleek, and most beautiful looking products once they set their eyes on them.
However, these very appliances are highly expensive, which totally sets the budget off and people then end up having financial crises. Before going on an appliances hunt, vaccinate yourself against this urge or temptation by deciding on a firm budget.
If you need a whole kitchen appliances set, most retailers will offer your discounted bundles or combos like an oven, dishwasher, and a refrigerator. You may lose some flexibility if you wanted to purchase a very specific feature for each item, but at least all the appliances will match. However, there is always an option to take your desired home appliances on rent, without compromising your taste or budget.
Measure the Space and Home Appliances
Identifying the correct size of the appliance that fits the space in your home is extremely crucial. While smaller units like a dishwasher or ranges are mostly of standardized sizes or dimensions, it's the bigger appliances like refrigerator or a Smart TV, that can cause an issue if not measured properly.
So, make sure of the space you need to fill at home and measure the appliance that you're buying accordingly. And it's not just the cutout of that space. Remember that they also need to get through your doors or staircases. Therefore, along with the space in the room, you also need to measure the pathways between the delivery van and the final space when you've decided to place the product.
Read Online Reviews of Each Home Appliance
We'd like to stress at the importance of this point especially, product reviews. There are a very plenty of publications online, on which you can find thorough reviews of any small or large appliances. You'd see how the product works, it's efficiency, durability, and it's worth. With that data, you can base your decisions on the real-world information. User reviews can be of great help as well, however, satisfied customers rarely leave any comments. You should take negative comments posted online with a grain of salt, but if you see everyone complaining about any specific aspect of a product, they're probably right.
Visit the Home Appliances Retailer
As great as reviews can be, seeing the appliance you want to get in person is just as important. Due to the size, the matter and quality. You should judge the material and colour for yourself. For instance, the appearance of a brand's black stainless steel can vary in person more than you can think.
Since home appliances are also high-touch items, it's important to feel them with your own hands before buying them. See if the door opens smoothly or the crisper drawers in the refrigerator are on track etc.
Often, locally-owned home appliance stores are also service providers, so they have insight into the brand's reliability or difficulty in getting its replacement units.
Go Through the Warranty and Return Policies
This ought to be the most important aspect before or at the time of buying home appliances. I mean, we could write separate articles about just this one subject – home appliance warranties. Let's stick to the short version – You must be aware of the brand's policies. Read the warranty, terms carefully and check what is covered and what's not under the manufacturer as well as the retailer warranty. Typically, for the parts and the labor, it is one year. After that, the core parts of the product, such as a washer's drive or a microwave's heating elements – those are often covered for up to 5 years. However, you will need to pay for the labor to service the appliances. Extended warranties are usually not worth the money.
Delivery and Installation of Home Appliances
While buying home appliances, it is essential to have the knowledge about the brand's services related to the products you're buying. You should understand the services provided by your domestic home appliances seller. Know if they deliver their products? And if they do, what's the cost? Is the delivery free or not? Most of the sellers charge a small fee to deliver the products. So, you should be ready with both the outcomes. Some home appliances require installation kits which calls for additional purchases. If you are looking for spare parts for your old appliances, make sure that you get clear and right instructions about how to install them. You can ask for professional assistance in case you face any challenges assembling the appliance on your own.
Consider Taking Major Home Appliances on Rent
Purchasing each appliance can take a heavy load on the pockets. And if you've just moved into a new city and are settling up, the cost doubles because you need to pay for delivery, installation, maintenance and what not. And then pay for the same things when moving out, which is not practical and also a wastage of money.
Or maybe you want to own a specific appliance but are stepping back due to the budget. Well, you don't have to do that. Check out our website for a wide range of home appliances on rent and avail other impressive services like free installation, delivery, pickup, maintenance and much more.