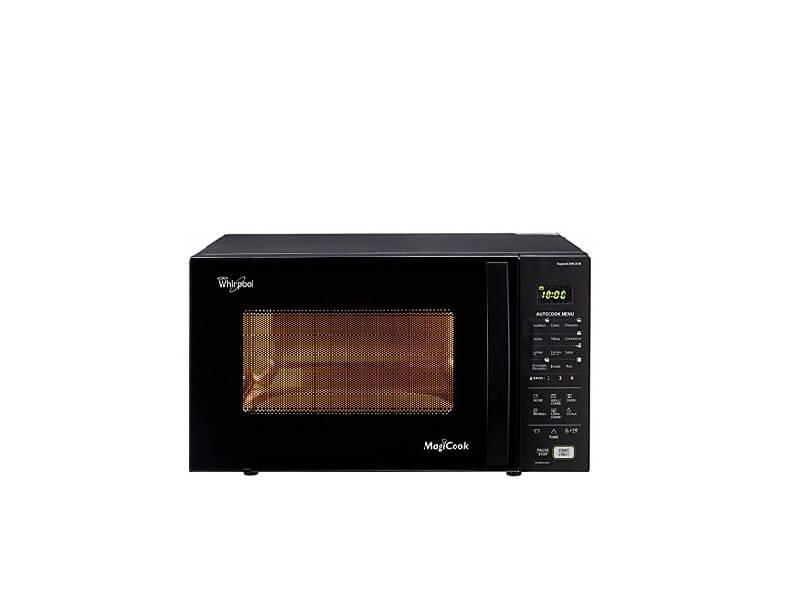 One of the most important reasons why microwaves have become an indispensable part of every household kitchen is that they save time. That is the reason more and more people are choosing them over the conventional style of cooking. You also get a timer that you can use to set the time for cooking the dishes.
For different types of food products, you have the facility to choose various time intervals. For example, if you want to boil some water, it may take a minute, while it will take longer to bake a cake. You can make crunchy popcorn, heat the leftover food, canned food, or defrost frozen food very quickly using your microwave. When heating the food stored inside, these ovens do not get heated up.
Besides, it's easy to clean them after you are done with your cooking. To wipe the oven clean, all you need to do is to wipe it clean with a damp cloth. Place a bowl of water with lemon juice and boil the water inside the oven if you want to get rid of the peculiar smell in the oven.
Despite all the benefits that we derive from a Microwave oven, we all face a dilemma when choosing a microwave for our kitchen. This is because these days, there is a wide variety of microwaves to choose from in the market. They vary in various ways, primarily in functionality. To know which one will suit you the best, you should think about how and what you would use it for. It should be safe to use and of decent quality as well. For people who are unsure about which model to buy, getting a microwave oven on rent is also a good option.
Now, let us review some of the best options currently available on the market.
LG 32 Litre Microwave Oven (MC3286BRUM)
For large families, this 32-liter capacity is a perfect choice. You can use it for different things, such as baking, grilling, reheating, defrosting, and cooking, as it is a convection model. The Quartz heater is hidden, thereby serving as a protective feature by keeping your hands from scalding. Because of the Steam Clean feature that removes grease and grime with utter ease, cleaning the microwave oven is simple. It comes with the following features.
The Diet Fry purpose lets you prepare your favorite fried foods such as samosas, pakoras, and others with a minimum amount of oil without compromising the taste factor. This oven can bake 12 different types of rotis, such as Naans, Kulchas, Parathas, Lachchas, Tandoori rotis, Rumali rotis, at the touch of a button. Pre-programmed cooking time and temperature are included in the Auto Cook menu, which makes it easy to pick the respective dish and press the 'Start' button.
The 'Pasteurize Milk' feature removes the need for the milk to boil, thus providing no spillage space. This function heats the milk and helps to retain the nutrients at a temperature below the boiling point of the milk. Hence, while avoiding pollution, it avoids the need for any monitoring. Another special attribute of this microwave oven is that it can make Ghee in 12 minutes.
This oven blends curd without using chemicals and enzymes to churn out hygienic paneer. Indian foods such as Paneer and Chicken Tikka require heat distribution from all sides. This convection oven offers 360-degree rotation to allow you to barbecue as well. The multi-cook Tawa helps to spread heat evenly. This oven comes with a robust stainless steel cavity that allows uniform heating by offering better reflection.
Samsung 28 Litre Microwave Oven (CE1041DSB2/TL)
Performance coupled with the appealing looks, this Samsung microwave oven is one of the best in the market. Also, because of its user-friendly features, it is one of the most effortless microwave ovens to use. To ensure excellent efficiency, this oven has six power levels and different cooking modes. The capacity of this oven is 28 liters, large enough to meet the needs of a regular Indian family. It comes with the following features.
One of the best features of this convection microwave oven is the baking of rotis. A real-life Tandoori kitchen with temperatures of up to 200 degrees Celsius, this oven replicates the Tandoor technology. It is therefore ideal for making Rotis, Naans, Parathas, and other similar products. This oven makes the perfect curd, so you don't have to run out at any time to get a curd packet from the department store. The advanced fermentation technology helps you to set the optimum temperature, ensuring that you enjoy homemade curds and dough.
It comes with pre-programmed local recipes, so you have numerous cooking options that allow you to prepare lip-smacking food for your family every day. One-click of a button is enough to prepare the most delicious food recipes that you get in high-quality restaurants. This microwave convection oven helps you to perform a range of tasks, such as baking, grilling, heating, fermentation, and much more.
To let you open the doors without any hassle, the oven comes with an aerodynamic handle. The 318 mm size of the turntable is wide enough to allow you to position large vessels for cooking rice or vegetables. This oven comes with easy to read and understand LED display features. The convection heater from Quartz is of the highest quality. It also comes with a sheath grill heater for an excellent performance.
IFB 20 Litre Microwave Oven (20SC2)
For small families and bachelors, this 20-liter microwave oven is a perfect option. The convection mode of this microwave oven allows you to grill, defrost, reheat, and cook. For people who would want to buy it, the good news is that it comes with a one-year warranty on the product and a three-year warranty on the Magnetron and Cavity. And if you would want to get this microwave oven on rent, you don't have to worry about spending anything on its maintenance because it will be taken care of by your rental company. It's easy to learn to use this appliance, as the package comes with a starter kit. Let's have a look at its features. It has control options that are sensitive to touch but easy to use and clean. The 24 choices of auto cook menu are perfect, as it allows you to set the timer and continue with your other work while the oven continues to cook delicious food.
One of this appliance's vital features is that it offers multi-stage cooking. To ensure you get high-quality and hygienic food every day, the Auto-Set Cook choice has three forms of cooking cycles. Auto Cook settings allow you to change the settings without the original ones needing to be cancelled. The defrost function is an excellent one. All you need to do is enter the weight of the food item and the appliance takes care of the rest. The function of auto reheating is a pre-programmed one that saves both time and power. As you do not have to control the process at all, you end up saving significant time. It has a digital time display option to alert you about the cooking time and the power level during the cooking process.
Samsung 32 Litre Microwave Oven (MC32J7035CT/TL)
Now, this is one model that is Indian Homemaker's favorite, whether you buy it or get this microwave oven on rent. It has a capacity of 32 liters, adequate to accommodate medium-sized Indian families. To allow quick cleaning of interiors without having to scrub, it comes with a ceramic enamel cavity. This oven comes fitted with safety features including a child lock that protects it from being accidentally operated by your children. To ensure precision cooking, the smart-sensor reads the temperature of the food's surface. The LED panel makes it more convenient to use. Let's have a look at its features. To make fried food safe to eat, Slim Fry technology utilizes warm air circulation. It does not use any oil to fry food, so it does not affect the cholesterol content of the body.
By using the fermentation function, one can make curd and dough at will. The best part of doing so is that anytime you need them, you get them fresh. When Tandoori technology replicates tandoor-like conditions with temperatures in the range of 200 degrees Celsius, Tandoori Rotis and naans come out beautifully. This Samsung oven has 220 Indian pre-programmed recipes that you can access with a single click of a button. At any time of the day, the 24 X 7 Auto Cook Menu offers mouth-watering pre-programmed recipes. Prepare delicious recipes for your family by downloading the My Recipe App on your smartphone. Unlike traditional microwave ovens, this Samsung oven features large grills. It makes it possible for you to cook your food uniformly, thereby improving its flavor.
IFB 25 Litre Microwave Oven (25SC4)
Many Indian homemakers, particularly those who love non-vegetarian food, prefer the IFB microwave oven for the excellent options it offers. This IFB 25L convection microwave oven makes cooking simpler. Indian dishes have special recipes. This IFB microwave oven uses a mix of two systems, Grill + Microwave, and Convection + Microwave. The product comes in a ready-to-use state and does not require any installation. The aesthetic style fits seamlessly with your other kitchen appliances and improves the overall appeal. This IFB microwave oven features 26 regular Indian menus to satiate your palate at any time of the day. It comes with the following features.
It's easy to clean the oven, using the steam-clean feature. It frees the oven of any greasy stains that are usually hard to clean. IFB provides an alternative for homemakers to learn the latest recipes. All one has to do is to buy the IFB microwave oven and participate in the microwave cooking classes. You will quickly become a champion cook yourself. This microwave oven has a handy timer option that keeps you updated at every point about the cooking time and the power level.
You can fast-forward your cooking process with the Express Cook feature. One of the essential safety features includes protection against overheating. This function makes sure that the heating element of the microwave is automatically turned off if the temperature inside the oven becomes too high.
Samsung 21 Litre Microwave Oven (CE73JD-B/XTL)
This 21 Litre model can wonderfully accommodate the cooking needs of small families. This Samsung model comes with excellent pre-programmed Indian recipes so that you can cook delicious and nutritious food by just clicking a button. You can choose your recipe and let the oven do the rest. It sets its timer according to the specifications. It has a sensitive touch key membrane, which is easy to touch, operate, and clean. Let's have a look at its features.
Because of the ceramic enamel cavity, this oven is among the easiest to maintain. It is scratch-resistant and does not have problems with discoloration. It is easy to clean the ceramic enamel cavity. The power-defrost option is cherished by non-vegetarian households. It means that the frozen foods which usually take hours can now be defrosted within a short time. It does not take longer than two minutes to defrost for beef, bacon, and fish. It has the 'Keep Food Warm' option, which comes in handy when you need to warm the food before serving it. The warming feature does not affect the taste of your food.
This oven has an attractive exterior design which comprises of a full glass. It enhances the look as it blends perfectly with the kitchen furniture. Compared to stainless steel cavities, ceramic interiors are more resistant to scratch. Besides, they are the simplest to scrub. It comes with anti-bacterial protection. It is thus, one of the most hygienic microwave oven available.
Conclusion
You have now gone through a list of the most popular models of Microwave Ovens for your home kitchen. Having seen the features of each one of them, you would have got an idea of what to expect when you are out there in the market to get one. You will have realize that buying the best microwave oven for your home is not that simple. You have to browse through a lot of models and look at a lot of other aspects. There's no doubt about the fact that renting a Microwave Oven is a good way to save money and time. You don't need to spend hours visiting various shops to decide which one to buy. And even if you get a model that you would not like to keep for a long time, you can always get a different one next time.