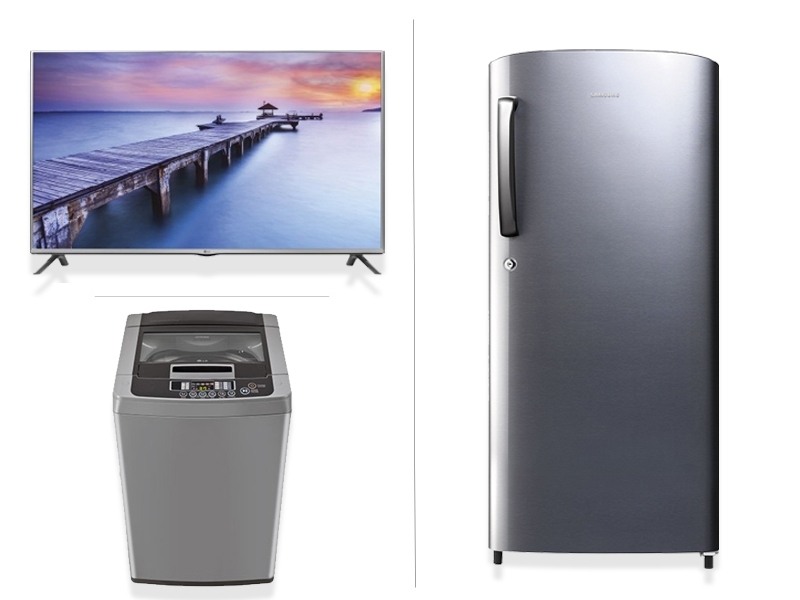 Let's face it: being away from home is difficult. Especially if you're fresh out of college and on a tight budget. Purchasing furniture and home appliances is the last thing you want to do or invest in, but hey! You have to live a regular life, don't you?
Home appliance rental services like Cityfurnish are your best friend. They take the stress out of acquiring pricey items, allowing you to free up funds to help you adjust to your new circumstances.
When you need new household appliances, such as washing machines or televisions, or kitchen appliances, such as refrigerators or microwaves, you want them as soon as possible, and you must ensure that they are of high quality and dependable.
Renting is simple. You can get home appliances on rent for a certain period of time. You have an extensive range of appliances to pick from, and you don't have to deal with delivery, maintenance, relocation, or other time-consuming considerations.
Everything is taken care of while you live at home. Clothes are washed, food is constantly in the fridge, and if your air conditioner goes down in the middle of summer, you won't have to worry about replacing it yourself.
However, if you live alone, you must take care of all of these details. The one thing you can do for yourself is rent these everyday appliances, so you don't have to battle, and your service provider will always be the most affordable option.
Without further ado, here are 6 reasons why you should rent home appliances from Cityfurnish:
Rent Home Appliances and Get Free Pickup
When you order something, most companies add a surcharge to the final price and force you to pay a large sum only for the things to be delivered. Isn't that a little unjust? However, if you're concerned about having to pay more to have your rental items brought to your door, don't be because Cityfurnish has your back.
We provide free delivery services to all of our customers. So you have all of your selected things, whether they are household appliances or furniture, delivered quickly and at no extra cost!
Along with free delivery, Cityfurnish also provides you with free pickup services. Do you want to return the rented items once their purpose has been filled? Please notify us, and Cityfurnish will handle the rest. Cityfurnish will offer you free pickup and delivery services, making it extremely simple for you to return the leased things with no difficulty or additional fees.
Upgrade Your Home Appliances Anytime for Free!
If you enjoy change and want to improve your surroundings, atmosphere, and the area's general appearance where you spend your time, Cityfurnish is the right solution for you—tired of using the same old home appliance? Have you seen a new model on the internet? Is there a new model of a television or a refrigerator? Upgrade everything and everything you want. Upgrade your existing rental items with the new ones at no additional cost. That's correct. You may upgrade any rented item from Cityfurnish without incurring any additional fees. This gives you the option to keep up with the trend and upgrade your style and house aesthetics as well.
Need to Move? We Relocate Your Home Appliances for Free!
When you need to relocate to a new location, the first thing that comes to mind is packing everything you own. On top of that, you'll need to employ packers and movers and pay them a lot of money. The greater the distance or the weight of your belongings, the higher the fee. However, if you rent home appliances from Cityfurnish, you may unwind.
Because when you deal with us, you get everything shifted to your new location for free. Yes, if you've chosen to relocate to a different location or city and need to relocate your furniture, we've got you covered. Of course, this is only applicable if you are relocating to a city where Cityfurnish operates. Nonetheless, you are entitled to have all of your rented furniture transferred at no extra expense!
The Advantage of Damage Waiver Option
Any product, whether it's furniture, electric appliances, or other furnishings, is destined to show signs of wear and tear over time. You must take care of these items in order to keep them in good condition and avoid destroying the merchandise. Often, you'll need to engage in maintenance or repair services as well, which can cost you a lot of money.
You don't have to worry about it with Cityfurnish. You are qualified for our damage waiver service if you hired your furniture, appliances, or any other items through Cityfurnish. So, don't be concerned about the usual wear and tear that may occur when you rent our items. We understand that this is normal and often happens, so we have got your back.
High-Quality Home Appliances on Rent
We understand how important quality is to you. This is why the quality of a product is our top priority and the most crucial criterion we consider while selecting our items and selling them on our website. Before being sent to you, each product is subjected to a stringent quality control process to ensure that it is in outstanding condition. So, if you are concerned about the quality of the items, you can rest assured that you will receive high quality products from top companies.
Install the Rented Appliances for Free!
When you order electric equipment, companies often charge you with an installation cost. The rule is, f you are unfamiliar with the appliance's features and desire a demonstration, you must pay an additional fee to the service provider. However, that is not the case with Cityfurnish. When you rent a product from Cityfurnish, our team ensures that it is installed effortlessly and that you are familiar with the product's features with a free demo at the time of delivery.
Final Words
Cityfurnish is a furniture rental industry pioneer. The firm has been serving the rental sector since most people were unaware that even furniture could be hired. And it speaks a lot about how Cityfurnish has been here to assist customers in meeting their furnishing and décor needs without breaking a sweat. And this is precisely what Cityfurnish goal is – to provide individuals peace of mind when they decide to relocate to a new area and want to decorate their home without any hassle.
Moreover, the documentation procedure is incredibly simple. You may place the order in minutes and complete the KYC without ever leaving your house.
What are you waiting for if you haven't tried renting furniture from Cityfurnish? We guarantee you won't be sorry!