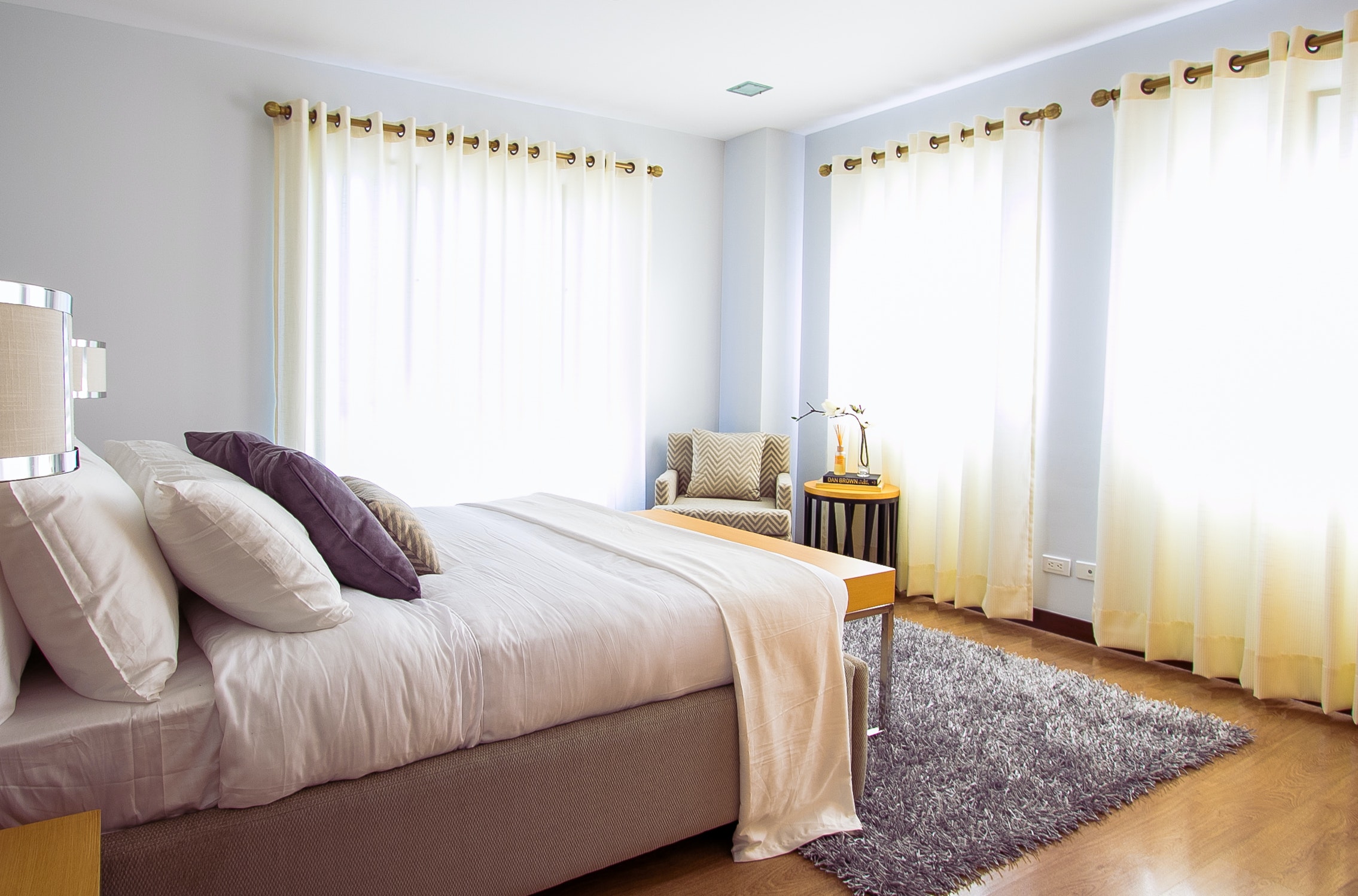 Do you want to give your Bedroom a more lavish appearance? Before purchasing any expensive designer bedroom dresser, think twice, think strategically and critically because spending a fortune on bedroom furniture does not always guarantee a sophisticated and chic look. The thoughtful details that make a bedroom look like thousands of rupees are what make it look that way.
Beds, pillows, lamps, nightstands—whether you're an aspiring interior designer or simply want to give your own home a facelift, the Bedroom can be a difficult place to make feel well designed because it's all about coziness and functionality. Don't worry; here are some decorating ideas and pointers to help you make the most of your bedroom design.
These 8 luxurious bedroom ideas will help you make yours look more expensive, feel more plush and inviting, all in an inexpensive way.
Decorate Your Walls With Elegance
Unless you want an ultra-minimalist look, bare white walls in a bedroom can feel harsh rather than luxurious. Use paint or wallpaper to give your bedroom a warmer, more designed appearance.
Beautiful bedrooms are supposed to be soothing, comfortable spaces and the best colours to achieve that are delicate colour schemes: neutral colours like whites and creams, or a light colour palette like lavender and light blue. This doesn't mean your Bedroom has to be boring; if your favourite colours are bold, feel free to experiment with different ways to incorporate interesting pops of colour. Try out some eye-catching throw pillows, a busy duvet cover, comforter, or bedspread, or an eye-catching paint colour or wallpaper on an accent wall or the ceiling.
A rich grey paint can be used to stylishly contrast with the room's paler elements, such as the bed, rug, and window treatments. If the walls are white, the simple decorative pieces will not have the same impact.
Select an Eye Catching Headboard
The ceiling is the largest clean surface in your Bedroom, and most inexperienced home decorators overlook it entirely—making it a huge untapped resource in any room. Consider painting or wallpapering your ceiling with a delicate colour or pattern to add a special touch to your Bedroom. If you're tired of DIY ideas and want an especially elegant bedroom look, consider having a moulded ceiling installed.
Adding a luxurious-looking headboard is an easy way to up the glam factor in your Bedroom. A beautiful one does not have to be expensive, but it should have a distinguishing feature such as a bright colour, a unique shape, a tall stature, or an elegant fabric such as linen or velvet.
Include Glitzy Lighting
Statement lighting, whether it's a ceiling fixture, table lamps, or pendants, amplifies the luxury factor. Choose a fixture or lamp with a gleaming finish, such as gold, glass, or crystals. Choosing one with a large or unusual shape can also help to make the room appear more upscale.
Rather than relying solely on an overhead light or a table lamp, it's a good idea to layer the lighting in your Bedroom, which means including a variety of light sources that you can turn on and off for maximum functionality and cohesion. You don't need a chandelier to layer your lighting—consider the various simple light sources available in your Bedroom (such as built-in natural light, overhead lights, floor lamps, bedside lamps, table lamps, reading lights, pendant lights, dimmers, and sconces) and select a few to include.
Include Stylish Seating
Consider adding an accent chair or bench to an unused space near a window nook, beside a nightstand, or in front of your bed. Practically, it will provide you with a place to sit and read or temporarily store some clothing. And, from an aesthetic standpoint, this styling trick, which is commonly seen in boutique hotels, provides an opportunity to add a notable design element to your room. You need something extra, more than your double bed. You can check our Cityfurnish website and see every luxury bedroom furniture on rent, that too on a really affordable rate.
Mirrors Can be Used to Frame Your Bed
Designers use mirrors on the wall above each nightstand, behind any lamp or pendant light, to add a little glitz to a room. This adds glitzy style to the bed wall while also adding depth to the room, making it ideal for small spaces.
Consider a mirror with a one-of-a-kind feature, such as a gilded finish or an unusual shape. The additional design element will go a long way toward elevating even the most mundane Bedroom.
Choose Colourful Nightstands
Nightstands are very important pieces of bedroom furniture. However, many are utilitarian in terms of style, and they can become cluttered with our necessities.
First, declutter your nightstand to give your Bedroom the royal treatment. Remove all unnecessary paperwork and possessions, leaving only lighting, a book, and possibly a small vase of flowers.
Next, replace your current nightstand with one that has a luxurious finish, such as mirror or shagreen. Choose a piece with reflective hardware, such as crystal or brass, for a more subtle look.
Pile the Pillows in the Bedroom
We've all seen photos of drool-worthy bedrooms with an embarrassing number of throw pillows on the bed. A combination of larger Euro-sized pillows (typically 26 inches by 26 inches), standard sleeping pillows, and two to three smaller throw pillows can achieve this decadent look. To avoid an overstuffed appearance, all of these pillows should not take up more than a quarter of the bed length. Select throw pillows in high-end fabrics such as silk, velvet, and faux fur for ultra-luxurious style.
You can check out Cityfurnish website for comfortable pillows and take the pillows on rent. They're trendy, nice, soft, and will make your body feel relaxed when you lay your head on them. You can also use a plush blanket in addition to the pillows. A soft throw blanket can be found in many luxurious bedrooms. Investing in an opulent-looking material can spruce up even the most unassuming bed.
Stay True to Your Personal Style
Your Bedroom should feel like a sacred space where you can unwind. If you have the space and want to add a little something extra to make your Bedroom feel like a home, consider creating a private nook for yourself. A window seat, a loft, or even a comfortable chair and footstool are all excellent places to tuck yourself away for some alone time.
Don't get so caught up in decorating tips that you end up with a bedroom that doesn't feel right to you when brainstorming bedroom ideas. Your bedroom should feel comfortable and tailored to your needs, so ask yourself what appeals to you along the way. If you have a particular preference, such as greenery or upholstered headboards, make room for it in your design ideas.
Rent Bedroom Furniture from Cityfurnish
Cityfurnish is the one place where you can get anything that you need to decorate your bedroom, or even the whole house. It's affordable and most important, it has the trendiest and most reliable products listed on their website. But that's not it. When you decide to take your bedroom furniture on rent, you not only get the best deals, but you also get free delivery and pickup, free maintenance, and installation as well. Well, here's your chance to decorate your dream bedroom in the most inexpensive way.