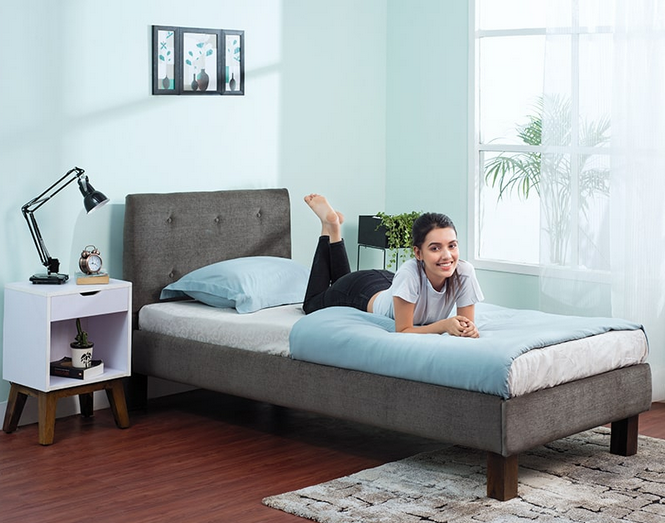 Furniture is expensive! You could be on the hunt for a new sofa and be reminded all over again just how incredibly expensive nice furniture can be. But who doesn't love a beautiful home? One with solid wood furnishings, modern styling, and eye-catching decor? Nothing should stand in the way of building the home of your dreams.
Yes, it is possible to furnish your entire home inexpensively. At Cityfurnish, we make sure you've got everything you need to decorate your house exactly as you want it.
Here's how you can furnish your home within your budget with Cityfurnish.
Start with Your Ideas
When you move in or consider redecorating, please spend some time imagining how you want the house to look like after you're ready to live in it. For about 10 minutes, go around each room in your house and start making a list of everything you believe the space need, including major things like beds, sofa, chairs, etc.) and even smaller items like garbage cans, picture frames, lamps, etc. Even sitting in the living room to figure out what you need to fill the space.
Decide on the Furnishings
After you get the idea of how you want your house to look like, the aesthetics and the furniture that you require, decide on the things that you want to get – a double bed for the bedrooms, appliances for the kitchen like a refrigerator, for instance, sofa for the living area, etc.
And that's it, leave the rest to Cityfurnish – we'll take care of it!
The Perfect Bedroom Furniture
A bedroom is the one spot where a person wishes to unwind after a long day. And in order to get that peace of mind, the bedroom must look and feel like a comfy heaven.
Cityfurnish has created the greatest quality bedroom furniture, made from the highest quality wood and upholstery, with all of your demands and specifications in mind. Go for that queen sized bed that you've always wanted, or the perfectly sized wardrobe to keep all your things, or even a bedside table. Browse the various varieties of bedroom furniture for rent and choose the one that is right for you!
Make Your House Functional with Home Appliances
When you think of a functional home, what is the first thing that comes to your mind? Well, of course, it's the 'people' that make it work, but what is that thing that makes your living easier? It's the things you choose to put inside your house, the things you use like home appliances & furniture. Can you imagine a life without these? A bed or a TV? Forget TV, how about a washing machine or a refrigerator? Where would you keep all your food? How would you do laundry? Sounds insane, doesn't it?
Cityfurnish is your best friend when it comes to renting home appliances. We take the stress out of acquiring expensive items, allowing you to free up funds to help you adjust to your new beginnings, new house, new look.
Woo Your Guests with Chic Living Room Furniture
It's time to update the style of your living room. Cityfurnish can help you traverse the most popular home decor trends, whether you're trying to enhance your living room decor or completely renovate it.
When it comes to arranging a living room, the most crucial factor to consider is your unique taste. What colors or patterns you prefer, what style of living room furniture you prefer, what quirky little things you want to add to the room to make it stand out and look beautiful, the type of lighting you want to consider – all of these will define the overall look of your room based on your style and taste.
With Cityfurnish, you don't have to compromise on your taste and style. Get that expensive sofa that you've always wanted but couldn't because of the budget. Or the smart TV to watch the movies and matches on. Invite guests over and impress them with the modern and yet cozy living room.
Build Your Own Office or Gym in Your House
Create your own little space in your house. Whether you want to make space for your office and set up a workstation or bring the gym to your own house – Cityfurnish has you covered. Get the perfect workstation that can easily fit the space and let you work in peace. Satisfy your fitness freak and get fitness equipment to keep yourself in shape.
Why Cityfurnish? Here's why
Cityfurnish is your best friend when it comes to renting furniture and home appliances. We take the stress out of acquiring expensive items, allowing you to free up funds to help you adjust to your new beginnings, new house, new look. With Cityfurnish, you don't have to compromise on your taste and style.
Free delivery, installation, and maintenance
You read it correctly. You are not required to pay any additional fees. Our crew will handle the delivery and installation of the appliances for free. In addition, if you have any issues with the things you buy, we are available to help. So, look around and place your purchase today to take advantage of these complimentary services.
Hassle-free documentation
You do not need to travel anyplace for the documentation procedure. We'll take care of everything. Our crew will do the KYC and paperwork in your home, or if you prefer, you can submit the relevant documents to us by Whatsapp or email, and we will complete it for you.
Free Relocation
If you decide to migrate to another area or city where we operate, Cityfurnish will assist you. Our staff will collect the appliances from your existing residence and bring them to your new residence. There are no additional fees for this pick-up and delivery service.
Quick and easy delivery
Products are delivered once we have coordinated with you and know your desired day and hour of delivery. The ordered items are delivered to your home within 72 hours of contact, at your discretion.
High-quality items
On our website, you can choose from a large range of products. We make certain that the quality of each product is first-rate. We chose household equipment from reputable manufacturers. As a result, you may be confident in the quality of our products.
Complete Security
We adhere to highly stringent security protocols. Cityfurnish not only delivers things on schedule but also ensures top-notch security. Our skilled staff assures the confidentiality of your papers and details, as well as the security of your data supplied to us.