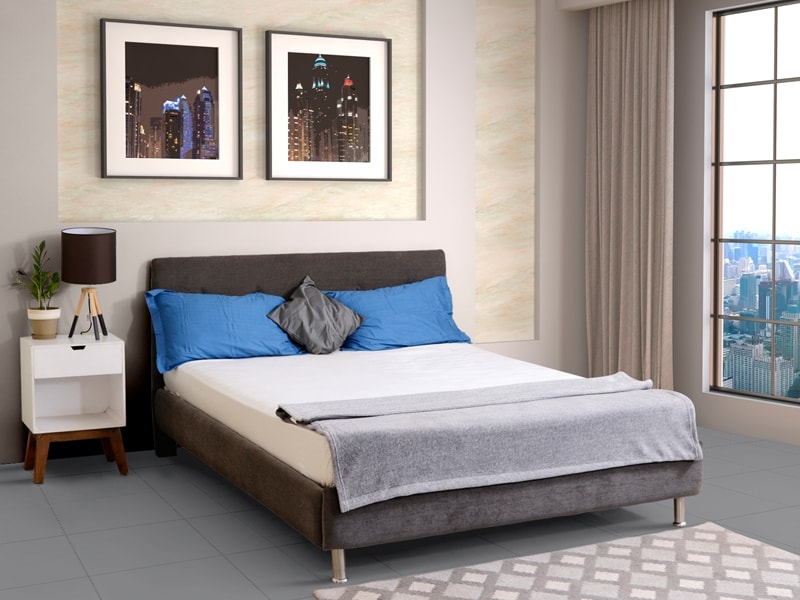 While decorating a house, the bedroom is most often the last room that people design. They don't tend to pay much attention to it. Maybe because it is not the first room that you see when you enter the house or because no friends or family spend that much time in a bedroom so it's often neglected or decorated with hand-me-downs.
Whatever the reason may be, it's usually the room where you'd find old bedroom furniture pieces, when it should be the opposite. A bedroom should be the room where you love to spend your time, relax, or get peace at the end of the day. And for that, it should feel like a welcoming, relaxing room full of warmth.
Remember that even though it's not the most popular or most visited room in the house, but it is as important as the other main rooms and it's incredibly essential to design it, whether it's with the most expensive pieces, basic furniture sets or with the affordable bedroom furniture on rent. The options are endless.
You can transform the whole room's look without paying a fortune. With this thought in mind, we are sharing some unique, budget friendly tips to help you redesign your bedroom without spending a fortune or making major investments of money or even your time!
Switch Up the Bedroom's Layout!
The layout can change the whole appearance of the room. And it is so cost effective that it's absolutely free. With just a little time and energy, you can give your bedroom a brand new look by changing the positioning or placement of your bedroom furniture. Try recentring you're your double bed or changing the sides of your wardrobe.
While moving things around the room, consider omitting the furniture pieces that are unnecessary because getting rid of the extraneous furniture will free up the space, opening it up to seem more spacious and make it airy. Get rid of the furniture piece which is occupying the space but is not that useful. Be creatively smart and utilize the room's space the right way. So, create a new orientation for your bedroom!
Change Your Bedding and Throw Pillows
The bed is the focal point in the bedroom, so, it needs to be presentably placed and decorated, with clean linens. Add more pillows to the bed for more comfort, experiment with the designs. Changing the bed sheet and pillow cover or your duvet can be the most effective and again, cost-effective, small change that you make to make the room look good.
Select the bedding colour that's completely different from your current choice or collection and see a huge impact. White bedding works in all seasons and can easily be layered with a cosy wool blanket in the winters or lighter boho design pillows in summers. Florals, shades, the options are endless. Try out new patterns!
Light Up Your Bedroom!
Good lighting is the ultimate key element in any room, which can make or break the room's whole look. If you want to create an inviting and relaxing and comfortable atmosphere in the bedroom, pay attention to the lighting as it can have a huge impact. Look at your bedside table, if it's empty, place a lamp there.
Lamps look elegant in the bedroom and are a great help for the people who read in bed. If you already have one, try switching the lamp's shade. Experiment with your light shades and see which colour make you feel relaxed. You can add some blues. If you have a window and have natural light coming into the room, don't block the source with any furniture piece.
Paint the Bedroom Right!
Bring in the colours! Paint is yet another majorly important element that contributes to transforming the room's look. A moody accent wall of your bedroom can give it a sophisticated richness, and light greys or pale blues are always great options to give any room a restful and relaxing feel. The right paint can liven up your bedroom, strangely, it can also be used to liven up your old bedroom furniture.
Consider sanding down a chest of drawer or a storage cabinet or start small and take a nightstand and paint it with a bright fun colour. If you don't have the budget to purchase new furniture pieces, you can always try this or go with a safer and cost-effective choice and take the furniture on rent.
Think About Bedroom's Floor
Think about what you can do with the floor. A plain floor can be turned into something more aesthetically looking by adding on some elements. You can try changing your duvet. Or add a rug / change a rug. Rugs can have a big impact and your bedroom is a perfect place to experiment with patterns. Moreover, rugs are soft and who doesn't want something soft and cosy under their feet when they step out of the bed or walk around the room. Rugs pull the whole room together so, don't be afraid to add layers to give your bedroom a collected, wholesome feel.
Have Enough Storage Space in the Bedroom
A bedroom should be restful, wonderfully kept, organized so you can simply relax without worrying about the storage space. Your bedroom should have adequate storage, which should be utilized to keep the room's clutter to a minimum. Consider having a nice wardrobe which can contain your things.
With that, you can add fabric bins, nesting baskets and bedside table as options to keep other miscellaneous items from piling up in the room. If you do not have enough space, another great way to make the room look good, yet have a good amount of storage space is to go with a double bed with storage. Best of both worlds, they have side drawers or storage space so you can keep your things right beside you.
Looking forward to changing your bedroom's look? We can help. Check out a huge collection of bedroom furniture and get everything from the comfort of your home!