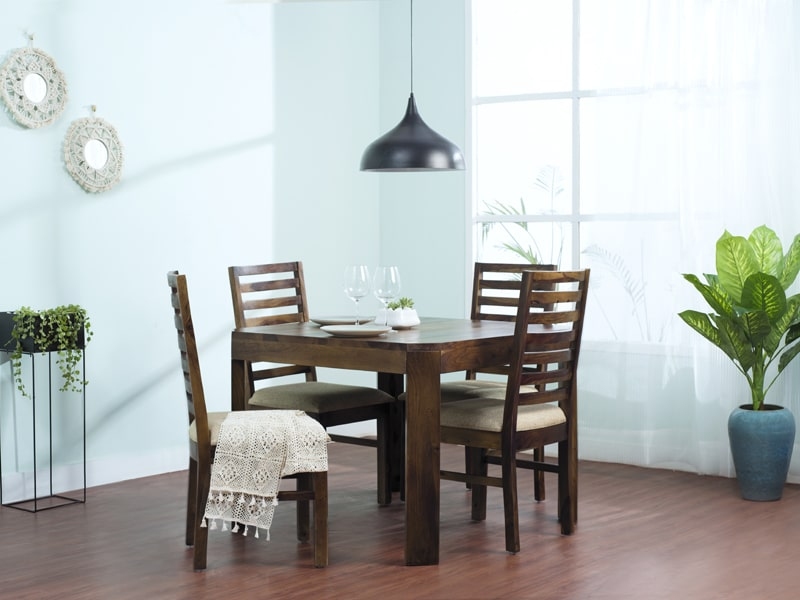 Dining room is where memories happen. Be it having your meals with family, having your mid-night snack, or hosting dinner for friends and close ones. And of course, to sit them and make them feel comfortable, you need a perfect dining table for your dining room.
Everyone has their own taste and style when if comes to decorating their houses. From the room's paint to dining room furniture, preferences differ person to person. And same goes with the dining table. Even if you are at a place temporarily and decide to take the dining table on rent, you still need to make the right choice.
When looking for a dining table set, start by selecting the type you require for your space.
Looking at the shape of the area and mimicking that shape for the dining table is an easy approach to figure this out.
For example, if your dining room is rectangular, your dining table should be rectangular (or oval). A round table or square dining set would be ideal for a square space. However, this is only a general rule of thumb, and there can be exceptions.
To help you make the right choice, we've made a list of 7 modern dining table ideas that will help you design your dining room as per your style.
Extendable Dining Table
Extendable dining tables dominate in terms of convenience. You wouldn't know it by looking at them, but they're designed in such a manner that they can be expanded when you need additional eating area space on the tabletop. The adaptability of this design is its finest feature. Your dining table won't take up much space in the room on a daily basis, but when you really need it, you can expand it and fit a lot more people in if you're the host and it's a dinner, game night, or party.
You can basically add a bench to your dining table, and it can make more seating space for more people. Not only does it add comfort to the room, it is also very much in trend and looks stylish.
Extendable dining tables are often rectangular or square in shape. If you want an oval table with flexibility, consider a drop-leaf table, which has a surface with wider moveable leaves on each side to provide extra space.
Modern Farmhouse Table
If you want to form a warm, friendly, family-like atmosphere in your dining area, the farmhouse design may be the best option for you. It's rustic, homey, and a little vintage-y, and it works well with farmhouse as well as modern farmhouse design types. It's an excellent way to bring the comfortable feel of the outdoors inside any house. Furthermore, because this form of table is commonly constructed of solid hardwood or natural wood, it is fairly strong, making it ideal if you want to use it frequently.
Farmhouse dining table sets are often built of solid wood and have big table legs as well as a reclaimed wood surface. They can be sealed in such a manner that the rustic-looking wood is the major feature, but they can also include industrial components like exposed hardware. A genuine wood farmhouse dining table will survive the legacy and will age nicely, adding to the charm and natural rustic quality of wood with each passing year.
Even if you want the table for a short period, you can still take the dining table on rent and still make the room look elegant.
Traditional Wooden Dining Table
Close your eyes and imagine a dinner table. Got it? Okay, what you pictured in your mind's eye was most likely a conventional dining room table, and its high-quality ageless simplicity makes it an excellent option to consider. The classic dining table, made of strong wood with carved legs and even a darker finish, can easily fit into a variety of various design styles. Traditional dining tables are frequently rectangular or square, and you may play into the traditional mood by combining it with other matching dining room furniture like mix and match chairs or other quirky place settings.
Traditional tables are high-quality, timeless, and attractive pieces of wood furniture with stunning ornate decoration details. Traditional tables are not required for formal meals or even in properly designed traditional homes. The room's intrigue and character are created by the balance of new and ancient. This style is appealing since it is one that everyone is familiar with and feels at ease with.
Round Dining Table
Round dining tables are available in a number of forms, but they all have a few characteristics that are worth considering. For starters, they are ideal for smaller places since they take up less space. A round dining table is wonderful in that everyone seated can readily see everyone else at the table," Emanuel adds. Because there is no official 'head' of the table, it also fosters a sense of equality and togetherness." That is why it is such an excellent solution for building a more informal and friendly atmosphere.
Pedestal Style Dining Table
A tabletop sits on top of a single solid pedestal foundation in the centre of the pedestal table. They're perfect for accommodating large groups because they're frequently spherical or over dining tables. They also have a sleek, symmetrical design that may make your area look incredibly put-together. There are also twin pedestal tables, which, as the name implies, have two pedestal bases rather than one. It creates the impression that its top flows throughout the room while remaining grounded, as there are no legs. The pedestal may add drama to any style you like; it can be bold. It is simple to select seats because they are not style specific. You can do it.
Parsons Style Table
A Parsons dining table is ideal for those who want a more contemporary look, with its slim, elegant, straight lines with 90-degree angles. A Parsons dining table is a square or rectangular table with square legs that fit flush with the tabletop's sides. Parsons can be produced in any size & material, but they will always have a basic, clean appearance. The Parsons' basic nature makes it ageless and flexible, whether it's part of your modernist house, matching with other equally contemporary items, or used as a no-frills platform for more intricate décor components.
This design is excellent because the structure allows for more comfortable seating without visitors knocking their legs on a central base. It also appears to be quite elegant and adaptable to any sort of place setting/style. This design, with its clean, basic lines, is easy to mix with other items and is a perfect addition if you want a modern/contemporary appearance and feel in your house.
Industrial Style Dining Table
Do you like the aesthetic of salvaged wood, metal, brick, and concrete? If so, an industrial-style dining table is ideal for you. Rather of attempting to give the sense of beauty and final gloss, industrial tables allow you to examine their inner workings right away. They make a striking statement that is aesthetically adventurous, fascinating, and more current than the other styles in this article.
It might be surprising in a domestic setting. The industrial table is intended for physical labour. It is built to last from wood or metal. However, it may be more than just a workstation. Indeed, no table will withstand the stress of kids and craft projects better than this one, which also tends to last more while also look better.
Explore Cityfurnish website to discover different kinds of dining room furniture with various types of dining table on rent. You can mix and match and experiment. It's not only convenient but also very affordable. With that, you also get to have multiple perks such as free delivery and pick up, free maintenance, and more. Order today!