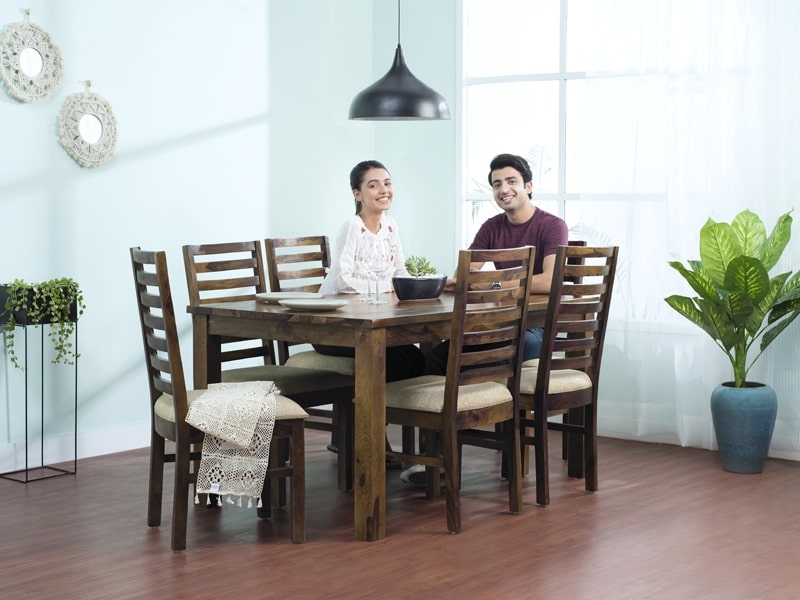 Are you tired of a drab dining room but are on a budget and can't give it the premium look that you dream of? Well, the next best thing is to start small but use smart ways to completely transform your dining room space while not giving much cash. We bring you the epic list of 7 tips to make it happen because we understand how important the dining room is.
More often than not, the time spent with friends and loved ones is spent in the dining room or kitchen, maybe sometimes more than it is in the living room area. Whether it's hosting parties and eating there with your guests or having a nice meal with your family, it all happens in the dining room. Which makes having a nice looking, eye-pleasing dining room more important.
It happens all the time to the people who have an eye to details, who want one thing but their budget wants another. Of course, there are other options available, like getting your dining room furniture on rent, which is affordable as well but if you are not into it, let us tell you that having a dining room that is rich or expensive and having a dining room that looks rich or expensive are two largely different things. And if there are budgetary constraints that are keeping you from having a richer room, then we've got good news. Here are 7 fantastic tips for helping your dining room area look it is top best!
A High End Look with Dining Room Walls
This is one of the simplest upgrades that you can bring into your dining room, which is painting the walls right, bringing in that touch of colour to your dining room walls. Paint is not that expensive and is easy to apply. You need to select a chick colour for the room which suits the overall appearance of the room, brings out the look of things kept in that room and doesn't make the room look dull.
This is very important. Light coloured walls can look far more interesting than plain white walls, without making people feel that the room is drowning in bold colour tones. For example, a light grey colour with lilac undertones will add a tinge of sophistication in your dining room and a colour contrast between the cool wall colour and the warm wooden dining room furniture would look classy.
Don't forget to colour the decorative moldings in the room. But remember to either go with the exact same colour as the walls or choose a shade lighter or darker than what is on your wall.
Pretty Dining Table Look with Floral Arrangements
There are not many places in a home that can't benefit from a nice plant or fresh flowers. A dining room can't be it because it is the best place and opportunity to make a beautiful statement. After all, flowers or plants add life to any room and turn around the overall look of the room. A well made flower arrangement to place on the dining room table as a centrepiece would be extremely beautiful.
The best thing about the floral arrangements is that they are not that expensive to create and you can often change them and make the room look fresher than before, giving your dining room a whole new look and feel.
Add a Classic Rug as a Dining Room Decor
Rugs have always been an integral part of home décor all over the world. They have been defining a room, adding a charm since ages, cultures and have not lost that charm even now because you can see their power of changing the appearance of the room when they're brought in. Rugs help take the design all the way to the room's floor and tie colour and pattern stories.
A modern, chic, patterned rug on the floor will add plush texture to your dining room while its pattern works playfully with the dining room furniture – creating a cross-leg pattern by your dining chairs.
Dynamic Statement by Wallpapering the Room
Wallpapers can make a remarkable difference in the room. So, if you are looking to make a high-end statement with your dining room, wallpaper that space. The right wallpaper could literally be all you need to put the design of your dining room over the hills.
Select a wallpaper pattern which is elegant and goes with your dining room furniture while putting a definite point on every element in the room. You can even go with a fabric pattern to create window shades to continue the effect and take the whole decor to the next level.
Add Creative Lighting to your Dining Room
Lighting is one of the most crucial elements of the home décor and can bring a drastic change in your dining room. While being the most important factor, it is also the most fun. There has been a boom, a surge in the design companies who put all kinds of designs and patterns on lights, giving them a new artistic spin – especially the ones that feel right at home in a dining space. You can add a chandelier hanging directly over your dining room table. This will do wonders for a bare-bone or basic dining space.
Or you can go with a cluster of lights, light pendants which will give provide light to the entire room while giving the room a premium look.
Bring-in Creative Artwork to the Space
Every dining room requires art. Artwork works as a finishing touch which makes the room look chick, well curated, and a designer space that it is. If you are sceptical about putting some paintings or creative artwork into your dining room and have held back art, don't. It is an extremely fun factor and a really good element to add to your dining room. Artworks don't have to be that expensive, you can explore from a plethora of websites available or go to some local markets if you can, and get hold of some amazing work which will make your room look wonderful.
Remember to place the artwork at the lower level because people will more often be sitting and you can also use a theme while handing some art frames like black and white etc.
Select a Dining Room Table Wisely
If you have a long wooden table, you can turn its look up by adding a side bench. This will not only make the look of the table more classic and fun but also help in making more seating space for the guests. You can also choose to swap your chair with a bench because they are more versatile.
To create a more intimate dining room feel, you can go for a small round dining table instead of going for a boxy one. Round tables are perfect for small families. When you pair the table with light coloured walls, the room looks very elegant.