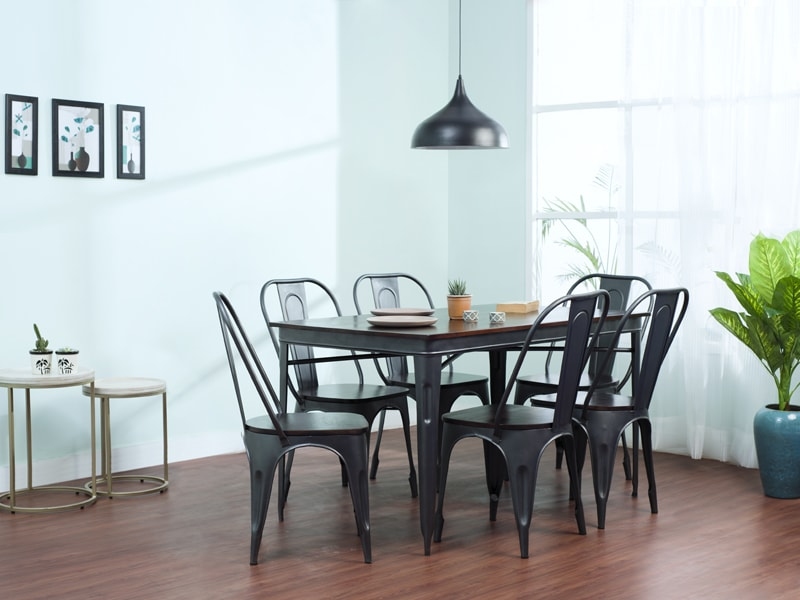 While designing the house, people often neglect the dining area. Although it is used only thrice a day, the dining room is where you spend time with your family and enjoy delicious meals. People often make their dining space very stuffy which makes the ambiance very dull. Your dining room should be lively and joyful, and it should reflect your personality.
There are several ways to make your dining space more welcoming, but people get confused with so many options. Therefore, we have brought some great dining room design secrets just for you! Keep scrolling to know all the secrets of the designers.
Here are eight best dining room decorating ideas and tips
Find Out the Purpose Of The Room
Before you start designing any part of your house, you need to know the room's purpose. You should ask yourself some questions before starting with the renovation, like will you use the dining area for hosting parties or family gatherings? How much seating will you need? Do you want to make this place formal dinnerware?
After you have decided the purpose of the room, you should start planning it. You will have to decide if you want a dining table on rent, the materials, and other pieces.
If you have a small family with occasional visitors, you should go for a small dining table. However, if you have a big family or have family gatherings frequently, you would want to buy or rent a bigger dining table.
Inject Your Personality Through Dining Furniture
As mentioned earlier, your dining room should reflect your personality. Be a follower of your interests and hobbies! If you love colours, then make sure that your dining furniture is colorful. You can even add various accessories and artworks to the space. Be playful and try to make everything around you aesthetic and attractive.
Play with the colours of the wall and make sure they complement the dining table well. You can even add a character to the dining space by adding colour to the chairs and much more.
Build A Private Space of Your Own
The dining area should be such where your friends and family can have conversations. The dining area should neither be very noisy nor should it have too many distractions. Make sure to build a private setting that encourages people to converse.
Using a floating screen to separate the dining area is an excellent way to make the space more intimate. Besides, you should not fill your dining room with excess stuff. A stuffed dining area with multiple elements will give it a claustrophobic feel. Remember to keep it simple.
Play with Colours of Walls and Furniture's
Attractive and unique colours can transform any space. When designing your dining room, don't forget to play with unique colours. You can even make the walls textured to add drama to your room. You can add textures to your wall and the ceiling, table, and floor as well. Make sure to choose lively and welcoming colours instead of dull and boring ones.
Colours and textures, if used properly, can work like magic and can make your room look attractive, lively, and welcoming at the same time.
Lightning Arrangements and Shades
The final designing secret on our list is the lighting. A good lighting fixture can transform a boring dining table into an extraordinary one and make it look lively. Beautiful chandeliers or geometric glass pendants can make your space go wow.
You can hang chandeliers around 30 inches from the dining table. A beautiful lighting fixture can become the masterpiece of the entire room.
It is a common notion that designing a dining room can create a hole in your pocket. It is time to debunk this myth right now! We will now share some pro tips on how you can save your hard-earned money without compromising on the design:
Get the Furniture On Rent
We all know getting new furniture is an expensive affair. A great alternative is to rent your furniture. There are several perks associated with renting a furniture site than buying a new one. You can get the latest and trendy dining tables at an affordable price; besides you can keep updating with the changing trends. So, basically, getting a four seater dining table on rent is an excellent option if you have a strict budget.
DIY's Can Save You
Unleash your artistic talents by making unique and jaw-dropping artwork for your dining room. You can make paintings or showpieces on your own, which you can use to decorate your dining area. There are several DIY decorating options that you can easily find on the internet. Adding self-made art pieces give a personal touch to a house that store-bought artworks can never give.
Rugs Instead Of New Flooring
Getting new floorings can be expensive. An excellent alternative to this is to use a rug instead of getting new flooring. Yes! You read that right, and rugs are a great cost-efficient alternative if you want to enhance your dining space's flooring. Rugs are not very expensive, and they come in several designs and shapes. A great variety will help choose the perfect rug for your dining room to complement the entire space.
Tabletop Planters
Tabletop planters are a great accessory to add to your dining table. Plants are cheap as compared to other expensive decorators. Fresh green plants will not only add color to your space but also make it livelier. Succulents are a great option to bring to your home and make it your living decor!
Final Word
A dining area is one of the most important corners of the house. It is so much more than just a place to eat. Instead, it is a space where you gather with your loved ones to create memories that you will cherish your entire lifetime. Thus it is essential to decorate such an essential corner of your home with love and joy.