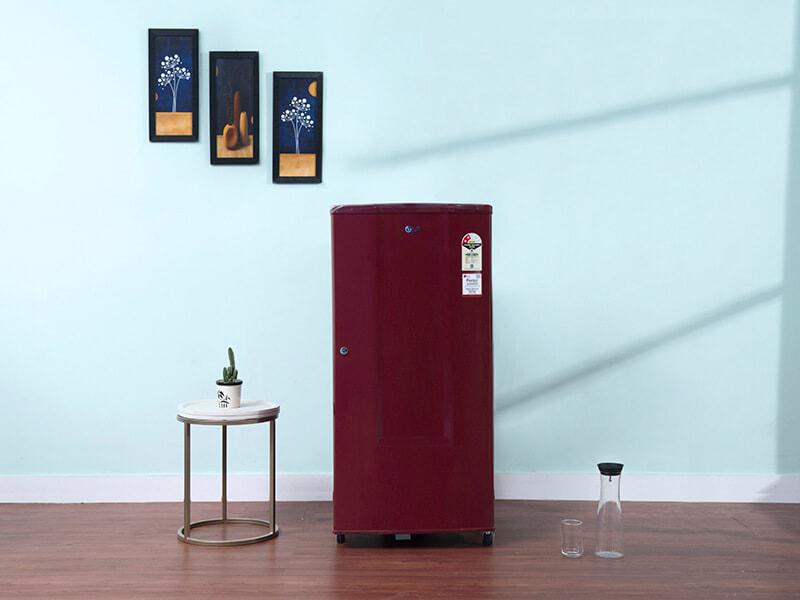 Getting a new refrigerator is a big decision. It's that home appliance without which a home is incomplete, especially the kitchen. A refrigerator is what makes a kitchen functional, after all, it takes care of the food. So, a refrigerator is not only a centerpiece, a focal appliance, among your other kitchen or home appliances.
But it is also a main place that helps prepare meals for your family. We are heavily relied on out refrigerators to keep our food fresh. Even if it becomes an energy hog that has been shooting up your electricity bill, you might be not inclined to replace it.
Besides, the moment you walk into any home appliances store or begin your search online or even decide to get the refrigerator on rent, you will encounter seemingly endless options and decision points – from refrigerator's different sizes and configurations to style, features and more. But we're here to ease that confusion that you might get while buying the refrigerator. Follow these easy tips, to not only make the right choice but also be well on your way to big cost savings.
Check the Energy Efficiency Stars on the Refrigerator
Save on electricity! This is a major factor that you need to take into consideration and make sure to check the energy efficiency stars on the fridge you're looking at. Energy efficiency stars are the most important and the simplest choice for saving energy, money as well as playing your part in protecting the climate. The more the energy efficiency stars, the better the appliance is.
After the heating, the cooling, and the hot water, the refrigerator is probably the next largest energy consuming appliance in your home. All thanks and appreciations to the improvements in recent times in the insulation and the compressors, that today the manufacturers are making the refrigerators that use much less energy than the older models.
In fact, a 15 year old refrigerator uses 33% more energy as a new energy efficiency model. You could save a huge amount on your bills, and also reduce your carbon footprint by 4,900 pounds of CO2 over the 12-year lifetime of the appliance. Isn't that amazing?
Consider a Refrigerator with a Top Mounted Freezer
Refrigerators are sold in many types, features, specifications and configurations which include top freezer, bottom freezer, french door, and side-by-side. Your new refrigerator does not have to be of the same configurations that you had before, as long as you account for proper measurements or sizing as discussed below. A top-freezer refrigerator that has earned more energy efficiency stars use less than a 60-watt light bulb worth of energy. Top freezer models tend to use the least energy of all the other refrigerator configurations and are very affordably priced.
Take the Right Measurements of the Refrigerator
The size of the refrigerator should be appropriate according to the space you're planning to keep it at. Generally, the larger the fridge, the more the energy consumption. The most energy-efficient refrigerator models are usually 16-20 cubic feet. When you decide to replace your old refrigerator with a new one, you are advised to not keep that old refrigerator for extra cold storage.
If your refrigeration or storage needs cannot be met by a single refrigerator, then it is important to make sure that your second refrigerator or freezer is an energy efficient or energy efficient model that is the perfect size and no bigger than what you actually need. You can recycle your old refrigerator. Another way to save on energy and still get new refrigerators at highly affordable rates is renting. You can get a fridge on rent and return when or if you want to have another one or replace it.
Consider the Refrigerator's Features on Your Priority Basis
Determine which features you need your refrigerator to have. You can also make a list and compare the refrigerators. Which features do you need in your refrigerator? Think about whether you want an ice maker, or through-the-door ice, or hot water. This way you only have to pay for what you use – both in the initial cost and over the lifetime of the appliance. For instance, through-the-door ice adds about 84 kWh of energy, which shoots up the electricity bill. Compare the refrigerator's features among all the energy efficient refrigerator models and optimize your buying decision.
Price and Warranty of the Refrigerator
There are a huge number of options in the market. You'd literally find endless options of refrigerators – with similar features – at the same price range. Therefore, make sure to always compare the refrigerator's price both offline and online. See which brand is offering what kind of features and what price range and if you really need those features.
Another most important thing is the appliance's warranty. Most of the refrigerators in India from the best brands have powerful compressors. And the costs that you will have to pay if your fridge breaks down for unknown reasons will solely depend on the fridge's compressor efficiency. Make sure the warranty covers this and pick the fridge that gives you maximum warranty on it.
However, if the store is offering you extended warranty at extra cost, avoid paying for that as it can be of no use.
Bonus: Other Things You Should Consider Looking For
Capacity of the Fridge: Depending on your family size and food storage requirements, select the size and litres of the refrigerator. See how many and of what size storage apartments you need to fulfill your storage needs.
Frost Free: The frost can ruin your food, especially the dairy products that keep in that apartment. And if you don't tend to use the freezer for a long time, there is a high possibility that your refrigerator's freezer and the section below it might get filled with frost and ice. That's where you're supposed to store cheese, or milk etc. So, select the best refrigerator that is frost free.
Colour and Pattern: If you get a refrigerator of some random colour, it can ruin the room's whole look and extremely off. Select a refrigerator that matches or goes well with your home decor. The appliance should complement other appliances and the overall room's appearance.
Save yourself from the hassle and opt for an easy, most affordable way to get a refrigerator of your choice – yes, even the expensive one. Browse through our website and choose from a wide range of home appliances and get your desired refrigerator on rent with free delivery, pickup, maintenance and installation services.