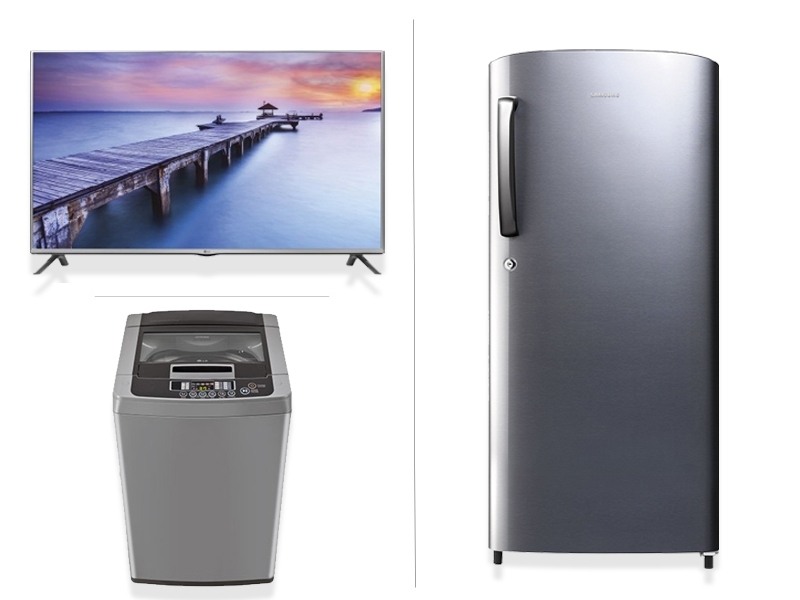 Whether you're buying or renting household appliances as part of a renovation project, or you need to replace a microwave, refrigerator, smart TV, or other equipment that's out of date, the process can be intimidating. With hundreds of options available, you may be tempted to go with the cheapest model or the coolest appearance.
Appliances are practical and attractive additions to any home. Because appliances are such a big investment, it's critical to complete your research before going to the shop and know precisely what you need, desire, and can afford. Avoiding these common blunders can help you get the most out of your money and guarantee that you have all of the features you need and are satisfied with your choices for years to come.
Careful selection when purchasing or taking a home appliance on rent may save money and decrease environmental effects without compromising lifestyle. Here are some purchasing blunders to avoid while getting home appliances.
Neglecting Research and Comparison
It's critical to have at least a basic idea of what you desire. A low price does not necessarily imply a good bargain. To pick the proper equipment or home appliance for your needs, you must conduct research on available items, begin looking into product reviews and their individual characteristics and consult online buying recommendations. You can also compare features and prices by visiting different showrooms. Ask for advice with an open mind, but always take them with a grain of salt.
You can easily opt to do it all online – select multiple home appliances from different brands and compare to see their features, lifelines, reliability, reviews, and prices – and compare the home appliances.
Leaving Out Measuring Space
Many homeowners/families fall in love with a home appliance only to discover too late that it would not fit in their kitchen or, worse, through the doorway.
Appliances have a habit of seeming smaller on the showroom floor. Avoid this stumbling block by measuring where the appliance will go and the path it must take to get there. Check your home's connections and utility lines while you're at it to see what you have to work with.
If you are unsure of the measures or don't recall the measurements taken, you may bring the measuring tape to the showroom, measure the appliance, and then go home and do the space for the space. Check to see whether the home appliance has a door opening. If this is the case, take in mind the open space where it will be put.
Purchasing on the Spot
Think carefully before shelling out cash simply because an appliance looks lovely or is equipped with the latest features/just because it's popular and in style. Make and bring a list of must-haves, and stick to it carefully when you choose the home appliances for rent. Wait for seasonal bargains if feasible, as appliance retailers frequently reduce prices to make room for new arrivals.
Skimming the Fine Print
When looking for kitchen or home appliances, be sure you don't have to go through a lengthy handbook to get them to operate. That doesn't imply you should disregard warranties and repairs. Examine the small print and get contact information for service providers. With Cityfurnish, you don't have to worry about this. If you choose to take the home appliances on rent from Cityfurnish, you will get a free installation from experts.
Keep Track of your Budget
To prevent overspending on a single home appliance and to have nothing left over for the others, you should always figure out how much you're prepared to spend in total. Make a budget and attempt to stick to it. Always check to see whether the home appliance you're considering will require additional components, such as extra vents or exhaust fans in the kitchen.
With Cityfurnish, you don't have to worry about overspending or exceeding your Budget. You can rent home appliances at affordable rates.
Not Having an Open Mind
Don't just stick with the type you grew up with. Please keep an open mind when it comes to innovations because there are so many wonderful developments that may suit your lifestyle and habits and make your responsibilities simpler. There are double door refrigerators on rent, new washing machines on rent, and smart tv on rent that you might like despite having your mind on any other model.
Not Taking Maintenance Costs Into Account
It's a good idea to ask the salesman about approved repair businesses before getting the home appliance you're interested in. We understand that this is the last thing on your mind right now, but it's better to be safe than sorry. Just because something is inexpensive does not guarantee that your grandkids will be able to utilize it in the future. One major disadvantage of low-priced kitchen appliances is the high expense of repair and maintenance.
Another factor to consider when getting home appliances equipment is what happens to the item when the warranty expires, and repairs and such are no longer covered. For routine maintenance, it is preferable to contact an authorized expert—that, and looking for a product with a lifetime warranty.
Not Taking Energy Efficiency into Account
Many people believe that all new appliances are energy efficient since they are new. However, many appliances on the market are not Energy Star qualified, which means they do not satisfy the requirements for decreased power use. Having said that, don't think that purchasing new appliances would instantly cut your electricity expenses. The older your present appliance, the greater the savings, so if you're replacing a relatively new appliance, your electric cost won't be considerably reduced.
Cityfurnish provides you with the best home appliances from the top brands that are both energy-efficient and reliable. You don't have to worry about the quality and moreover, the maintenance of the home appliances is on us. We will take care of everything.
Cityfurnish not only provides free maintenance it also offers free delivery, pickup, and installation. Take advantage of all these perks and rent home appliances from Cityfurnish.